Top 10 Tonkatsu
That crispy, bread-battered piece of lean pork. Who wins this one?
(SPOT.ph) Surrender, we must, because the katsu craze has taken over the shores of food-obsessed Manila. There's no denying how we've all been smitten by this fairly humble slab of pork, but this isn't like the ordinary breaded pork chop we've all been fond of drowning in a pool of banana ketchup. Just like any other Japanese brainchild, tonkatsu, with the systematic process of choosing the fittest hog to plating the final product that happens behind the scenes, is a science.
Thickness, weight, size, color, composition, texture, and even fat visibility are just some of the elements any discerning diner should observe when that tonkatsu finally arrives at your table. Don't be blinded by the unforgiving "unli" extras-rice, cabbage, that grinding action, etc.  As much as all these make up a good katsu experience, the light, golden, and relentlessly crisp crust matched with the most tender cutlet is what measures its greatness and sets it apart from any other fried pork. They say it's unhealthy to judge a book by its cover? Well here on out, do yourself a favor and judge the katsu by, of course, its cover.
All SPOT.ph Top 10 lists are researched, paid for, tested, and selected by the writers and editors. They are discreetly conducted without any notice made to the restaurants or their owners.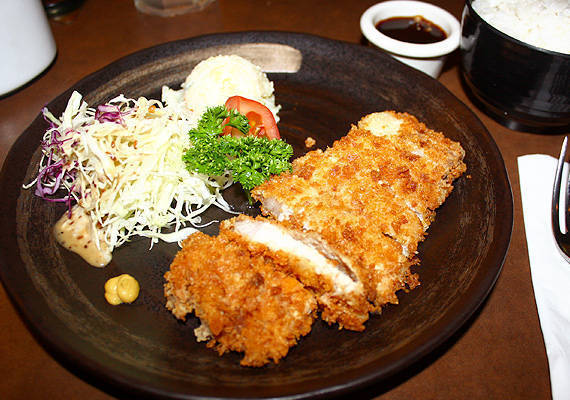 ADVERTISEMENT - CONTINUE READING BELOW
10. Ma Maison's Tonkatsu (P375)
The saying goes that home is where the heart is. And at Ma Maison, French for, you guessed it, "my home," the only heart we're talking about is their tonkatsu. Though the cutlet requires some solid tenderizing and seasoning, the real steal here is the unceasing crispness of its breading. Even after guzzling down the perfectly cooked rice and the delicious side salad and miso soup, that last piece you were saving for a good home run is still as crisp as when it came out of the kitchen. Now, isn't that good enough a reason to come home?
CONTINUE READING BELOW
Recommended Videos
Ma Maison is at G/F Greenbelt 2, Esperanza St., Legazpi Village, Makati City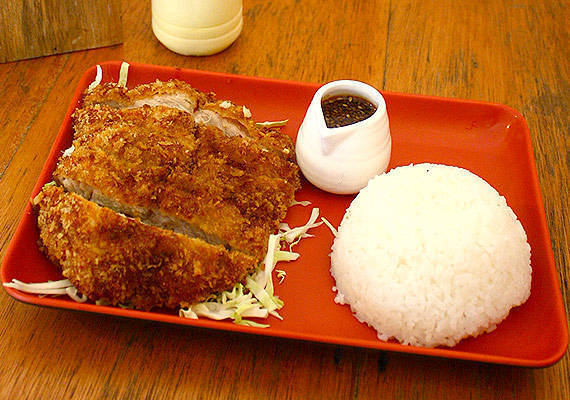 9. Crazy Katsu's Tonkatsu (P140)
If you were back in school struggling to keep your grades from slipping, a Crazy Katsu meal will be sure to liven up your spirits. The vibe here is relaxed, perfect after a marathon of all-nighters, though the service, just as you may be, is a bit tired. But what makes up for it is a fairly generous chunk of butterflied pork chop glistening with layers of fat. It's the kind of tonkatsu that merits an extra cup of rice. Another revelation here is how crazy good the tonkatsu becomes when drizzled, or even smothered, with Japanese mayo. Ever since the Maginhawa branch has itself become a regular hangout for students from nearby universities, several other branches have already sprouted all over. And that is always a good sign.
ADVERTISEMENT - CONTINUE READING BELOW
Crazy Katsu is at Unit I Teacher's Village, 81 Maginhawa St., Teacher's Village - East, Quezon City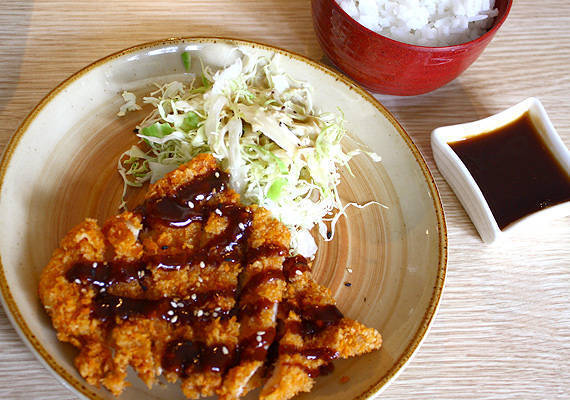 8. Tori Box Cafe's Pork Katsu (P175)
In an almost hidden alley off the busy street of Wilson, San Juan, is a café that renders a study in perfect balance. The simple back-to-back menu stands out within the hip interiors adorned by all sorts of kawaii. The katsu here, strikes a balance in its elements as well. Though rough on the edges, the breading is so crunchy that you'll hear the person a few tables away chowing down on his golden cutlet. It may not be thick, but it's definitely juicy-partly due to the generous fat portions, too. Even its color is worthy of note: pristinely white on the inside with the breading gunning for a darker shade of gold. You can easily get lost on your way to this katsu, but it'll definitely be worth it.
ADVERTISEMENT - CONTINUE READING BELOW
Tori Box Café is at 403 F. Calderon St. corner J. Abad Santos, Little Baguio, San Juan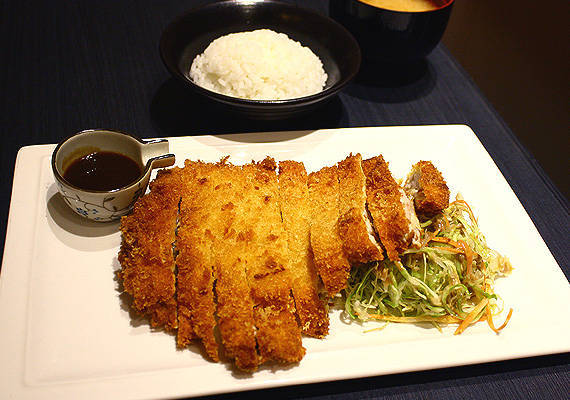 7. Wafu's Tonkatsu (P345)
Let's admit it-size does matter for perpetually hungry Pinoys with a construction worker appetite. Wafu's tonkatsu, then, will definitely appease that sort of hunger. Maybe bigger than the palm of a basketball player, the katsu is lean, with no visible fat. Never mind the veggies for this instance because you'll need the space for all the flavor that's about to unfold. The only drawback is the way the breading separates from some strips of pork, unveiling a thick layer of egg that was meant to be the binder. But its sauce, oh that sauce, more than makes up for it. Fruity with a kick of ginger, this tonkatsu sauce is redder than the usual, and surely sweeter than others-as if to please Pinoys even to the last drop.
Wafu is at Greenhills Shopping Center, N. Western St., Greenhills, San Juan
ADVERTISEMENT - CONTINUE READING BELOW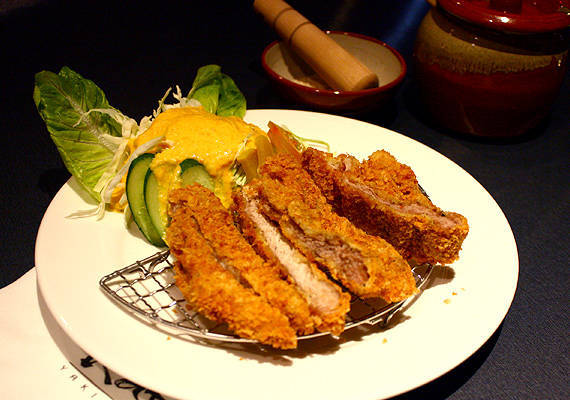 6. Katsu's Ro-su Katsu (P265)
This place doesn't serve rice with its katsu. What an unfortunate situation to be in, because it's all you'll be thinking about as you chomp down that tasty pork cutlet. You have the option to go for a leaner cut, but the visible fat in the ro-su is always a welcome treat-just as its seemingly darker color that packs in a whole lot of flavor is as well. Probably a bit overcooked, yet its peppery profile is in itself a good match to the tangy, sticky sauce. Again, don't forget to order rice! This place might be an afterthought in the katsu scene because of its prime purpose of being a bar. But the katsu itself proves that there's more "happy hour" to the meat than the bucket.
Katsu Yakitori Grill and Restaurant is at Unit E Fort Entertainment Complex, 5th Ave., Bonifacio Global City, Taguig
ADVERTISEMENT - CONTINUE READING BELOW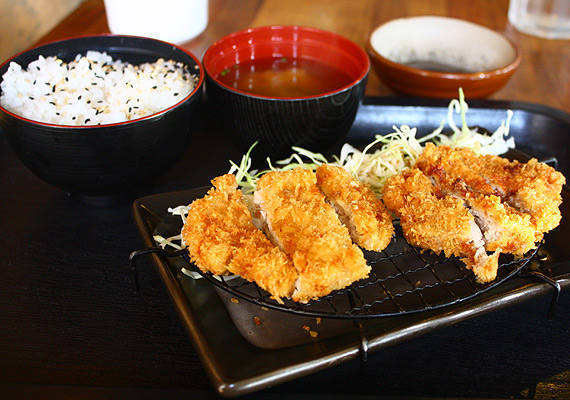 5. Katsu Café's Pork Katsu Set (P195)
Veering away from the typical Katipunan hangouts, Katsu Café transports diners to the almost gritty streets of Japan. The place is admittedly small, just like the pork katsu at first glance. Two round pieces of pork sit prettily on top of the wire contraption. Each is no bigger than the bowl used for grinding the sesame seeds, but its tenderness can persuade you to forget that (sad) reality. They have unlimited servings of rice, if that would appease your appetite in any way. Maybe they're advocating great things that come in small packages, because it looks to us like they've been successful in doing so.
Katsu Café is at 329-I Katipunan Ave. corner B. Gonzales, Loyola Heights, Quezon City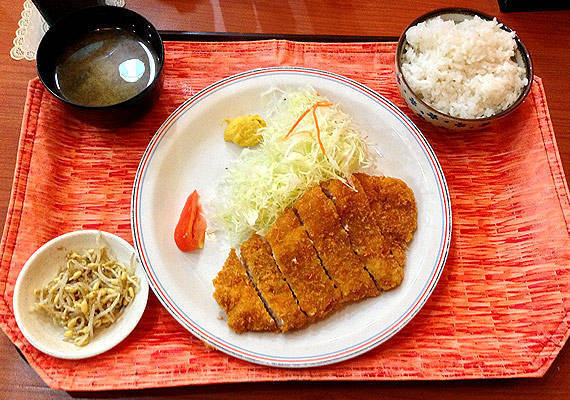 ADVERTISEMENT - CONTINUE READING BELOW
4. Tonkatsuya's Tonkatsu Set (P190)
When Japanese men in business attire patiently wait outside the restaurant on a full day, you just know there's something right about the tonkatsu meal you're having. Widely acclaimed for its faithfulness to how the katsu is made in Japan, Tonkatsuya dishes out authenticity like Manila hasn't tasted before. The katsu boasts an evenly deep-fried golden color that envelops a slab of well-done pork-with strands of fat surprisingly still intact. Despite the breading lacking in that much-sought after crisp factor, its proportions are played out well. The meat still takes on most of the spotlight, which is exactly how it should be. Condiments, like mustard, togarashi, and chili oil, are placed on the table for good measure. But then again, you might as well skip these for the already flavorful katsu.
Tonkatsuya is at LGF Palm Tower C, St. Paul Rd., San Antonio Village, Makati City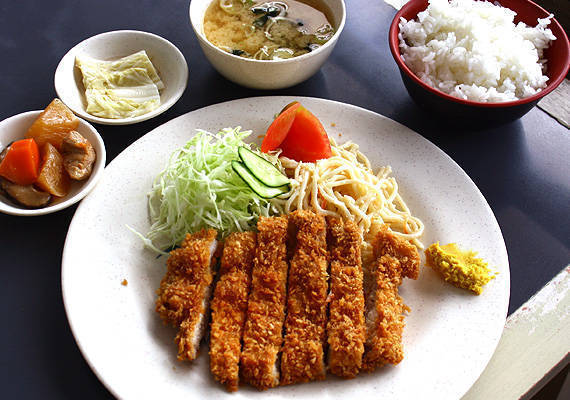 ADVERTISEMENT - CONTINUE READING BELOW
3. Yamazaki's Tonkatsu Teishoku (P196)
Inconspicuous is how one must describe Yamazaki. It's in the middle of Little Tokyo, yet you'll never know that this place serves some of the most decent Japanese meals in town-mainly because it's still a grocery at the forefront. Neighboring restaurants could have easily made it to this list, but the way this hole-in-the-grocery redefines bang-for-your-buck puts it high up in the number 3 spot. You'll see Japanese locals eating beside you here, and you might as well seek their help in decoding the menu filled with Japanese characters. The whole shebang, from the coarse breading to the spaghetti to the pickled sides, warrants satisfaction every time-and there's no denying that guarantee at Yamazaki.
Yamazaki is at Little Tokyo, 2277 Fernando St. corner Pasong Tamo St., Legazpi Village, Makati City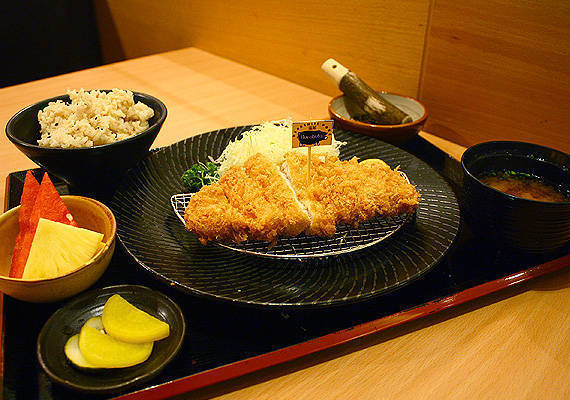 2. Yabu's Kurobuta Pork Set (P515 to P575)
When it comes to the local katsu craze, Yabu started its lead on the race when it opened two years ago. It was Yabu that introduced Pinoys to the whole katsu experience, including the ritual of sesame seed-grinding that's become an experience to look forward to along with actually eating the katsu. Any Yabu meal, most especially if you're ordering the kurobuta, is, in every sense of the word, happiness. There's so much joy that happens from the moment you queue for a table to the last bite of watermelon you saved for dessert. Despite the pork still demanding a good pinch of salt, it never falls short of being outstanding, almost always eliciting sparks of excitement in your mouth. More than anything, Yabu surely wins in terms of the whole, no less heavenly, katsu experience.
ADVERTISEMENT - CONTINUE READING BELOW
Yabu: House of Katsu is at 2/F SM Megamall, Julia Vargas Avenue, Wack Wack, Mandaluyong City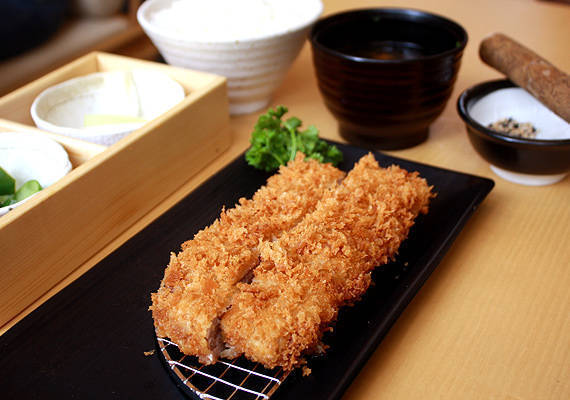 1. Saboten's The Original Tenderloin Set (P375 to P425)
It's been more than 40 years since the first Saboten opened in Shinjuku, and it now enjoys the prestige of being the largest tonkatsu chain in Japan. It's big for a reason, and now we know why.
Options abound in its unforgiving menu, with different permutations of the katsu waiting in glory. At first glance, the katsu may look dry, but that is actually a good sign of amazing things to come. Because Saboten's coarse panko doesn't absorb as much oil, the breading is always perfectly light and crisp, making every bite gloriously melt on your tongue. From the service to their generous servings of unlimited sides, Saboten brings consistency to the fore. And it's one that leaves you obsessed! Ladies and gents, you have been fairly warned.
ADVERTISEMENT - CONTINUE READING BELOW
Saboten is at G/F Serendra, Bonifacio Global City, Taguig
Share this story with your friends!
---
Help us make Spot.ph better!
Take the short survey
Load More Stories