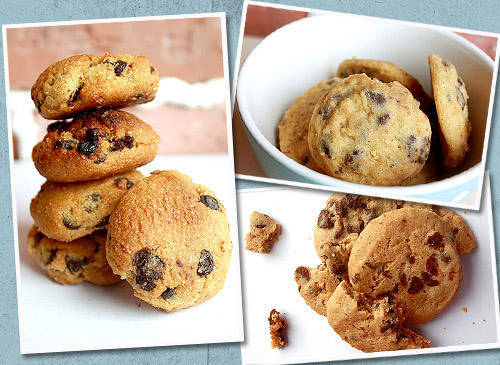 (SPOT.ph) No matter what size or shape they come in, these sweet treats are everyone's favorite, well almost. Baked to a buttery and chewy perfection and loaded with a good dose of chocolate chips (sometimes with nuts or white chocolate), sinking our teeth into one transports us to the those moments of yore with lola or mom and a big glass of cold milk.
We've rebooted our 2010 list and sampled more chocolate chip cookies from restaurants, bakers and grocery stores to see which one we'd gladly have a second, or maybe even a third serving of.  Some made a deserving comeback  and some entered the chocolate chip cookie scene with a bang. Read on to find out which ones, we thought, were able to master the art of baking the perfect chewy chocolate chip cookie.
All SPOT.ph Top 10 lists are researched, paid for, tested, and selected by the writers and editors. They are discreetly conducted without any notice made to the restaurants or their owners.
ADVERTISEMENT - CONTINUE READING BELOW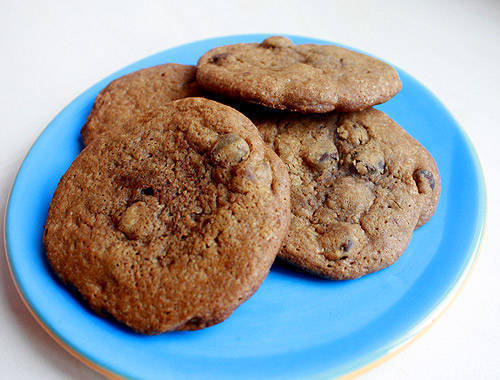 10. Kate Baked's Chocolate Chip Cookies (P400 for a dozen)
In making her medium-sized chocolate chip cookies, Kate Baked makes sure not to skimp on ingredients. Each bite delivers the right balance of chewiness from the dough and hard chunks of dark chocolate chip chunks, allowing you to savor the flavor.
Contact Kate Baked at 0917 836 9112 or email at Katherine.santos@gmail.com
9. Classic Confections' Chocolate Chip Cookies (P145 for half a dozen).
The surprising crunch that greets you as you bite into this cookie is only a prelude to the luscious dough underneath-a play on texture that we very much welcome. Chopped walnuts give it that nutty layer which works so beautifully with chocolate.
Classic Confections is located at the 2nd floor,   Greenbelt 5, Ayala Center, Makati (746-7996) and 3 Brixton Street, Kapitolyo, Pasig (696-7343).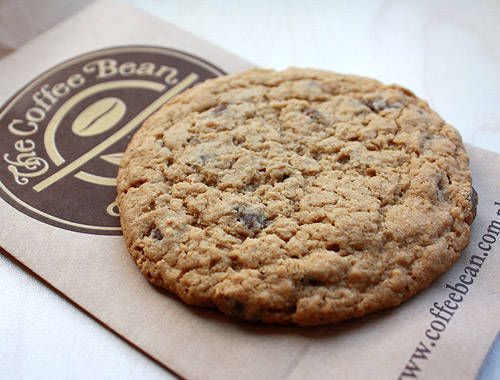 ADVERTISEMENT - CONTINUE READING BELOW
8. Coffee Bean and Tea Leaf's Chocolate Chip Cookie (p55 per piece)
Cookies work well with coffee so it shouldn't come as a surprise that CBTL's oversized chocolate chip offering (which is roughly the size of a saucer) made this list. The crusty exterior makes it seem like a spent an extra minute in the oven, but one bite reveals a chewy, perfectly baked chocolate dough.
Branches around Metro Manila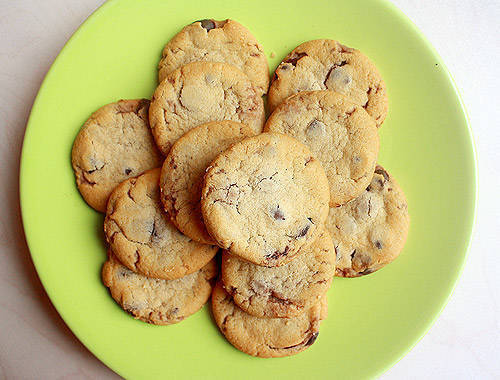 ADVERTISEMENT - CONTINUE READING BELOW
7. Keebler's Soft Batch Cookies (P174.45 for a pack)
It's the only one from the list that is not freshly baked, but that doesn't mean it doesn't taste as good as the homemade ones! With its combination of savory buttery cookies plus the right amount of chocolate chips, this cookie hits close to home! It's the kind of chewy melt-in-your-mouth experience that has us grabbing for seconds (and thirds and fourths...) every time.
Available in grocery and department stores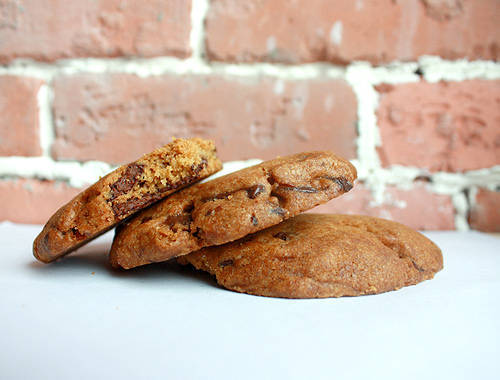 ADVERTISEMENT - CONTINUE READING BELOW
6. Wildflour's Chocolate Chip Cookie (P65 per piece)
The large cookies threaten to crumble at the slightest touch. It's in a deeper shade of brown that gives us the impression that the chocolate has seeped into the dough, spreading that rich, chocolatey goodness throughout. They're baked everyday and in batches, so you'll always be assured of fresh and crisp cookies.
Wildflour is located on the ground floor, Net Lima Bldg, 4th Avenue corner 26th Street, Fort Bonifacio, Makati City (858-7600) and ground floor, The Podium, ADB Avenue, Ortigas Center, Pasig.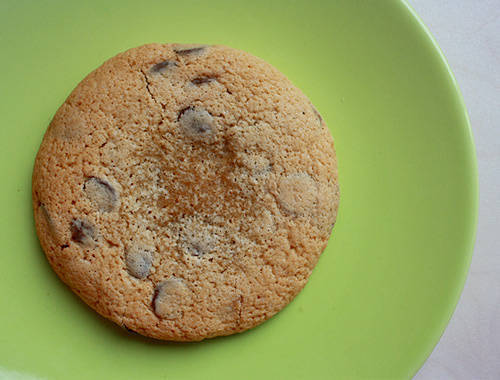 ADVERTISEMENT - CONTINUE READING BELOW
5. Brothers Burger's Chocolate Chip Cookie (P60 per piece)
For a restaurant that serves good and delicious burgers, these large homemade cookies (P60 per piece) manage to wow us all with its chocolate-y goodness. With its soft consistency and delicious chocolate chip chunks, this cookie is a sweetly satisfying way to cap off a hefty burger meal.
Branches around Metro Manila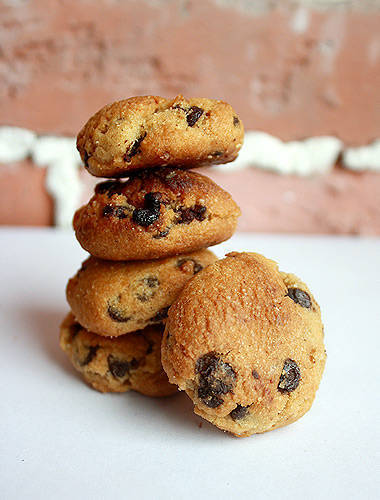 ADVERTISEMENT - CONTINUE READING BELOW
4. Borough's Milk and Cookies (P220 for nine assorted cookies and a jar of cold milk)
Taking its cue from a classic combination (one that Santa himself loves!), Borough's freshly baked nibblers are paired with a bottle of cold, homemade, vanilla-flavored milk. These chocolate chip cookie morsels are chewy with the right amount of crispiness and melt in your mouth when dipped, or dunked into the creamy milk. It is usually served with other cookie flavors, but you can request for an all-chocolate chip platter.
Borough is located at the G/F Unit 107A, The Podium, ADB Avenue, Ortigas Center, Pasig; 570-8906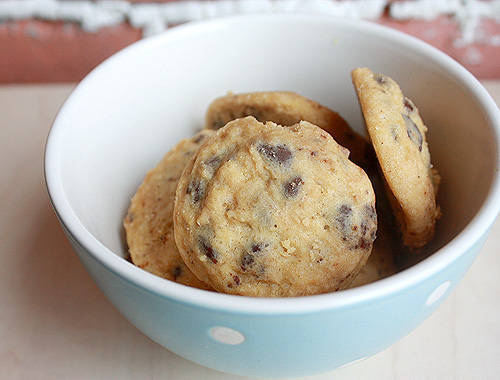 ADVERTISEMENT - CONTINUE READING BELOW
3. Bandana Baker's Chocolate Chip Cookies (P300 for 18 pieces; 700 for 36 pieces)
More soft than chewy, these medium-sized cookies from Bandana Baker tend to dissolve inside your mouth, becoming a sweet and buttery mouthful with chunky, bittersweet chocolate chips.
Contact the Bandana Baker at 0929-458-2123.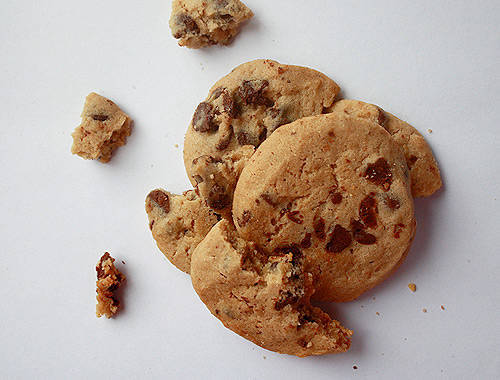 2. Mrs. Field's Chocolate Chip Cookies (P145 for three pieces)
ADVERTISEMENT - CONTINUE READING BELOW
What's special about Mrs. Fields' chocolate chip cookies is not that cracking exterior nor is it that chewy, almost tacky core, nor still the healthy amount of dark chocolate chips. It's that every bite comes with a dose of nostalgia. We're always taken back to Saturday afternoons baking with mom.
Branches around Metro Manila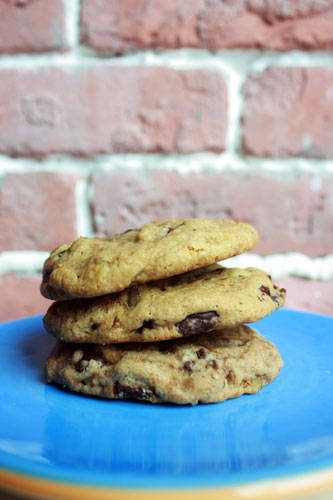 ADVERTISEMENT - CONTINUE READING BELOW
1. Homemade by Roshan's Ghirardelli Chocolate Chip Cookies (P800 for 12 pieces)
There is a reason why Roshan's famous baked goods tops this list again. With just one bite, these chocolate chip cookies  take you to cookie heaven with their symphony of premium Ghirardelli chocolate chunks, cashew nuts and chewiness. This sinfully good cookie has the right amount of crunchy texture and sweetness; it's no wonder we're already grabbing our second piece!
Contact Homemade by Roshan at  631-7786; (0917) 833-6286 or visit their website at Homemadebyroshan.com
Share this story with your friends!
---
Help us make Spot.ph better!
Take the short survey
More Videos You Can Watch
Load More Stories