SPOT.ph Roadtests McDonald's McSpicy
SPOT.ph weighs in on the McSpicy and it will likely add to our weight
(SPOT.ph) The TV ad for McDonald's McSpicy features a rather nice-looking Jessy Mendiola letting her hair down and showing off her curves as she bites into the thick meat of the burger. We have yet to see someone do this in real life but it's kind of hard to find good lighting what with the gloomy weather and all.
What we have been hearing are comparisons to KFC's Zinger and while we can't really say who's winning, our waistlines seem to be losing the battle against bulge. We pity the fools who can't enjoy fastfood eats because for something under P100 (a la carte), the McSpicy is a rather filling treat (the Daily Burn Tracker puts it at 580 calories per serving).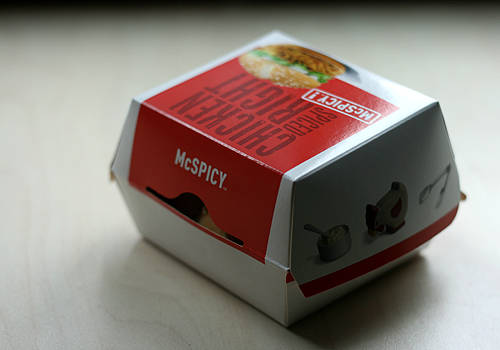 ADVERTISEMENT - CONTINUE READING BELOW
CONTINUE READING BELOW
Recommended Videos
McSpicy with an exclamation point, maybe because saying it louder makes it more delicious. McSpiceh!
The McChicken has slowly been overshadowed by the more affordable Crispy Chicken Sandwich and we blame the migration to the patty's transformation into an oversized nugget. The Crispy Chicken Sandwich isn't necessarily better but we like our thrills cheap.
So when the McSpicy came out, we wanted to wait until the hype died down. We want them to serve us the least attractive looking burger as we ordered it undercover in a take-out box. We even let it sit inside the brown bag for a few extra minutes.
And then we finally gave in to temptation.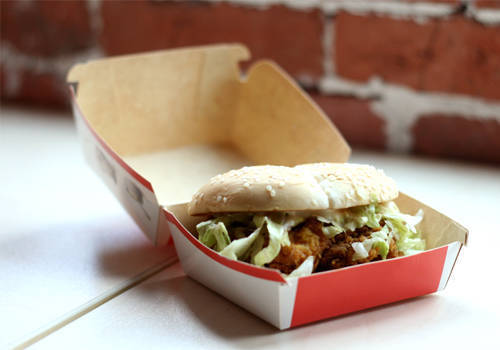 ADVERTISEMENT - CONTINUE READING BELOW
This is exactly what it looked like when we opened the box. No camera tricks.
We were quite surprised to see a fluffy-looking bun, greens that don't look dead, and while the patty doesn't look as big as it does in the commercial, we're just happy it's not swimming in mayonnaise. The burger sits comfortably inside the box, earning extra points for size.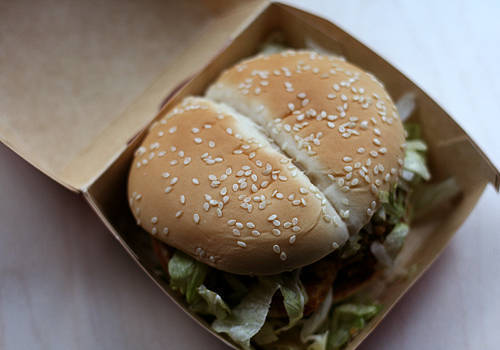 ADVERTISEMENT - CONTINUE READING BELOW
The bun easily pulls apart in the middle, making it easy to save the other half for later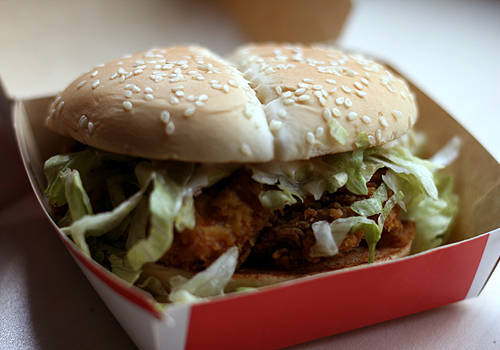 It doesn't look like a nugget. Yet.
Price and availability: P 80 a la carte, P115 with small fries and drink, and P135 with medium fries and drink, at McDonalds branches.
Best for: When you're a few pesos short of affording a Zinger. Or if you're not really into spicy food. It won't make you want to chug down water (or milk, which is more efficient) and the flavor of the chicken isn't  lost to the chili powder clinging to it.
ADVERTISEMENT - CONTINUE READING BELOW
Best with: Boredom, because it's the newest thing. It's also good for having an opinion on a trend. Less theoretically, it's good with a glass of soda, should the spice prove to be a little too strong for your taste.
Tastes like: Spicy chicken, no frills. There's a modest amount of mayonnaise with a reasonable amount of lettuce, the bits of which you can pick off from the box.
Manage your expectations: The breading covering the chicken delivers a surprisingly satisfactory crunch and it's not dry. The meat looks like chicken and we hope it stays that way.
Yay or nay: A definite yay. With exclamation point. Yay! For its price, it's not a bad deal and we'll likely order it again.
Load More Stories