New Promo Alert: Paparazzi at EDSA Shangri-La Hotel, Mandaluyong City
Paparazzi
2/L EDSA Shangri-La Tower Wing, Ortigas Center, Mandaluyong City
Tel. No. 633-8888 loc. 2777
Open from 12 p.m. to 2:30 p.m. (Monday to Friday), 6:30 to 10 p.m. (daily)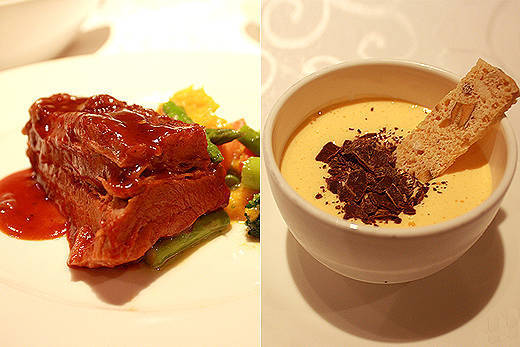 (SPOT.ph) There was a rather high-profile politician eating inconspicuously in one corner on the day of our visit. This is perhaps an inkling of Paparazzi's appeal. Though eclipsed by the popularity of Heat and Summer Palace, Paparazzi is where one could get lost not in the hustle and bustle of diners clamoring for the lobster buffet or for the last basket of dim sum, but just revel in elegant privacy and quaintness.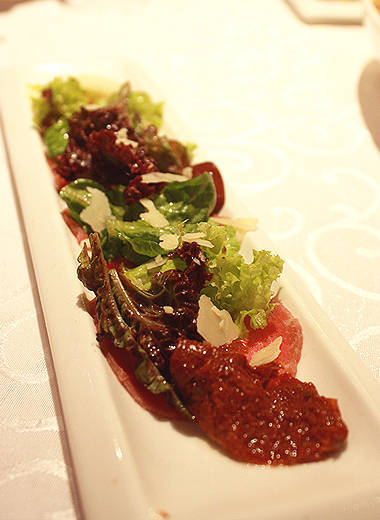 ADVERTISEMENT - CONTINUE READING BELOW
Manzo (beef carpaccio with classic condiments)
But that solitude is only a promise to those who are piqued enough to actually step into the premises. Until then, it's the relatively cheap price tag attached to the hotel-quality cuisine that serves as the primary draw for this restaurant. Young Chef Roberto Cimmino displays remarkable shrewdness for the brand and the kind of clientele it wants to attract. "I have to compete with the malls," he said, and one of his ways to do that is to offer Pranzo Squisito, a three-course executive lunch for only P550 net. "Other restaurants (in the mall) would offer steak for that price and only steak. I give them everything."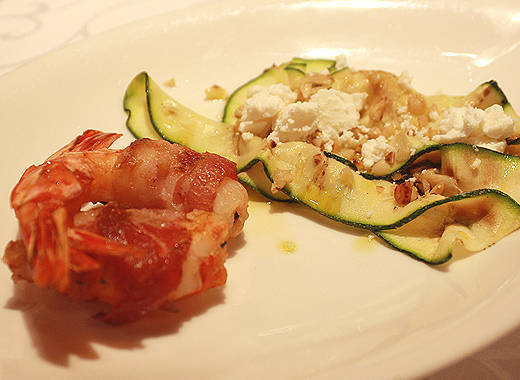 Gamberi Arrostiti (roasted prawns wrapped in bacon)
With the offer, which lasts until September, Chef Roberto intends to give those uninitiated to Paparazzi a hook that they can keep coming back to. The menu is primarily Italian, but he adds flair by using non-traditional Italian ingredients like pork loin and ironically the current European trend, Asian flavors. "Nothing too unusual though," he clarified. "If (people) don't know the dish, they won't order it."
ADVERTISEMENT - CONTINUE READING BELOW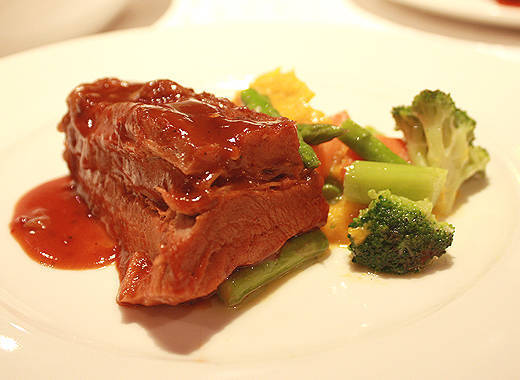 Porchetta di Maiallo (slow-roasted pork belly)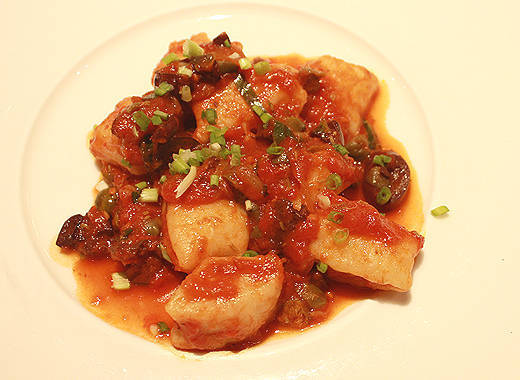 Pasta del Giorno (handmade potato gnocchi with capers, olives, in tomato sauce)
The menu changes every week, but don't be surprised if the cod you ordered today has a different side from the one you had two days ago. Chef Roberto's nothing-frozen policy allows him a little creativity to work only with what's available. Sometimes the pork belly comes with parsnip, sometimes with pumpkin mash, but you can always count on them to be good. Produce is delivered daily, and he prefers fresh local ingredients over imported ones that would take longer to arrive. Since everything is made in-house, from the free bread to the gnocchi to the gelato, fresh materials are imperative to let their natural flavors shine through in his cooking.
ADVERTISEMENT - CONTINUE READING BELOW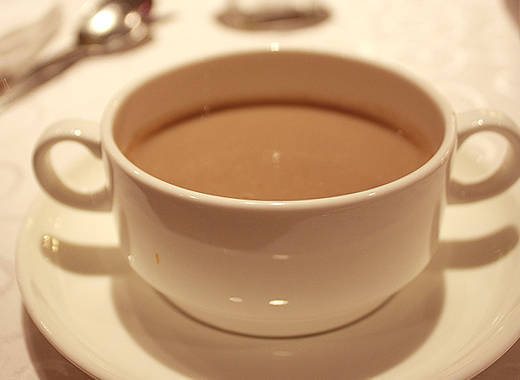 Zuppa or Robbie's Blend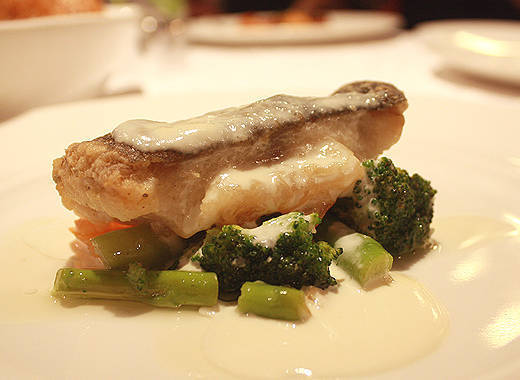 Filetto di Merluzzo (pan-fried cod fillet)
One such example is the mushroom soup, Robbie's Blend. A dish that we feel should hold a permanent place on the Pranzo Squisito menu, Chef Roberto tosses in oyster mushrooms, shiitake, shimeji, button, and nothing else. No cream, no fancy oils, just that unadulterated earthy flavor. But while it may not be in the day's carte du jour, the ever so accommodating Chef Roberto is only too happy to heed customers' off-menu requests so long as they have the ingredients in the kitchen. The Zuppa shows classic technique, but chef expresses innovation in the Porchetta di Maialio. The pork belly is boiled with some stock before it is marinated then slow-roasted. The marinade is uncharacteristic of Italian fare; a deep smokey flavor that's decidedly American permeates in the meat, with shades of that trendy Asian sweet and sour savor.
ADVERTISEMENT - CONTINUE READING BELOW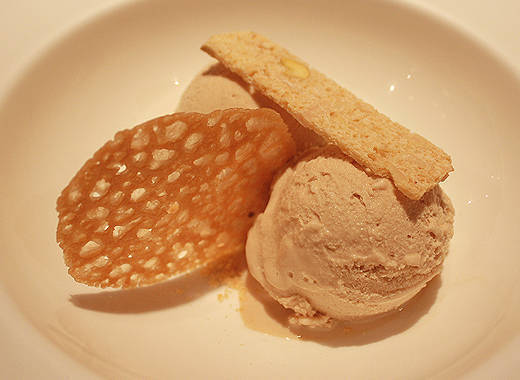 Gelato Nocciola (Hazelnut)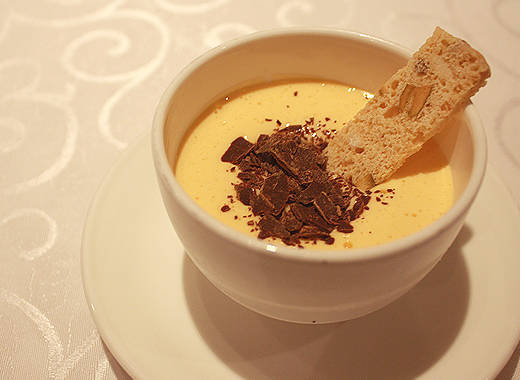 Zabaoine and Biscotti
Paparazzi opened with the hotel 21 years ago, and while Chef Roberto injects a fresh type of enthusiasm, it does well to merge tradition with innovation. Then there's that privacy and the chance to see high-profile politicians.
Pranzo Squisito is only available for weekday lunches.
ADVERTISEMENT - CONTINUE READING BELOW
Load More Stories