The SPOT.ph Guide to Healthy Eating Options in Manila
No excuses! But these won't make you feel deprived, anyway.
(SPOT.ph) If your post-Christmas, pre-summer "healthy lifestyle" resolution didn't pan out (ours sure didn't), don't fret. You get a second chance this July. While not technically a holiday, we like recognizing Nutrition Month as a chance for us to accomplish unfulfilled health requirements. We've made it easy with a list of 10 tips and trips to get you on that path.
TIPS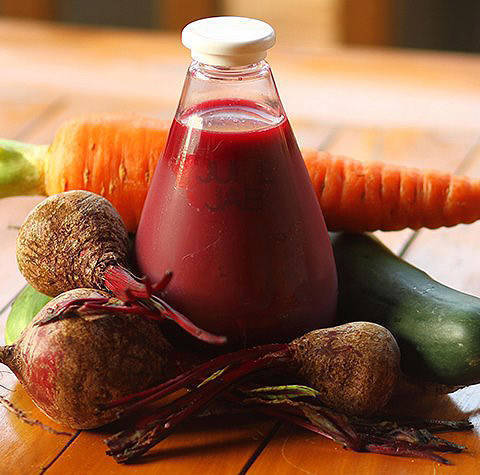 ADVERTISEMENT - CONTINUE READING BELOW
JUICE JAB
Promise: Juice Jab isn't so much about losing weight as it is about detoxifying and over-all wellness. The aesthetic results such as a better complexion and a smaller waistline are just bonuses.
Method: The idea is to replace a meal with two bottles of Juice Jab, which have specific flavors, depending on purpose. The Jabs can be taken from mild (replacing one meal for three days), moderate (replacing two), and strong (replacing three). Single Jabs may also be taken to lighten up after a day's binge or as a simple supplement to your daily diet. Pre- and post-Jab meals have to be light and simple to ease the stomach to the changes. There are no preservatives nor artificial sweeteners.
CONTINUE READING BELOW
Recommended Videos
Shell out: P1,500 to P1,700 (mild), P3,000 to P3,200 (moderate), P4,500 to P4,700 (strong); single jabs cost P260 each
Celebrities who've been hooked: Bianca King, Solenn Heussaff, Ellen Adarna
ADVERTISEMENT - CONTINUE READING BELOW
Visit http://www.juicejab.com/ for more details.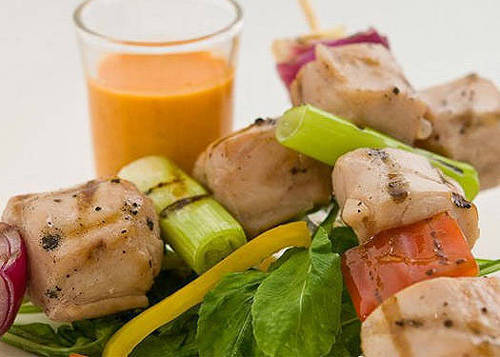 Photo from stylebible.ph
NUIU LIFE CUISINE
Promise: Consider it a personal chef who has a special interest in your health and wellness. NUIU has programs for weight and health management, as well as blood analysis. They cater meal plans and nutrition guidelines specific to your needs. They have a roster of dieticians, lifestyle coaches, and nutrition specialists available for consultation.
ADVERTISEMENT - CONTINUE READING BELOW
Method: The packages include a two-hour nutritional assessment with a meal plan, monitoring sessions, and phone support. Their flexible five-meal-per-day plans come in four calorie levels: 1,200, 1,400, 1,600, and 1,800. In an article in the Philippine Daily Inquirer, Erica Paredes notes that you may also make requests based on specific requirements. In her case, she asked for a the light 1,200-calorie-a-day diet on top of her rigid workouts. All meals are delivered fresh nightly.
Shell out: Unless you're an actual potential client, NUIU is coy about their prices. However, with an advocacy to give people easier access to a healthy lifestyle, they have meal plans for as low as P890 per day.
Celebrities who've been hooked: Nicole Hernandez, Patty Laurel, Anne Curtis, Liz Uy, Solenn Heussaff
Visit http://www.nuiu.ph/ for more details.
ADVERTISEMENT - CONTINUE READING BELOW
Photo from shootfirsteatlater.com
COHEN LIFESTYLE
Promise: Weight. Loss. The Cohen Diet delivers fast and noticeable results, the kind that make people go, "Wow!" through a healthy and scientific eating program specifically designed to for an individual's needs.
Method: According to Cohen's website, Dr. Rami Cohen discovered that a healthy body weight may be achieved through a balance of insulin, serotonin and the human growth hormone; an imbalance may cause metabolic problems. After a test to check which hormone is out of order, meals will be assigned to address that issue and allow the body to burn fat. The whole program is four-fold, beginning with an initial meal plan, a refeeding plan (to slowly introduce more portions), maintenance guidelines, and a six-month support system.
Shell out: P55,000
Celebrities who've been hooked: Judy Ann Santos Agoncillo, Bea Alonzo
Visit www.cohenlifestyle.com.ph for more details.

ADVERTISEMENT - CONTINUE READING BELOW
JUJU CLEANSE
Promise: Just as its name lets on, this program cleanses the body through a juice-based detox. With the "junk" gone, the body has once again room to absorb much-needed nutrients. A cleaner body also results in better complexion, less stress, renewed energy, and stronger immunity.
Method: In planning for a cleanse, it is encouraged to lessen intake of junk food, processed food, salty dishes, and animal protein. There are three levels in the program, measured in increments for people who are wary about the cleanse (more variety in the juices, from fruit to greens) and those who are used to it (more vegetable-based drinks), and may be taken in one-, three-, or five-day plans. Juju also has Solo Kits designed for specific purposes like a cure for hangovers, kids, energy boosting, immunity, improved complexion, and more. The Juices are delivered every night (also available for pick-up) as they are more effective fresh.
ADVERTISEMENT - CONTINUE READING BELOW
Shell out: P2,300 to P2,500 (one-day), P6,900 to P7,100 (three-day), P11,500 to P11,700 (five-day). Juju Solo Kits are P1,350 while 350-mL bottles are P300 each.
Celebrities who've been hooked: Patty Laurel, Nicole Andersson, Kris Aquino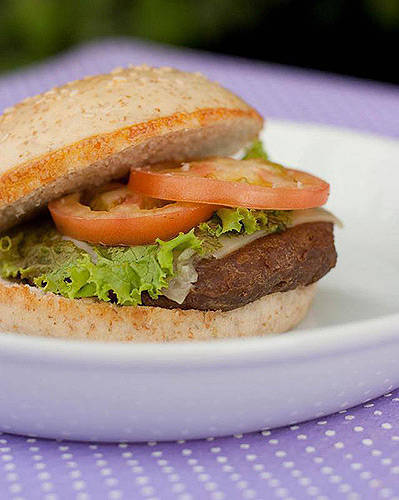 SEXY CHEF
Promise: Here, you have variety and you're given the option to figure out which weight-loss scheme is right for you. One of the first establishments to cater diet plans in the Philippines, the Sexy Chef started by providing South Beach Diet meals to calorie-conscious Filipinos in 2004. Since then, they've branched out to include several diet programs like the Cohen, as well as some that are their very own.
ADVERTISEMENT - CONTINUE READING BELOW
Method: It's a little more complicated to explain since there are around nine diet programs in their repertoire. However, their years of experience have guaranteed efficient service. E-mail info@thesexychef.ph to sign up for one of the programs.
Shell out: Though different per program, Sexy Chef has options costing as little as P500 a day.
Celebrities who've been hooked: Georgina Wilson, Regine Velasquez, Ruffa Gutierrez
Visit thesexychef.ph for more details.
TRIPS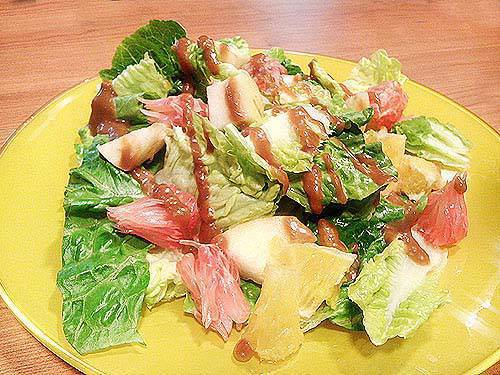 ADVERTISEMENT - CONTINUE READING BELOW
Concept: Dishes that are 500 calories or less
The menu is classified according to low-fat, low glycemic index, and high-fiber, with each plate containing a specific ratio of fruits, grains, vegetables, and proteins. With dishes that pay particular emphasis on calorie count, Yellow Halo was designed to cater to the 1,500 recommended daily calorie intake, based on a three-meal diet, and leaving room for snacks in between. The only down side is, with this scheme, you'd have to eat at Yellow Halo the whole day.
Order: Tuna Whole Wheat Pasta, Tomato, Basil, and Cottage Cheese Sandwich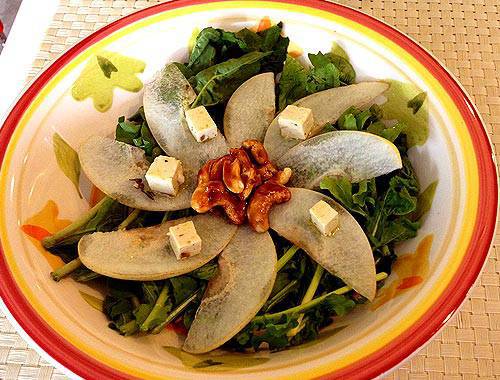 ADVERTISEMENT - CONTINUE READING BELOW
Concept: Delicious dishes that would make you love vegetables for what they are.
For a while, vegetarians looking for a good meal would have Edgy Veggy on speed dial, but since opening her official flagship store late last year, owner Denise Celdran has attracted more of a meat-eating clientele. With mushrooms, cheese, and tofu featured prominently on the menu, it's easy for Edgy Veggy to serve as gateway food for carnivores.
Order: Tofu Steak, Three Mushroom Lasagna
Concept: Healthy snacking food
Snacking has never felt so healthy. Situated just a few steps from Greenbelt Cinemas, this cafe makes healthy treats available for diners looking for convenient meals-especially those they can take inside the cinema. All the items sold in Chimara use only the finest natural ingredients with the healthiest cooking processes. Popcorn is flavored with olive oil instead of butter; apples, banana, and tofu replace potato for chips, breads are powered up with grains and nuts. You get the picture.
ADVERTISEMENT - CONTINUE READING BELOW
Order: Olive Oil Popcorn, Meatless Tacos, Banapples, Tofu Chips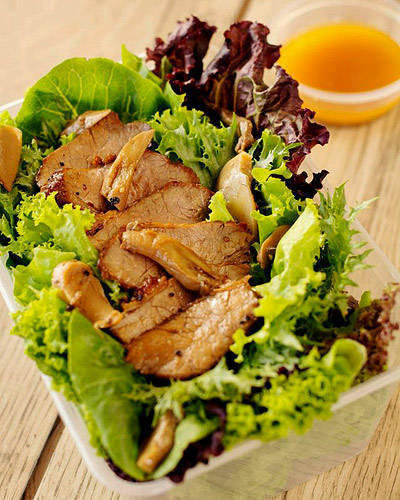 Concept: Organic and affordable salads
You might scoff at the concept since salads are usually one of the cheaper options in any menu, but these green dishes don't just use any wilted lettuce and Thousand Island dressing. Owner Cibbie Gonzales' roster of four assures only organic greens farmed pesticide-free and awesome flavors that make you forget about the meat-full life you've been living so far. Though not vegetarian (they use meat to embellish their salads), this is the perfect gateway to healthy living. Their desserts are based on wheat and are sugar-free, as well.
ADVERTISEMENT - CONTINUE READING BELOW
Order: Sgt. Steak and Sweet Caroline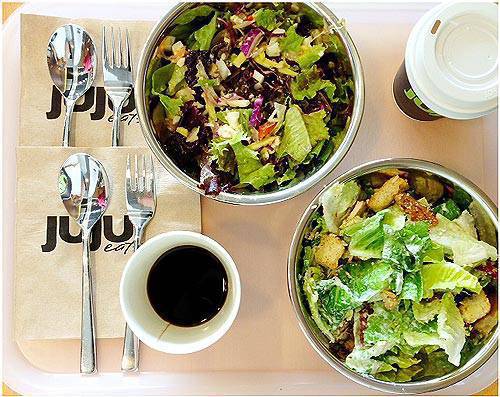 Juju Eats
Concept: DIY salads
A concept brought to us by the same people responsible for the Juju Cleanse, Juju Eats is another salad joint dedicated to making you a greens convert. Though not entirely vegetarian (again, meat isn't bad if you don't have too much of it), Juju Eats boasts a wide array of salads that range from light (116 calories) to heavy (625 calories). They also have salads that have a low glycemic index, salt, carbs, or cholesterol, and are gluten-free. For those who want to have more options, they can opt to "design" their own salads by choosing the size, base, freebies, extras, and dressing (a calorie sheet is available if the customer's keeping count).
ADVERTISEMENT - CONTINUE READING BELOW
Order: Inasal Salad, Roasted Pumpkin Salad, Big Boy Salad
Share this story with your friends!
---
Help us make Spot.ph better!
Take the short survey
Load More Stories