Stockton Place
227 Salcedo corner Gamboa Street, Makati City
Tel. No. (0917) 856-1419 (reservations are encouraged)
Open from 6 p.m. to 10 p.m.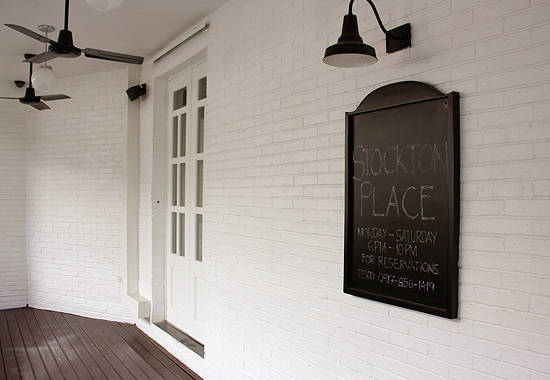 (SPOT.ph) They say that for any enterprise to flourish, one must work for the name and the name will work for everything else. But this doesn't seem to be the case for Stockton Place along Salcedo Street. When the unassuming eatery opened a month ago, they opened with nary a name nor a plan, the six-month delay in their launch making them anxious to start with whatever they had, even if they had nothing to call themselves.
ADVERTISEMENT - CONTINUE READING BELOW
But what's in a name, anyway? "Everything that could go wrong went wrong," says chef and partner Celine Delos Angeles. With name troubles, Delos Angeles and her partners settled on Stockton, not simply because it was patterned after one of the restaurants her favorite chef worked in, but more so because they had exhausted every other option. Still, everything worked out in end, and with barely any attempt at marketing, Stockton's dishes spoke for themselves. Now, tables have to be booked in advance just to be assured of a seat.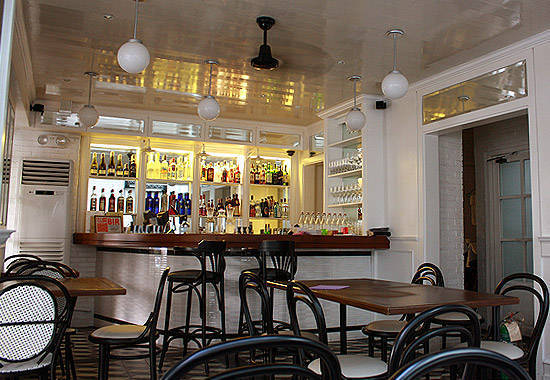 ADVERTISEMENT - CONTINUE READING BELOW
Recommended Videos
Stockton Place's white-brick facade stands out against the Makati landscape, but unmarked, eclipsed by skyscrapers, and with only a small blackboard with faded chalk lettering to identify it, it's one place that you'll have to look for carefully to be able to find. A sunroof casts a warm glow over the tucked space, but in the mornings, the windows are boarded, leaving one with the impression of an unused warehouse. It's during nighttime when Stockton Place becomes a bubbling hub of Makati gastronomy.
Thought precedes trend and theme, and Chef Celine takes gimmickry off the table, focusing on her own preferences. Even the menu, written on another piece of chalkboard which she's already itching to wipe off, is a conservative list, covering basic options-soups and salads, fish and meat, pasta and dessert-but presented in exemplary fashion. "(The dishes) look manageable, but the process behind them is complex," she says. "I just want (the menu) to be thoughtful, I didn't mean for it to be revolutionary."
ADVERTISEMENT - CONTINUE READING BELOW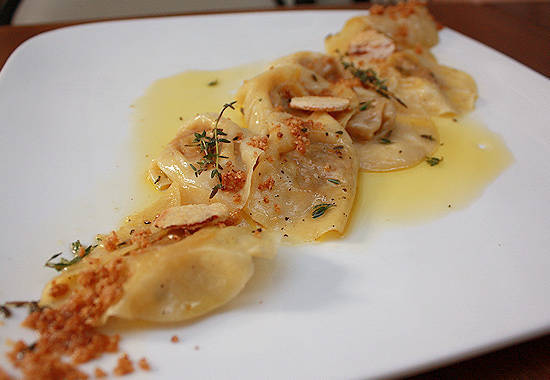 The tortellini-cum-ravioli that's absolutely to-die-for.
But revolutionary is close to how one would describe her Sweet Potato Tortellini (P350). Toeing the line between sweet and savory, the pasta takes the blanketed shape of ravioli instead of the knotted intricacy of a tortellini, but semantics aside, the filling hints at the thyme that the pasta is sitting on. Crushed hazelnuts and brown butter layer a nuttiness that makes the sweetness of sweet potato complementary to the savor of prosciutto crisps, all three elements piling on a variation in texture filled pastas so often require to be enjoyable from start to finish.
ADVERTISEMENT - CONTINUE READING BELOW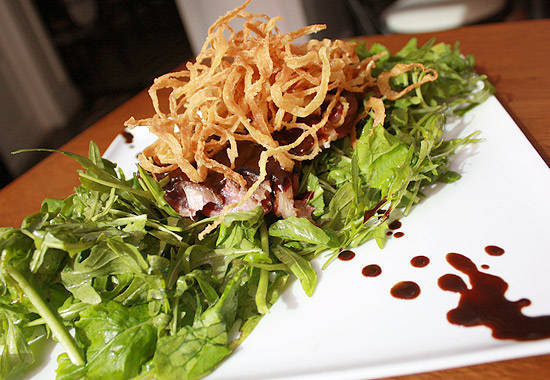 The steak's hiding between the mound of arugula, crisp onions, and steak sauce.
The heavy favorite is the Steaks (P450/100 grams), and by heavy, we mean chunky, man-sized cuts, no thinner than two-inch-thick slabs. Chef Celine slices the pan-roasted bestseller into more manageable pieces to embellish the arugula salad (P600). Cooked to a default rare, the steak flaunts a striking blood-red hue that translates to a salty, melt-in-your-mouth chewiness.  There's a bit of a disconnection when paired with the bitter pleasantries of fresh arugula, but the mound of crisp, delightfully sweet shoestring onions ties everything together.
ADVERTISEMENT - CONTINUE READING BELOW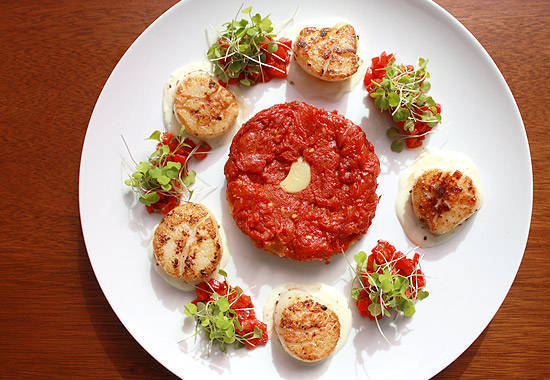 Too pretty to eat, too good to share (plus there are only five, which is an awkward number for sharing).
As evident in the steak, servings at Stockton come by large; the sharing portions only makes the restaurant more conducive to becoming the hangout that Chef Celine intended it to be. But if there's one dish that's difficult to share, it's the Seared Scallops (P750). The dish is by no means not generous, but the beautifully seared, P10-sized scallops wading on individual moats of lime creme fraiche are a delicacy one can eat by the pound. At the center is a caramelized tomato tart set on puff pastry that does well to amplify the daintiness of this particular type of seafood.
ADVERTISEMENT - CONTINUE READING BELOW
Stockton Place is growing to be the kind of destination that's best kept off the limelight and just at the edge of the radar of foodies that yearn for a secret place, but dishes such as these say for Stockton what the owners don't in promotion: it's slowly but surely gaining that much deserved attention. We'll take that over any other kind of marketing any day.
Share this story with your friends!
---
Help us make Spot.ph better!
Take the short survey
Load More Stories