10 Must-Try Off-the-Menu Dishes
You know what they say: Seek and you shall find, ask and you shall be given.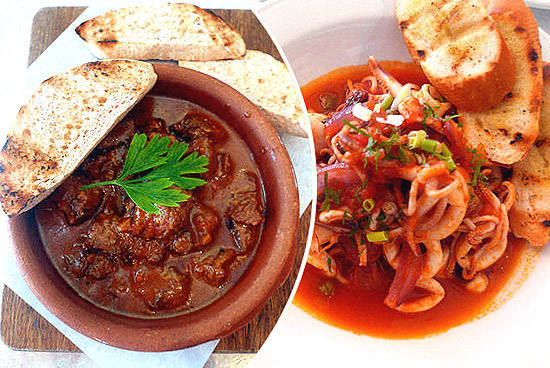 (SPOT.ph) You've heard the rumors: a restaurant offering a secret cake, a bar with a mysterious martini. It catches your interest, not to mention your taste buds, but as you look for it on the menu, nothing there seems to fit the profile. Yes, restaurants stock their culinary arsenal more than they want to show us, ready to use them when need be, but stowed away in the meantime.
They're not myths-not all of them anyway-that much we can tell you. We're letting you in on the secret, 10 in fact: off-menu dishes that'll give your favorite restaurant a new mysterious edge.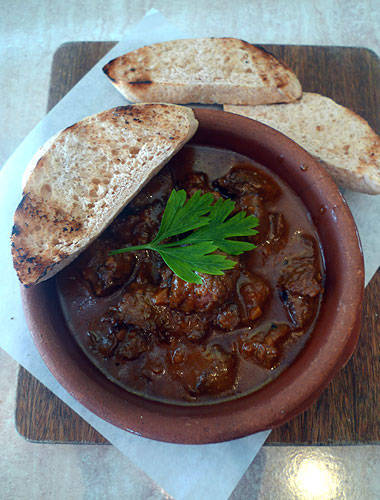 Red Curry Salpicao at 2nd's (P565)
You know your dish is on its way from the distinct curry aroma wafting from afar. As soon as it lands on the table, you get the urge to immediately steal a slice of the grilled bread it comes with. Dip it into the clay bowl, and indulge in that thick flavorful sauce. It's essentially the same as the Beef in Red Curry-the only difference is, the beef cubes are more tender and precooked in loads of garlic. These sit on a pool of flavorful sauce, which would be great with steaming white rice, too.

ADVERTISEMENT - CONTINUE READING BELOW

2nd Floor Wumaco Building, Quadrant 3, Bonifacio High Street, 9th Avenue, Bonifacio Global City, Taguig City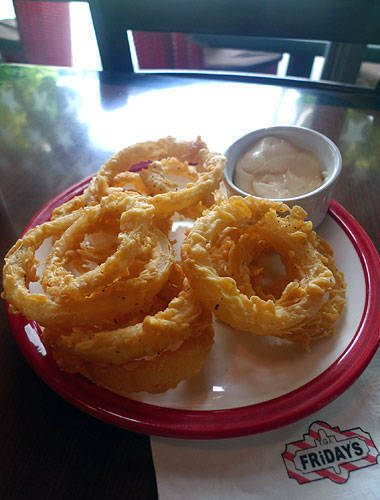 CONTINUE READING BELOW
Recommended Videos
Onion Rings at T.G.I.Friday's (P70)
Onion rings are prerequisite diner food. Yet, popular food chain T.G.I.Friday's ripped it off its menu-or so you thought. You can still have your fix of this all-time favorite side dish when requested, which according to the lovely server at the Taguig branch, a lot of people still do. Served with plain mayo, the sweet rings are not heavily battered, remain crisp to the bite, and are not greasy. So go ahead and use your hands, as you should.


Click here for a list of T.G.I.Fridays branches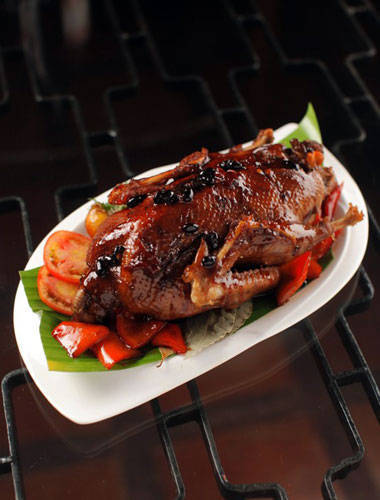 Pato Tim at Chef Tatung (P1100)
Like many of the dishes on this restaurant's menu, the Pato Tim tells a personal story, which makes it all the more special and delicious. Chef and owner Myke Sarthou distinctly remembers this particular dish as something his grandfather had the cook prepare whenever there was a grand occasion at home. It can feed up to six people, sometimes even more, making it perfect for big groups or families. A whole duck sits on a bed of sugar cane then cooked in a vat made of coco wine, soy sauce, black beans, and ginger. After four long hours, out comes a rich and satisfyingly good dish reminiscent of humba.

ADVERTISEMENT - CONTINUE READING BELOW

Molave Lane, Acacia Estates, Barangay Ususan, Taguig City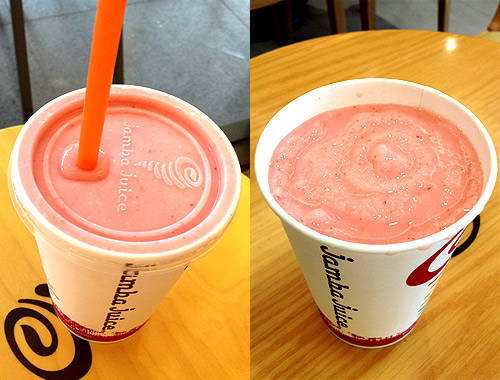 Pink Starburst at Jamba Juice (P155)
Talk about Jamba's underground flavors has been going on for years now, and in other countries, people have actually confirmed their existence. It is true on the local front, as well. While they aren't necessarily in line with the food company's healthy thrust, they are certainly in line with Jamba Juice's quality control in taste and flavor. Think of it this way: You have your cheat days, right? And for those days, you can rely on the brand's secret smoothies. Among them is the Pink Starburst, which is a mix of different sherbets.


Click here for a list of Jamba Juice branches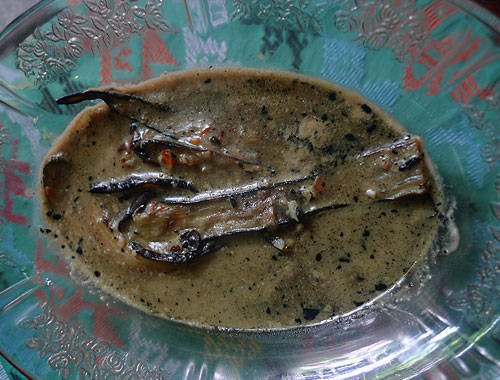 Minanok at Adarna Food and Culture (P130)
It does not look appetizing but your taste buds won't care once you take the first bite of this regional vegetable dish. No, it's not made of chicken as the name might deceivingly suggests. It's similar to kulawo, except they use eggplants instead of banana heart. The vegetables are grilled, sliced to slender pieces with the skin still on, and then braised in smoked coconut cream, resulting to a very flavorful dish that you'll want to eat with heaps of rice.
ADVERTISEMENT - CONTINUE READING BELOW
119 Kalayaan Avenue, Diliman, Quezon City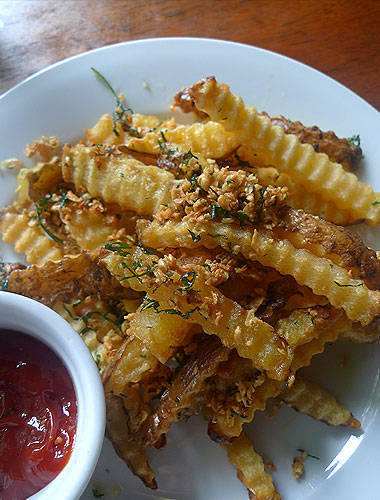 Chef's Fries at Café Ysabel (P98)
Quite unlike other fries you've tried, a mound of skin-on fries are sprinkled with fried garlic and chopped basil. It's not even seasoned with salt and pepper but it's already flavorful. You don't even have to bother with the tomato ketchup.


455 P. Guevarra Street corner C.M. Recto Street, San Juan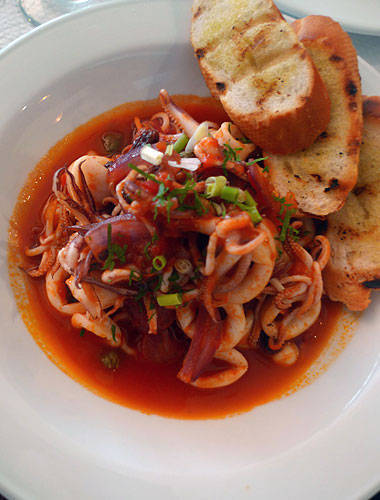 ADVERTISEMENT - CONTINUE READING BELOW
Two-Minute Calamari at Cirkulo (P445)
The cochinillo and paella aren't the only ones you should savor when at famed Spanish restaurant Cirkulo. You should include the Two-Minute Calamari on your list and discover for yourself why loyal customers keep coming back for it. It has tender pieces of squid doused in a stew of sweet red onions, green capers, raisins, and a tomato broth that tastes like the sea. It comes with grilled toasts, which is perfect for the excess sauce.


Ground Floor, Milky Way Building, 900 Pasay Road, Makati City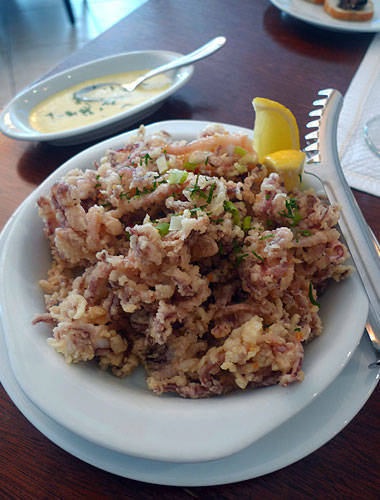 Rabas at Cirkulo (P395)
Cirkulo likes having secret dishes and here's another one you shouldn't miss. The chipirones or baby squid makes another appearance in this list, only this time, instead of being stewed, it is deep fried, much like your everyday calamares. But this is Cirkulo-you can expect it to be way better than pretty much everything else. It is composed only of squid heads and tentacles that have been lightly battered then served with lemon wedges and a garlic aioli. It comes piled on a plate and like popcorn, makes you want to pop one after another in your mouth. Nobody will blame you if you do so.
Ground Floor, Milky Way Building, 900 Pasay Road, Makati City
ADVERTISEMENT - CONTINUE READING BELOW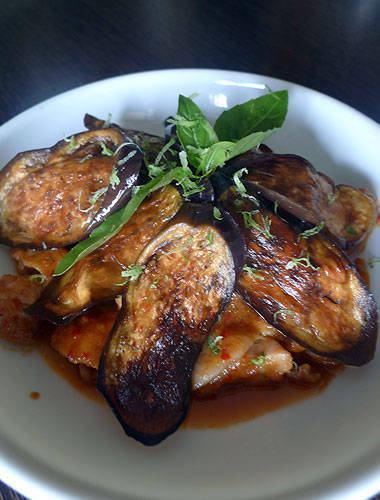 Wok-fried Red Curry Chicken with Eggplant at Nav Modern Thai (P280)
It makes an appearance on its daily specials, but never in the regular menu. But even when it can't be found on both, you can order the Red Curry Chicken with Eggplant anytime, and it'll always come up satisfying. The name tells you everything you need to know about the dish. The best part is, there's just enough heat to make your taste buds tingle. This neighborhood joint prides itself for its homemade, MSG-free curries and to date, it lures even people from distant QC and Makati.


16 United Street, Kapitolyo, Pasig City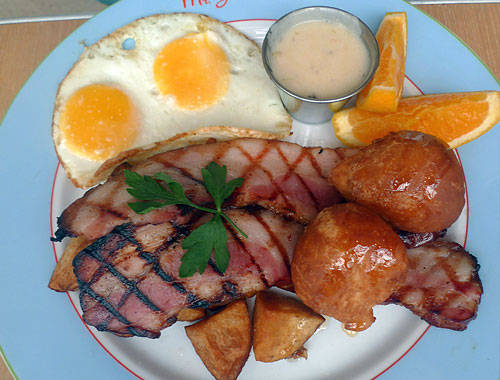 ADVERTISEMENT - CONTINUE READING BELOW
Bacon and Eggs at Mr. Jones (P350)
It's a standard breakfast fare, something you can easily have at home. But Mr. Jones' Bacon and Eggs are something else. It consists of two sunny side up eggs, two strips of smoky and sweet grilled bacon, roasted potatoes, a pair of warm biscuits, white mushroom gravy, and juicy orange wedges. It's breakfast of champions material, filling enough to last you beyond lunch. Slather everything with delicious gravy and when that runs out, don't hesitate to request for another.
G/F, Greenbelt 5, Makati City
Share this story with your friends!
---
Help us make Spot.ph better!
Take the short survey
Load More Stories