Beyond Balut: Dishes That Look Bad but Taste Good
Who cares if they're ugly? These dishes taste good!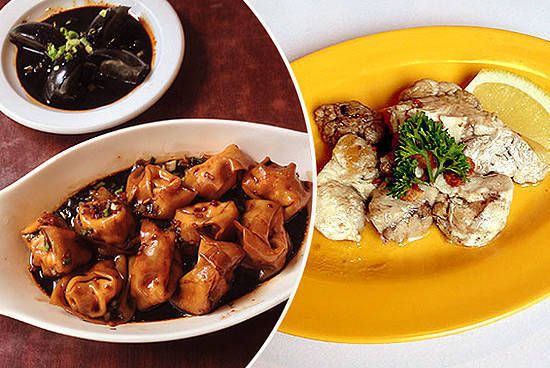 (SPOT.ph) You've probably experienced it, too: Food that looks pristinely prepared and meticulously polished, falling flat on first bite. If you ask anyone who values the buck more than any sort of theatrical bang, flavor always takes precedence over any other factor, even if that means taking away the flowers in your salad, gold around your steak, or rainbows on your plate. Sometimes, the weirdest looking item on the menu can inspire the most pleasantries, even if its looks, well, don't.
Call it an experiment in not judging a meal by its plating, but we scoured the metro for restaurants offering unattractive but delicious dishes. Folks, next time you dine out, please consider the ugly and the nasty. What they lack in the looks department, they might just more than make up for in taste. Any balut fan can tell you that.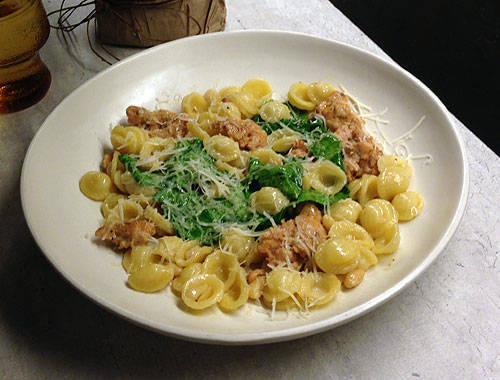 Grace Park's Orecchiette (P350)
Some dishes are named after their creator or their birthplace; the Italian orecchiette, however, gets its name from the way it looks-like tiny, indented, oval ears (of a particular rodent, might we add). Of course, you can think of them as pronounced dimples, too, but the cats hanging by the walls of Grace Park will persuade you to think otherwise. Through the genius of Margarita Fores, this homemade pasta is turned into a dish deserving of loud, hysterical praises. A warm plate of perfectly al dente orecchiette, accentuated by the flavors of olive oil, Luganega sausage or Ilonggo chistorra, Parmesan, beans, and greens, spells comfort like no other.
ADVERTISEMENT - CONTINUE READING BELOW
G/F, One Rockwell Building Rockwell Drive, Makati City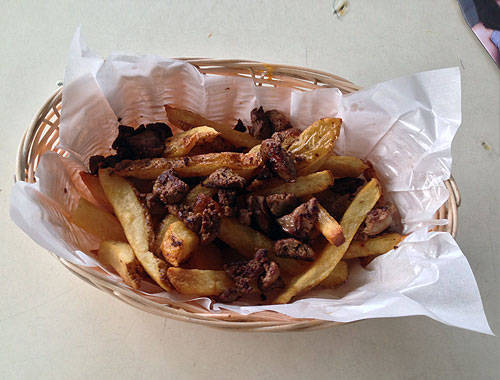 CONTINUE READING BELOW
Recommended Videos
Charlie's Black Truffle Fries (P185)
A good serving of truffle fries is always a welcome treat. But when it's studded with what looks like a cross between a cat's feast and its aftermath, you just don't know if it's even worth getting yourself into (i.e., closing your eyes and scraping your tongue throughout the whole meal). But Charlie's gives us a good reason to take on the challenge; because by the mere whiff of its truffle essence, the yum factor of this dish is already assured. And by the time you've wiped clean your plate, you realize that the bits of chicken liver-the kind that's not too bitter, oily, or black-actually brought the deliciousness to the nth level.
16 East Capitol Drive, Kapitolyo, Pasig City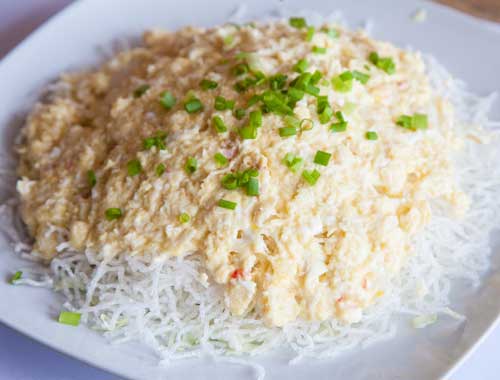 ADVERTISEMENT - CONTINUE READING BELOW
Wooden Spoon's Crab Pancit (P145)
Wooden Spoon's Crab Pancit is the sort of mess you can probably expect from kids who've found their way into the pantry and decided to experiment. It looks like mush sitting on some strings. But, this pancit is far from ordinary. It is reportedly conceptualized by two-star Michelin Chef Jacques Marniere and Nora Daza. What looks like extra mushy scrambled eggs is actually a rich, creamy crab mixture, generously laden with bits of crabmeat and chopped green onions. And the stringy-looking noodles, on which the topping sits, is quite cripsy. Mix them up for one tasty masterpiece!     

329 Katipunan Ave., Loyola Heights, Quezon City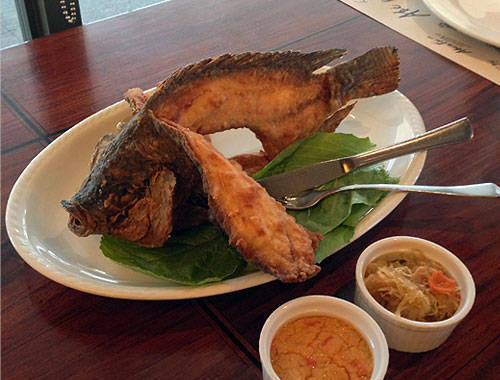 Lorenzo's Way's Binukadkad na Pla-pla (P395)
Haunted houses, clowns, mothers-in-law-they all have the same purpose of tormenting lives through fear and horror. An item in Lorenzo's Way's menu isn't too far behind. "O-M-G! Are we back in the age of dinosaurs?" someone exclaimed as a server brought out the "flying fish." It takes a minute or two before everyone snaps back to reality, though most are still in awe of how the fish grew wings or why its mouth is left wide open. Its accompanying balo-balo doesn't do much for the somewhat scared diners. So, what does? Nothing but the crisp skin and well-seasoned tender fish, the freshness of mustasa, and the kick of fermented rice-all brought together in one delicious harmony.

ADVERTISEMENT - CONTINUE READING BELOW
G/F Greenbelt 5, Legaspi St., Legazpi Village, Makati City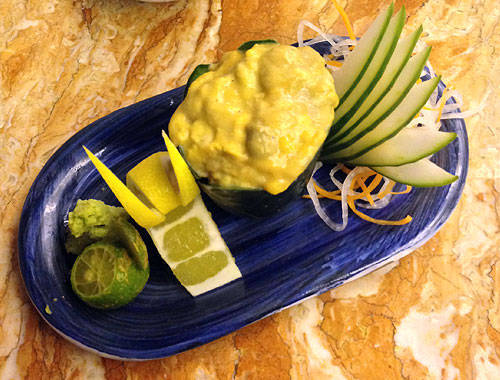 Isogi's Uni Sashimi (P120)
Mushy, yellow mass with a phlegm-like consistency. Though that could pass as a description of what comes after a baby has had one too may cups of puree, it's actually the picturesque portrayal of a good mound of uni at Isogi. No amount of beautiful plates (or plating) could mask this image, aside from the uni itself. Pick up your chopsticks, bring a portion to your mouth, and allow it to dissolve on your tongue. A good squeeze of lemon and a hint of wasabi can help cut the uni's creaminess, but then again, that's exactly what you're paying for. There's no sort of bitterness in this uni, only sweetness with a splash of nuttiness. If you find the uni's richness to be too much, Isogi has a mouthwatering uni pasta, too.

G/F San Antonio Plaza, 50 McKinley Road corner Palm Driver, Forbes Park-North, Makati City
ADVERTISEMENT - CONTINUE READING BELOW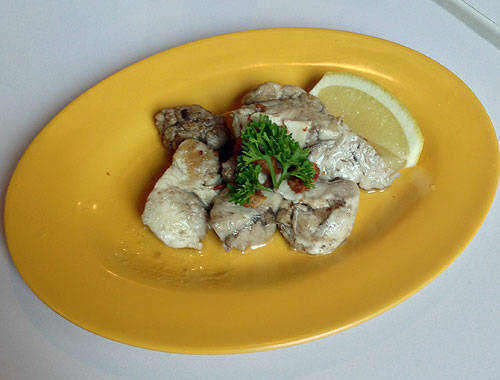 Shawarma Guys' Garlic Ox Brain (P99)
Without question, bar grub easily falls in this food category. There's no better representative than ox brain. A word of caution: A plate of creamy, oily blobs of brain should never be had without a bottle (or two, or three!) of beer in hand. Because, really, how do you plan on getting through such a strange-looking delicacy? Thankfully, Shawarma Guys' version is less traumatizing. It can be compared to balut and utak ng bulalo-unapologetically sinful yet still appreciated by many. A sprinkle of garlic gives the glob some good texture and color contrast. Make sure to drizzle some lemon juice and squeeze some chili sauce on it, too.

G/F Fort Pointe Building, 26th Street, Bonifacio Global City, Taguig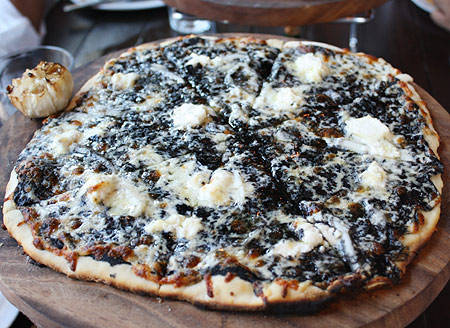 ADVERTISEMENT - CONTINUE READING BELOW
Sunshine Kitchen's Pizza Al Nero (P520)
There's some irony here. Could the warmest, most comforting kitchen in the metro, as its name claims, possibly dish out unpleasantry to the eyes? Because who would dare touch a round pool of black sauce with clots of white sauce all over? Probably anyone who skips descriptions on the menu, and would've mistaken the squid ink and cream topping for dinuguan and mayonnaise. Don't miss out on such a glorious, decadent pizza. "Heaven" is the only fitting description for the wondrous marriage of squid ink and ricotta, mozzarella, and grana padana cheese. Please do yourself a favor and spread a thick layer of roasted garlic on each slice and drizzle some chili oil all over. Sexy as it may be, don't dare order this on a first date.
2nd Floor Fort Pointe Building, 26th Street, Bonifacio Global City, Taguig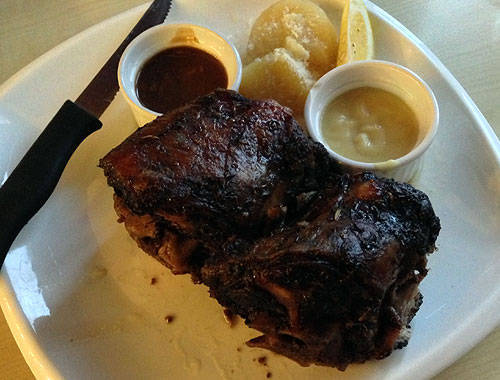 Greeka Kouzina's Arni Lemonato (P580)
When you're served two huge rounds of a black-colored mass at a restaurant, the only thing you're most likely left with is a heaping tub of sadness. It's dark, dry, and scary. For its price, tears will easily make their way down your cheek. But at Greeka Kouzina, there is no reason to cry over burnt meat. Its appearance is easily forgotten with a slice of this five-hour roasted lamb. You won't even need your knife to slice it; the meat is unbelievably tender. While the inside is moist and juicy, the outer layer is crisp. And if all that isn't enough, there's barely any of that usual lamb aftertaste to worry about, either.
ADVERTISEMENT - CONTINUE READING BELOW
285 P. Guevarra St., Little Baguio, San Juan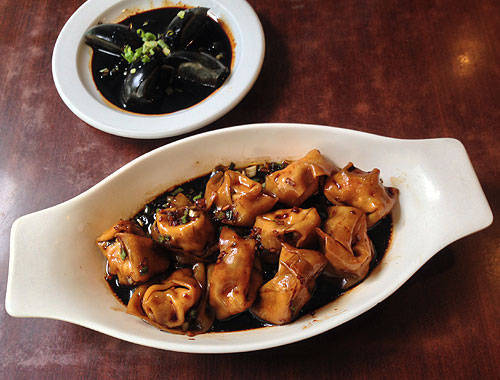 Su Zhou's Shrimp Wonton in Soy Sauce (P140)
What looks like a dish of freshly picked eyeballs, wrapped in rubbery skin and drowned in a pool of dark blood, is actually nothing short of amazing. Now that such imagery is out of the way, it's time to discover and taste the real deal: These are freshly steamed shrimp wontons swimming in sweet soy sauce. There's nothing unappetizing, off-putting, or downright gross here, only deliciousness that comes in every piece of plump, juicy, sweet wonton. While some would consider green onions as a mere garnish to a dish, it plays the crucial role of providing extra freshness and crunch. Pair it with the equally tasty Century Egg in Soy Sauce, because this sort of misery loves company.   

837 A. Mabini St., Wack Wack, Mandaluyong City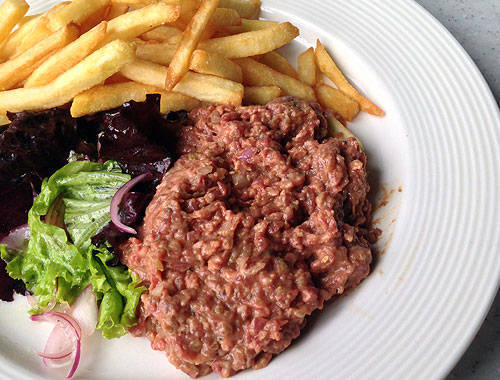 ADVERTISEMENT - CONTINUE READING BELOW
Brasserie Girolle's Tartare de Bouef (P620)
Some would think that a visit to the market would save you a few bucks and still give you the same beef tartare. Who wouldn't think that this mound of raw beef is actually just a kilo of ground beef? Because it looks like it-a mixture that was served right before being wrapped into a lumpiang shanghai or rolled into meatballs. In reality, beef tartare has been enjoyed by many all over the world. It's traditional fare made out of finely chopped high-quality beef, and we're just lucky that Chef Ian Padilla's version is easy to digest-so easy, and scrumptious, that finishing your plate wouldn't be a problem at all. Perfectly seasoned, surprisingly creamy, and generously portioned, this Tartare de Bouef deserves all eyes in this show.

G/F Fort Pointe Building, 26th Street, Bonifacio Global City, Taguig


Share this story with your friends!
---
Help us make Spot.ph better!
Take the short survey
Load More Stories