Brasserie Girolle
GF Fort Strip, Bonifacio Global City, Taguig
Tel. No. 856-6639
Open from 11 a.m. to 12 a.m. (Sunday to Thursday); 11 a.m. 2 a.m. (Friday and Saturday)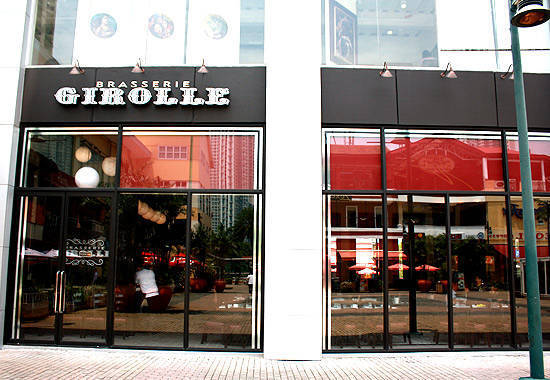 (SPOT.ph) To talk about French cuisine may be as discursive as a conversation on art and science; and as it is as much of one as it is the other, it could be a long discussion. But where fun-loving Filipinos prefer the comfort, convenience, and affordability of the final product over the thought in the process, it's almost funny how French cuisine, one of the foundations of culinary tradition itself, has failed to make an indelible mark on the local palate.
ADVERTISEMENT - CONTINUE READING BELOW
But Chef Ian Padilla gambles on French food anyway-and he does so in Bonifacio Global City, where the more popular Italian, American, Chinese, and Japanese are just as available. But the chef, who owns both the upscale La Girolle and the casual Brasserie Girolle, makes French fare interesting, if not relevant in this city. As he puts it, "It's really just normal food done extraordinarily well."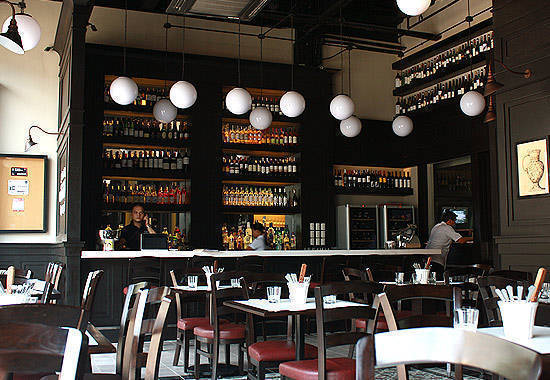 ADVERTISEMENT - CONTINUE READING BELOW
Recommended Videos
Brasserie also boasts of an excellent wine selection.
"Do you find it intimidating?" asks Chef Ian, gesturing at his newly opened brasserie where sunlight streams through the glass walls; the chic baubles of light becoming all but decorative. Below, a fleur de lis pattern on the tile brings the interest to the gray floor, compelling the diner to take in every effort from top to bottom. Designer Aris Tan has managed to craft something that stays true to the meticulous ideals of the French, but without the overwhelming ambiance that makes customers feel like they have to sit up straight. Near the entrance is a bar, a custom that transcends culture, that makes it all the more inviting.
Brasserie Girolle builds its appeal on Chef Ian's refined French fare made accessible. He cuts the razzmatazz and limits garnish and cutlery to a practical minimum. Instead, he banks on quality fresh ingredients and squeezes out their every potential. Stock is prepared from hours of boiling; meats are braised for a quarter of a day to attain that desired melt-in-your-mouth bliss. No shortcuts, that's the French difference.
ADVERTISEMENT - CONTINUE READING BELOW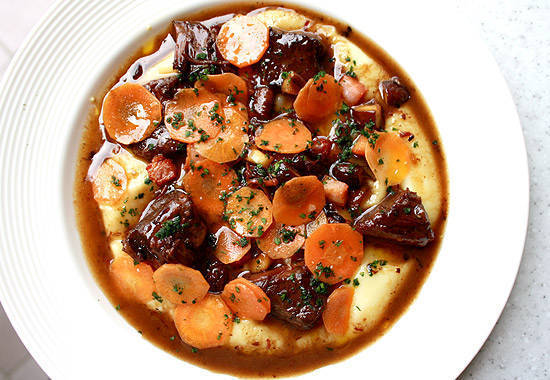 What comfort is to the French: Beouf Bourguignon
The epitome of this relaxed French style is the Boeuf Bourguignon (P650). Not the most haute recipe in France, Chef Ian relies on comfort French cuisine to relate to the Filipinos. Bourguignon is nothing more than a stew, and Girolle embellishes the cubes of red-wine-braised beef with bacon, carrots, shallots, and mushrooms over gooey mashed potatoes. There's a savory tackiness in the sweetish sauce that hints at the hours spent in crafting the stock. The beef is cooked to fork-tender perfection, making knives unnecessary.
ADVERTISEMENT - CONTINUE READING BELOW
The biggest obstacle at Brasserie Girolle might be pronunciation, but servers won't hold it against you if you just point at your preference. Despite the peregrine menu (all helpfully captioned in English), however, nothing is too foreign for the local palate to stomach. Noticeably, the iconic foie gras makes only a singular appearance as an entree (appetizer). Instead, Brasserie focuses on beef, chicken, duck, lamb, veal, tuna. Perhaps beef tartare, which is Chef Ian's favorite, presents a bit of a challenge, but only because of a natural aversion to raw meat and not because it's particularly unusual.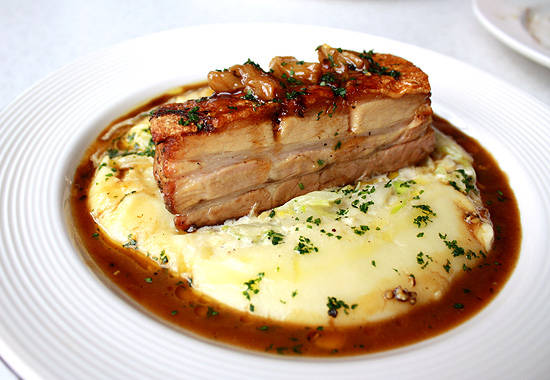 ADVERTISEMENT - CONTINUE READING BELOW
Poitrine de Porc floating on its own juices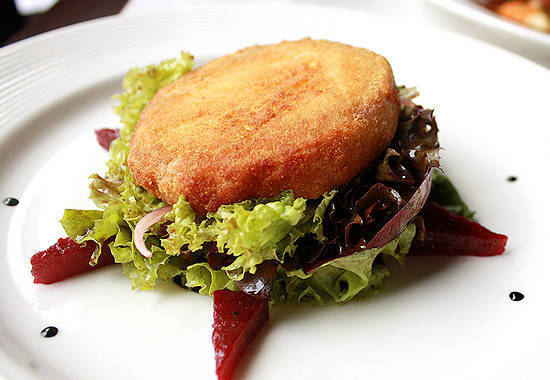 Goat cheese salad
A variation of La Girolle's famous Sous Vide Belly of Pork is the heartwarming Poitrine de Porc (P650). Not quite dissimilar to our lechon kawali or the Italian classic porchetta (both of which use the belly), poitrine de porc is just a fancy way for saying pork brisket. Shiny lines of silky fat tucked between juicy layers of soft pork indulges us with one mouthwatering display fittingly crowned with a crispy strip of golden-brown skin. Apple mashed potato puree and creamy cabbage replace the pickled mango and clams to build a harmonious contrast in texture against the pork. In contrast to the hefty meats, one of Brasserie's lighter offerings is the Chevre Chaud (P420). Mixed greens are tucked underneath a slice of warm goat cheese while little shards of beet root and dots of balsamic vinaigrette line the perimeter for that deeper flavor profile.
ADVERTISEMENT - CONTINUE READING BELOW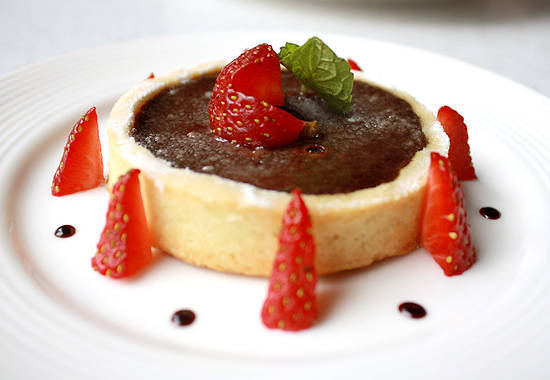 This is what beauty inside and out is: Brasserie's Chocolate and Strawberry Tart
The dessert, a large chocolate and strawberry tart which interestingly enough is embellished like the salad, captures everything one requires of a chocolate confection-bittersweet, rich, with the overall feeling of warm contentment. Yes, chocolate, when treated well, is something everyone can understand.
ADVERTISEMENT - CONTINUE READING BELOW
The menu is French, the cuisine is French, and the details are very French. Chef Ian can't help but ask again, "Is it intimidating?" as if to assure himself (and us) that his plan to make French food more welcoming is working. We take another glance at the cutlery casually placed in cups on the table; the bright sunlight as opposed to dim yellow lighting, the paper napkins, the less-than-large carte du jour, the chocolate tarte. No Chef, it is not.
Share this story with your friends!
---
Help us make Spot.ph better!
Take the short survey
Load More Stories