New Eats at Shangri-La East Wing
There's a new dining hub in town.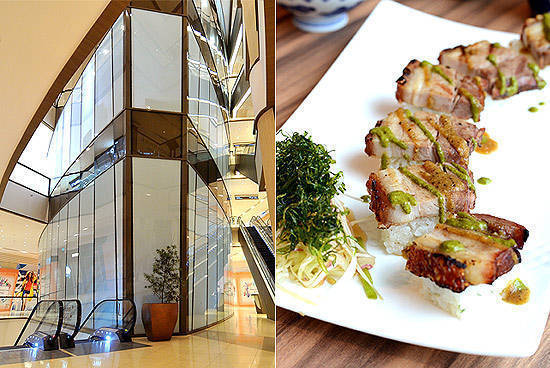 (SPOT.ph) The bright lights from the bridges connecting the main mall to Shangri-La's East Wing are a trap to lure unsuspecting and curious shoppers to the shiny expanse of the new section. With the challenge set by newer commercial establishments, Shangri-La Plaza knows how to keep up, with a roster of new stores and an even bigger lineup of fresh eats. And of course it's the latter that had our mouths watering. We took a gastronomic tour of what Shangri-La East Wing had to offer and discovered goodness. Here are 10 you should check out.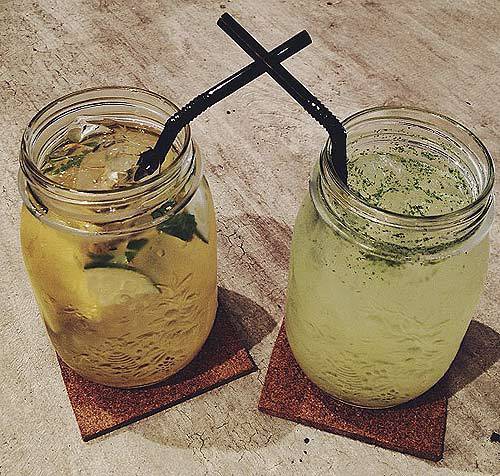 Spatzle (5/F)
Standing out from the usual Californian and Asian cuisines that fill majority of the market is this European cafe that serves European comfort food. Pronounced "spetch-leh" and named after the German pasta, Spatzle only makes use of freshly made ingredients, from their noodles and pizza all the way down to their sodas. Their sausages, although not made in house, feature a milder flavor compared to what most Filipinos are used to, but that's only proof of the lack of artificial flavoring.
ADVERTISEMENT - CONTINUE READING BELOW
At one corner on the fifth level of the East Wing, the light gray and wood interiors, with light streaming through the walls, pushes for an ambience that compels one to stay for a whole afternoon, ordering Spatzle and Gnocchi and nursing a glass of the mint lemonade in between.
Must-tries: Spatz Carbonara (P275, P495), Gnocchi Bolognese (P315, P570), Mint Lemonade (P125), All Natural Citrus Cooler Soda (P145)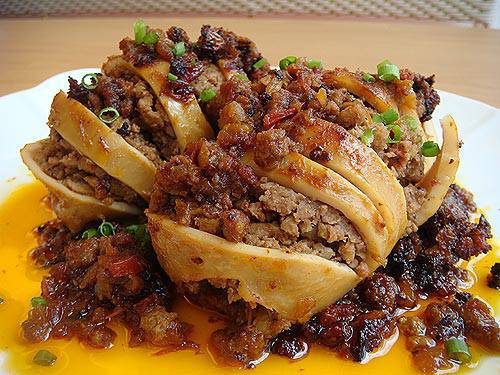 CONTINUE READING BELOW
Recommended Videos
Zarzuela (6/F)
Finally, a Filipino restaurant that avoids dark-varnished wood and abaca knickknacks. This pretty venue right at the tip of the bridge connecting the main mall with the East Wing is a place you can't miss. As one of the first few restaurants to open, Zarzuela sets a pretty high standard with an interesting take on homegrown cuisine. From the owners of Cafe Savor in Salcedo Village, it gathers together delicacies from different regions in the country: la paz batchoy from Iloilo, pinangat from Bicol, longganisa from Vigan. Zarzuela taps into nostalgia with straight-up Filipino cuisine that, despite the tweaks in cooking and presentation, tries to stay true to their traditional flavors. And the fact that this project is a family affair just hits home.
ADVERTISEMENT - CONTINUE READING BELOW
Must-tries: Krispy Binagoongan (P359), Crab & Shrimp Relleno (P499)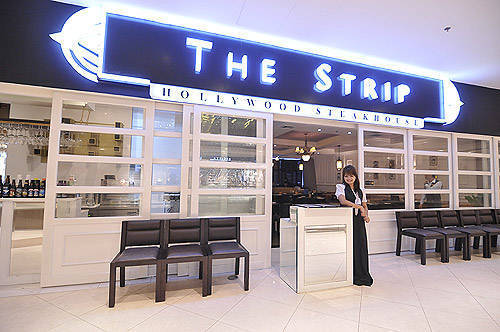 The Strip (5/F)
A restaurant that's not for the faint-hearted, The Strip Hollywood Steakhouse is a dream for any respectable carnivore. Here, you'll find fat steaks, gargantuan burgers, knee-weakening bacon slabs, and an occasional salad and bean dish just to counter that edge. What's great about this joint is that despite all the flash you'd expect from a place called "Hollywood," Strip trims down to bare essentials, using only salt, pepper, and a dash of spice to let the natural flavors of beef take the spotlight.
Must-tries: Charbroiled Slab of Bacon (P320), Oregon Salad (P380), USDA Certified Ribeye (P2,200), Banana Cream Pie (P195)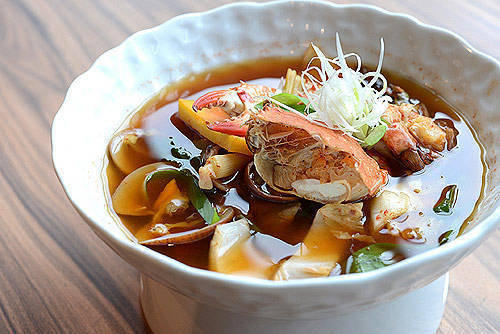 ADVERTISEMENT - CONTINUE READING BELOW
Woo Galbi (6/F)
You would think that we have enough Korean restaurants to fill the city's craving for bulgogi, but another one can't hurt, especially when it's Woo Galbi. Woo Galbi puts a spin on the usual stark interiors of local Korean joints and uses a more modern, sophisticated approach that makes eating spicy fare stylish. Owner Bryan Tiu makes sure that they exert extra effort in preparing their dishes, sourcing only the best ingredients and using careful techniques in the cooking. Woo Galbi covers all the more popular Korean favorites like Kimchi, Jjampong, and Japchae as well as more contemporary offerings like sushi, but it's their specialty, the Galbi-char-grilled beef strips that are soft, sweet-savory, and ridiculously addicting-that will have you coming back.
Must-tries: Woo Galbi (P605), Hot Stone Bibimbap (P420), WG Roll (P588)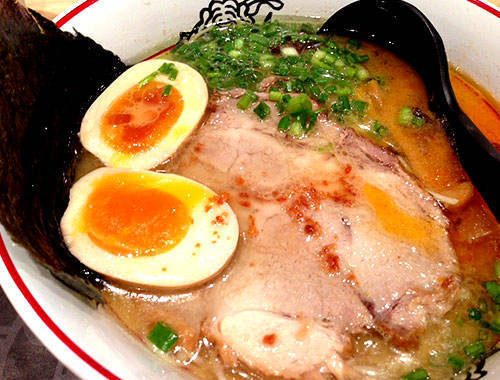 Ikkoryu Fukuoka Ramen (5/F)
The narrow wooden slats with beautiful calligraphy that cover nearly the entire facade of Ikkoryu are a head-turner, a show piece in their own right. Eating at this restaurant is always a waiting game though, with throngs of people-sometimes impatiently-lining up for a seat. The crowd isn't only because their dishes are worth waiting 45 minutes for, but because ramen, no matter what the circumstance, always assures comfort akin to a warm hug. Anyway, the line may be a wee slow, but the service is fast and reliable.
ADVERTISEMENT - CONTINUE READING BELOW
Ikkoryu is a 44-year-old franchise that originated in Japan. Like the more popular ramen joints in town, they use tonkotsu broth where pork bones are boiled for hours, resulting in a flavorful, almost milky soup that really lifts the flavor of the thin, fukuoka-style noodles which may be ordered either firm, soft, or normal.
Must-tries: Ajitama Tonkotsu (P380), Black Garlic Tonkotsu (P380)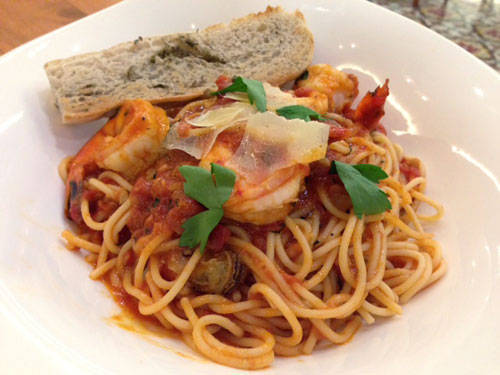 Balboa (4/F)
This Italian-American restaurant is a welcome break from Chef Marvin Agustin's collection of fusion Japanese eateries. Since they opened early this year, Balboa has received rave reviews for their fare, but less-than-stellar comments for the service. In time though, the servers seem to be getting used to the meal-time crowd that can get, understandably, overwhelming.
The interiors are styled like a Tuscan farmhouse, creating a warm, cheery atmosphere that makes eating a much happier affair, especially when you sample their all-day breakfast menu.
Must-tries: Bucatini Marinara (P358), Waffles (P328), Eggs Benedict (P328)
ADVERTISEMENT - CONTINUE READING BELOW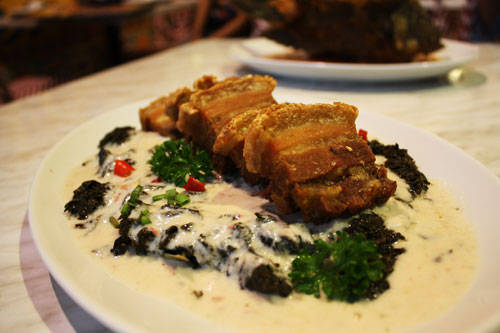 Corazon (4/F)
Chef Florabel Yatco introduces a new type of cuisine to the local palate: Filipino-Hispano, non-fusion, with just Pinoy classics sharing space with Iberian favorites. Chef admits to focusing more on the Filipino side, which shouldn't be surprising coming from the same person behind Crisostomo and Elias, but the interiors are decidedly Spanish, with vaulted ceilings, gothic candelabra, murals, and red-and-white-striped chairs.
Must-tries: Paella Valenciana (P595), Ciudad Real (P395), Torres (P350)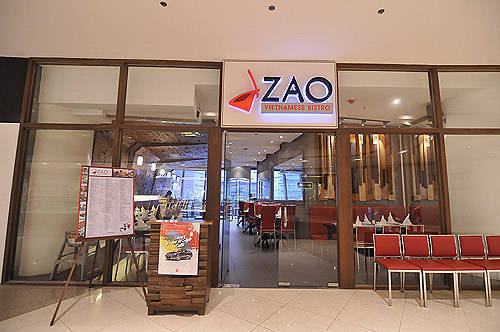 ADVERTISEMENT - CONTINUE READING BELOW
Zao Vietnamese Bistro (5/F)
This cozy bistro may not be top of mind when it comes to Vietnamese fare, but it's not an entirely novel concept either. The Shangri-La branch is only second to the flagship eatery in Serendra. It may be the lack of "oriental" elements that prevents it from being distinct, but the food isn't any less authentic. It's lively, modern, and bright compared to the dim atmosphere in most bistros.
Must-tries: Zao's BBQ Platter (P495), Grilled Shrimp Salad (P245), Wagyu Steak (P995)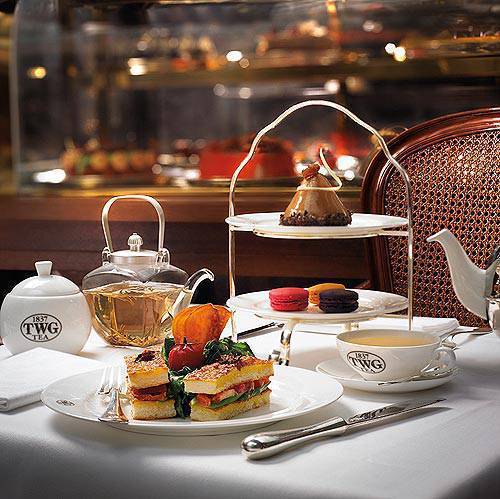 TWG (G/F)
This tea emporium takes up a generous amount of space on the ground floor and it never fails to impress with its tea walls, stacks of tea tins, and shiny TWG merchandise. Roomier than the flagship at Greenbelt and smaller than the overwhelmingly large Resorts World version, this one is a cozy, intimate compromise.
Must-tries: Silver Moon, Pink Flamingo, High Tea
ADVERTISEMENT - CONTINUE READING BELOW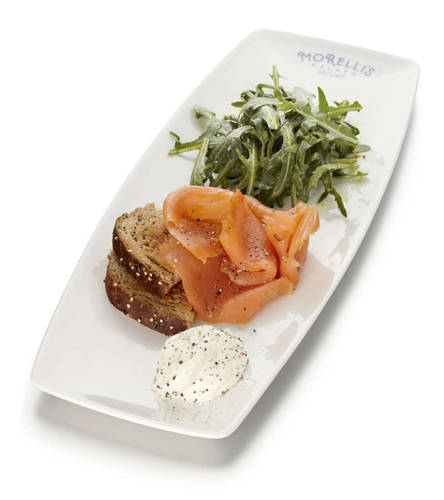 Morelli's Gelato (Mid 2/3)
London's legendary gelato parlor finally opened a branch nearer North. Unlike the modest space of the flagship in Power Plant Mall, Morelli's Shang is spacious, settling on the skylit connecting bridge between the Main Mall and the East Wing. Morelli's also simultaneously celebrated its opening by launching actual meals (antipasti, sandwiches) and sundaes.
Must-tries: Pistachio, Manila Special (P450), Delizie
Share this story with your friends!
---
Help us make Spot.ph better!
Take the short survey
Load More Stories