New Restaurant Alert: Sci Fi Cafe at Robinsons Galleria, Quezon City
Be still, our geeky (and hungry) hearts.
Sci Fi Cafe
4/F East Wing, Robinsons Galleria, EDSA corner Ortigas Avenue. Quezon City
Tel. No. 0920-964-8211
Open daily from 10 a.m. to 9 p.m.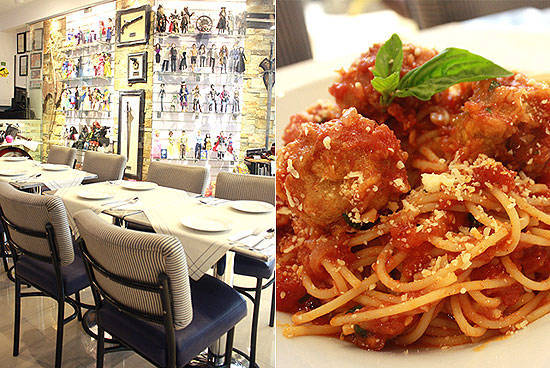 Get ready to feast your eyes on toys galore.


(SPOT.ph) Whatever your movie geek poison, chances are Sci Fi Cafe's got just the right toy for you. Joker's there, in all his Heath Ledger-ian glory, glowering down on an Oscar statuette; the movie Avengers are all assembled to fight intergalactic evildoers. The hoverboard from Back to the Future sits genially beside the Firebolt from Harry Potter, while Captain America's shield looms large over a talking R2-D2. Star Trek and Star Wars, naturally, are placed on opposite sides of the restaurant, and never shall the twain meet-but some unlikely pairs can be found: a whole row of Twilight figures are friendly neighbors with all of Johnny Depp's movie characters, while Mr. Bean is close chums with a Na'vi-fied Jake Sully from Avatar.


ADVERTISEMENT - CONTINUE READING BELOW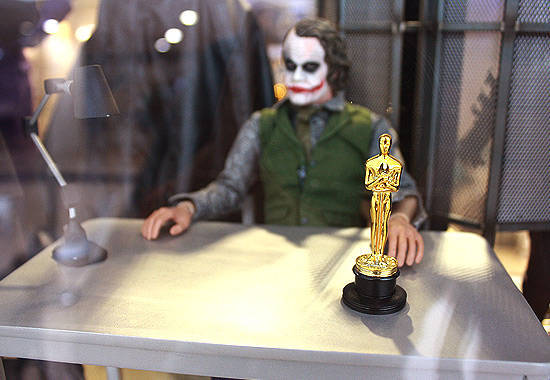 CONTINUE READING BELOW
Recommended Videos
The Joker doesn't look too happy about the Oscar
"The concept started when we realized that we had a vast [toy] collection," says Richard Chua, the owner of Sci Fi Cafe who's been collecting toys since 2002. "Since we were looking [to start] a restaurant franchise locally, the idea to start our brand surfaced."
Unfortunately, none of the pieces are for sale, but walking around and viewing all the collections makes waiting for your food so much easier. Bring your wee ones inside (or your comic-book-movie-lovin' friends), and they'll go positively bug-eyed with all the geekery on display. Though true anime or comic book nerdery is underserved (it's mostly dedicated to movie figurines), what we love best about Sci Fi Cafe is how interactive it is. Most of the figures are kept under locked glass displays, but you can goof around with Captain America's shield or Wolverine's claws, or pose atop the Firebolt. There's a shelf of fancy hardcover art books you can browse through, but for the really hardcore, they've got a couple of Iron Man helmets and U.S.S. Enterprise costumes that you can throw on for maximum Instagram effect.
ADVERTISEMENT - CONTINUE READING BELOW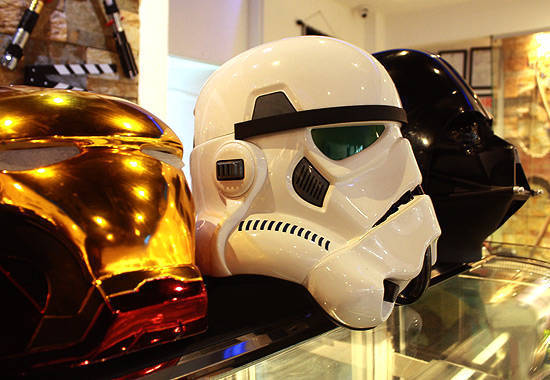 You can try on these helmets while waiting for your food to arrive


Perusing the menu is also an exercise of silver screen geekery, with items like Van Hellswing, Iron Ham Carbonara, and a pizza called Planet of the Shrimps. It's worth a couple of chuckles. "Initially, we were thinking of doing Asian food," says Chua, "but it would not be in line with the displays. So we shifted to Western comfort food."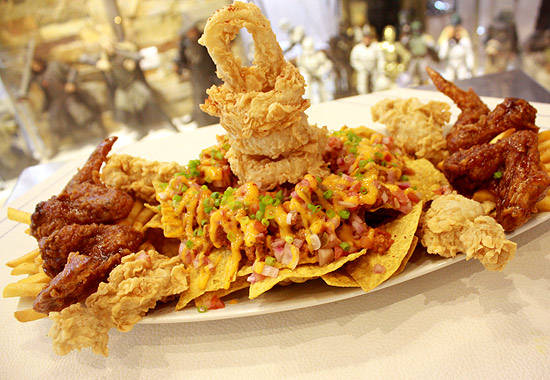 The Starter Sampler Set
ADVERTISEMENT - CONTINUE READING BELOW

While we can imagine cute cosplay couples having a nice romantic dinner here (completely in costume, of course), Sci Fi Cafe was built for big groups, and their menu reflects that. Their Starter Sampler Set (P590) combines four of their appetizers-the Two Towers, a squid-and-onion ring stack; their Van Hellswing, their chewy buffalo wings; and Nacho Libre, which is, wouldn't you know it, their take on nachos-into one oversized plate that could fuel a gang of rowdy fans out to grumble, say, all about the casting of the new Doctor Who dude.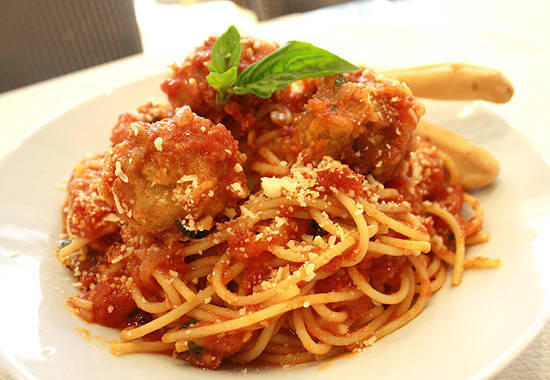 The Godfather
The Godfather (P280)-there are, after all, Don Corleone toys on display, too-is Sci Fi Cafe's version of the classic pomodoro, but with a neat twist. Their Luca Brasi-sized meatballs (three come in every dish) are individually breaded, adding a very mealy texture to the pasta dish. If you're splitting with friends-and at that serving size, you should be-catch 'em all, Pokemon-style, before everyone else does.
ADVERTISEMENT - CONTINUE READING BELOW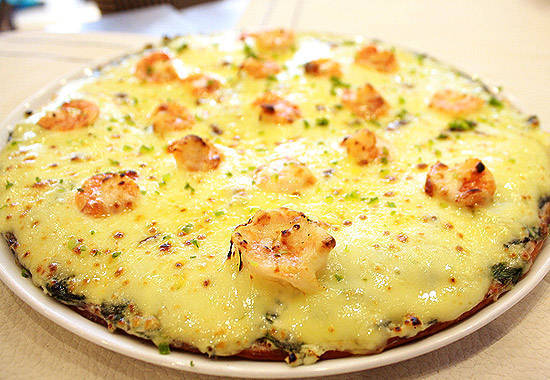 Planet of the Shrimps



On the pizza side, Planet of the Shrimps (P420) doesn't skimp on the cheesiness. A thick layer of crusty mozarella coats the top, but buried underneath is a whole swath of cream cheese. The sliced shrimps and a whole lot of spinach balance out the saltiness, but expect to down a whole lot of iced tea while you eat this. Still, for extreme cheese fans-and there are tons of you out there-this pizza plate delivers the creamy goods.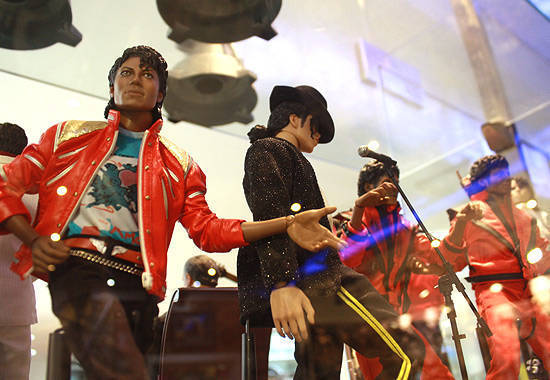 ADVERTISEMENT - CONTINUE READING BELOW
Yup, there's even a collection for the King of Pop
Big things are coming up for Sci Fi Cafe. They're set to get even more interactive with a photo booth station; plus, all-new toy collections are coming up for display. "We're even thinking of coming up with a video game-themed display soon," says Chua. With food that's fit for sharing and a superpowered pop-culture vibe, Sci Fi Cafe might just be the ultimate geek hangout in town.
Share this story with your friends!
---
Help us make Spot.ph better!
Take the short survey
Load More Stories