CHECK IT OUT: Marufuku Japanese Restaurant at San Miguel Avenue, Pasig City
A Japanese hideaway in Ortigas
Marufuku Japanese Restaurant
G/F Crescent Building, San Miguel Avenue, Ortigas Center, Pasig City
Tel. no. 570-3989
Open from 11 a.m. to 2:30 p.m. and 6 p.m. to 10:30 p.m.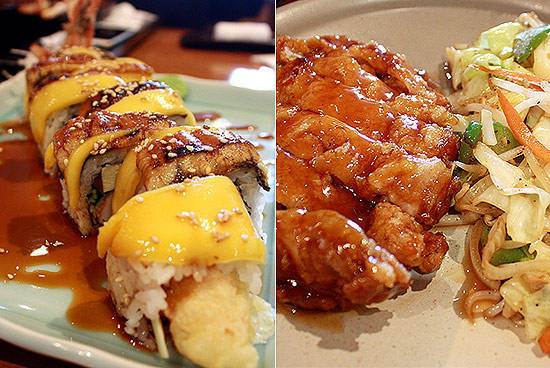 Marufuku is a quiet little corner that serves up delectable Japanese fare.
(SPOT.ph) It seems that Manila is becoming a Little Tokyo given the numerous Japanese restaurants opening, some coming in from abroad. And the name of the game has become specialization, with food joints banking on a single piece de resistance, like ramen or tonkatsu.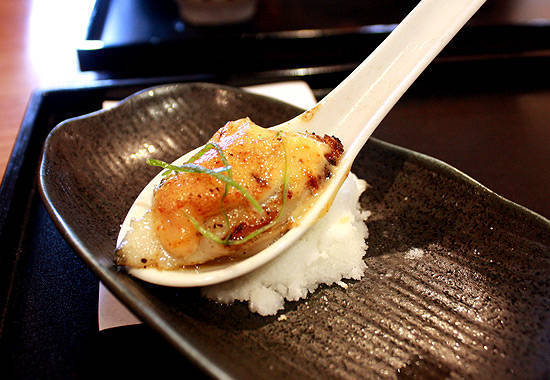 ADVERTISEMENT - CONTINUE READING BELOW
Kaki Motoyaki
Marufuku, tucked behind a humble building in Ortigas, started operations August of 2012. Unlike many others, it's hard to pinpoint what it specializes in. We can understand why: many of its dishes, whatever category they may be in, simply stand out on their own. Like the Kaki Motoyaki (P240/pair), which perfectly sums up the repertoire the restaurant offers-simple and clean and yet it bursts with so much flavor. A plump and juicy Hiroshima oyster is grilled, nestled on a Chinese spoon then caressed with a thick layer of torched mayo-miso sauce. It will make you want to pop it in your mouth at first glance, but be careful as it sits on a mound of fine salt and those that cling to the bottom might hit you with a face-cringing spike of saline. Brush it off or use chopsticks. Whatever you fancy, make sure to sip the juices off the spoon for a delightful shot of the sea.
CONTINUE READING BELOW
Recommended Videos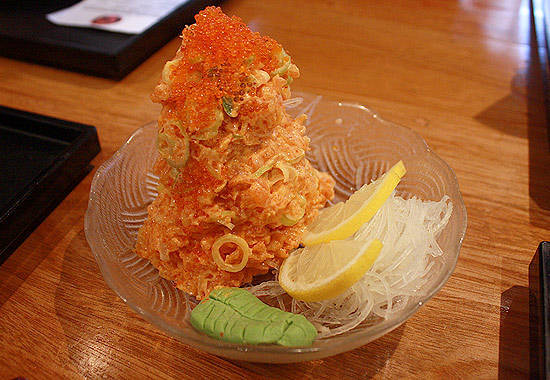 ADVERTISEMENT - CONTINUE READING BELOW
Spicy Salmon Sashimi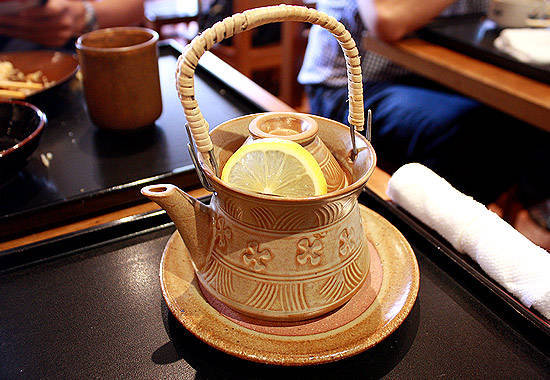 Dobinmushi Soup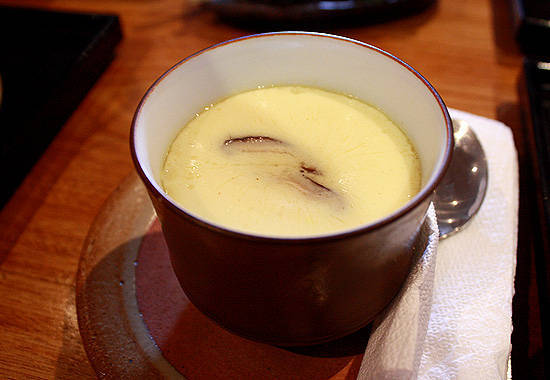 Chawanmushi
Another satisfying appetizer is the Spicy Salmon Sashimi (P300). It's not your typical seafood popper, which usually comes as a mound of bite-sized chunks bathed in a spicy sauce. Here, fresh salmon is chopped much finer and is mixed with fried tempura batter for a lovely texture. As with many Japanese dishes, the flavor is quite mellow and light, with the fresh ingredients taking center stage. This is rather apparent in many other standout dishes as well, like the perfectly cooked Chawanmushi (P180), a steamed egg custard, which hides a delightful mix of mushrooms and pork bits at the bottom of the clay bowl. Or the Dobinmushi Soup (P100), which requires a bit of preparation and patience on the customer's part. You'll be asked to drop the lemon slice in the soup and wait for a steeping minute to allow the tanginess of the citrus fruit to be infused in the broth, enoki mushrooms and subtly bitter nut called ginnan or gingko. Your patience will then be rewarded with an earthy soup, a nice change from the usual miso.
ADVERTISEMENT - CONTINUE READING BELOW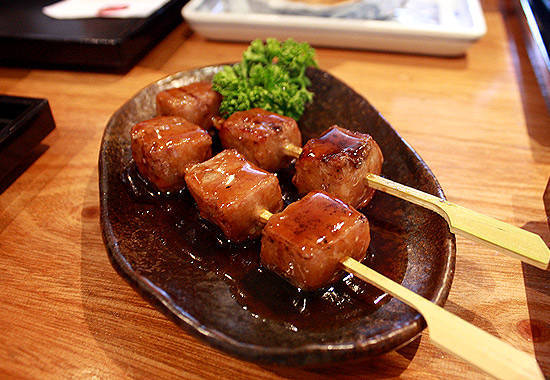 Wagyu Sirloin
For heavier and more filling fare, there's the Wafu Steak. Strips of choice beef like Sirloin (P300), Wagyu Prime Rib (P350) or Wagyu Ribeye (P780) sit on a bed of sautéed onions then capped with a crown of fried leeks. It is finished off with a generous drizzle of velvety gravy that adds richness and moisture to a rather simple yet definitely satisfying dish.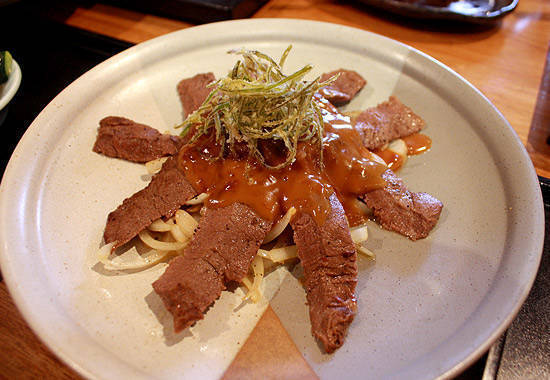 Wagyu Ribeye
ADVERTISEMENT - CONTINUE READING BELOW
The focal point of the restaurant is the open kitchen and it lets you watch and enjoy the live show orchestrated by head chef Moto who diligently works on the robata. He keeps a close eye on his babies, tempers the flame using the traditional pamaypay and teases the customers with the aroma of grilled items like enoki mushrooms tightly hugged by thinly sliced beef and chicken thighs skewered in between leeks.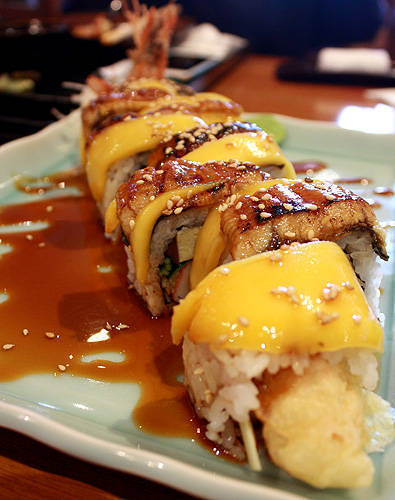 Marufuku Roll
Marufuku also has ramen, big and generous enough that you can fit your face in the bowl it is served in. But why settle for a noodle soup when the restaurant has more equally delicious dishes on offer?
Share this story with your friends!
---
Help us make Spot.ph better!
Take the short survey
Load More Stories