New on the Menu: Chicken Crisp Fillet at Burger King
Burger King throws its hat (crown?) into the chicken burger wars.
Burger King
Branches throughout Manila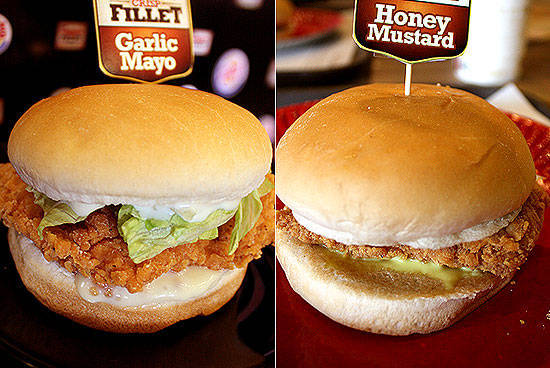 (SPOT.ph) Burger King just launched their brand-new sandwich, the Chicken Crisp Fillet, with a pun-tastic tagline. This chicken sandwich, they claim, is just "more fillet-vorful". Say it with us, ladies and gents, with an emphasis on the French-ness-"fi-lay­-vorful". No, no, don't say that it's just plain "flavorful". You've got to underscore the fillet-ness of it. Otherwise, you'd just hurt Burger King's fillet-ings.
ADVERTISEMENT - CONTINUE READING BELOW
CONTINUE READING BELOW
Recommended Videos
Puns aside, the Chicken Crisp Fillet arrives at your table in two flavors: Honey Mustard and Garlic Mayo. Both are packed with a slim cut of chicken breast, some lettuce, and a whole lot of sauce sandwiched between a pair of buns.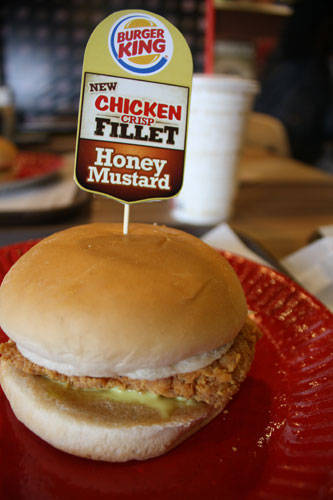 The Honey Mustard Chicken Crisp Fillet
The squarish fillet is a little thin, as we mentioned, but the breading gave it a fair bit of crunch and volume, as did the lettuce. What will dominate your taste buds as you bite in the burger, though, isn't the chicken, but rather, the sauce. The Garlic Mayo is especially all up-in-your-face-tart and garlic-y and perhaps the more "fillet-vorful" alternative to the Honey Mustard, which, as honey-mustard sauces go, comes off as exceedingly mild.



ADVERTISEMENT - CONTINUE READING BELOW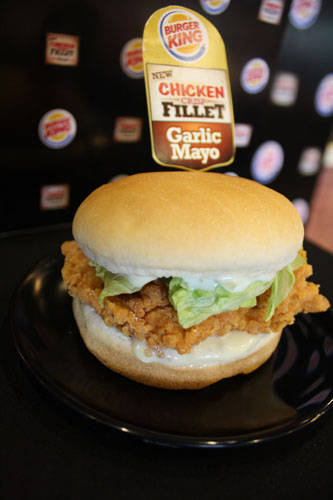 The Garlic Mayo Chicken Crisp Fillet
Its biggest selling point is its price: just P55 for an a la carte order, P89 for the value meal with fries and regular cola, or P100 for the fries and float variant. Much cheaper, definitely, than the McSpicy and the Zinger, their closest competitive counterparts, which both sell for P80 a la carte. If by chance you find yourself hungry in Burger King without the moolah to order a Whopper, the Chicken Crisp Fillet is there to save your stomach-and your wallet.
ADVERTISEMENT - CONTINUE READING BELOW
Load More Stories