Top 10 Destination Restaurants in Manila
Whether you're looking for something full-on romantic or just want a change in scenery without having to drive too far, these places offer good food with ambience to match.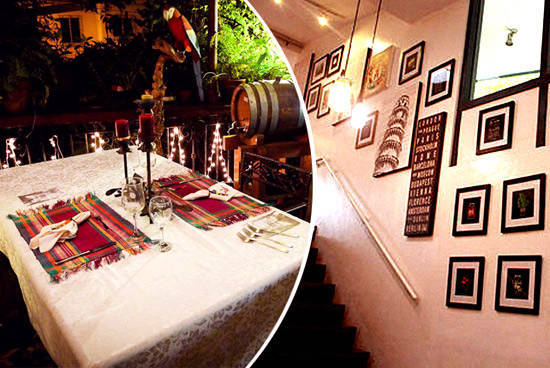 (SPOT.ph) It's always a good idea to drive out to Tagaytay or Subic for that much-required R & R and/or just a change of smog-free scenery, but who has the time, really? Or the patience? Or, in the spirit of "misused" tax funds, extra budget? Hassle aside, there's really no need to go that far: there are plenty of anti-city dining spots in the, er, city. Too many that we're picking out the top 10. These 10 restaurants give you that relaxed country feel without having to drive too far.
More Reads:
Top 10 Private Dining Spots
Top 10 Romantic Restaurants (2011)
Top 10 Romantic Restaurants (2013)
SPOT.ph's Guide to Proposing in Manila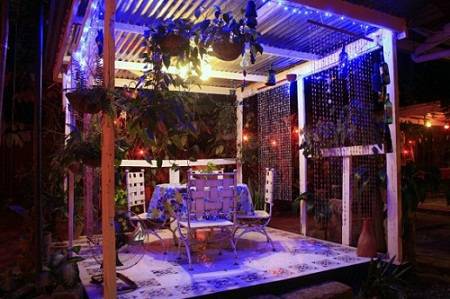 10. Isabelo Garden Restaurant/Rustic Mornings by Isabelo
11 Isabelo Mendoza Street, San Roque, Marikina City
Tel.  510-6914; 0908-740-1645
http://www.isabelogarden.com
The best-kept open secret since before Wentworth Miller came out, Isabelo is one of the reasons why Southerners and Northerners would suddenly find themselves in the depths of Marikina with a map and a sense of adventure. The hidden trash-to-treasure garden is Rustic Mornings (open to the public, breakfast) by day and Isabelo at night (private dining). While her food is undoubtedly delicious, owner Portia Baluyot's cooking focuses on simpler homestyle cuisine, the kind of food that's easy to appreciate and worth having again and again. Her crafty mother is in charge of transforming their garden into a personal art piece.
ADVERTISEMENT - CONTINUE READING BELOW
Isabelo has gained a substantial amount of fame in the last two years (though it opened in 2004). The place is usually packed during the weekends, and especially in the morning.
Recommendations: Good family place-Isabelo has more long and round tables than they have intimate setups. For Isabelo (at night), orders have to be made in advance and it's best to get a bit more than what you think is enough just because you can't order extras on the spot.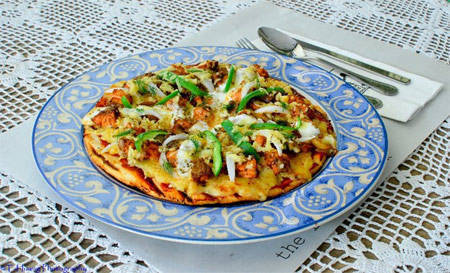 CONTINUE READING BELOW
Recommended Videos
9. The Frazzled Cook
916 Luna Mencias Street, Mandaluyong City
Tel. No. 782-5980, 725-3354
www.thefrazzledcook.com
Chef Jude Mancuyas doesn't seem so frazzled when you try her dishes, particularly the Shrimp and Squid Croquettes and the Pancake a la Mode. The coverted showroom is a calm and collected, retro-sophisticated space made up of romantic yellow lighting, large chandeliers, soft music, lucky cat figurines, and a decidedly haphazard layout that's more relaxing than frazzled. It actually looks a bit like a kitschy home store.
ADVERTISEMENT - CONTINUE READING BELOW
Recommendations: This is the kind of place that makes for a good default date rendezvous. The prices are reasonable and the food is good enough. Moreover, it's not too hard to feel at home.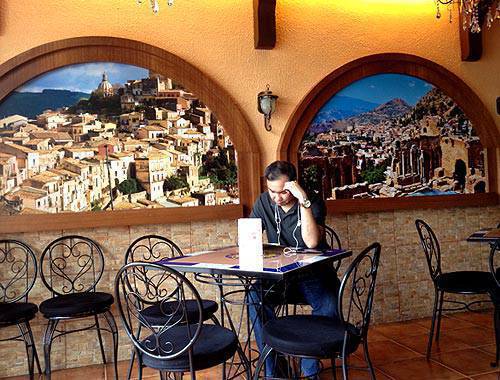 8. Cantina Sicilianita
Facilities Center Building, 548 Shaw Boulevard, Mandaluyong City
Tel. No. 570-2905
Tiny and hidden, this secret spot on busy Shaw Boulevard is drowned out by the sprawling, "countryside" effect of the other eateries on this list. Cantina Sicilianita is in an unassuming section of a very modest building. It doesn't have a huge sign or pretty girls beckoning you to come in. You come here for a little taste of Sicily, and not because you happened to pass by. Owner Marky Buhain opted for an airy, quaint charm similar to those quiet corner Italian cafes. His cannolis will keep you hooked.
Recommendations: Perfect for long, chill dates where you and your partner can spend the entire afternoon quietly chatting and getting to know each other. Pair your cannoli with Cantina Sicilianita's other house specialty-coffee!
ADVERTISEMENT - CONTINUE READING BELOW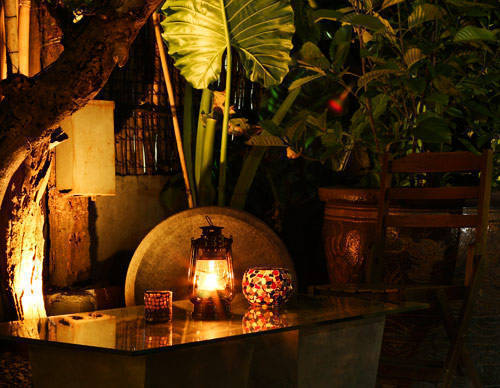 7. Basil
Katipunan Avenue corner White Plains, Quezon City
Tel. No. 911-4158
It's intimate, full of plants, and the rustling sound of a tiny waterfall substitutes for mood music. You'd think it was a garden if it wasn't so dim. Basil takes to heart the nature-inspired cuisine of Thailand with its posh foliage; its soothing, zen-y vibe belying the characteristic assault of Thai flavors.
Recommendations: Parking isn't very practical. Basil is smack in the middle of the traffic-jam-plagued corner of EDSA and White Plains and the number of slots is disproportionate to the seating capacity. When parking your car proves to be too much of a frustration, have a glass of their super refreshing Thai Cha Yen before you order anything else-it'll cool you right down.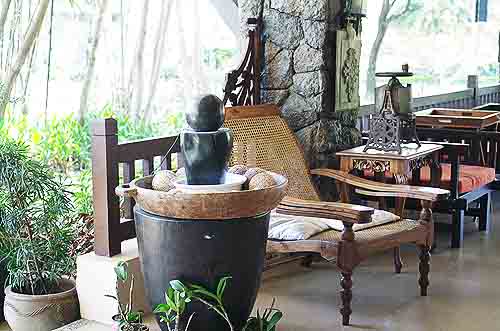 ADVERTISEMENT - CONTINUE READING BELOW
6. Chef Tatung
Molave Lane, Acacia Estates, Barangay Ususan, Taguig City
Tel.No. 466-5390
You'll feel like you've driven all the way to Tagaytay when you go looking for Chef Tatung. It's far-buried in suburbian Taguig-and the subdivision guards convincingly play both security personnel and toll attendants (minus the actual toll fee, of course). Chef Myke "Tatung" Sarthou's eponymous restaurant is situated among grassy lands and, on a good day, you can feel a fresh gentle breeze that only the smog-free provinces can provide. "We wanted it to have a casual resort feel, like being in the province without going too far," he explains. There's a day bed on the al fresco deck that really defines Chef Tatung's vision for this endeavor.
Chef Tatung (the restaurant and not Mr. Sarthou) innovates traditional Filipino flavors and focuses on more regional delicacies like sugpo aligue and palabok negra. This theme is also reflected in the choice of décor: the restaurant is full of souvenirs and antiques from all around the country.
Recommendations: Bring a map! It's far and you will have to pass through two gates so don't be discouraged when the map leads you to a gated village. You'll come to a point where there seems to be nothing nearby but grass and empty lots, but keep going. It all contributes to the "province" effect.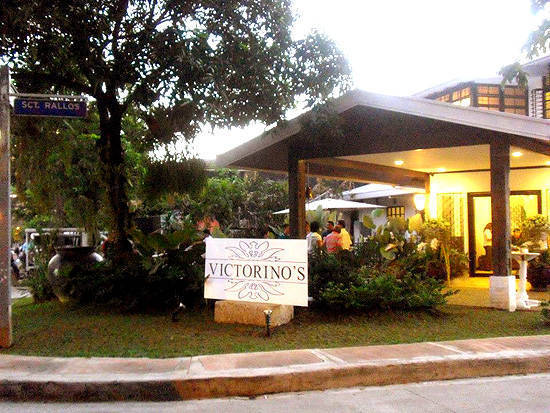 ADVERTISEMENT - CONTINUE READING BELOW
Photo by Rain de Ocampo
5. Victorino's Restaurant
11th Jamboree Street corner Scout Rallos, Quezon City
Tel. No. 09179530661
Could it still be considered "destination" if it's right around restaurant-lined Barangay South Triangle? Victorino's is only one of two restaurants from that area on this list.
While other residence-turned-restaurants settle for an old-fashioned type of rusticity, Victorino's looks more like a house you'd see now: cozy, still decidedly traditional, but with a touch of modernity that leaves you feeling like you belong. With antiques and artifacts to truly capture that authentic Ilocos perspective, Victorino's also has a bit of that hacienda ambiance, especially when it's not crowded. It's owned by Ilocos Vice Governor DV Savellano and his wife, actress Dina Bonnevie, and the menu features, what else, Ilocano cuisine! Offal appear prominently on the menu, but must-tries are oft-craved dishes like Vigan longganisa and bagnet. Pastry chef Heny Sison takes care of dessert so your sweet tooth will be satisfied.
There's a corner adorned with Ilocos crafts and other items which you may actually purchase, making it perfect for balikbayans. Upstairs are areas designed like boardrooms for VIPs who don't want anything too stuffy.
Recommendations: If you really want to get that hacienda vibe, try going during non-peak hours. Weekends are especially busy at Victorino's.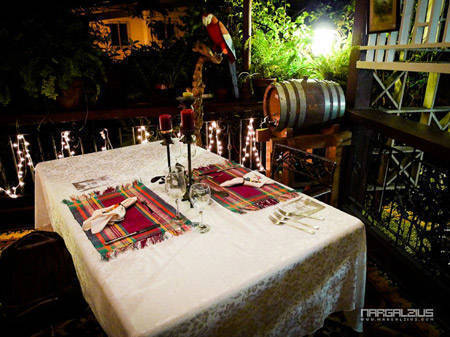 ADVERTISEMENT - CONTINUE READING BELOW
4. Il Piccino Trattoria
162 Alfonso XIII Street, San Juan City
Tel. No. 964 8034
Il Piccino, which means "little one," was named after the owner's young son, which should be an indication of the kind of clientele she wants to attract. Chef Natalia Moran, who studied at Apicus Culinary School in Italy, doesn't have to do much in terms of décor. Her ancestral home, full of capiz lattices and wood, features that Old World Filipino charm that's thematic and comforting. Her food is classic Italian, but we'll overlook that minor inconsistency. She's inviting us to her home-that's genuine Pinoy hospitality!-and we're not ones to complain.
Recommendations: Il Piccino is tight-cozy, would be more like it-the restaurant taking up most of the patio and living room. The menu changes seasonally and reservations have to be made in advance. Check Il Piccino's Facebook page for updates. The beauty of Il Piccino is that Chef Natalia also sells her famous ravioli (she became known for them in Mercato Centrale) frozen for you to take home so you won't have to drive all the way to San Juan to satisfy a craving for her homestyle Italian cooking.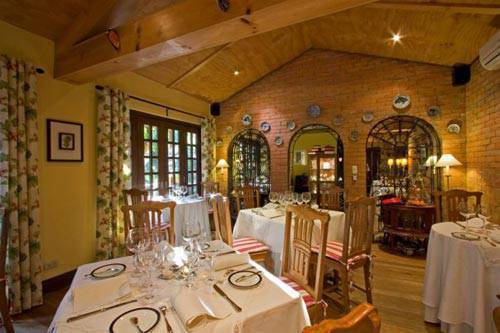 ADVERTISEMENT - CONTINUE READING BELOW
3. Lemuria
5 Julieta Circle, Horseshoe Village, Quezon City
Tel. No. 724-5211 and 722-2185
Lemuria is your fast passport from the busy Manila landscape to a rustic European country house. From the outside, it looks like any other house in the residential section of Horseshoe Village, but with an exorbitant number of porch lights, a façade too open to be a private home, and a man (an informal maitre d') strangely loitering on the patio. This house-turned-heaven is a favorite for proposals, photoshoots, and even wedding receptions (Read our Top 10 Most Romantic Restaurants 2011); brick walls and scalloped roofs all scream "take a selfie-with your date!" but that effortlessly classy air makes you want to put down your camera photos and stand up a little straighter.
Lemuria puts upscale French-Mediterranean to the fore in their menu. Here, the country appeal belies fine-dining usuals like pan-seared scallops, duck confit, and escargot. You know this is a restaurant for those "important" dates because their comprehensive wine cellar contains spirits that can help anything from first-date nerves to let's-get-married chills.
Recommendations: Lemuria isn't the kind of restaurant you go to for your Saturdate ritual. For one, it's not exactly wallet-friendly. And two, you can't cheapen the magic by likening it to watching movies-unless you're the type of couple who goes to Greece for the weekend and hang-glides to pass the time.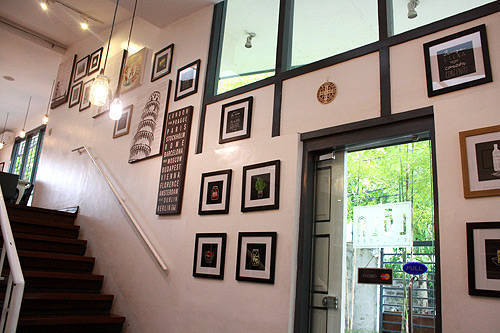 ADVERTISEMENT - CONTINUE READING BELOW
2. LoLa Café + Bar
99 Scout Lozano, Quezon City
Tel. No. 501-2620
This trendy and trending abode merges country dining with modern inspirations. Co-owner Howard Dee says customers "come looking for a packaged dining experience with great food, ambiance, and service." Behind the camouflage of foliage, LoLa's is a sweet ancestral home with gabled roofs and a wraparound porch. The people behind its new identity as a restaurant, however, added a black-and-white color scheme, large glass windows, and kitsch-faux grass on the bar, spoon and fork doorknobs-to cover a more general clientele. The food? Fusion without the confusion. Comfort food favorites are gathered into the menu, with a little twist here and there. The drinks are fun innovations with kooky ingredients like bell pepper. As for the service, perpetually smiling and efficient. They even made the front yard a parking space just for the convenience of diners.
Recommendations: LoLa Café + Bar is perfect for dating, hanging out, and even flying solo. Go al fresco with a mason jar of the San Rio to fully understand Dee's triple promise of food, ambiance, and service.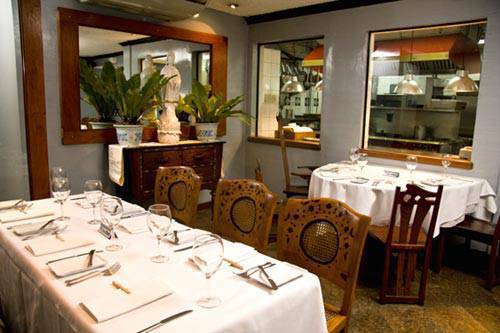 ADVERTISEMENT - CONTINUE READING BELOW
1. Lolo Dad's
899 Pres. Qurino Avenue corner Leon Guinto Street, Malate, Manila
Tel. No. 522-2941, 524-2295, 526-7151; 0922-812-5971
It's been 13 years and Lolo Dad's is still hitting it way out of the park. If you're looking for an ancestral home feel, this is the best you're going to get. Its longevity in the city dining scene is only a reflection of the place's own colorful past. Built in 1941, the Ayuyao house has survived a world war (look for the bullet holes) and the challenge of changing times. Today, this iconic domicile remains to be one of the country's most popular restaurants, merging history and gastronomy under a beautifully restored roof.
A legend in his own right, Chef Ariel Manuel (he's in-laws with the Ayuyaos) leads the kitchen, creating magic that lasts: his foie gras, Chilean sea bass, and lamb dishes are flavors your palate will remember for a long time.
Recommendations: Try getting the table right beside the kitchens so you can see the cooking action firsthand. It's pricey but not off-the-charts, just perfect for those special occasions. Lolo Dad's proves that you can have that wonderful dining experience without running your credit card to the ground.
Share this story with your friends!
---
Help us make Spot.ph better!
Take the short survey
Load More Stories