Trend Alert: The Farm-to-table Movement
We're cutting the middle man.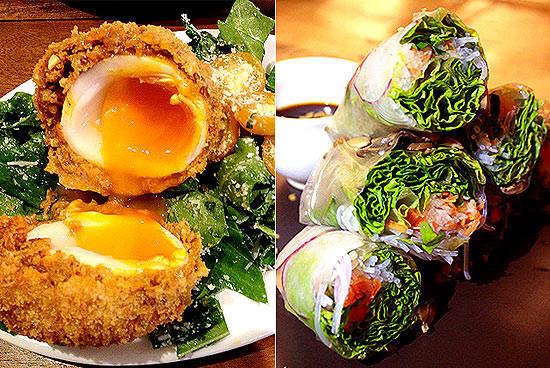 (SPOT.ph) The chef orders potatoes from Idaho, known for farming the best spuds in the world. He goes through suppliers who handle the farms, wait for them to mass-produce in markets, and then imports them into the country. It's a long and expensive process. And by the time they reach the Philippines, they will probably be a shadow of their former starchy self.
As they say in action movies: kill the middle man. That pretty much sums up the concept of farm-to-table, the latest buzzword in restaurant du jour. Instead of ordering from suppliers or importing overseas, restaurants and other eating establishments order their ingredients-particularly fruits and vegetables-small-scale and straight from the source, farmers who cut down the complications of red tape to a bare minimum. One chef, Tom Colicchio, Top Chef judge and owner of Craft Restaurants, describes that this is as close as city-dwellers can get to eating from the earth. Having a direct relationship with farmers results in fresher, cheaper, and more natural produce. It also has the added benefit of supporting local industry. Dining farm-to-table, or farm-to-fork in some areas, is also ideally much healthier.
Like how fashion makes a turnaround, so does food. The seemingly novel idea actually began in the 1960s to 1970s, the "hippie" era where locavores were concerned with "organic." While the more newfangled chefs rework ingredients to be so contemporary, they're almost unrecognizable, proponents of the farm-to-table movement let the fresh produce do the work.
For an agricultural country, we're catching on pretty slowly to this old-new revelation, but at least there are some restaurants trailblazing their way to sustainability.
ADVERTISEMENT - CONTINUE READING BELOW
More than cost-efficiency and quality control, the concept helps social entrepreneur Melissa Yeung promote her causes. Her foundation, Got Heart, Inc., which partners with different farming communities, sells fresh fruits, vegetables, and other products. Opening a restaurant last July served as a showcase for them to display the potential of Philippine produce and farmers. "The farmers sell their vegetables for P20 a bundle, but when you buy them in Manila, they're like P200," says Yeung, adding that this also opens opportunities for the farmers to learn how to market themselves properly.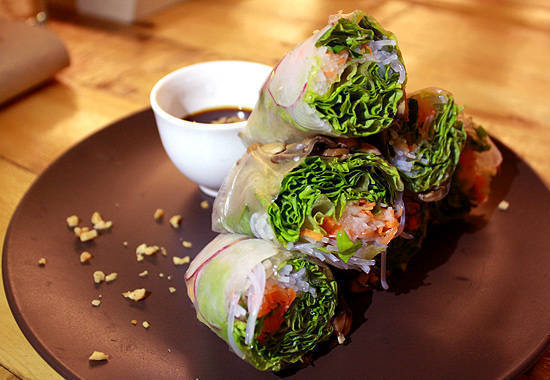 CONTINUE READING BELOW
Recommended Videos
With a menu that's 70% local, Chefs JR Trani and David Hizon incorporate whatever stock they have into delicious and healthy cuisine which debunks the misconception that only imported items can lead to stellar results. Their Farm's Harvest Salad is a cooked bounty of asparagus, beans, potatoes, and a soft-boiled egg. A spray of sherry vinegar gives it an extra twist of freshness that teases the taste buds.
ADVERTISEMENT - CONTINUE READING BELOW
The selection isn't particular to one cuisine. Vietnamese-inspired spring rolls highlight the freshness of locally sourced produce; goat cheese pacchieri take you on a gastronomic detour to Italy; beef bulgogi tacos combine the savory promises of Mexican and Korean fare; and the liberal use of kesong puti stresses Filipino flavors. Under the current circumstances, seafood isn't too prominent on the menu, but the delicious beef kebab-magically tender, succulent beef skewers with rice pilaf and tzatziki-picks up the slack.
THE FARM
No dillydallying, from their name to the way they source their ingredients. Not to be confused with the The Farm at San Benito, a posh spa that caters to the overall well-being of the well-to-do, The Farm (at Alabang) serves affordable organic steaks that's as near as the ranch can get to the table. An organic meat supplier for Landmark grocery stores, the Echostore, and Sugarleaf, the Favis family has been operating a cow farm in Masbate since 1976, which, with the recent push for more organic and clean living, became a built-in source when they opened their own steak place in April this year.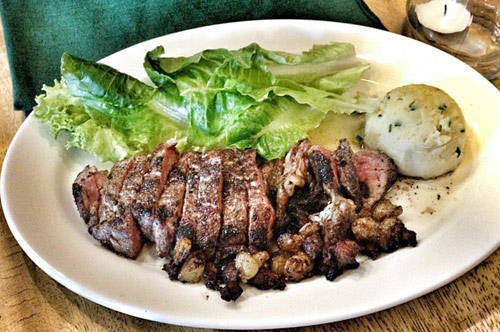 ADVERTISEMENT - CONTINUE READING BELOW
Fans wax poetic over the organic rib-eye, a wonderful (ask to cook to) medium rare with locked-in juices and natural beefy flavors, but how they interpret their ground meat shouldn't be ignored. The Farm's burgers are generous, succulent, and 100% meat. The powerful flavors can be attributed to the fact that the free-range cattle are strictly antibiotic-, hormone-, and enhancer-free, making their meat good for the body and for the environment. With grass-fed cow giving more Omega 3 and conjugated linoleic acid, the health risks are also significantly reduced.
The facade may not be the most enticing, but the Favises like things simple (except for their potent flavors). The interiors are bare and full of wooden fixtures; again, hitting you straight between the eyes that this is all about being natural. Shelves display eco-friendly products (Messy Bessy, Human Nature), as well as other organic foodstuff (grains, nuts).
GREEN PASTURES
Acclaimed chef Robby Goco has many things to be proud about with his latest pet project, Green Pastures, the six-yearlong project that has become, for him, a symbol of patience and local promise. When he drew up the plans for an organic salad bar, none of the ingredients he required were available in the Philippines. Now, his roster of high-quality materials is sourced from all around the country.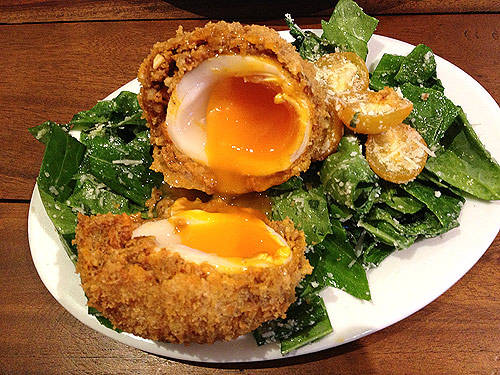 ADVERTISEMENT - CONTINUE READING BELOW
Photo by Angelo Comsti
The man behind iconic eateries like Cyma, Achiote, and Charlie's, Goco isn't strictly farm-to-table. He admits in a previous SPOT.ph interview that he also gets ingredients from commercial suppliers like Dinelli Gourmet. Instead, he puts emphasis on "thoughtfully composed, locally sourced, organically focused and globally artistic." From original plans of a simple salad bar, Goco has embraced a much more comprehensive selection. Green Pastures' bestselling Farmhouse Salad has a smorgasbord of ingredients-kale, romaine lettuce, konbu roast chicken, goat cheese, eggs, corn, avocado, and tomatoes-that seemingly teeters on going overboard, but each sensorial bite is light and balanced. He takes a Filipino route with the Pinoy Eggs, soft-boiled scotch eggs encased in longganisa crumbs instead of the traditional sausage.
The prices are as gourmet as Goco's carte du jour, but "novel" ideas are always expensive at first. He's just starting a revolution.
Share this story with your friends!
---
Help us make Spot.ph better!
Take the short survey
Load More Stories