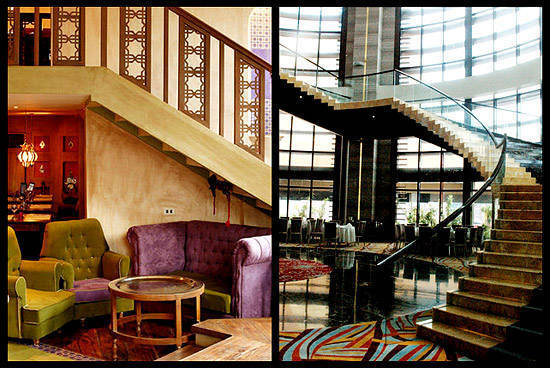 (SPOT.ph) The menu should be the primary selling point of any respectable eatery, but nowadays, with the proliferation of restaurants in and around the city-most of them having stellar selections-dining out serves a purpose other than simply satisfying one's gastronomic necessities. To edge out the competition, ambience plays an ever increasing role in crafting a memorable meal; this is where effective restaurant design comes into play.
Thankfully, there are a lot of thoughtfully designed restaurants scattered all over Manila, and SPOT.ph has scoured the scene to come up with some of the finest ones that deserve a visit or two. These 10 restaurants serve a wide variety of cuisine and cover an entire range of aesthetics that would suit any and every occasion, and would please even the most discriminating eye for design. Remember: it's not a beauty contest; it's about taking into consideration the theme of the cuisine and the tastes of the customers, then making them fit into one cohesive design.
ADVERTISEMENT - CONTINUE READING BELOW
The following restaurants are enumerated thematically and are not arranged in any specific order or ranking. Also, we did not include any of the restaurants that are located in converted houses in the list, as they are on an entirely different playing field as compared to other establishments that had to start with the blank slate of a rented commercial unit. Hotel restaurants were also disqualified from the list.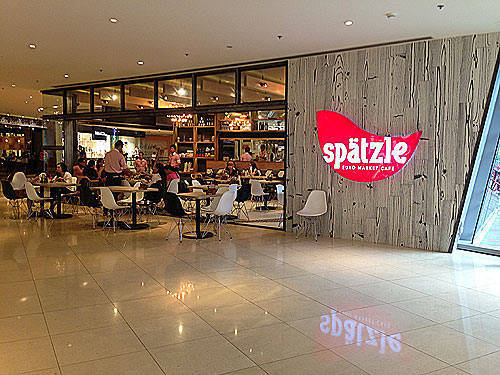 ADVERTISEMENT - CONTINUE READING BELOW
Recommended Videos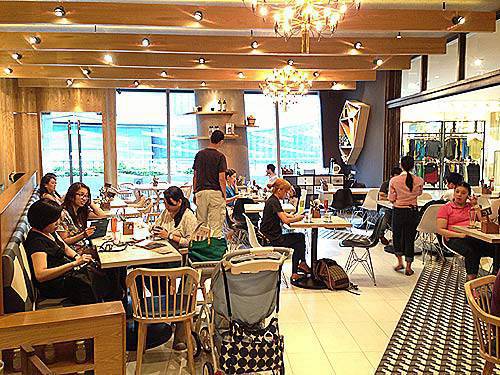 SPÄTZLE EURO MARKET CAFÉ
5/F East Wing, Shangri-La Plaza, Ortigas, Mandaluyong City
Cuisine: European
Aesthetic: Eco-industrial
Designer: Noel Bernardo
Perfect for: A hearty meal for the design-loving mall rat
When Shangri-La Mall opened the doors to its new wing, Spätzle, with its bright and inviting interiors, was hard to ignore. The use of materials is pretty spot-on, with just the right balance of wood, metal, and patterned elements. The fact that they made use of mostly recycled wood is another feat in itself. Details are well-planned but not overdone, from the deliberate wear of their shop front mullions to the subtle mix of mid-century furniture pieces. The restaurant isn't enclosed but that doesn't take away from its nice and cozy atmosphere. Design enthusiasts would get a kick out of dining in Spätzle, even if it's just to ooh and ahh over all the delightful surprises the designer laid out for them.
ADVERTISEMENT - CONTINUE READING BELOW
Design highlights: The bespoke wall shelf, brass chandeliers, and geometric floor tiles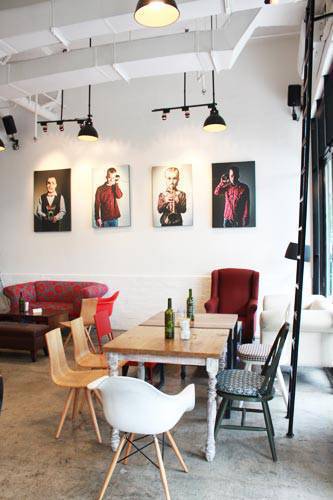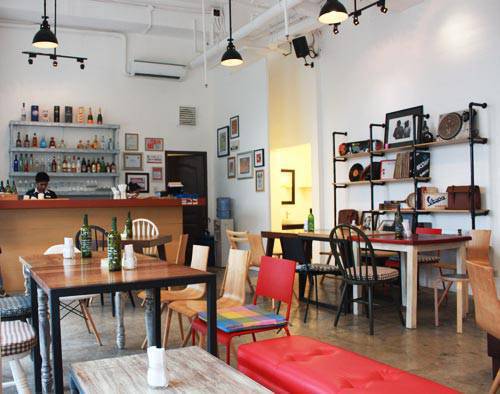 ADVERTISEMENT - CONTINUE READING BELOW
BIG BAD WOLF
G/F Fairways Tower, 5th Avenue corner Mckinley, Bonifacio Global City, Makati City
(Big Bad Wolf is moving to Burgos Circle.)
Cuisine: American
Aesthetic: Brooklyn loft-inspired
Designer: Mac Cunanan, Poncho Del Rosario and Nigel Paras (also the owners)
Perfect for: Yuppies looking to get their inner hipster on
If you've always wondered what it's like to hang out in Brooklyn, Big Bad Wolf is probably the closest you can get to the experience without leaving Metro Manila. Its architectural elements are left to the barest minimum, with mostly whitewashed walls, an exposed ceiling, and plain concrete floors. The eclectic mix of furniture, however, more than makes up for the simplicity. They are obviously the stars of the restaurant's design, along with all the assorted accessories and knickknacks sprinkled throughout the space, some from the owners' personal collections. All these create a very cool and relaxed vibe, represented perfectly by the restaurant's quirky cut-out signage that adorns the facade. Hang out with your friends there on a Saturday night and get ready to feel like the hippest kids in town.
ADVERTISEMENT - CONTINUE READING BELOW
Design highlights: The custom pipe shelf and colorful, mismatched furniture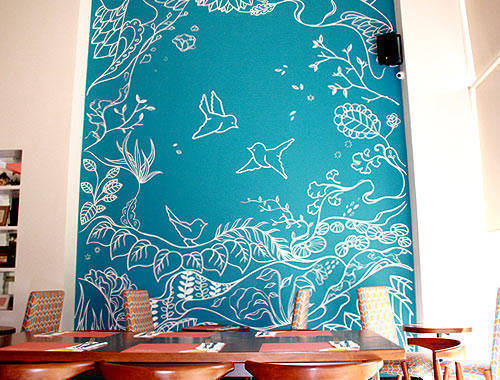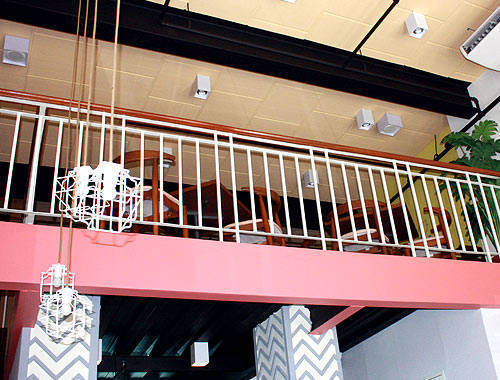 ADVERTISEMENT - CONTINUE READING BELOW
EARLY BIRD BREAKFAST CLUB
G/F Fort Pointe 2, 28th Street, Bonifacio Global City, Makati City
Cuisine: All-day breakfast
Aesthetic: Sweet mod with some rustic charm
Designer: Carla Suiza
Perfect for: A weekend outing for breakfast food lovers
Colorful accents and quirky pieces seem to be requisite elements for breakfast places, but Early Bird Breakfast Club manages to set itself apart from the rest because of its lovely and unique details. Patterns abound in the restaurant-the boldest of which is the tactile chevron pattern that adorns most of its wall area. Yes, it's not wallpaper!  Wood elements and miniature cage lights soften the space and give it a warmer appeal. The restaurant's brand personality (by Antidote, also under the wing of Early Bird owner Kendrick Co) definitely shines through, not only through with their cute logo and menu, but also the restrictive use of colors throughout the space. The yummy palette of salmon, blue, light grey, and white makes the space feel youthful and refreshing, which is exactly how eating the most important meal of the day should make anyone feel.
ADVERTISEMENT - CONTINUE READING BELOW
Design highlights: The chevron wall pattern and hand painted mural by Soleil Ignacio and Kris Abrigo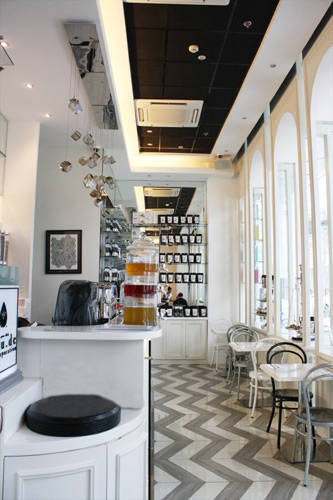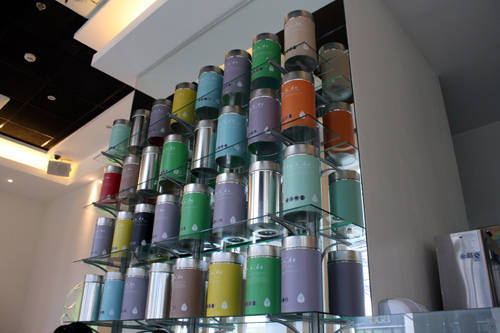 ADVERTISEMENT - CONTINUE READING BELOW
DA.U.DE TEA LOUNGE
G/F Net Lima Building, 4th Avenue corner 26th Street, Bonifacio Global City, Makati City
Cuisine: Tea, light meals and snacks
Aesthetic: Classic upscale New York elegance
Designer: BPC Interior Design
Perfect for: An afternoon of chit-chat between close friends
Staying for hours at your favorite coffee place? Been there, done that. Tea is becoming more and more popular among the local in-crowd, and da.u.de is one of those artisanal gems that serve a wide and expansive variety of the drink. Tucked away in a more quiet part of Bonifacio Global City, the tea lounge is attractive even from the outside, and its tall arched windows give you a perfect view of the restaurant. Stylishly restrained graphics and typography beckon you into the classically elegant space, and the predominant white furnishings, chairs, and grey walls make the narrow space feel light and airy. The design manages to infuse just a little bit of fun and color with chevron-patterned tile floors and the tea canister display. You definitely won't mind staying all day in this small but beautiful escape from the busy city life.
ADVERTISEMENT - CONTINUE READING BELOW
Design highlights: The display shelves of colorful tea canisters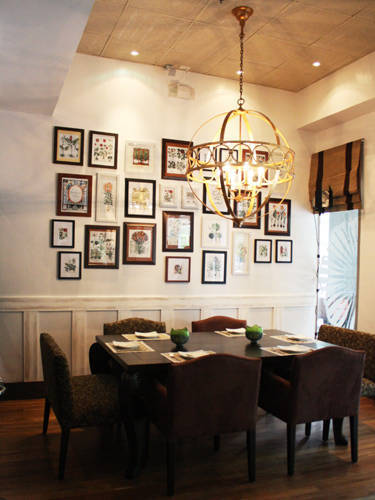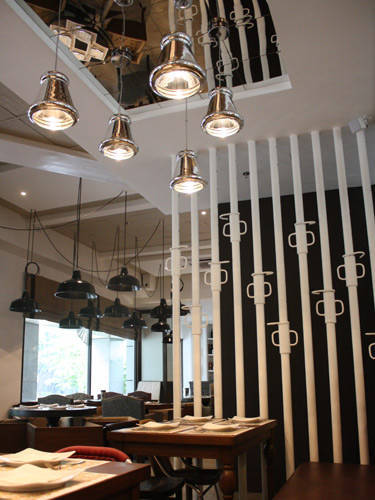 ADVERTISEMENT - CONTINUE READING BELOW
LAS FLORES
G/F One McKinley Place, 25th Street, Bonifacio Global City, Makati City
Cuisine: Spanish
Aesthetic: Rustic meets industrial
Designer: Anton Baretto
Perfect for: A relaxed dinner for those with refined (but not stuffy) taste
Marrying different styles and aesthetics is not for the faint-hearted designer. The resulting look could easily go wrong if the right balance of elements isn't achieved, but Las Flores manages to do just that with such ease and grace. Walls are simple white-painted wood, with the warm-colored furniture and framed wall prints creating a homey feel reminiscent of old Spanish homes. If you check out their bar area, the countertop is covered with colorful patterned clay tiles, another design element with roots from the same cultural influence. However, the space is given a surprisingly modern twist by its more industrial elements like pendant dome lights and chrome fittings, an aesthetic carried over to their stylish menu design. What Las Flores achieved is a tasteful and seamless blend between old and new that diners would surely enjoy experiencing.
ADVERTISEMENT - CONTINUE READING BELOW
Design highlights: The gigantic wrought-iron chandeliers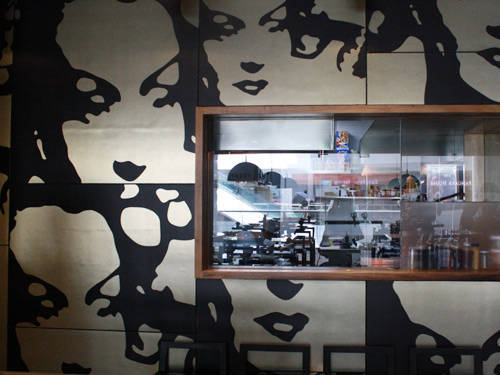 MU NOODLE BAR
197 Wilson St., 1600 San Juan; the New Glorietta, Makati City
Cuisine: Chinese
Aesthetic: Zen minimalist
Designer: Jagnus Design Studio
Perfect for: Secret rendezvous meetings between foodies
Though its Glorietta branch is more visible to mall goers, the Wilson flagship of Mu Noodle Bar has a speakeasy charm that is all its own. From just looking at its façade, one would already notice the designers' preference for clean and modern lines, this time, taking its cue from Japanese minimalist influences. Wood slats are the unifying element in the entire design, found both inside and outside the restaurant. The interiors have an almost mysterious quality to them, with dark walls and large pendant lights that seem to create an invisible barrier between tables, making your dining experience more intimate. A stark contrast is created between the space and the dishes with the use of white dinnerware. The overall look is a very strong and memorable aesthetic and makes Mu a worthwhile dining destination for people all over the Metro.
ADVERTISEMENT - CONTINUE READING BELOW
Design highlights: The wood slat ceiling and large dome lights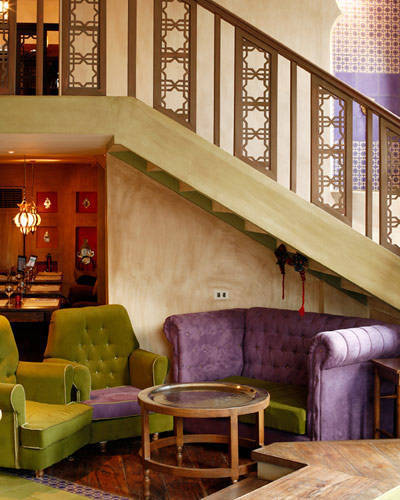 KASBAH
The Fort Strip, 7th Avenue corner Katipunan Circle, Bonifacio Global City, Makati City
Cuisine: Moroccan
Aesthetic: Vibrant Moorish
Designer: Robin da Rosa
Perfect for: The couple looking to spice up their usual date night
Prepare to be transported to some faraway land. The colorful striped canopy and stylized windows should be more than enough to tell you what to expect once inside. An enormous and elaborately carved door welcomes you to the restaurant, and the intricate traceries found all around the space are testament to the fantastic workmanship that was put into the design. The effect of all these elements coming together is lavish, but balanced. Hanging lamps in various levels of detail keep the amount of light at a minimum during the evening, creating a decidedly relaxed and romantic ambience. No details were spared in Kasbah's design, which makes for a very unique and exotic dining experience.
ADVERTISEMENT - CONTINUE READING BELOW
Design highlights: The backlit wine shelves at the bar, and the working fountain at their stair landing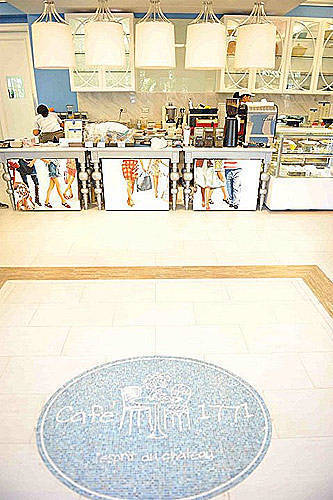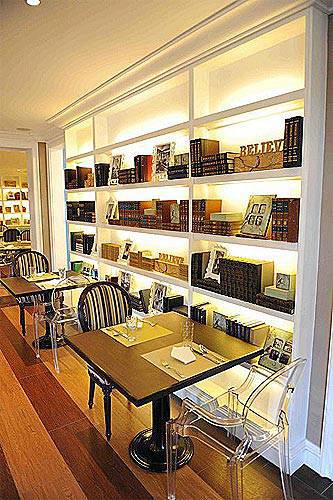 ADVERTISEMENT - CONTINUE READING BELOW
CAFÉ 1771
El Pueblo Real de Manila, J.Vargas corner ADB Avenue, Ortigas Center, Pasig City
Cuisine: Continental
Aesthetic: Library Chic/Whimsical Parisian
Designer: Ivy Almario
Perfect for: Brunch dates with your BFF/casual business meetings
Ortigas Center is both a bustling business district and a good place for a leisurely night out. Café 1771 addresses both facets of its prime location by separating the restaurant into two distinct areas: The Whimsy, which caters to casual diners, is a bright and airy space that exudes Parisian charm and explodes with color-a lovely motif of blue, white, silver, and fuschia; and The Lounge, with its library feel and more subdued palette of aqua, brown, and grey, is perfect for Café 1771's more distinguished patrons who are looking for a quiet place to eat. Both, however, are extremely well-designed spaces that radiate the same comfortable and relaxing ambience that the 1771 group is known for.
Design highlights: The counter and wall-mounted pottery pieces for The Whimsy; the floor-to-ceiling backlit bookshelves for The Lounge
ADVERTISEMENT - CONTINUE READING BELOW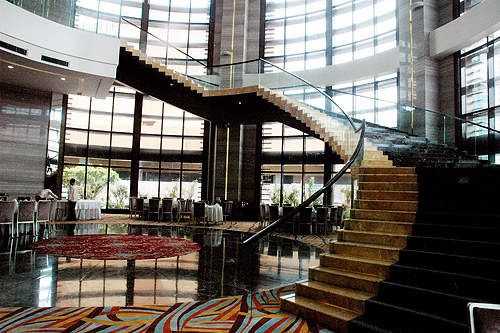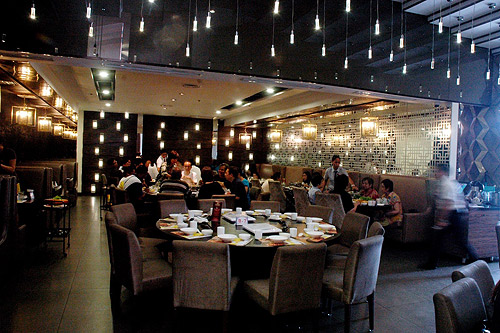 ADVERTISEMENT - CONTINUE READING BELOW
Gloria Maris photos by Gerry San Miguel of Dude4Food
GLORIA MARIS
Greenhills Shopping Center, Ortigas Ave., Missouri Street corner Connecticut, San Juan
Cuisine: Chinese
Aesthetic: Grand and modern maximalist
Perfect for: Gatherings and celebrations of any size and scale
The premiere Chinese restaurant in the city almost appeared to be slipping with the arrival of newer establishments, but like a bona fide classic, Gloria Maris knew how to bounce back and in a big way. Their Greenhills branch, which was moved a few blocks to Missouri Street, takes sophisticated opulence to the next level. The massive standalone structure is divided into five areas: Hotpot Dining, Dimsum Dining, Main Dining, Banquet Hall, and the VIP area. The restaurant serves detail upon impressive detail, from the glorious display of hanging lights and chandeliers, to magnificent wall treatments and lush carpet patterns. There's just not enough space to enumerate all its superb attributes so it would be best to visit the place and marvel at them yourself. Gloria Maris should be on everyone's list of must-see restaurants, no matter what your design sensibilities might be.
ADVERTISEMENT - CONTINUE READING BELOW
Design highlights: The grand lit staircase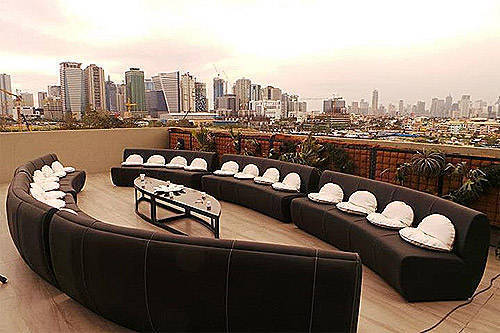 ADVERTISEMENT - CONTINUE READING BELOW
VASK MODERN TAPAS AND GASTRONOMIC CUISINE
5/F Clipp Center, 11th Avenue Corner, 39th Street, Bonifacio Global City, Makati City
Cuisine: Spanish
Aesthetic: Sleek, postmodern minimalist
Designer: Carlo Calma
Perfect for: Businessmen looking to impress clients with some wining and dining
Taking clients (or anyone for that matter) out to dinner is a chance to make a good lasting impression, so why not go all-out at Vask? "All-out" is definitely a word to describe this snazzy eatery and its interiors. The restaurant boasts of three general areas-the main dining room, the outdoor lounge and the private dining gallery-but it is the first that stands out the most in terms of design. The combination of wood, metal, and marble elements creates a very sleek and modern aesthetic. The interesting circular perforations on the walls and ceiling are said to be inspired by the texture of cheese. Colors are muted tones of black, white, and grey, but a bright pop of yellow and bold graphics liven up the space. Occupying the entire fifth floor of the Clipp Center, Vask provides a smorgasbord of exciting design details that are definitely a satisfying feast for the senses.
ADVERTISEMENT - CONTINUE READING BELOW
Design highlights: The perforated wall and ceiling pattern
Share this story with your friends!
---
Help us make Spot.ph better!
Take the short survey
Load More Stories