CHECK IT OUT: The Appraisery at Cubao X, Quezon City
It's a cozy space that has a little bit of everything.
The Appraisery
General Romulo Avenue, Cubao Expo, Araneta Center, Quezon City
Tel. No. 921-2682
Open from 2 p.m. to 12 a.m. (Monday to Wednesday), 2 p.m. to 2 a.m. (Thursday to Saturday)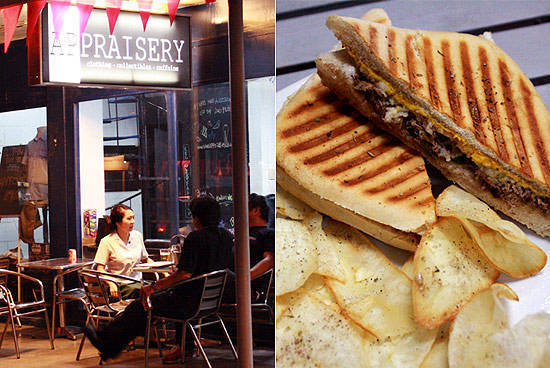 (SPOT.ph) The Appraisery doesn't look as slipshod as the rest of the establishments that make up the Bohemian U-bend of Cubao X. There's not a lot of antiquated magazines and dusty '80s relics spilling out from the door, although the folks behind this lifestyle hub are proud of a pair of Porsche Carrera sunglasses that are the exact same style as the ones in the 1932 film, Mang Tano. Not even a dictionary can define what an "appraisery" is, but maybe because this modest nook tries to be everything: a café-slash-boutique-slash-vintage shop-slash-events place-slash-art space.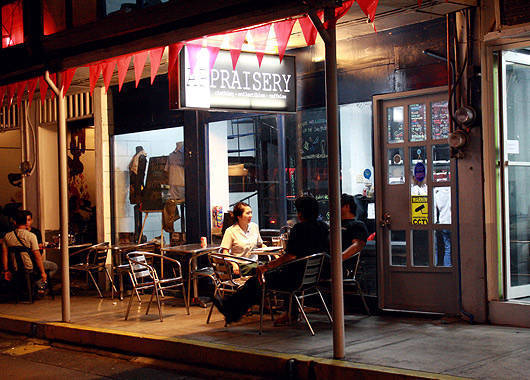 ADVERTISEMENT - CONTINUE READING BELOW
The Appraisery used to be along Annapolis, but they fittingly moved to Cubao X a few months ago.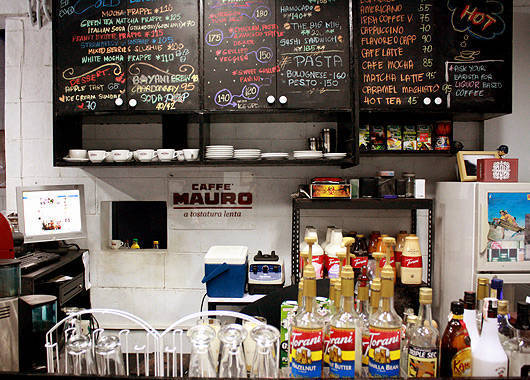 CONTINUE READING BELOW
Recommended Videos
A little tip: the bestsellers are off-menu.
A narrow winding staircase near the entrance is what you'll see first. It takes you up to the second floor consignment shop: shelves crammed with board games (from Bonanza to Game of Thrones), glass cases with pairs of well-worn sunglasses, racks of used clothing, a counter with Manikako dolls, ledges with shoes (from Red Herring flats to Coach heels). Marketing Manager Luisa Eastlaw says they even have some Louis Vuittons stowed away somewhere. As you climb back down to the first-floor coffee shop, trying to take in the charm of its randomness and craving a cup of the much-talked-about Kumabaya, you'll stumble over more surprises, in this case a shoebox of collector's edition Marvel comic books and old vinyl records behind a beat-up stereo.
ADVERTISEMENT - CONTINUE READING BELOW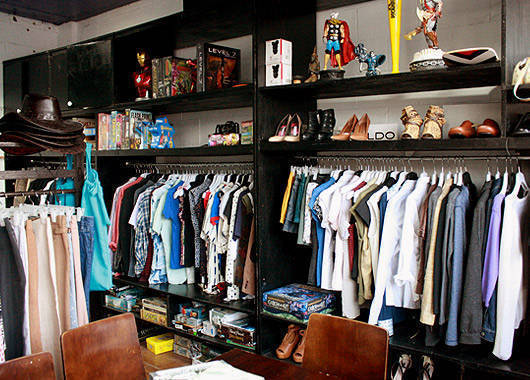 Anyone can have their items consigned and appraised. Currently, The Appraisery is selling items for RX DJ Jinri Park.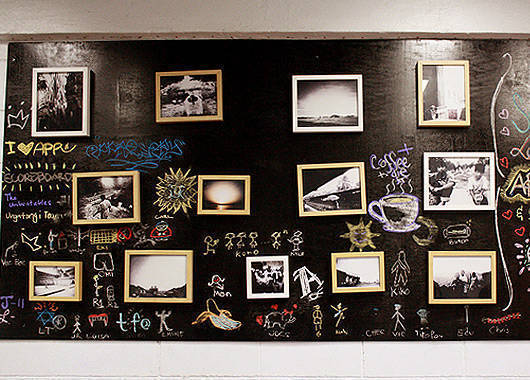 The art wall changes occasionally to feature up-and-coming artworks. The doodles are stories from The Appraisery team and regulars.
The jumble makes sense once you meet manager and chief barista Victor Prieto, a sprightly Seattle-raised, self-described "Renaissance man" who can jump from one topic to the next without skipping a beat. The Appraisery is Prieto, all four walls, two floors, and odds and ends of it. The clutter that initially seemed disconcerting now becomes a trove of stories: Prieto's inclination for slow cooking, his penchant for poetry and music, his geek side, his skating skills. Even the seemingly senseless doodles on the photo wall apparently have their own history: the first customer to throw up, the regular who fell asleep on the couch and woke up in drag, score sheets from board games tournaments. It's Prieto's own diverse proclivities that developed the mishmash that became an unlikely theme.
ADVERTISEMENT - CONTINUE READING BELOW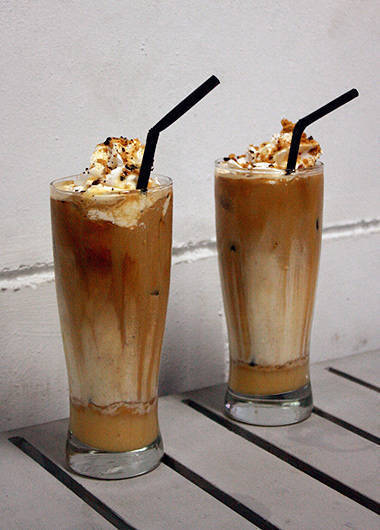 This campfire-inspired joe makes us want to hold hands and sing.
And that same "let's put [in] everything" attitude is evident in the menu. Consider, for example, the Kumbaya (P120): it looks like a Macchiato in a slender glass, but trust Prieto to add an extra shot of personality. Campfire favorites are blended into an iced espresso drink. Stir it to spread the sweetness of caramel and marshmallow syrup evenly throughout. You'll get hits of toasted peanuts and chocolate with every sip, but it's when you get halfway that your tongue gets trounced with grainy crumbs of graham crackers. The Kumbaya isn't on the menu-neither are any of their bestsellers. "I try to be different in any angle I can possibly do," says Prieto, and to do that, he has designed a line of mostly desserts turned drinks concealed, like the box of vinyl records, in an underground menu.
ADVERTISEMENT - CONTINUE READING BELOW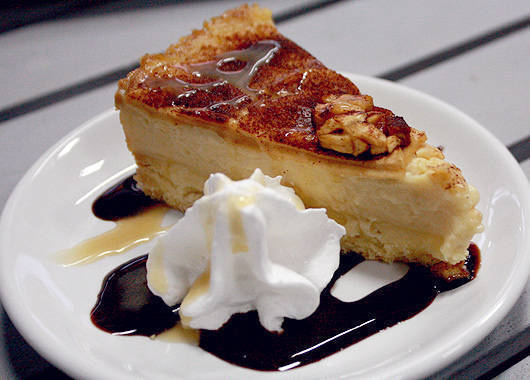 A tiny apple tart of legendary status
But while the equally popular (and confidential) Trait Tart is the liquefied version of their bestselling Apple Tart (P65), it's hard to turn down the latter for anything. The pastry is a moderately sliced triangle, with a thin, unyielding crust under apple-infused custard crowned with a layer of sliced apples and cinnamon powder. The custard is sweet, but the tolerable fruity kind, and the apples are slightly under, but in a way that lifts up the freshness of the entire ensemble.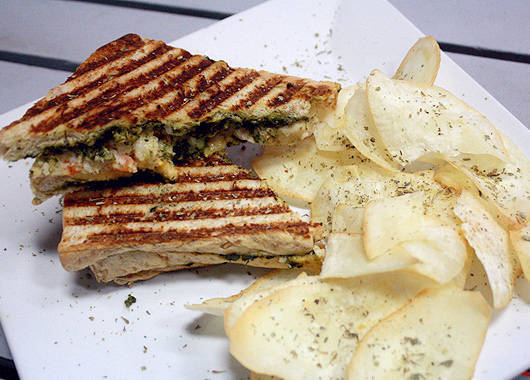 ADVERTISEMENT - CONTINUE READING BELOW
Rich chicken pesto sandwich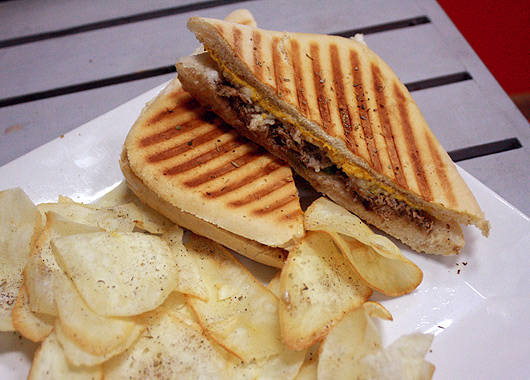 Tangy Tuna Melt
As for sandwiches, the Chicken Avocado Pesto Triple Decker (P175) doesn't let you down. It's a manageable stack with broiled chicken, fresh tomatoes, and mozzarella. Homemade pesto gives it a nice herby quality while avocado smoothens the crumbliness of whole wheat bread. Crisp sweet potato chips on the side give it the occasional lightness it needs when the flavors get too overwhelming.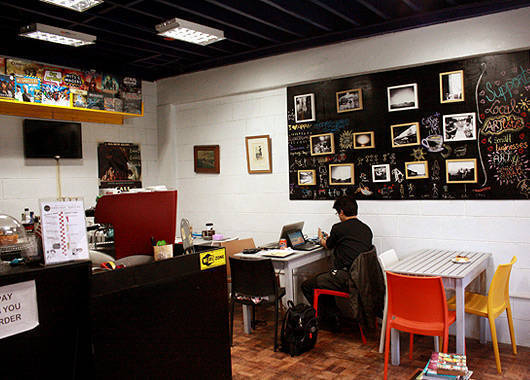 ADVERTISEMENT - CONTINUE READING BELOW
Admittedly, it's a lot to take in, but take a deep breath and take things one board game at a time.
As you chomp on your sandwich, alternating it with sips of the Kumbaya (or Trait Tart), one can't help but look around at the board games and other knickknacks that didn't have room on the second floor. "You can play with them," says Earnshaw helpfully. There are a lot of things you can do at The Appraisery. Sell, buy, eat, play. The Star Wars game is tempting. So are the boots. But despite the distractions, it's easy to stick to one thing, and right now, we want to keep eating. We're going to need some practice if we can make it to the scoreboard.
Share this story with your friends!
---
Help us make Spot.ph better!
Take the short survey
Load More Stories