Top 10 Champorado
No matter the weather, a bowl of chocolate porridge almost makes the day better.
(SPOT.ph) Coming from a rice-loving nation, pairing our staple food with something as decadent and rewarding as chocolate almost becomes automatic, like how a dull day at work is brightened up by a simple compliment. Champorado has its origins from a Mexican drink, champurrado, a thick, chocolate-flavored atole made with corn instead of rice. The luscious beverage reached the Philippines during the Galleon Trade, and through the decades, we've successfully managed to make it our own, adding not only rice, but also a side of milk and a saucer of salted fish. Like most Filipino dishes, it's best made and served at home, but these 10 restaurants do their best.
All SPOT.ph Top 10 lists are researched, paid for, tested, and selected by the writers and editors. They are discreetly conducted without any notice made to the restaurants or their owners.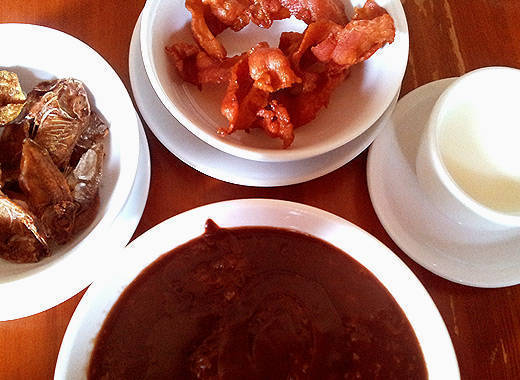 10. Bistro Mateo's Champorado (P85)
Bistro Mateo in Tiendesitas offers you homestyle champorado that is classic in every way-good flavor, commendable consistency, and a creamy texture that melts in your mouth. But if you ever feel like it needs a bit more extra, they'll offer you a unique proposition: danggit or bacon? While danggit is a champorado staple, adding bacon to the mix is a worthwhile option. Our tip: choose your side dish depending on your salt preference. For a burst of contrasting salty and sweet flavors, opt for the danggit (P45). If you just want a subtle salty crunch to go with your rich cocoa, go for the slightly sweet bacon (P70). Then again, you can get both.
ADVERTISEMENT - CONTINUE READING BELOW
Bistro Mateo is at the Frontera Verde Tiendesitas Complex, Ortigas Avenue, Ugong, Pasig City.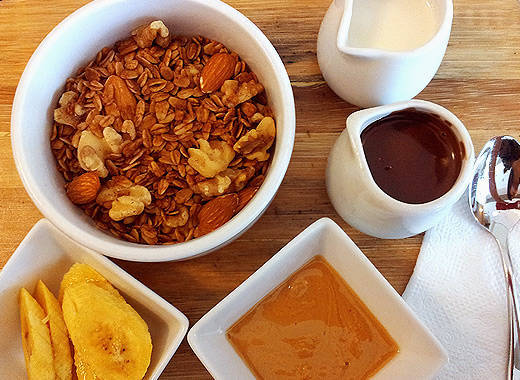 CONTINUE READING BELOW
Recommended Videos
9. SLICE's Champorado (Milk Chocolate, P160; Belgian Dark Chocolate, P200)
With its heaping spoonfuls of molten chocolate, evaporated milk and rice, champorado is definitely not for the average weight watcher. For those looking for a healthier alternative, SLICE offers a guilt-free version. Instead of rice, the concept café offers a bowl of fibrous granola, topped with walnuts and almonds. Served with a side of banana slices, peanut butter, milk, and your choice of chocolate, you're pretty much getting a complete breakfast all in one tray. Best of all, you won't miss the rice; enjoy a crunchy nutty flavor with the silky sweetness of chocolate. The hint of cinnamon gives it a sweet-spicy fragrance that makes it all the more delectable.
Slice has branches in Bonifacio High Street, SM Aura, and The Podium.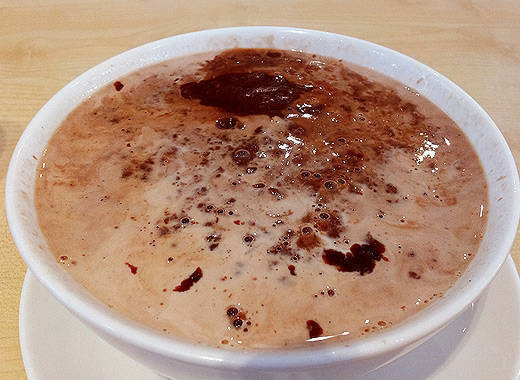 ADVERTISEMENT - CONTINUE READING BELOW
8. Market on 5th Avenue's Champorado (P75)
Inside St. Luke's Global City is a fancy-looking cafeteria called Market on 5th Avenue, filled with all kinds of comfort food for everyone. Enter a piping hot bowl of chocolate wafting with steam. This soupy confection is filled with milky sweetness that many sweet lovers will go for. Hot and delicious, Market's champorado is the edible equivalent of receiving a warm, loving hug in stormy weather.
Market on 5th Avenue is located inside St. Luke's Medical Center, 32nd Street cor. 5th Avenue, Bonifacio Global City, Makati City.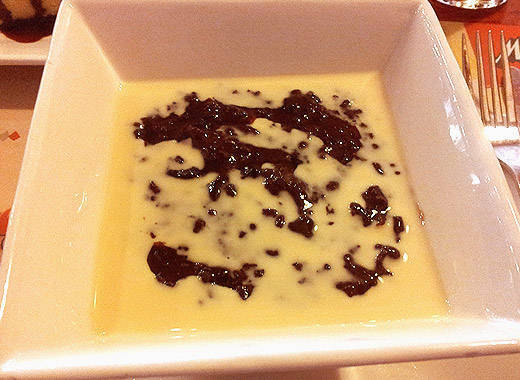 7. Triple Chocolate Champorado (P95) from Max's
If Goldilocks were restaurant hopping for the best champorado in town, she'd probably describe Max's version as "just right." If you're one to watch your sugar intake, don't be frightened by the description "triple chocolate." Max's champorado is barely sweet, following the tradition of using bitter dark chocolate as the main flavoring ingredient. Served with a drizzle of evaporated milk, it's not at all bland. The consistency is perfect, thick but not clumpy, loose but not watery. You might just find yourself having more than one bowl
ADVERTISEMENT - CONTINUE READING BELOW
Max's Fried Chicken has branches all over Metro Manila.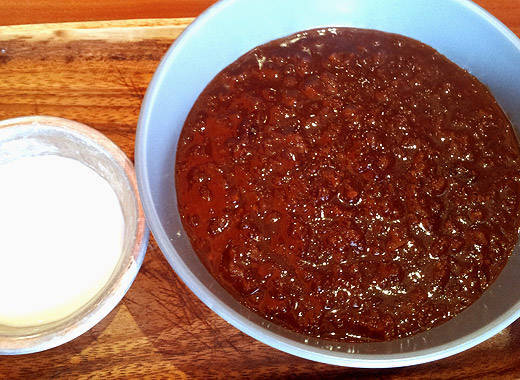 6. Dark Chocolate Champorado (P155) from π Breakfast and Pies
Pino Group's latest restaurant makes their champorado with a special ingredient-cream cheese. The traditional dark chocolate porridge is delicious on its own, but the addition of cream cheese adds a certain zest that you don't usually find in other champorado dishes. Cream cheese is π's alternative to the salted fish that usually accompanies champorado, providing the salty and tangy dimension without the fishy taste. Served with cereal milk (literally milk boiled in cereal), you get a thick and rich chocolate-y bowl that tickles your palate and warms you all over.
π Breakfast and Pies is at 39 Malingap st., Teachers Village, Quezon City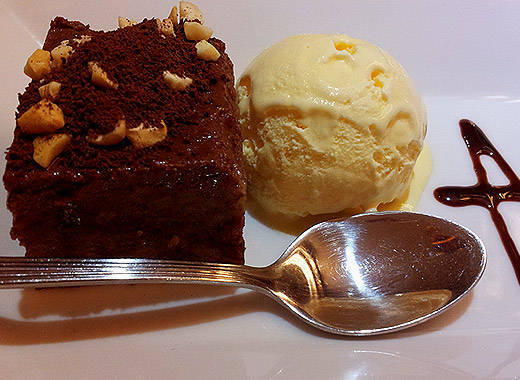 ADVERTISEMENT - CONTINUE READING BELOW
5. Champorado Eh (P175) at X.O.46 Bistro Filipino
Champorado is best served on a cloudy day, but X.O. 46 Bistro Filipino's Champorado Eh, however, shakes things up by serving the dish cold-which suits us well since it's usually hot in the Philippines. Served with a side of creamy mantecado ice cream,  Champorado Eh is a small brownie-like block of chocolate rice topped with cocoa powder and nuts. The dark chocolate bitterness of the rich kakanin is balanced by the milky sweetness of the ice cream, creating a burst of flavor and contrasting textures in your mouth. While we still love the traditional version, this unique treat proves that champorado is delicious in all forms and temperatures.
X.O. 46 Bistro Filipino is at the Ground Floor of Le Grand Building, 130 Valero st., Salcedo Village, Makati City.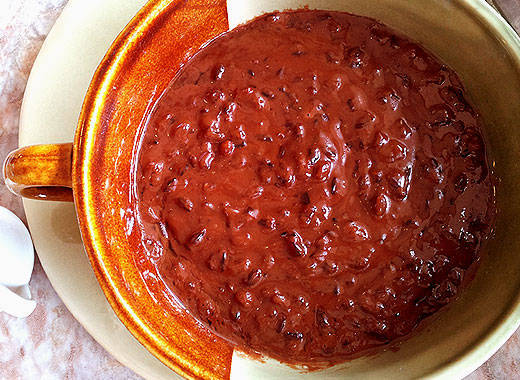 4. Manila Bake's Champorado (P145)
Nestled in resto-rich Katipunan Extension, Manila Bake stands out for its local flavor with an artisanal twist. Who else would attempt to tame super sticky tapol rice into champorado?  Tapol or glutinous purple rice takes longer than white rice to cook and the texture is just tricky to deal with. Manila Bake takes on this challenge, however, and offers an entirely different take on champorado. Gooey, chewy, and mildly sweet, eating Manila Bake champorado is like biting into a chocolate-flavored suman, with even the same hint of coconut milk usually found in the popular kakanin. It's like two native delicacies in one.
ADVERTISEMENT - CONTINUE READING BELOW
Manila Bake is at 206 A Katipunan Avenue, Blue Ridge, Quezon City.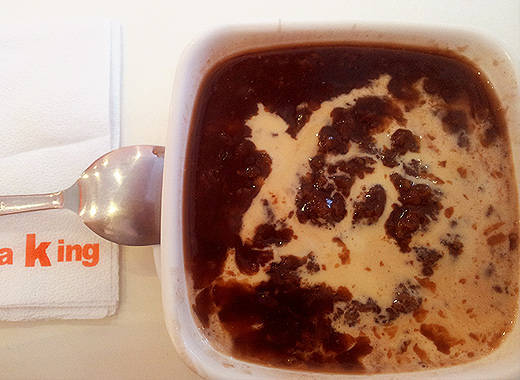 3. Tapa King's Champorado (P49)
Sweet, milky and warm, Tapa King's champorado is exactly how the dish should be. Served with hot evaporated milk drizzled on top, the champorado is deliciously familiar, like it was made from your mom's own kitchen. Thick swirls of chocolate provide a syrupy texture, which makes for spoonfuls of satisfying chocolatey goodness. Eat it as is or opt for the merienda meal with gourmet tuyo for additional flavor. The ubiquitous tapa specialist keeps it simple, impressing the palate without making much effort. Sometimes, the time-tested basics are enough to satiate the appetite.
Tapa King has branches all over Metro Manila.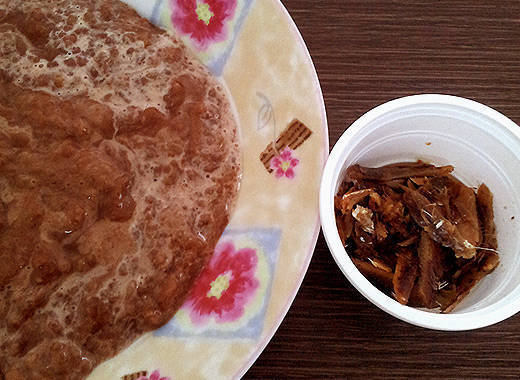 ADVERTISEMENT - CONTINUE READING BELOW
2. Chocnut Champorado at Kanto Freestyle Breakfast (P70)
Kanto Freestyle Breakfast, the popular all-day breakfast carinderia, takes champorado goodness up a notch by adding another local favorite to the mix-Chocnut. With two truly Pinoy delicacies in one satisfying dish, just one bite brings an immediate choco-nutty taste that is both unique and recognizable all at once. You can enjoy your champorado with a little heat from a side of spicy gourmet tuyo or enjoy its natural sweetness with a dash of milk. A cool twist to a rainy day tradition, thanks to the addition of everyone's favorite local candy, Chocnut Champorado is truly comfort food at its best.
Kanto Freestyle Breakfast is at 549 San Joaquin St., Mandaluyong City.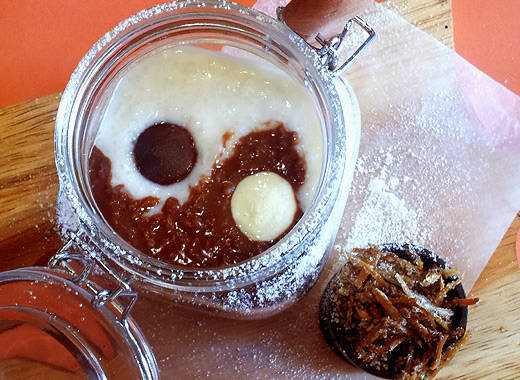 1. Yin Yang Champorado at Early Bird Breakfast Club (P275)
Champorado, though delicious and comforting, is not the most photogenic of dishes. Trust Early Bird Breakfast Club to debunk tradition with their Yin Yang Champorado, with its beautifully plated dark and white Belgian chocolate concoction. The name refers to both the carefully crafted Yin and Yang design on the champorado itself, and the mildly contrasting flavors in the dish. With a side of dilis-in-a-cup and a dusting of confectioner's sugar, Early Bird's take on the breakfast staple is a delicious mix of bitter sweetness from the dark chocolate and the candy-sweet flavor of the white chocolate. Perfect in both presentation and taste, this dish is a runaway winner.
ADVERTISEMENT - CONTINUE READING BELOW
Early Bird Breakfast Club is at G/F, Fort Pointe 2 Building, The Fort Complex, 28th Street, Bonifacio Global City, Makati City.
Share this story with your friends!
---
Help us make Spot.ph better!
Take the short survey
Load More Stories