10 Fast Food Items We Miss the Most
Fast food favorites that we wish would make a comeback.
(SPOT.ph) Fast food items come and go. There are those that keep loyal customers in a perpetual state of longing by appearing seasonally on the menu, like McDonald's Twister Fries (summer) and Jollibee's Tuna Pie (Lent), thus creating an almost frantic fanbase who tend to sate their cravings by over-purchase or hoarding. Then there are those that go away only to come back due to public clamor.
Jollibee's Amazing Aloha made a startling return in May 2013 after Anthony Bourdain featured the pineapple-laced sandwich on his show. Online petitions began to push for its reappearance and after four years of absence, Jollibee relaunched the Amazing Aloha in the Philippines. McDonald's Big N' Tasty, which was launched in the US in 2001, entered the Philippine market two years after its discontinuation in the States. Priced in the same range as the staple Big Mac and Quarter Pounder and marketed as "limited" edition, the sandwich is made with a 100% pure beef patty (quarter pound), fresh tomato, cheese, smoky sauce, pickles, onions, and lettuce. It was ignored in the US after the introduction of Angus and one-third-pound burgers, but it seems to find moderate success here.
ADVERTISEMENT - CONTINUE READING BELOW
Comebacks are always happy circumstance, whether it's Mickey Rourke's Oscar-nominated performance in The Wrestler, Jessica Simpson's body bounceback, or just the return of the Happy Meal boxes. As far as fast food goes, these are the ones we wish would return-if only for a while.


ADVERTISEMENT - CONTINUE READING BELOW
Perhaps it was just proper when the Double Down was discontinued in mid-2012. The sandwich is a scary spectacle in which two fried chicken fillets replace the typical kaiser, and in between are bacon, the Colonel's secret sauce, and lots of cheese. It was marketed in the USA as being so full of chicken, it had no room for bread. Overseas, customers have the option of having the fillets grilled instead of deep-fried.
The item was launched in KFC Philippines in 2010 and the Zinger Double Down in 2011. In 2012, just before it was officially discontinued, KFC Philippines finally found space for bread by giving the option of having sesame-speckled buns, er, sandwich the sinful chicken sandwich.
KFC's Extreme Hotshots
There was nothing wrong with KFC's fiery Hotshots. The addictive chicken poppers had a tongue-tickling fieriness that could satisfy taste buds, but just enough to keep you digging into the carton for more. Apparently it wasn't enough for some. A year later, in the early 2000s, KFC launched the Extreme Hotshots, even spicier versions with a sharp, peppery heat that hits your palate. With the promise of greater punch and an even more encouraging commercial, Extreme Hotshots was an immediate hit, with customers wanting to try it a first time. Unfortunately, for most of them, that was also the last time.
ADVERTISEMENT - CONTINUE READING BELOW
While the brave and pepper-tolerant adored this new version, most people found the taste too intense and to finish an entire box too challenging.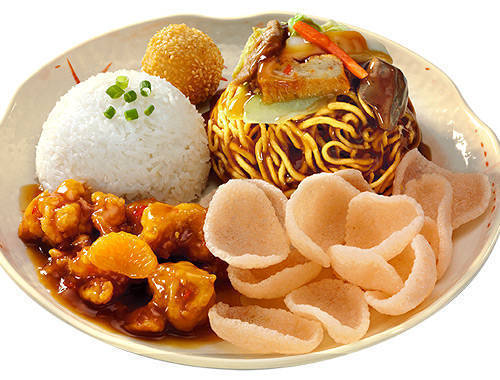 Chowking's Crispy Noodles
A delicious tower of crisy fried egg noodles with a sweet-savory sauce and actual vegetables and chunks of pork. That was Chowking's Crispy Noodles. It was launched in the early 2000s. As the years went by, the size decreased until it became a shadow of its former vibrant self, but the flavors were relatively consistent and the price couldn't afford complaints (P49 plus a drink). Unfortunately, it didn't fare very well alongside other savory Chowking options that also offered exceptional value-for-money.
ADVERTISEMENT - CONTINUE READING BELOW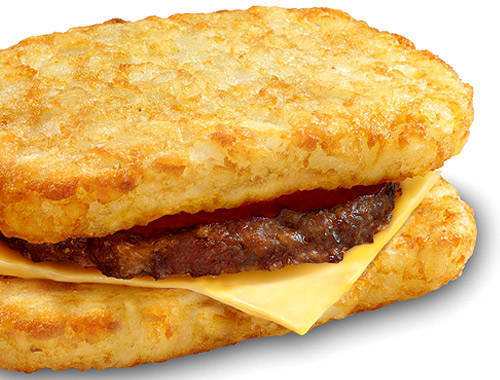 Jollibee's Hashbrown Burger
We can't quite understand what's so wrong with bread that people want to keep replacing it with heavier options. In this case, potato takes the place of the carb component in their cheeseburger sandwich. The hashbrowns are soft with a crisp batter that holds up well when you eat it the way a sandwich should be eaten. Jollibee erases skepticism by branding their new hanger with a "baked" tag, giving calorie-conscious dilettantes momentarily relief from excess grease.
ADVERTISEMENT - CONTINUE READING BELOW
The Hashbrown Burger was actually met with positive reviews, with flavors and textures that are perfectly balanced. However, like all things good, they weren't meant to last. In 2012, we had to content ourselves with the normal Yum.


KFC's Tower Burger
KFC is the Willy Wonka of fast food, always inventing the most elaborate combinations. This jawbreaking creation isn't as humongous as the advertisements let on (they usually never are) and, despite the hype over the "towering" height, it's slightly smaller than a Big Mac. It's the components that make it fatally delicious: KFC's usual chicken fillet sandwich (with lettuce, cheese, lettuce, and mayo in a Kaiser bun) with an extra layer of hashbrown. Eclipsed by the weight of the protein and mayo, the hashbrown ends up looking more like a sodden rag in the middle of the sandwich. Flavor-wise, it doesn't add too much, there's just a subtle crunch that puts in an added mouthwatering factor as you eat it.
ADVERTISEMENT - CONTINUE READING BELOW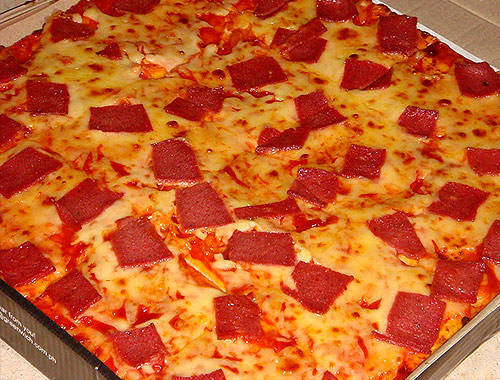 Photo from taranakaintayo.blogspot.com
Greenwich's Square Pizza
Or, it could be the entire Greenwich era before 2006 when it was fully acquired by the Jollibee Food Corp. Greenwich was famous for two things: Rico Yan (and later Ryan Agoncillo and Donita Rose), who was their mascot, and the square-shaped family-sized pizzas. The flavors were simple and gimmick-free, with the Ham & Cheese being the most popular. Greenwich's old look is just one of the few things we miss about the '90s.
ADVERTISEMENT - CONTINUE READING BELOW
Jollibee's Jolly Cheezy Fries
This happy bee is buzzing in the success of their cheese-sprinkled crisscut fries, but this wasn't their first attempt to launch cheesy-rich potato strips. They first started with two variations of the Cheesy Fries (regular fries smothered in cheese sauce and bits of meat). In 2007, they decided to take things a step further by added nachos to the mix, giving both crunch and chewiness to these delectable snacks. 




McDonald's McRice Burger (Second Generation, Will Devaughn era)
The McDo Rice Burger appeared on the local McDonald's menu in the early noughties. Back then, it was a bit like Jollibee's famous burger steaks with the rice wrapping around the patty instead of on the side. There must be something wrong with the binding ingredient, but that version was short-lived. The reason: the rice was tacky and with an almost pasty flavor. A few years later in 2006, actor Will Devaughn and a savvy new packaging made a burger that should've been gravy for a rice-eating nation relevant again. It was called the McRice.
ADVERTISEMENT - CONTINUE READING BELOW
The toasted top provided a soft crispness and a nutty tinge to the burger but, like Devaughn's career, it didn't last.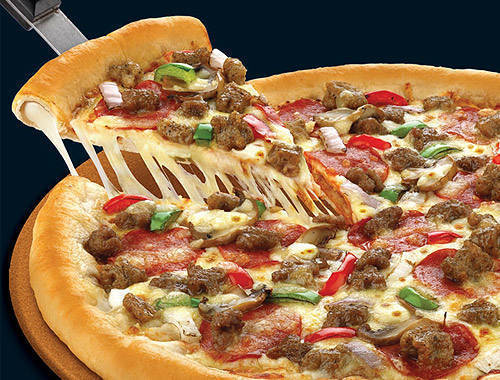 This is obviously not the Chicken Stuffed Crust because it's one of the very rare un-Google-able entities in the world.
Pizza Hut's Chicken Stuffed Crust
ADVERTISEMENT - CONTINUE READING BELOW
Launched shortly after the cheese- and sausage-stuffed crusts, this one had such a brief stint on the menu that it might not even be real. In fact, you can't even Google it. A roll of chicken replaces sausage in between the topping-less edges of the crust while the middle is a stringy white sauce. If you think this is innovation, Singapore has a double stuffed crust with a ring of sausage in the middle of the disc and three-flavor cheese poppers on the edge.  We wish they'd bring that to the Philippines.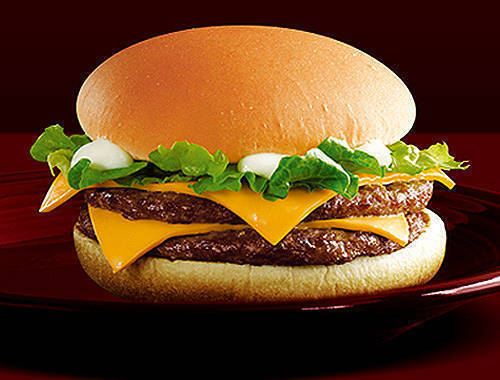 ADVERTISEMENT - CONTINUE READING BELOW
McDonald's Double Cheeseburger Deluxe
A product whose potential was never realized, this delicious P87-treat took a backseat to the the Big Mac, Quarter Pounder, and McChicken Sandwich. Unlike the Cheeseburger (and the Double Cheeseburger, which is surprisingly obsolete in some parts of the world), this one comes with lettuce. Unfortunately, people didn't find greens too much of a difference.
CONTINUE READING BELOW
Recommended Videos
Share this story with your friends!
---
Help us make Spot.ph better!
Take the short survey
Load More Stories