Top 10 Tapas Places in Manila
Where to go for small Spanish plates that are big on flavor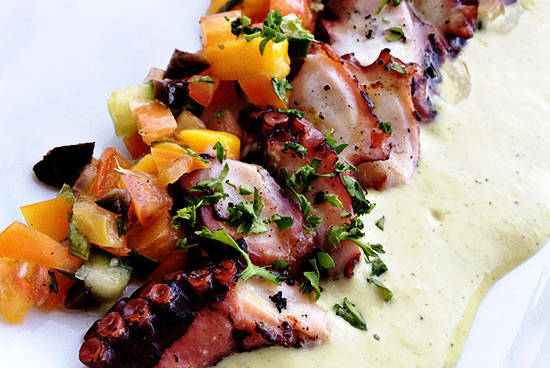 (SPOT.ph) Despite its many influences in local gastronomy, Spanish cuisine wasn't as popular in the restaurant scene until quite recently. Paella and cochinillo continue to be easy favorites, but the moderately sized tapas are catching up, giving Filipinos the option to enjoy life the way the Spanish do: eating, drinking, and being merry in an ultra-relaxed pace. Tapas are meant as snacks or appetizers enjoyed with sangria (or similar spirits) in between work and dinner, which is usually taken really late at night. We've developed our own way of eating this Spanish tradition, usually with rice, or over a nightcap with friends. But however and whenever we want it, these small plates are always an enjoyable experience. We list down the city's notable spots for indulging on tapas.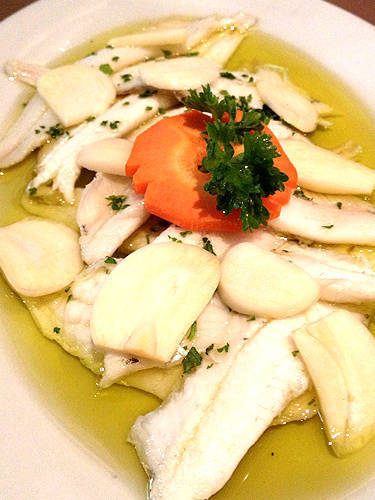 10. Casa Armas
Everyone's go-to for paella negra (P975) features an array of tapas that doesn't stray too far from the classics: a opular choice, the boquerones (P340) or Spanish anchovies marinated in oil and garlic, as well as platters of cheeses and hams are covered comprehensively on the menu. But besides favorites like calamares (P260) and gambas (P240 to P365) are options that cater to more adventurous palates: angulas (P260) or baby eels, pulpo ala Gallega or Galician octopus (P280), and frogs legs (P250).
ADVERTISEMENT - CONTINUE READING BELOW
Branches in the Podium, Ortigas Avenue, Mandaluyong City; Jupiter Street, Bel-Air, Makati City; Greenbelt 2, Makati City; Tel. No. 897-3542, 757-4996
Open daily from 11 a.m. to 2 p.m. and 6 p.m. to 10 p.m.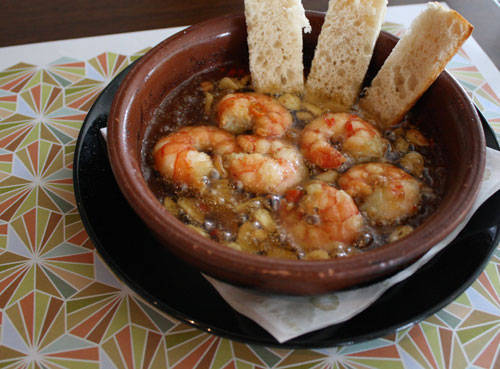 9. Las Flores
This beautiful hideaway in Bonifacio Global City has become known for its authentic Catalan cuisine. Though the three Spanish owners, Uli Singla, Dani Aliaga, and Sergi Rostoll (all of them previously owned Barcino), have their own following, Las Flores' modern interpretations of established flavors and minimalist luxury in terms of setting don't make it a default option for tapas cravings. Its culinary uniqueness, however, is unparalleled. The Angus and Foie Minis (P825) features melt-in-your-mouth Australian Angus beef enriched by a sliver of foie gras and balanced by a slice of caramelized apple. Then there's the Atun En Escabeche De Vina Y Aceita De Oliva Virgen (P395), a tarty marinated tuna chunks that go perfectly with a glass of wine. Other creative takes are the scallop ceviche (P350) marinated in olive oil and herbs, tuna tartar with avocado and tomato jam (P350), and the zucchini carpaccio (P295).
CONTINUE READING BELOW
Recommended Videos
G/F One McKinley Place, 25th Street, Bonifacio Global City; Tel. No. 552-2815
Open daily from 11 a.m. to 1 a.m.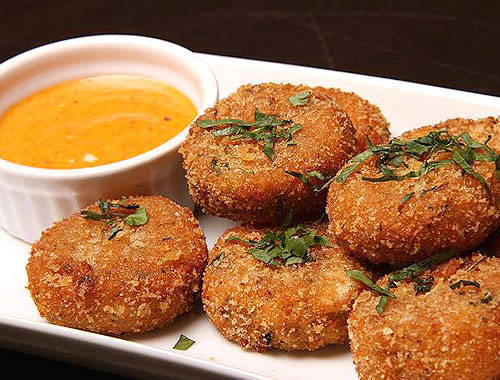 When Chef Carlo Miguel (Opus, Draft Gastropub) opened Beso, he had plans to shake up the local Spanish-cuisine scene with moderate prices and updated classics. Beso's tapas steps out of the shadows of tradition and are given a twist-without being too alien from the original. The croquetas (P280), for example, can be made with either salmon, salt cod or sticky pork feet. There's even toast topped with chorizo and a blanket of spiced chocolate (P210). Creative executions like these make Beso definitely worth the visit. The best part is that everything is reasonably proportioned so you can order different varieties and have a taste of everything.
UG/F Bonifacio High Street Central, 7th Avenue corner 29th Street, Bonifacio Global City; Tel. No. 0926-614-9695
Open from 11 a.m. to 2:30 p.m. and 5:30 p.m. to 2:30 a.m. (Monday to Saturday); 11 a.m. to 12:30 a.m. (Sundays)
ADVERTISEMENT - CONTINUE READING BELOW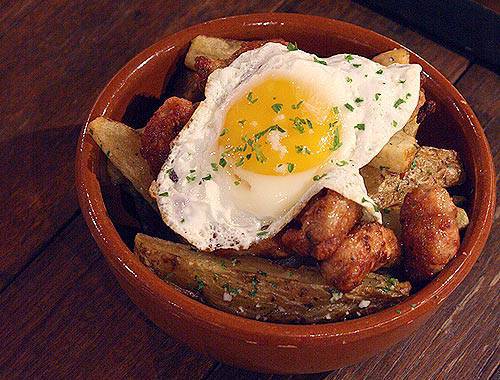 Relik marries together Old World charm like antiques and brick accents with modern influences like an open kitchen. It's a happy medium to appeal to all kinds of crowds. This same seamless fusion is also evident in their menu, putting together flavors everybody loves and presenting them in a way that will have you salivating beyond control. Just imagine: Crisped up chorizo bits over hot sisig (Chorizig, P220), calamari clothed in a squid ink batter (how very au naturale) (Tinta Calamari Negra, P250), yummy tortilla speckled with Davao blue cheese and paprika sausage, deep-fried Manchego cheese served with honey (P300).  These are just some of the reasons why Relik definitely makes it to this list.
2/F Commercenter Building, 31st Avenue corner 4th Street, Bonifacio Global City; Tel. No. 0917-529-8333
Open from 11:30 a.m. to 2 p.m. and 5 p.m. onwards (Monday to Friday); 5 p.m. onwards (Sunday and Saturday)
ADVERTISEMENT - CONTINUE READING BELOW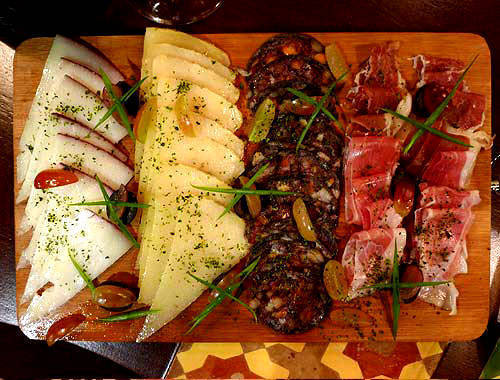 6. Calderon Cocina Tapas y Bebidas
A problem arises when you order too much at Calderon-trust us, the mouthwatering menu will keep you calling the waiter back for more. The tables are narrow and high, and by the time the paella arrives, the only space you'll have for your plate is on your lap. But that's a minor thing. Calderon is more than generous with their servings, and though they feature traditional tapas like the Patatas con Aioli (P250) and Calamares Fritos (P280), they show a little culinary ingenuity with not-so-far-out twists to originals like the Chori-Gambas al Ajillo (P360) and Dynamita Fritos (P280), meat and cheese-stuffed pepper poppers wrapped in crisp lumpia wrapper. For a perfect sampler to eat the afternoon away, the Bandeja de Jamon, Chorizo y Quezo (P800) is a magnificent display of lavishly sliced Jamon Serrano and Morcilla, and beautiful cuts of Manchego and goat cheese.
ADVERTISEMENT - CONTINUE READING BELOW
403 F. Calderon St., Little Baguio, San Juan; Tel. No. 238-2264
Open daily from 11 a.m. to 10 p.m.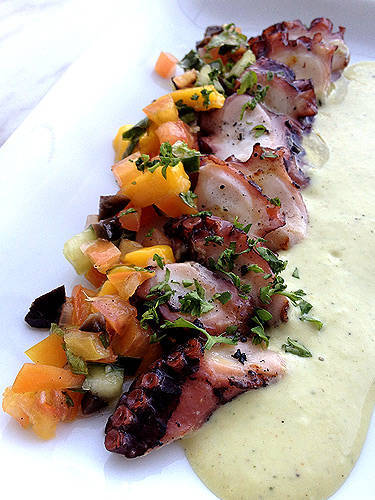 5.  Black Olive Cerveseria
If Chef Carlo Miguel's name sounds familiar, its because this is his second restaurant to make it on this list. Only he can make olives-and only olives-habit-forming. His signature pica-pica, Marinated Black Olives (P130), are nothing more than olives wading in olive oil and balsamic vinegar, but they're the best complement to the P50 pints of Stella Artois from 5 p.m. to 8 p.m. Years away from being complete, Capitol Commons has one steady draw: Black Olive and Chef Carlo Miguel's meticulous approach. Their tapas menu is divided according to the temperature they are served in. There are grilled marinated artichokes (P160) and grilled octopus with green romesco and black olive salsa (P230) for cold; and pork albondigas (P320), fried mussels with jalapeno-honey aioli (P340) and Moorish-style skewered meats grilled over lava rocks (P415) for hot. The mains are good, too!
ADVERTISEMENT - CONTINUE READING BELOW
Capitol Commons, Meralco Avenue corner Shaw Boulevard, Pasig City; Tel. No. 633-2071
Open daily from 11 a.m. to 2 a.m. (1 a.m. on Sunday)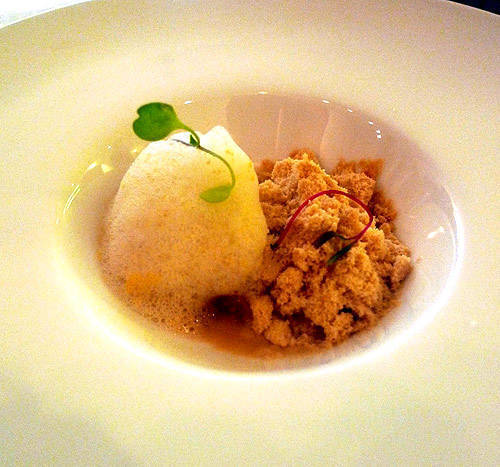 4. Vask
You come to Vask for the experience. The place is divided into three sections: the more open Main; the intimate degustacion Gallery; and the airy Deck. Vask is anti-traditional when it comes to presentation but definitely true when it comes to delivering authentic Basque flavors from the north, giving every dining experience a dose of originality and spunk. Croquettes and potato tortillas are on offer, but customers tend to get more enticed by the more adventurous displays. Who can blame them when there's a 62-degree sous vide egg swimming in a pool of Port wine sauce and garlic crumbs with onion foam (Huevos, Hongos y Cebolla, P390)?
5/F Clipps Center, 11th Avenue corner 39th Street, Bonifacio Global City; Tel. No. 0920-918-5326
Open from 11 a.m. to 2 p.m. and 6 p.m. to 1 a.m. (Monday to Saturday)
ADVERTISEMENT - CONTINUE READING BELOW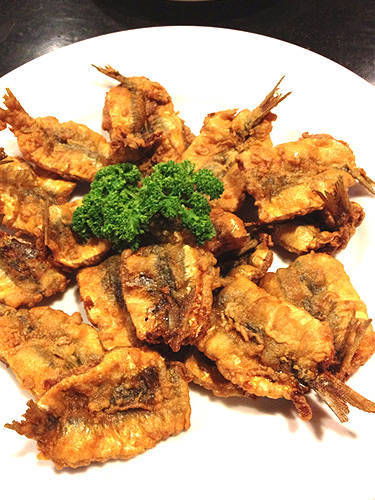 3. Terry's Selection
It may not be first in mind when it comes to Spanish fare, but this longstanding establishment has proven time and again that it is a prime place for delicious and exciting tapas. It doesn't scrimp when it comes to quality and you can taste the effort as you sample the dishes. Terry's Selection has mastered the all-time favorites and has even come up with ingenious versions of their own like the Duck for the Gods (P360), croquettes made of duck confit shreds and Villeroy béchamel; or the Tawilis Adobados (P245), freshwater herring from Taal Lake, marinated in a Spanish adobo mix then deep-fried in top-grade olive oil.
Branches in The Podium, Ortigas, Mandaluyong City and Salcedo Village, Makati City; Tel. No. 0917-811-1411
Open from 10 a.m. to 9 p.m. (Sunday to Thursday) and 10 a.m. to 10 p.m. (Friday to Saturday)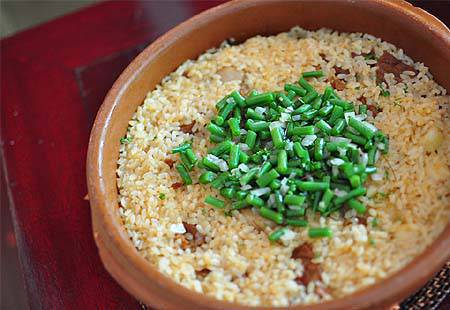 ADVERTISEMENT - CONTINUE READING BELOW
2. Cirkulo
Chef J Gamboa was one of the first people to introduce the promises of a delicious Spanish meal when he opened Cirkulo in 1995. Like good Spanish wine, Cirkulo has gotten only better through the years. The interiors are consistent: elegant sophistication, the kind that makes you want to sit up straight, until you see your order of Cabeza de Cerde (P495), a dish similar to sisig, carried out of the kitchen and to your table. Animalistic hunger replaces all forms of good manners. That's the kind of effect Cirkulo generates. Despite bestsellers like the Lengua Sevillana (P545) and Slow-roasted US Beef Belly (P875), it's the restaurant's tapas that continue to draw people in. The salpicao (P365), champinones al jerez (P445) or sautéed mushrooms, and a smaller version of their bestselling Cochinillo, the Chuletitas (P695), are being enjoyed by generations time and time again.
900 A. Arnaiz Avenue corner Paseo De Roxas Street, San Lorenzo Village, Milkyway Building, Makati City; Tel. No. 810-2763
Open from 11:30 a.m. to 2:30 p.m. and 5:30 p.m. to 10:30 p.m. (Monday to Saturday)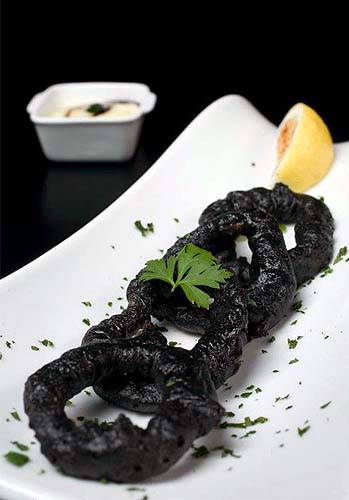 ADVERTISEMENT - CONTINUE READING BELOW
The stylish interiors already make for a good appetizer. Cova, which is a tapas joint designed to make people kick back and just enjoy food and sangria, features exquisite wooden slats akin to what you'll see in Barcelona and dark walls that make for relaxed drinking. The place was inspired by the many tapas bars that owners Tatyana Guevara and Chef Patrick Hesse remember hanging out in during trips to Spain. Whatever' s left in your appetite after your fill of the decor will be filled with inspired dishes that will undoubtedly stir your taste buds. There's the Lengua con Setas (P135), Calamares Tintados (P120), Ravioli de Rabo de Toro (P155), Salpicao de Mejillas de Ternera (P240) or salpicao made with Wagyu veal cheeks, and for the gastro-curious, Espuma Bacalao (P380), which is like a salt cod foam.
Wash everything down with the Millionaire Sangria, made only with premium wine. It's over P1,000 a liter, but a sip will make you forget that empty space in your wallet, in more ways than one.
22 Jupiter Street, Bel-air Village, Makati City; Tel. No. 478-9700
Open from 5 p.m. to 2 a.m. (Monday to Saturday)
Share this story with your friends!
---
Help us make Spot.ph better!
Take the short survey
Load More Stories