New on the Menu: Ginza Bairin
This <em>katsu</em> place is introducing seafood to their menu.
Ginza Bairin
G/F Glorietta 2, Palm Drive, Ayala Center, Makati City
Tel. No. 553-7350
Open from 10 a.m. to 11 p.m. (Monday to Thursday); 10 a.m. to 12 a.m. (Friday to Saturday); 10 a.m. to 11 p.m. (Sunday)
UP Town Center, Katipunan Avenue, Quezon City
Tel. No. 0917-871-0041 
Open from 10 a.m. to 11 p.m. (Monday to Thursday); 10 a.m. to 12 a.m. (Friday to Saturday); 10 a.m. to 11 p.m. (Sunday)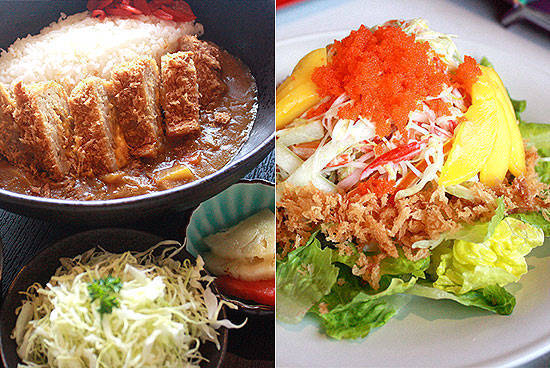 (SPOT.ph) Ginza Bairin opened some time in the middle of 2013 (a year after the katsu epidemic) and although slightly late in the game (locally speaking), they brought with them a pork deep-frying history that's unparalleled by other establishments.
Ginza Bairin was established in 1927 in Tokyo's Ginza district. They were the first to commercialize katsu and founder Nobukatsu Shibuya had reportedly pioneered the signature brown tonkatsu sauce now adopted by most restaurants. Since they opened in Glorietta last July, the local Ginza Bairin wasted no time in giving Filipinos a taste of katsu that carries with it 87 years of frying perfection. But theirs is the kind of tradition that grows with innovation. Less than half a year later, they have a second branch (in UP Town Center) and an extensive new lineup that could already be considered a whole menu for some restaurants.
ADVERTISEMENT - CONTINUE READING BELOW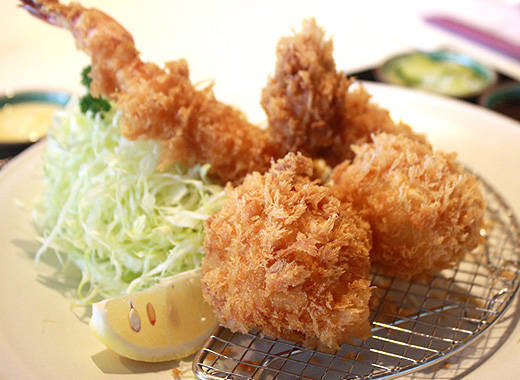 Premium Seafood Set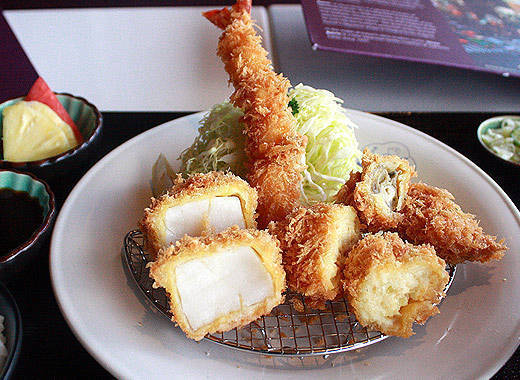 Mixed Set D (P595) with rosu, black tiger prawn, Hiroshima oyster, white fish, and kani cream korokke
It's difficult to compete with pork tenderloin, but Ginza Bairin Philippines also wants to highlight the bounty of the sea. Their Premium Seafood Set (P575) is a sampler of sorts, giving the diner variety gloved in the same beautifully crunchy panko-crusted batter: a giant salty Hiroshima oyster, walnut-sized sweetish US sea scallops, a mildly briny black tiger prawn, and a rich kani cream korokke (a soft crab ball made with real crab meat and cream). The way it's presented, you'd imagine this dish could either leave you wanting or too full, but once you finish, you'll understand that the proportions are just impeccable, especially on top of the unlimited rice and miso soup.
ADVERTISEMENT - CONTINUE READING BELOW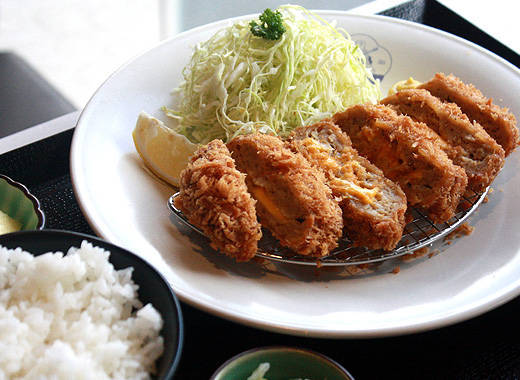 Simple Menchi Katsu with Cheese Set (P375)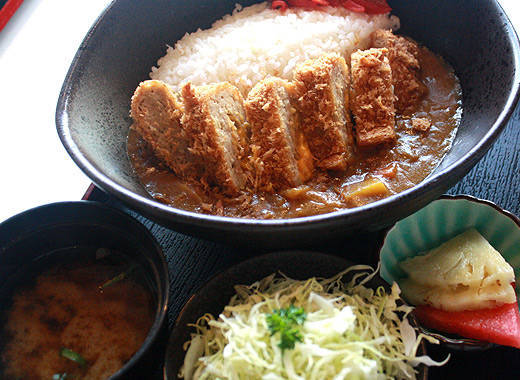 Menchi Katsu with Cheese Curry Set
Flavor is persistent in the Menchi Katsu with Cheese Curry Set (P380). Pork is ground to a consistency similar to what one sees in a kebab then shaped into slabs filled with rich melted cheddar. The Japanese curry is mild, with a complimentary spice that coaxes out the salty savoriness of the pork.
ADVERTISEMENT - CONTINUE READING BELOW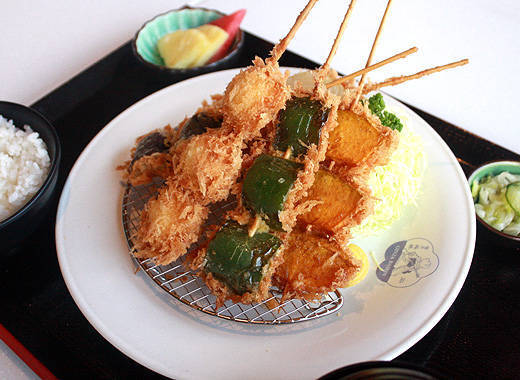 Vegetable Kushi Katsu (ala carte)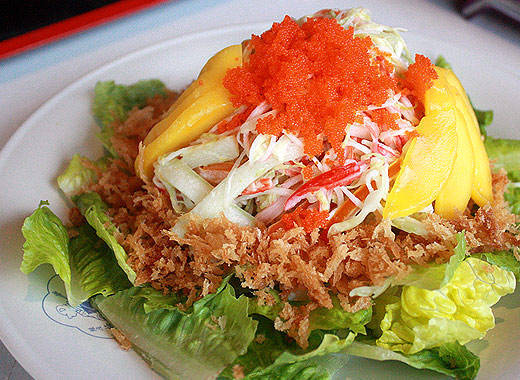 Kani Salad
Not everything in Ginza Bairin's expanded menu challenges the limits of your stomach though. The new options can come in ala carte, and the Vegetable Kushi Katsu (P195) is a light but satisfying alternative to the proteins. Slices of pumpkin, sweet onions, and quail eggs are skewered then painted with a dulcet mirin-based sauce. There's also the Kani Mango Salad (P345) for a refreshing medley of kani, ripe mango, mixed greens, tomato and ebiko (roe) dressed in Japanese mayo; the Chawan Mushi (P100), a smooth egg custard with seafood that serves as an alternative to miso soup; and the Hiyayakko Tofu (P95), which is cubes of cool, silky tofu topped with bonito shavings, cucumber, and shaved ginger.
ADVERTISEMENT - CONTINUE READING BELOW
As a pioneer in its field, Ginza Bairin began with a bang, and in the Philippines they're showing how things should be done. The best part is that they're not going away anytime soon.
Load More Stories