New Restaurant Alert: Harina Artisan Bakery Café at White Plains, Quezon City
Here, everything is a labor of love.
Harina Artisan Bakery Café
118 Katipunan Avenue, White Plains, Quezon City 
Tel. No. 352-6721 
Open daily from 6 a.m. to 9 p.m.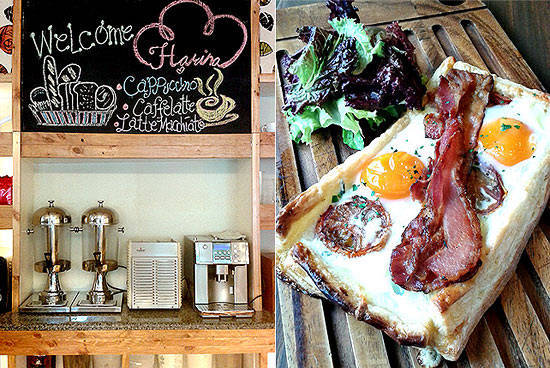 (SPOT.ph) Pretty wallpaper gives character to the spotless white walls, while wooden chairs and tables add a homier vibe. It's difficult not to relax as the tempting smell of freshly baked goods wafts through the air. Outside, the street is bustling with the usual city life. Inside, everything is laidback.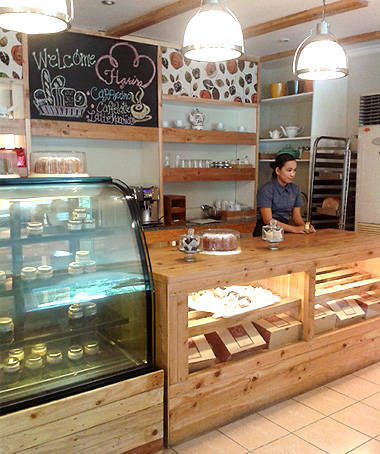 It has a vibrant homey charm that's great for relaxation.
What used to be Monsees along White Plains is now home to Harina, a new artisan bakery café offering all-day breakfast fare with bread as its specialty. As the brand Monsees now focuses on the institutional business, Harina serves as the retail arm, offering classic Monsees favorites (try their breadsticks and Spanish bread) as well as new dishes for breakfast lovers.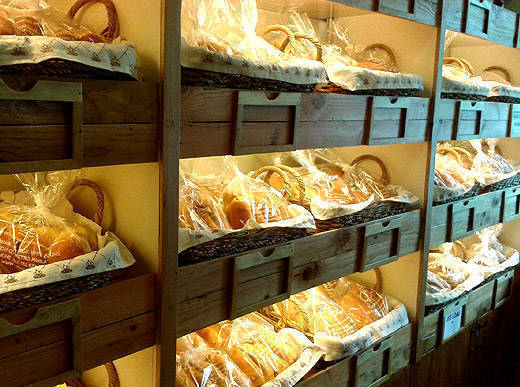 Mouthwatering bread display
No chemicals. No shortcuts. Everything is a labor of love at Harina-from the cozy feel to each intricate dish. The interiors were consciously designed to be family-friendly, and each new offering is layered with complex tastes for a full gustatory experience. The hand-rolled breads are baked with premium ingredients and, in keeping with tradition, in small batches, promising only the most developed flavors.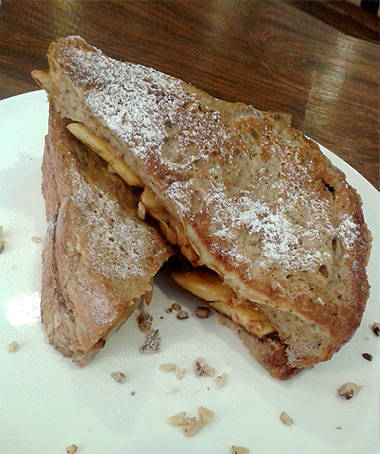 PBB and Chocolate Stuffed French Toast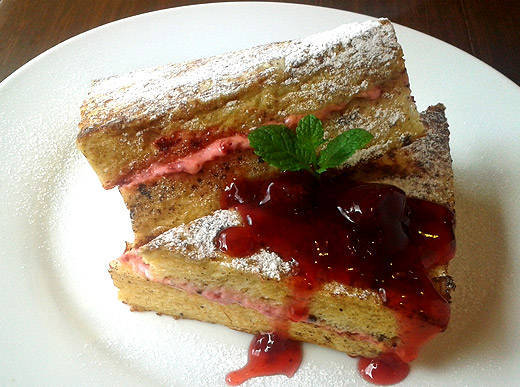 Strawberry Cheesecake Stuffed French Toast
For starters, Harina offers an assortment of biscuits and French toast. The warm, fresh-off-the-oven Biscuit Tray (P225) is the right kind of sweet. Each buttermilk biscuit is so perfectly contrasted by the sour cream spread that you'll savor every single crumb. The PBB and Chocolate Stuffed French Toast (P290) proves that the choco-peanut butter-banana combo can never go wrong. Every bite is a fusion of sugary and nutty flavors that will bring you back to your childhood. The Strawberry Cheesecake Stuffed French Toast (P290)-a cheesecake-filled brioche topped with whipped cream and strawberry preserves-is sweet with hints of sourness.
ADVERTISEMENT - CONTINUE READING BELOW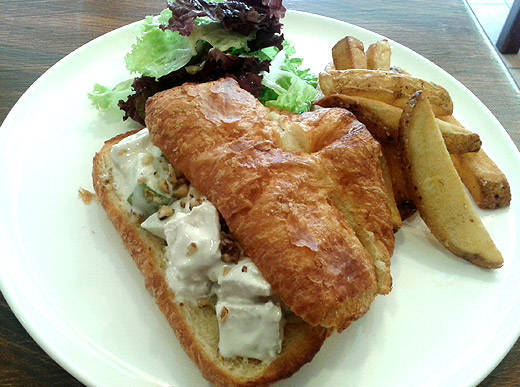 Waldorf Salad Sandwich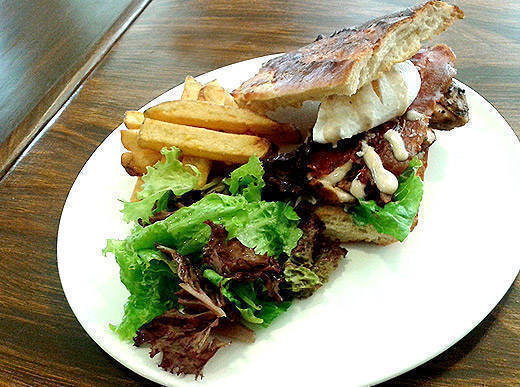 Chicken Caesar Salad Sandwich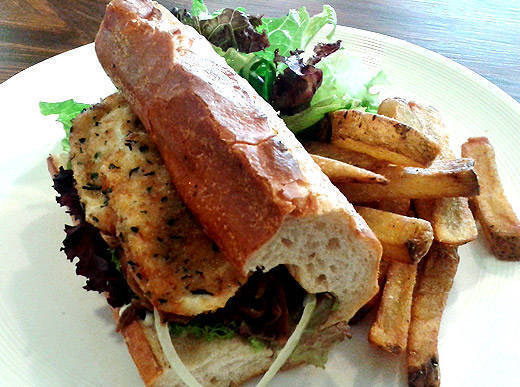 Adobo Pulled Pork Sandwich
Also on offer are gourmet sandwiches served with a side of greens and spicy parmesan fries. Try, for example, the Waldorf Salad Sandwich (P220), a cool, burst-in-your-mouth medley of red and green apples, celery, and chicken in a flaky croissant topped with walnuts. Stronger flavors are in the Chicken Caesar Salad Sandwich (P220). Smoky, salty, and tangy all come together in this ciabatta bread, stuffed with Cajun-grilled chicken, romaine lettuce, poached egg, crispy bacon, and parmesan cheese smothered with Caesar dressing. For something very Pinoy, take a bite of the Adobo Pulled Pork Sandwich (P265). The juicy, shredded pork adobo fits well with the slice of pan-friend kesong puti in a French baguette.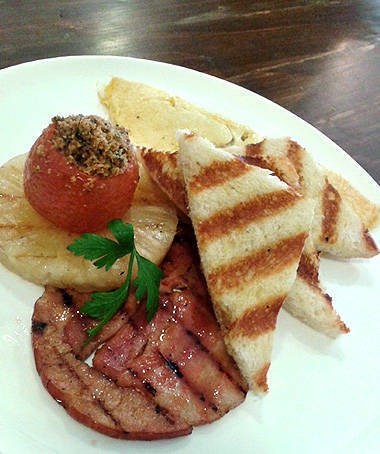 Harina's Big Breakfast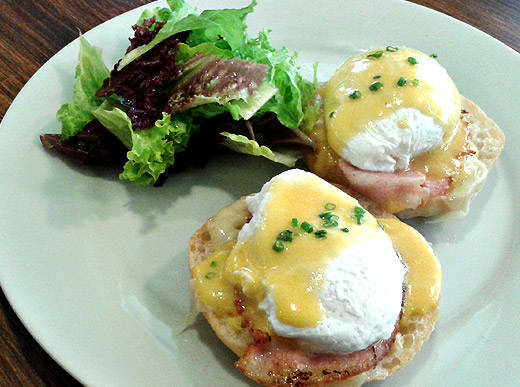 Eggs Benedict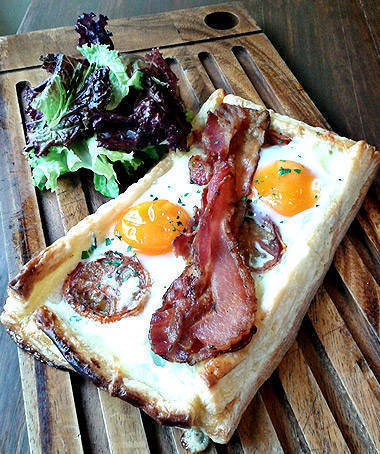 Breakfast Tart
Go all out with Harina's Big Breakfast (P290), a choose-your-combo option guaranteed to make you full. Pick from their variety of creamy omelets: Moonsees classic; vegetable and cheese; sautéed assorted vegetables and gruyere cheese; and pulled pork adobo with sautéed tomato, onion, and kesong puti. Your choice of extras includes crispy bacon, breakfast sausage, Canadian ham. The Big Breakfast is served with roasted Provencal tomato and pandesal. Another full breakfast selection is the Steak and Eggs (P450), succulent and tender skirt steaks served with two eggs, pan-roasted potatoes, baked tomatoes, and your choice of toast or rice. Nothing can be more precise and delicate than Harina's Eggs Benedict (P225), a mix of Canadian bacon, asparagus, tomato concasse, and poached egg with rich hollandaise sauce all sitting atop a freshly baked English muffin. The Breakfast Tart (P290), another carefully crafted dish, features a puff-pastry shell filled with eggs, bacon, roasted tomatoes, and spinach served with mesclun greens tossed in citrus vinaigrette and a slice of cheddar cheese.
ADVERTISEMENT - CONTINUE READING BELOW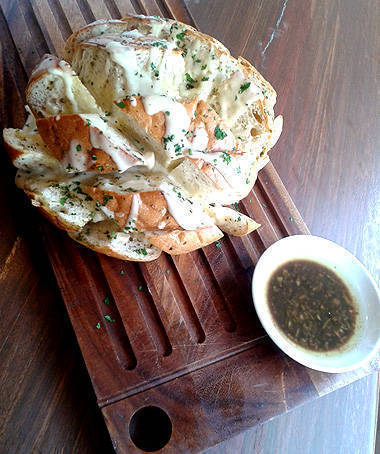 Monsees Bloomin' Bread
Last on the list is the must-try and must-share Monsees Bloomin' Bread (P320), a SPOT.ph favorite consisting of a seemingly simple yet absolutely pleasing Italian pull-apart loaf with basil and cheese, served with balsamic vinegar and extra virgin oil dip.
With its dizzying array of classic favorites and new breakfast options, Harina promises to please Monsees patrons and new customers alike. Our only warning: come hungry!
Load More Stories