CHECK IT OUT: Grand Chocolate Affair at Fairmont, Makati City
Chocolate in every colour, shape, and size. Your sweet tooth will thank you.
Fairmont Lounge
Fairmont Makati, 1 Raffles Drive, Makati Avenue, Makati City
Tel. No. 555-9840
Open daily from 8:30 a.m. to 11 a.m. (breakfast), 11:30 a.m. to 1 a.m. (ala carte), 2:30 p.m. to 4:30 p.m. (afternoon tea)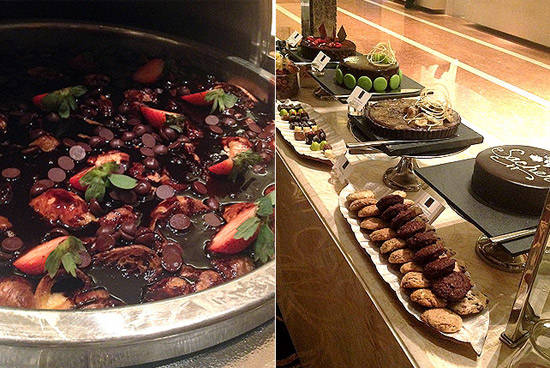 (SPOT.ph) Fairmont's chocolate buffet dazzles, but not in the way one would think. There's none of that Willy Wonka sensationalism. No chocolate garden or chocolate waterfalls, not even a chocolate fountain. There are shelves with simple chocolate sculptures, but that's it. Pastry Chefs Didier Derouet and Miko Aspiras make you want their chocolate for chocolate's sake and not because of the superficial aspect. This isn't to mean the table of confections doesn't look good. Strategically placed a few paces from the lobby, guests are bound to catch a glimpse of the row of cakes, pralines, barks, fondue bowls, and lollipops that will affect anyone in the way only chocolate can: salivating, diet gone, all methods of control out the window.
ADVERTISEMENT - CONTINUE READING BELOW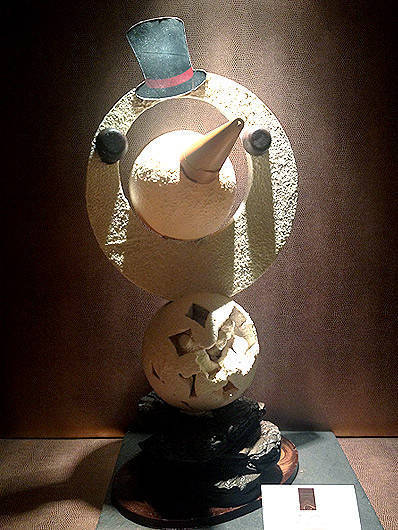 Chef Miko Aspiras' abstract snowman sculpture made entirely of chocolate
The base for the chocolates is mostly French luxury brand Valrhona, but Chef Aspiras, a 27-year-old award-winning chef, is also experimenting with local chocolates from Davao and Batangas in keeping with the hotel's "authentically local" policy. From the current lineup, it's the fondue that will catch your attention. A buffet in its own right, three bowls of Guanaja Dark (78% chocolate), Maracaibo Dark (62%), and a sweeter Milk (48%) surrounded by fondue staples like fruit (strawberries, pineapple, kiwi) and biscuits, as well as other delectable bites like milk chocolate caramel mousse in shot glasses, platters of chocolate chip cookies, chocolate cheesecakes, and rich Lamingtons, which chocolate and coconut cakes of Australian origins.
ADVERTISEMENT - CONTINUE READING BELOW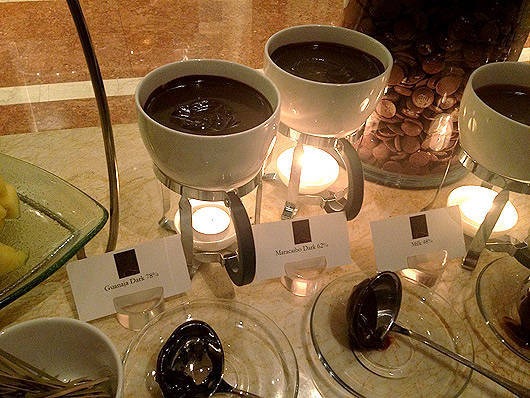 The trio of fondues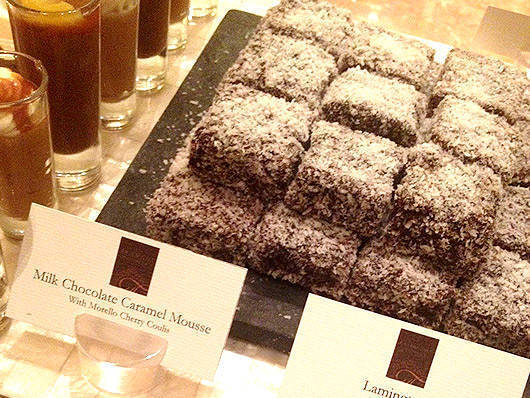 ADVERTISEMENT - CONTINUE READING BELOW
Lamingtons
A tower of bite-sized cakes follows in the delicious spread: chocolate-tinged cakes, chocolate muffins, flourless chocolate bars. Each as moist and decadent as the next. Make your way to the glistening display of tall glass tubes filled to the brim with dark and white chocolate barks-both sugar-free, dark and white chocolate malt balls, chocolate buttons. Swirly lollipops dipped in various flavors of chocolate are headturners as you walk through the buffet.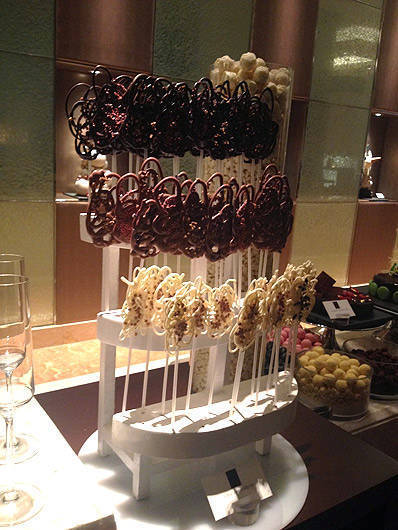 ADVERTISEMENT - CONTINUE READING BELOW
Even adults would find themselves hard-pressed to resist these lollies.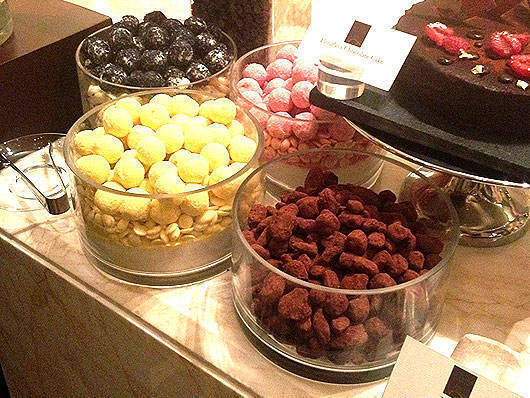 Beside the chocolate bonbons are the delicious Trek Mix-inspired chocolate nuts.
Then there are the full-sized cakes which are too beautiful to slice. Such sacrifices are necessary, however, especially when the interior is even better than the glossy frosting. The star is the Calamansi Chocolate, whose quirky combination proves that the risks of creativity are worth it. The richness of chocolate is kept in check by the bursts of tanginess. The Chocolate Creme Brulee, served like a pie, is a thick and plush dessert that's not too sweet, but nonetheless rewarding. The tiny nibbles of pralines just below the cake stands don't look like much in terms of size, but each comes with their own surprise filling: fruit, liqueur, caramel. One of them is Chef Aspiras' experiment: powdery chocolate rocks that he patterns after a Trader Joe's favorite, the Trek Mix. Nuts are coated in chocolate, then dusted with even more chocolate. The flavor is subtle, but the result addictive.
ADVERTISEMENT - CONTINUE READING BELOW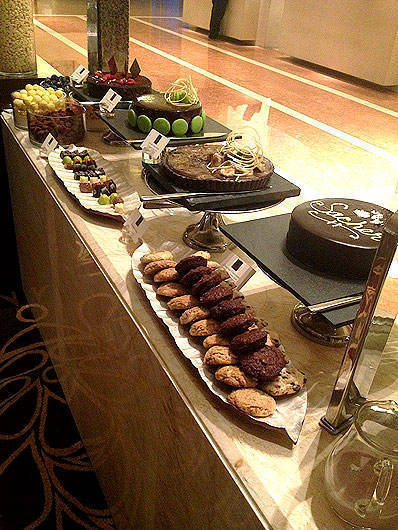 This is only half of the lineup at the Fairmont Lounge.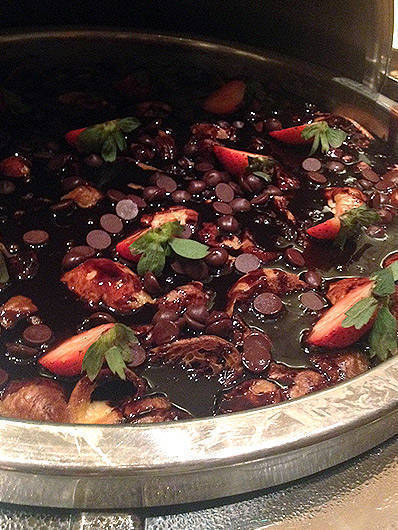 ADVERTISEMENT - CONTINUE READING BELOW
Chocolate and Strawberry Bread Pudding
Desserts are the proverbial ending to any feast, but if that was really true, how does one finish a buffet of chocolate? The answer is at the end of the table-a steaming pot filled with a pool of melted chocolate, dark chocolate kisses, and strawberries. Underneath is a the most delicious bread pudding, soft and fluffy, sponging up that bittersweet chocolate to create a moist and decadent mouthful sweetened by the generous chunks of strawberry. You'll realize, after a bite, that this is the quintessential end to any meal.
The Grand Chocolate Affair is only available from 5 p.m. to 10 p.m. (Friday to Saturday), 3 p.m. to 7 p.m. (Sunday). The buffet is priced P650 (just the Chocolate Buffet), P1,550 (with Veuve Clicquot), P1,150 (with Chandon Brut).
Recommended Videos
Load More Stories