10 Reasons Why SPOT.ph Top 10 Everything Food Lists is the Perfect Christmas Present
Yes, we're doing a bit of shameless self-promotion.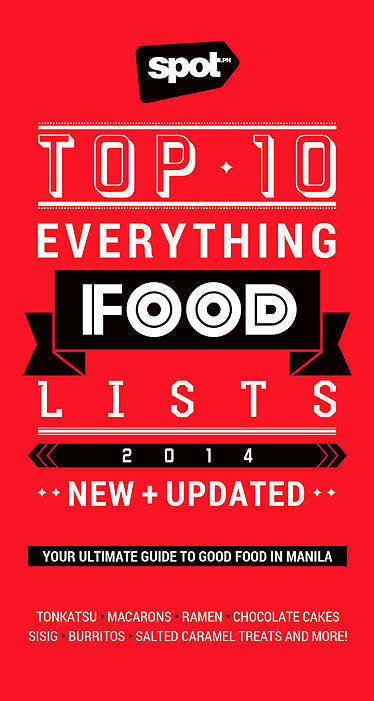 (SPOT.ph) Life is centered on food. More than basic necessity, food is what we find between us in reunions, during dates, at parties; happy occasions are often celebrated with feasts and sadder circumstances are comforted with meals. But while a burger that costs less than P100 can tide you over on an ordinary day, it's human nature to always seek the best. After all, only the best ice cream can lift our spirits up after a bad breakup, only the best lechon can make Christmas truly merry.
ADVERTISEMENT - CONTINUE READING BELOW
We at SPOT.ph have made it our personal mission to sort through the labyrinth of the Manila restaurant scene and pick out the ones that are worth it. For the second year in a row, SPOT.ph has compiled the Top 10 Everything Food Lists 2014 Edition. It's a handy and comprehensive guide to the best eats in and around the Metro.
If you're looking for a Christmas present to give your officemate or your auntie or even that stranger across the street, look no further (and we're not just tooting our own horn here). Here are 10 reasons why this little book would make a great gift.
1. It's new!
Everyone loves new things. Ripping off that plastic wrapper for that yummy fresh-book smell? Priceless. The 2014 edition of the SPOT.ph book has a sleek look both in cover art and layout. Twenty-six of the lists are fresh, based on new trends like macarons, katsu, salted caramel treats, burritos, Eggs Benedict, while another 24 are updated to include options from newly opened restaurants that gave oldies a run for their money. Some examples are ramen, nachos, and red velvet.
ADVERTISEMENT - CONTINUE READING BELOW
2. It's only P150.
This book is a steal and it's thoughtful! Even the Grinch would want to buy it for someone.
3. There are lists exclusively for the book.
Several of the rankings are updated especially for the book. Think you've read everything online? Of course we have a few surprises and new finds for our readers. The book also has bonus material in the form of unpublished rankings, like our most fatally delicious list yet-the best bone marrow in Manila!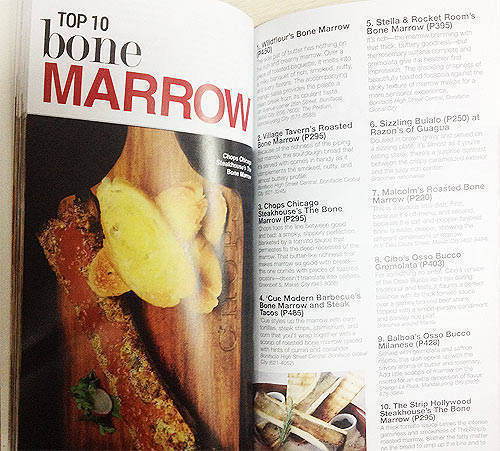 ADVERTISEMENT - CONTINUE READING BELOW
4. You can use it throughout the year-or until we come out with another book. Hint, hint!
Going through the restaurants in the book will take a long time. That is, if you value your health. Have weekly outings with a friend or significant other. Make this book the start of a new adventure.
5. It's pocket-sized.
Thinner, lighter, it can fit any purse or even deep pockets with ease. You can take it with you anywhere and when you're craving something like, say, cheesecake, you can simply flip to page 64 to find which (awesome) cheesecake is in the vicinity. It's like a friend you can count on for good eats.
6. It makes navigating through Manila's restaurant scene easier.
As we said in our 50 Great Restaurants of 2013 list, there were over 100 restaurants that opened in Manila this year alone. This foodie guidebook will help narrow things down by summarizing everything in a capsule format.

ADVERTISEMENT - CONTINUE READING BELOW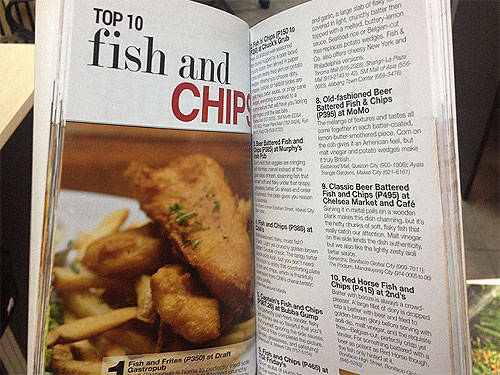 7. It has a lot of food photos.
Food photos that are unfiltered and not on Instagram. Isn't that a refreshing sight?
8. It's happy and fuss-free.
No drama, no politics, no people slapping other people and trying to buy them. We feel that food is a happy thing and we try to make the writeups comprehensive, but compact and definitely palatable to the mind and the stomach. Giving SPOT.ph Top 10 Everything Food Lists is like spreading Christmas cheer.
ADVERTISEMENT - CONTINUE READING BELOW
9. It's easy to wrap!
We understand the possible predicament of wrapping up teddy bears and oddly shaped items. The book is a perfect rectangle, 7.5 x 4 inches of easy-to-wrap edges.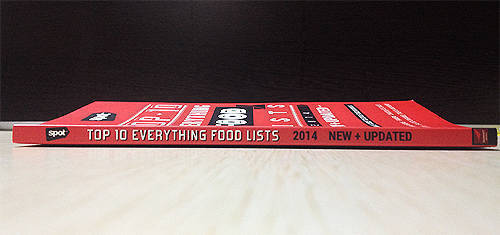 10. Everyone can love and appreciate this book.
Food isn't a niche, and the lists range from hefty to healthy, snacks to mains, appetizers to desserts. There's no gender bias, no price limit (we have below P100 siomai to lechon you can order whole), no jargon. You can give it to foodies, moms, friends, officemates, the person you picked for Kris Kringle. You're bound to find your favorite food in this book.
ADVERTISEMENT - CONTINUE READING BELOW
The SPOT.ph Top 10 Everything Food Lists 2014 will be available tomorrow, December 6, in major bookstores. Price is P150.
Recommended Videos
Load More Stories