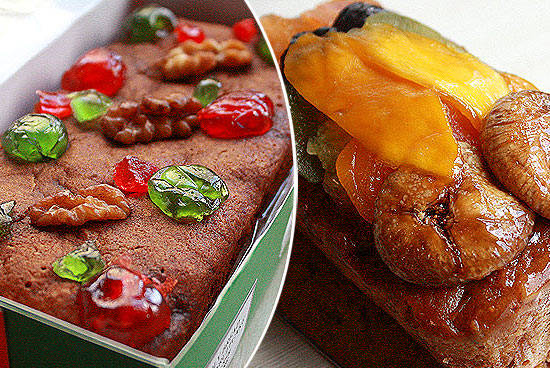 From conventional to overloaded...
(SPOT.ph) Like angel figurines and mugs, fruitcake has become something of a holiday joke. It's a convenient gift: long-lasting, gender-neutral, reasonably affordable. But since when has anyone ever wanted something that practical for Christmas? Fruitcakes were once prized for their ability to keep for a long time and the festive layers of flavors that depict the spirit of the season. Unfortunately, like Freddie Aguilar, its reputation has gone stale over time and eveyone stopped taking it seriously. Stories of fruitcake used as doorstops and the same fruitcake being handed down for generations have become urban legend. The term itself has been used to demean people.
Fruitcakes are sweet cakes embellished with candied or dried fruits, nuts, and spices. Liquor, which is what turns most people off, is actually optional-though it's the element that helps preserve the cake for years. Most fruitcakes have a fermented flavor behind the sweetness and with the variety of components inside this little loaf, the profile is more complex than the average cake, making it more difficult to negotiate with the palate. Another reason why this cake receives so much flak? There are more bad fruitcakes in the world than good.
ADVERTISEMENT - CONTINUE READING BELOW
We sampled fruitcakes in and around the Metro, and what we found was a lot of bad and worse. But with an open mind and even more open palate, we found 10 that might make you change your lifelong views about this misunderstood Christmas staple. Lesson learned: never judge something based on reputation.
All SPOT.ph Top 10 lists are researched, paid for, tested, and selected by the writers and editors. They are discreetly conducted without any notice made to the restaurants or their owners.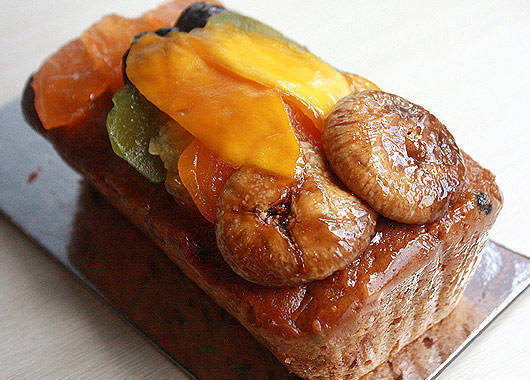 10. Sinfully's Christmas Fruitcake
It's sweet-sugar-sweet more than cake-sweet. Folks with more "mature" palates would probably turn their noses up at this fruit-heavy fruitcake, but we can see how the saccharine levels could make this unpopular dessert more welcome at parties with a younger crowd. The cake itself is soft and fluffy, liberally topped with figs, mangoes, plums, and kiwis (the selection of fruit is a nice balance of sweet and tart). The texture is flawless, and for that alone, this cake deserves recognition.
Sinfully has branches in Makati Shangri-La, Makati City; Greenbelt 5, Makati City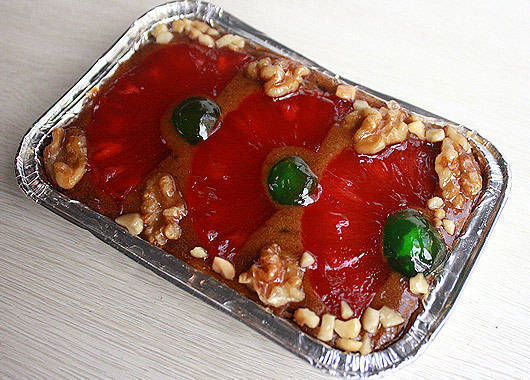 ADVERTISEMENT - CONTINUE READING BELOW
9. Goldilocks Fruitcake (P250)
Served in a foil tray and shiny with cherries and pineapple rounds, Goldilocks' yummy-looking cake calls to mind another iconic pastry, the pineapple upside-down cake-except that the former's more rich, more robust, and with a more honeyed sweetness from molasses compared to the soft tickle of caramel in the latter. The cake is thin and slightly doughy, but the nuts give it the texture it requires.
Click here for a list of Goldilocks branches.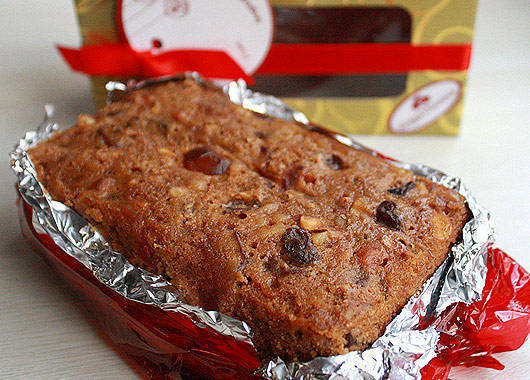 ADVERTISEMENT - CONTINUE READING BELOW
8. Sugarhouse Classic Fruitcake (P350)
We might as well get this off our chests: it looks like meatloaf. This isn't to take anything anyway from the classic American dinner, but when you're expecting something sweet, you want it to look a little less like something you'd throw together for an impromptu dinner. That said, the texture is on the crumbly side, but the proportions of alcohol and molasses, the amount of fruit and nut ensure that each bite is a delicious medley of crunch and dough, with little bursts of sweetness from the candied fruit.
Click here for a list of Sugarhouse branches.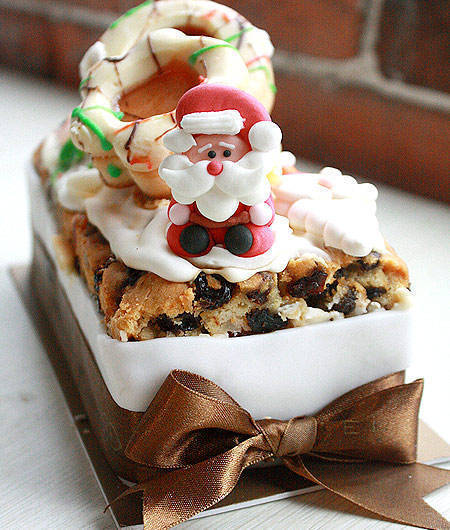 ADVERTISEMENT - CONTINUE READING BELOW
7. Sofitel Fruitcake (P1,630)
Unlike most fruitcakes that come in boxes, Sofitel's extravagant offering is wrapped in cellophane, the clear plastic showing off the artistic effort Sofitel pastry chefs put into the cake-fondant ribbons and fruits, sugar Santa Clauses (two of them!), a white-chocolate globe. Try to dig deep for the cake though. Sofitel's loaf has no hint of alcohol in neither scent nor flavor. The entire ensemble is held together by raisins, lots of them, that we're tempted to call it a raisin cake just to make it sound more toothsome. The preserved fruits are diced to almost indeterminable sizes. The ones we can make out are cherry, apricots, and pineapple, which work overtime to provide a sweet as well as crunchy contrast, especially since the nut element is absent. With the sugary artwork covering most of the loaf and raisins making up most of the cake, we take this version to be more of a German Stollen.
ADVERTISEMENT - CONTINUE READING BELOW
Available at Spiral, Sofitel Philippine Plaza, Pasay City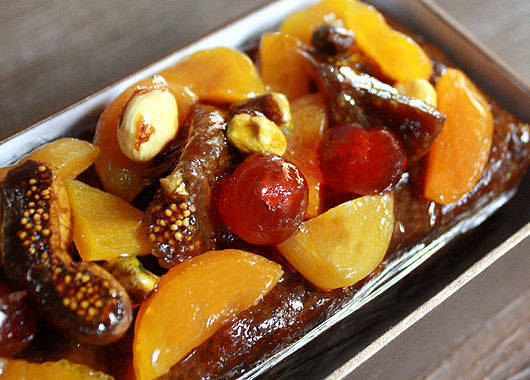 6. Mandarin Deli Fruitcake (P780)
The cake, strangely, comes in only half a box, maybe to show off the shimmery top studded with candied apricots, fig, peaches, and nuts. Maybe they were saving on paper. What's striking is that it doesn't give off too much liqueur in both scent and taste, which may have been the result of the exposure. Slicing into the spongy cake, one notices that the fruits and nuts don't extend past the surface, cutting to a tickle the syrupy molasses-y sweetness often exhibited in fruitcake. Instead, flavors are rum-tinged and very mild. Noteworthy are the candied apricots which remind us of gummy. We also love how they tossed in macadamia and pistachio-less bitter, milkier alternatives to walnuts-in there, too.
ADVERTISEMENT - CONTINUE READING BELOW
This fruitcake plays it safe, but folks aversed to its peppy spirits won't have a hard time enjoying this version.
Mandarin Deli is at Mandarin Oriental, Makati Avenue, Makati City; they also have a stall in Power Plant Mall, Makati City.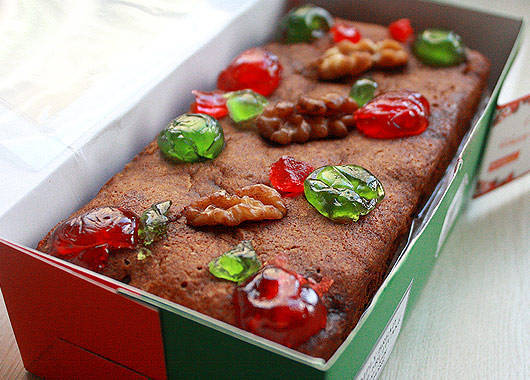 5. Simply Bread's Fruitcake (P195)
We have to admit, this heavy block of cake reminds us of the whole "doorstop fruitcake" joke. It's firm, compact, with a crusty exterior that looks like it can knock out a few teeth if you try to bite into it. The packet of silica gel on the bottom might explain the seeming coarseness. Save for the initial sawing through the cake, however, the soft, moist core underneath comes as a pleasant surprise. Walnut halves and cherries adorn the top of the cake, but they don't show up too much in the middle. There's a light smattering of raisins in the batter, giving each slice that beautiful speckled surface. The cake is slightly sugary, but with the lack of fruits, the sweetness comes off as just right. The alcohol doesn't factor too much into the flavor.
ADVERTISEMENT - CONTINUE READING BELOW
Available at Robinsons Supermarket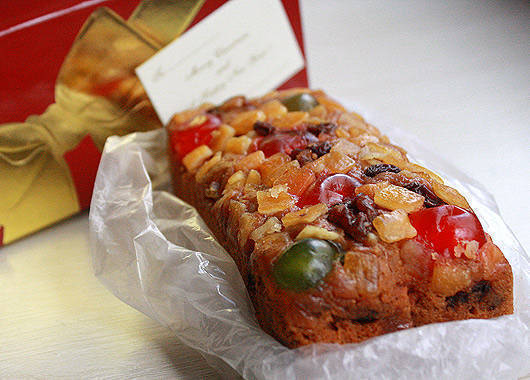 4. Festival Fruitcake (P157)
Like Rocky Balboa in his matchup with Apollo Creed, this supermarket find comes up from behind. The small brown log reminds us of banana bread with a fruit-dotted surface. Each box comes with advice: "If you find the scent of brandy to be too much, leave it out for an hour." Those who don't like the intoxicating smell of alcohol might want to follow this handy tip. Most of the liquor flavor comes from the fermented aroma, and diffusing it makes the cake much easier to warm up to. The fruits are sliced and spread throughout the compact loaf, keeping that syrupy sweetness mellow and even with every forkful.
ADVERTISEMENT - CONTINUE READING BELOW
Available at SM Supermarkets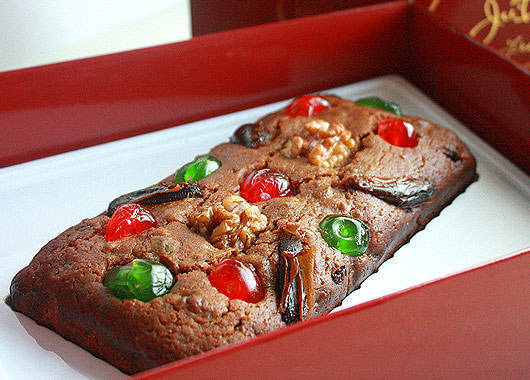 3. Ju.D's Classic Fruitcake (P900)
Years ago, Ju.D Lao was abroad relishing a delicious pastry. She was surprised to discover that it was actually fruitcake! She then took it upon herself to change how Filipinos viewed this misunderstood icon. Ju.D.'s Classic Fruitcake is a beauty: the glistening tan loaf,  red cherries, dates, and (whole) walnuts actually look mouthwatering. The notes of brandy come off as aromatic and not heady, while the cloying sweetness from the fruits keep to themselves and doesn't permeate in the batter. The cake has delightfully subtle flavor that will keep you digging. Its picture-perfect presentation and balanced flavors explain why Ju.D's is the go-to fruitcake shop-especially since she's developed a whole menu of fruitcake flavors-but the cake, though moist, crumbles at the slightest touch. Don't let that stop you. Here's a spoon.
ADVERTISEMENT - CONTINUE READING BELOW
For orders, fill up this form. Pick-up is at 50 Green Meadows Avenue, Quezon City.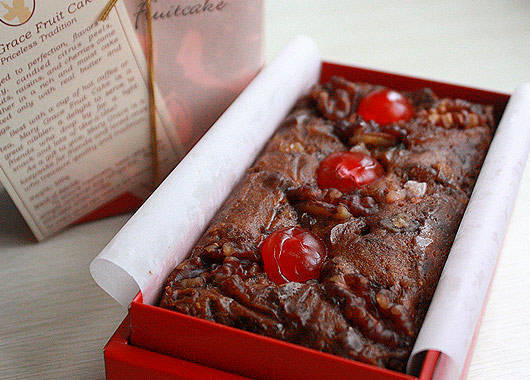 2. Cafe Mary Grace's Fruitcake (P370)
This classic loaf is covered with layers of foil, plastic, and parchment paper inside a box tied up with gold string. It must be to keep all the flavors secure. Once you open the box-without even peeling off the layers of wrapping-you'll be hypnotized by the sweet scent of liquor and mace.
ADVERTISEMENT - CONTINUE READING BELOW
More cake than fruit, Mary Grace's barely adorned rendition admittedly takes away the festive hues that make this polarizing pastry appetizing. But this moist cake isn't difficult to understand. The flavors are focused-the spirit of the brandy jolting your palate awake before introducing the robust, spice-packed profile of the pastry. Though it lacks the definitive textures of candied fruit, there are hints of sweetness and just a touch of tanginess from the raisins. Walnuts give it nutty contrast. This is the gateway for fruitcake skeptics.
Click here for a list of Cafe Mary Grace branches.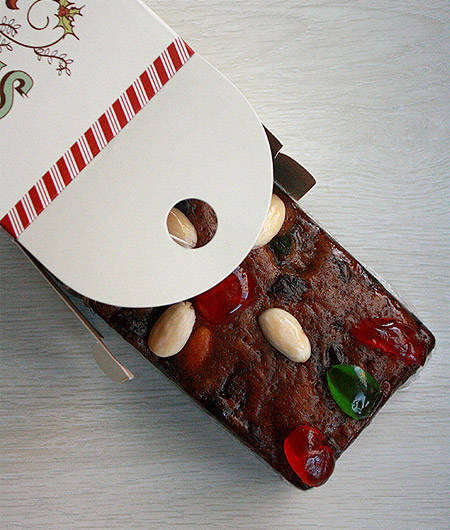 ADVERTISEMENT - CONTINUE READING BELOW
1. Lola Melba's Fully Loaded Fruitcake (P380) from Casa San Luis
There are claims that this is the fruitcake that will change everything you thought you hated about this Christmas icon. It's true. Our entire fruitcake history is now divided to pre-Casa San Luis and post-Casa San Luis. Carmela Villegas and her French partner, Julien Agosta, have crafted a version that merges French techniques with her grandmother's recipe. The beautiful gems of red and green cherries, pili nuts, and raisins on the surface give it a festive feel, but it doesn't end there. Each slice is even more packed with almonds, cashews, walnuts, whole candied fruits, and raisins. The sweetness and textures are even with each bite, and the flavors, as a whole, aren't too overwhelming. Despite the overload of elements, it's not too sweet.
The cake is dense and the smell of spirits intense (they brush it with brandy every week for a month). Casa San Luis recommends that their fruitcake be stored in an airtight container for a month before consuming to allow the flavors to ripen. But for those who don't want the brandy to seep too much into the flavor profile, opening it fresh is good as well.
ADVERTISEMENT - CONTINUE READING BELOW
Casa San Luis wins because they don't hide behind tons of fruits (or the lack of it), they don't hold back on the brandy, and they actually insist on aging the cake. When you have something you know is good, you don't have to be apologetic about it.
For orders, contact 0916-644-8522 or e-mail casasanluispastries@gmail.com. Visit their Facebook page for bazaar updates.
Share this story with your friends!
---
Help us make Spot.ph better!
Take the short survey
More Videos You Can Watch
Load More Stories