Luna Specialty Coffee
G/F NAC Tower, 32nd Street, Bonifacio Global City
Open from 7 a.m. to 9 p.m. (Monday to Saturday)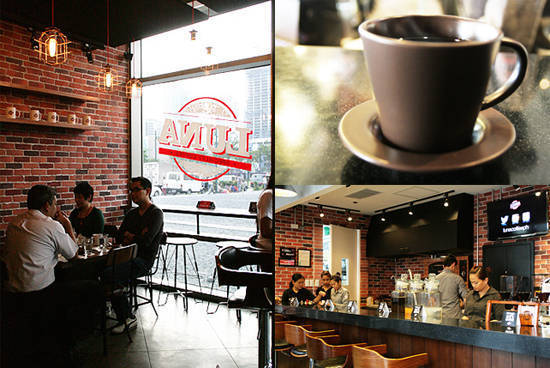 (SPOT.ph) There's a Starbucks on every corner and if that's not your thing, McDonald's serves a mean cup of coffee for under P50. You would think that there are enough coffee shops in Metro Manila alone but Lino Cayetano, a lover of coffee above all else, was undaunted. In his mind, there's space for a place that offers no gimmicks or heavy branding. A café that offers what all other cafés should offer: great coffee and meals that pair well with it.
ADVERTISEMENT - CONTINUE READING BELOW
It took them a year to figure out how to do that but eventually, Luna was born. It doesn't scream Filipino at first glance but the details give it away. There are delicate jars of samalamig on the bar and after a while, the brick walls and the wooden furniture start making you feel like an Illustrado-a little bit like Juan Luna, in his house in Ilocos. In case you were wondering, yes, it was named after him (and Antonio as well) . Over a cup of the Luna Brew (P110), Cayetano told us that they wanted to build something that celebrated the heritage of the Fort area (from McKinley to Bonifacio) and, being that his father's middle name is Luna, the shop acquired a blueprint.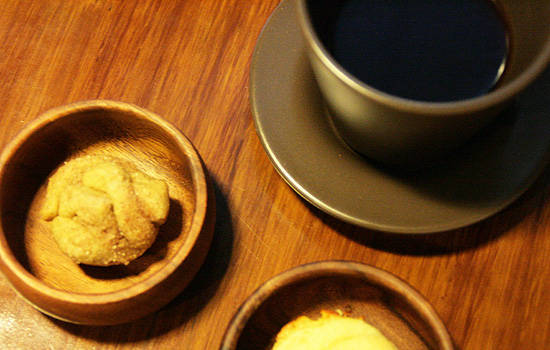 ADVERTISEMENT - CONTINUE READING BELOW
Recommended Videos
Luna Brew (P110) and Muscovado-Cinnamon pie crusts (P30/pc)
From there, he started developing the concept with Chef Dino Dizon, who worked on infusing Filipino flavors in the food that they feel should be paired with their hand drip coffee. The result are Pinoy dishes that don't quite look the part but will disarm you with a strange mix of familiar but fresh approach.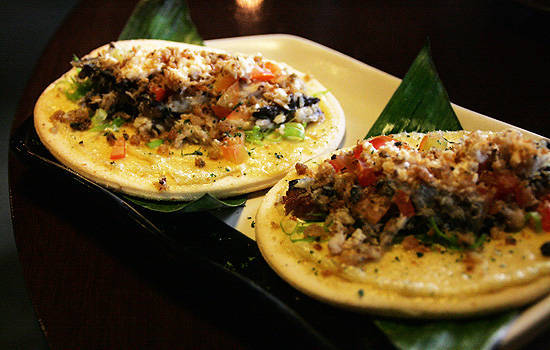 ADVERTISEMENT - CONTINUE READING BELOW
Pan de Sal with-forgive us the cliché because we mean it this time-a twist
Order a Pan de Sal and instead of a bun, you'll be served a plate of what looks like open-faced tacos.  From their open kitchen, you can watch the chef prepare the Bangus Pan de Sal (P160), which has bangus flakes, fresh tomatoes, red egg aioli, longganisa bits, and kesong puti. It's meant to be eaten with your hands so don't be afraid to fold it and bite into the well-tempered salty flavor of the bread and itlog na pula, plus, of course, the crispy crunch of the fish flakes.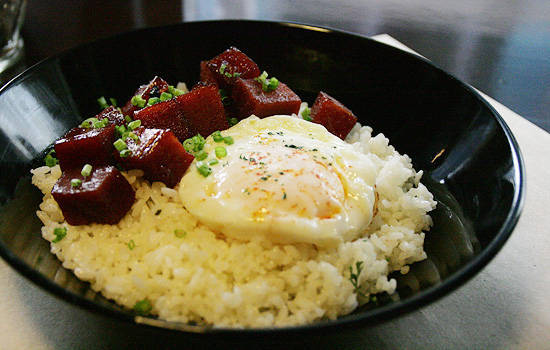 ADVERTISEMENT - CONTINUE READING BELOW
Sweet Ham served in chunks, not strips
Coffee is typically a meal-ender, as a substitute for dessert when you're keeling over from fullness, but you'll find yourself going for the Luna brew as you dig into a plate of Sweet Ham (P240). The pork is perfectly fine on its own but as you chew the tender meat and follow it up with a spoonful of rice with the sunny yolk, you'll feel like this is breakfast. Breakfast means coffee and, in this place, coffee means staring at the clean bottom of the cup-no dregs, no grains. It's a smooth brew that doesn't bark at you with bitterness and if you're curious about the details, feel free to ask the barista (Bryan) about what he does.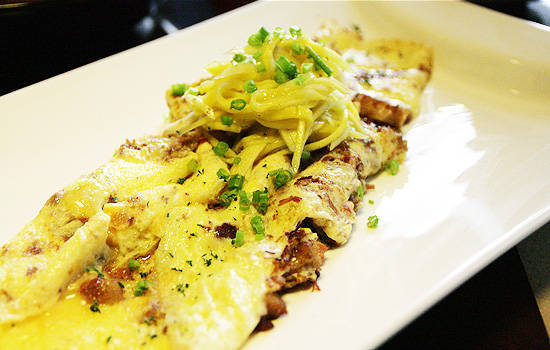 ADVERTISEMENT - CONTINUE READING BELOW
The strips of unripe mango makes this dish taste like home
Breakfast also means eggs, and if omelettes are your thing, their Binagoongan Omelette (P180) is a must-try. It's served with hilaw na mangga and the tartness binds with the pork and egg so well that you never want them to part. An exaggeration perhaps, but it's hard to be subjective when the flavor of home is in your mouth.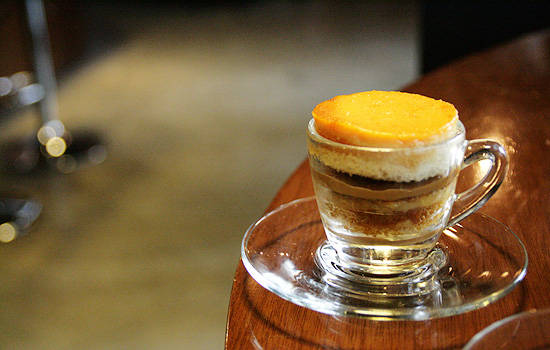 ADVERTISEMENT - CONTINUE READING BELOW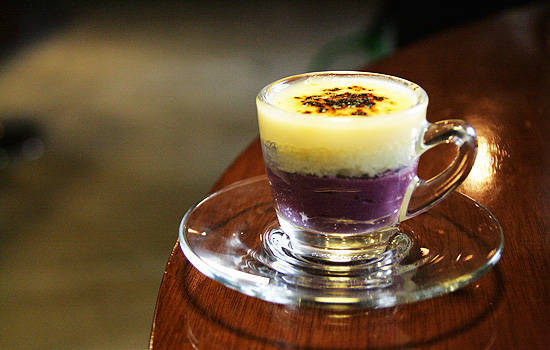 Kakanin Shots!
Amazingly, something that seems deliriously sweet like Leche Flan Yema (P65) pairs well with the coffee. They tamed the toothsome flavor enough for it to be friendly to the flavor of the Luna brew, which we would surmise is not an easy feat. Neither is keeping things both exciting and local but they did that with Inutak Ube Pandan (P65), their take on the local delicacy from Taguig.
ADVERTISEMENT - CONTINUE READING BELOW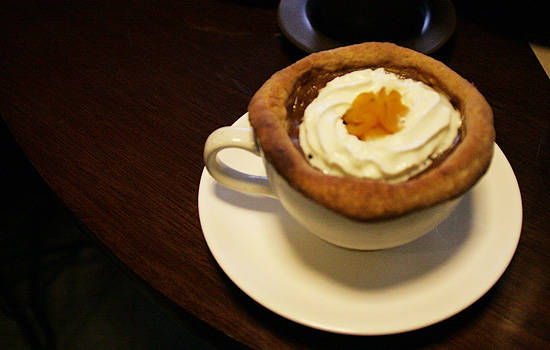 We suggest you break the crust off the edges as it cools. You won't regret it, we swear.
Keeping up with the times, Luna also offers "Fil-Am" dishes in the form of pies in a cup. The Pumpkin Kalabasa Pie (P135) might be an acquired taste for some but we do encourage you to try their Apple Singkamas Pie (P200). The cubes of apples in each spoonful is enough for us to keep coming back. And their Key Calamansi Pie (P140)? You'll be surprised that they managed to make "sour" a positive adjective. It doesn't have the same crust as the Apple Singkamas or Pumpkin Kalabasa, but the crushed grahams on top more than makes up for the lack of crunch.
ADVERTISEMENT - CONTINUE READING BELOW
We tried their Piccolo (mocha, P120) and their Mochaccino (P190, served in what seems to be a bowl for soup with ube and mongo hopia on the side) and while both are exquisitely made, the Candyccino on the menu is an attention-grabbing beverage. The White Rabbit Candyccino (P140) manages to maintain the flavor of coffee at first sip and then slowly eases in the butter toffee as a pleasant (and rather nostalgic) aftertaste.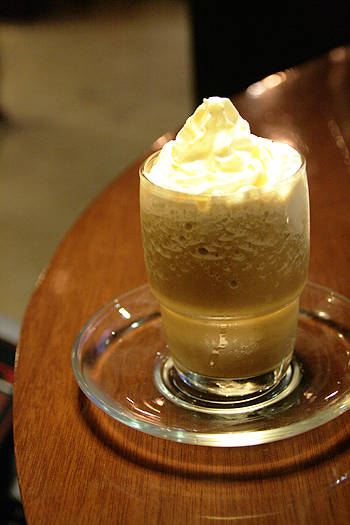 ADVERTISEMENT - CONTINUE READING BELOW
White Rabbit Candyccino! But sorry, it's not the chewy with the edible paper kind.
We almost don't want to share this little spot in BGC because we want to keep the half-moon tables to ourselves, but the inviting atmosphere of Luna encourages happier thoughts. The open kitchen makes you want to chat up the chef (and guess what, you can) and the view of the sunset from one corner makes you feel glad you woke up.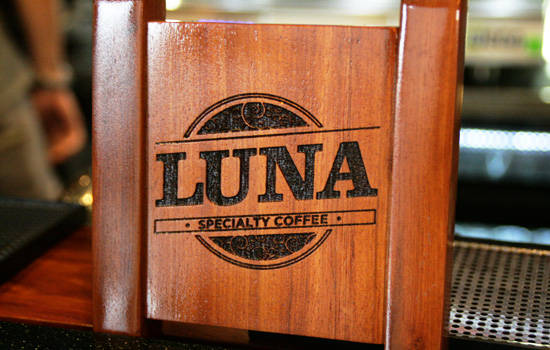 ADVERTISEMENT - CONTINUE READING BELOW
Share this story with your friends!
---
Help us make Spot.ph better!
Take the short survey
Load More Stories