A Gastronomic Year in Review
SPOT.ph blogger Angelo Comsti shares a rundown of his 2013 favorites.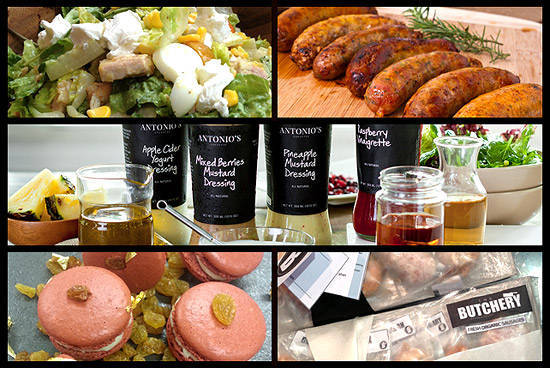 (SPOT.ph) The year went by in a flash, but take a moment to recall all the wonderful things you ate in 2013 alone. The local food scene has progressed a great deal in the span of six months. Some were hits, some were misses, but tasting gastro-ventures have never been this exciting, especially with the diversity of options. We took a look back in the year of food, with a menu of how we ate our way through 2013.
ADVERTISEMENT - CONTINUE READING BELOW
ALL THINGS SAVORY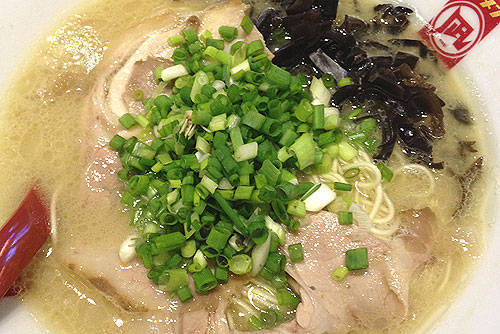 Ramen Nagi is the newest addition to the long list of restaurants specializing in ramen.
It may have been the year of the snake, but it was definitely a good year for pork. Its many variations-stuffed, rolled, whole, de leche-had everyone stuffing themselves like a well, pig. Then there was the whole tonkotsu ramen and tonkatsu invasion. The ubiquitous Japanese noodle soup made its way so high up on the trend list that even Chef Jessie Sincioco (Chef Jesse, 100 Revolving Restaurant, Le Souffle) was driven to come up with her own version. Nutritionists must be having field days now.
ADVERTISEMENT - CONTINUE READING BELOW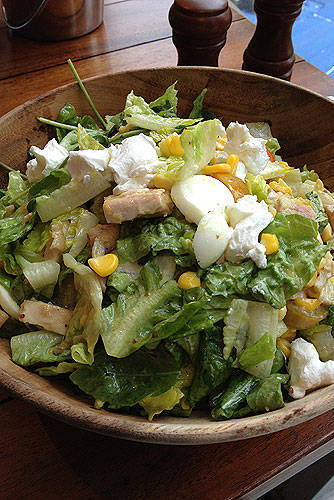 Farmhouse Salad from one of the year's must-try restaurants, Green Pastures.
Manila has been keeping up with global culinary practices-albeit a little slower. Food trucks have given us an alternative to al fresco dining, eggs have been put under the spotlight, and farm-to-table cuisine not only gave our local farmers and suppliers the support they needed, they also gave foreign establishments a run for their money.
ADVERTISEMENT - CONTINUE READING BELOW
A more "gourmet" type of beverage was also a hit in 2013. Pots worked overtime to brew loose-leaf teas and single-origin coffee beans nonstop. Imported beer (both on tap and in the bottle), whiskey, and original cocktails brought profitable business that extended to bars, as well. The second half of the year also witnessed the rise of juicing, with freshly squeezed juices delivered right to your doorstep. Juicing has its own cult following in the country-something that's perfectly understandable because we do need something to counter all that pork, after all.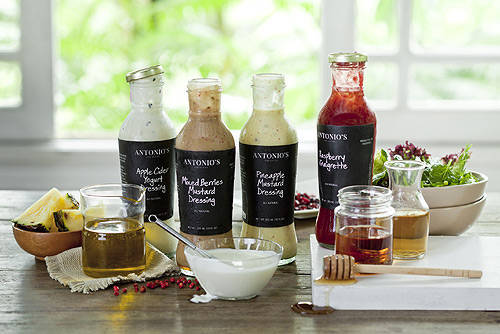 ADVERTISEMENT - CONTINUE READING BELOW
Delectable out-of-town pasalubong from Breakfast at Antonio's. Photography by At Maculangan; styling by Rachelle Santos
Bottling has developed a cottage industry in the city. Many restaurants and home-based enterprises have adopted bestselling practices into commercial ventures. From signature salad dressings, preserves, sea salts, and vinegar to chocolate and caramel sauces, bite-sized pastries, curds, and fruit jams, you can stock your kitchen cupboard with restaurant-quality flavors. Even established restaurants like Champetre and Breakfast by Antonio's joined the unofficial national pastime by releasing their own respective lines.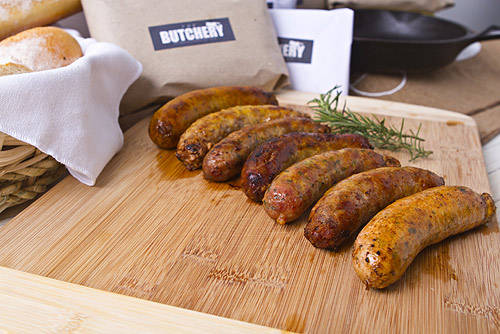 ADVERTISEMENT - CONTINUE READING BELOW
My personal favorite...
Choosing between roast pig and ramen should've been easy for me, but I found myself getting excited over something else. It's familiar yet totally new, something I wouldn't mind eating every day at any meal and something I know everyone else will love-even kids. For me, The Butchery's line of artisan sausages is the best thing to come out of the kitchen this year.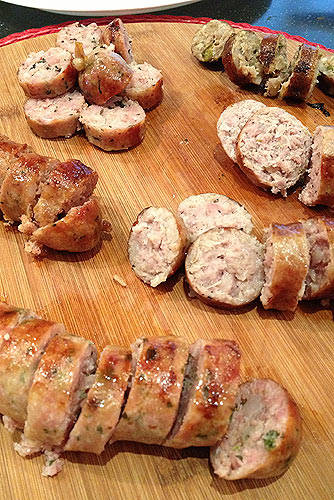 ADVERTISEMENT - CONTINUE READING BELOW
Longtime friends Kiko Dy and Jessica Gallegos' passion for food prompted them to attend a sausage-making class in Brooklyn one day. Armed with the knowledge of and love for the meaty links, they began playing with ingredient combinations. This led to many other experiments, tastings with friends and family, and a month later, seven perfect sausage varieties, each with a distinct flavor profile-red wine and rosemary, parmesan and parsley, saffron, mint and tarragon, buffalo and celery, and their bestsellers, caramelized onions and mozzarella, and jalapeño.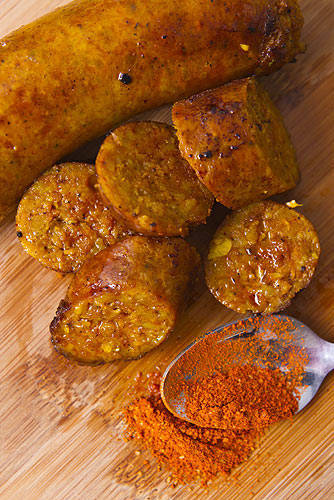 ADVERTISEMENT - CONTINUE READING BELOW
Saffron sausage
The flavors are distinct and authentic. The hands-on couple avoids extenders and preservatives, settling on a more organic sentiment.  They personally oversee every component, from stuffing to casing to packaging. The Butchery is just weeks old and definitely gives truth to the saying, "Save the best for last."
Contact The Butchery Artisan Sausages at 0917-795-5005 or e-mail thebutcherysausage@gmail.com. The "doubles" pack (P200 to P300) features two sausages each for two flavors. They also offer a sampler set containing all variants for P800 to P1,000 grams. Delivery costs extra.
Check out Angelo Comsti's Top Dessert Picks on the next page.
All Things Sweet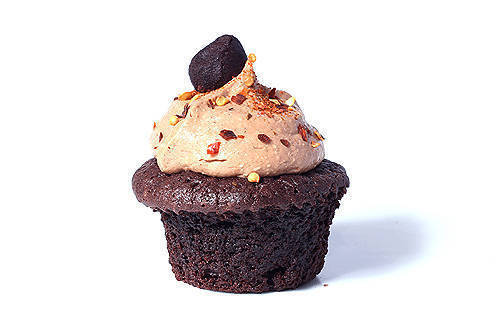 ADVERTISEMENT - CONTINUE READING BELOW
Cupcake Lab introduced the Jack Black this year-dark chocolate cupcake spiked with Jack Daniels and spiced with chili flakes.
Cupcakes made a major, major comeback this year-and so did Cupcakes by Sonja, which finally expanded in a big way by setting up shop everywhere. The croissant-donut hybrid had people intrigued and scampering for a dozen or two, but the clamor seems to be waning as the year comes to a close. French macarons and our local ensaymada also had their time in the spotlight. Both received contemporary makeovers (giant macarons, ensaymada cupcakes) They've even been made savory with the likes of a blue cheese macaron and longganisa ensaymada being introduced into the market. Still, cupcakes are in the limelight and it looks like they plan to stay there for a long time.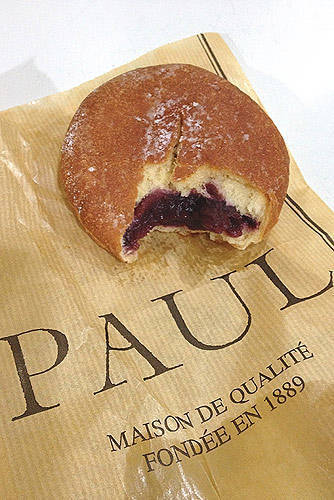 ADVERTISEMENT - CONTINUE READING BELOW
A sinful and satisfying berry beignet from Paul.
Our creative artisans churned out interesting ice cream flavors, but they didn't really fly off the shelves (or freezers) and create as much buzz as baked pastries. Blame it on gelato for sharing a piece of the popularity pie. Boulangeries from countries like South Korea and France invaded Manila and their ovens were busy producing bronzed beauties in the form of beignets and bombolonis, to name a few. We can't forget the growing number of home bakers who contributed in making our 2013 a tad sweeter with desserts like Pumpkin Carrot Cake, Sour Cream Chocolate Cake, and Passionfruit Brazo de Mercedes.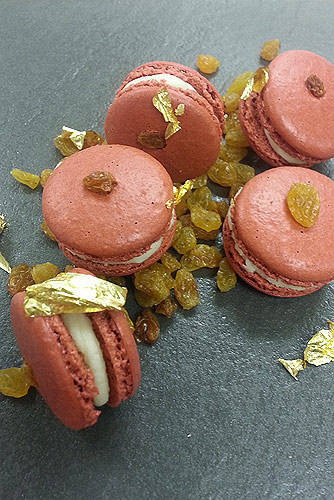 ADVERTISEMENT - CONTINUE READING BELOW
The popular Don Papa macaron from Cafe Macaron, Fairmont Hotel.
Last year, every baked good had some form of red velvet, then salted caramel took the throne with milkshake and cheesecake versions. The start of 2013 was all about cookie butter, but there's one overlooked flavor that sneakily crept in the ovens of many bakers. Don Papa Rum, that deep, smooth, locally produced rum, has been deliciously transformed into ice cream and macaron.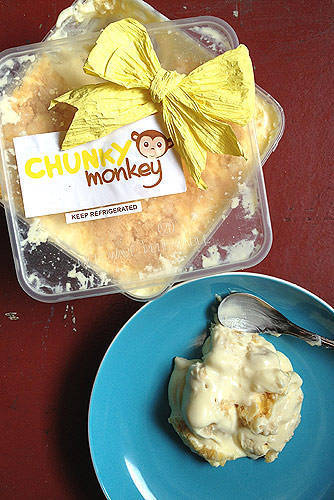 ADVERTISEMENT - CONTINUE READING BELOW
My personal favorite...
When local bakers came out to play this year, they gave us a lot to be giddy about. But there was one that has me hooked forever: Chunky Monkey.
Named after a pet name for her son, Xevi, Kat Tantoco-Lobregat started Chunky Monkey so that she could spend quality time with her family. "My kids are in their formative years and I wanted to be more present. I wanted the freedom and flexibility to be around them and this allows me to do so," she said. Since they spend a lot of time in the kitchen, she decided to replicate Magnolia Bakery's Banana Pudding one day, especially since it was her husband Paolo's favorite. "I asked the staff about the dessert and they gave me bits of information about it. I then kept mental notes." When she finally got close to the original and the boys, along with 1 ½-year old daughter Joey, gave their seal of approval, Kat shared it with friends and family. Word got around and, well, history was made.
ADVERTISEMENT - CONTINUE READING BELOW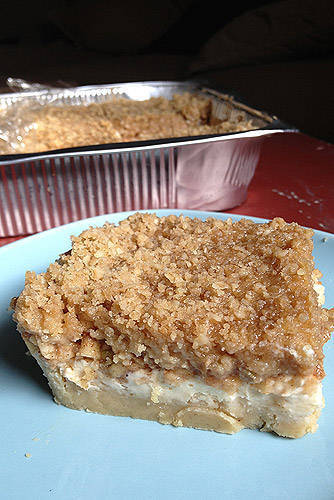 For now, the brand just carries two items-the other being the Apple Crumble, a dessert inspired by a trip to the Bay Area. The Banana Pudding has layers of ladyfingers, freshly sliced bananas and a smooth vanilla pudding that will have you scooping one bite after another. The Crumble, on the other hand, has cubes of Granny Smith apples and cream cheese on top of a tender base. Clumpy oats and caramel sauce dot the surface and make for a very inviting treat. Some items are labeled classics because they can be enjoyed by every generation; Chunky Monkey's desserts can definitely be classified under that list.
ADVERTISEMENT - CONTINUE READING BELOW
The Banana Pudding costs P600 for a tub good for five and P1,000 for a tub good for 10, while the Apple Crumble costs P1,500 for a 9 ½ x 12-inch rectangular pie. Contact Chunky Monkey at 0918-897-4147, 0917-836-3611, 822-7088. Pick-up points are in Alabang, Muntinlupa City and Rockwell, Makati City.
Angelo Comsti writes for Yummy magazine in addition to other publications. He studied at Le Cordon Bleu Australia. Grab a copy of his bestselling cookbook From Our Table To Yours for a collection of generations-old heirloom recipes from some of the country's best cooks and chefs.Follow Angelo on Instagram (@fooddudeph) to catch more of his food discoveries.
Recommended Videos
Load More Stories