5 Reasons Why I Love CINQ Gourmet Desserts
SPOT.ph blogger Angelo Comsti shares his reasons for loving the sweet treats at this local pastry place.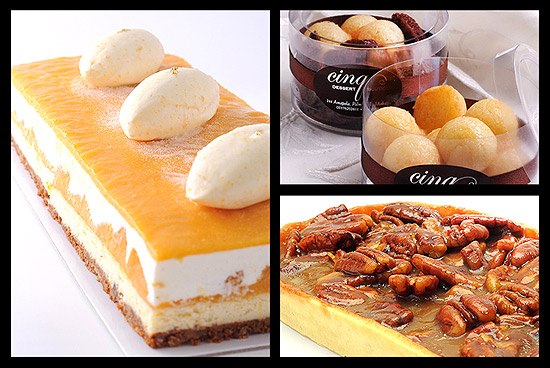 (SPOT.ph) I've been a huge CINQ fan since the brand started two years ago and I'm happy to have followed its progress from a home-based business to a busy bazaar staple, and now, finally, to a humble pastry shop on Jupiter Street. Cinq means "five" in French, referring to the five major ingredients that are generally used in pastry-flour, sugar, eggs, milk or cream, and butter. For me though, it refers to the five components that put CINQ a cut above other pastry shops: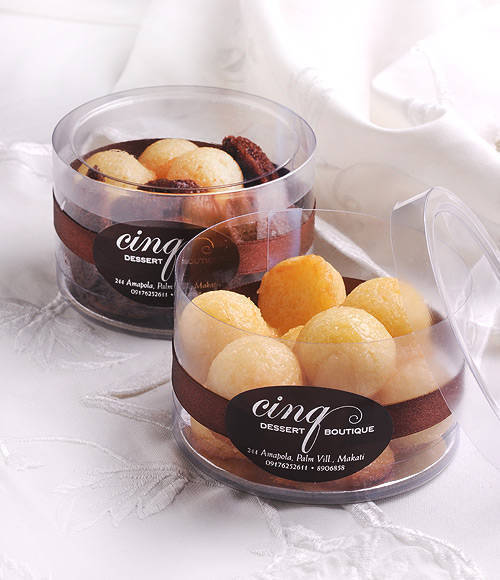 Financiers
1. A Passionate Owner
An interior designer by profession, CINQ owner Angela Villoria began baking in 2007 when she enrolled in weekend baking classes, which were then followed by a 14-month course at the International School for Culinary Arts and Hotel Management (ISCAHM). There, she realized that interior design and baking are actually pretty similar, with both relying greatly on precision.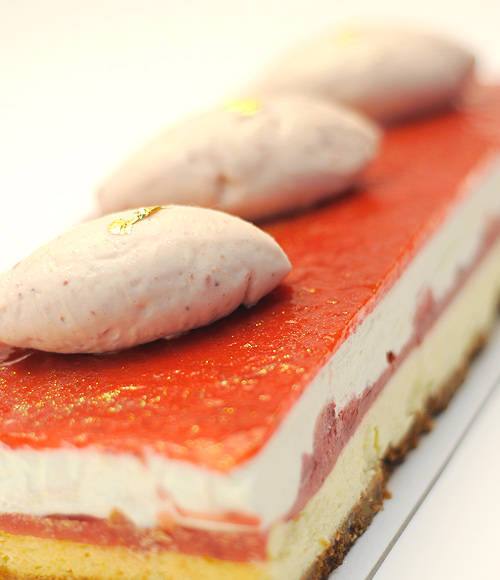 ADVERTISEMENT - CONTINUE READING BELOW
Lexi strawberry (P1,600), strawberry cheesecake with strawberry mousse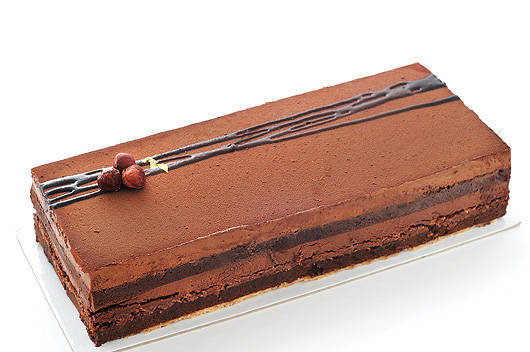 CONTINUE READING BELOW
Recommended Videos
Architecture: Monica (P1,400), a dark, milk, and caramel chocolate mousse cake
"In interior design, we have to be exact with the measurements. Millimeters can make or break a design detail or in space planning. The same holds true in pastry," she says. "Scaling the grams for ingredients can mean a successful end product or a repeat in the baking process. Another similarity is the application of design principles-scale, balance, symmetry, color harmony. These are applied to pastry composition as well as in interior design." To accommodate her two passions, she worked as a pastry-making student during the mornings then moonlighted as an interior designer from afternoons onwards.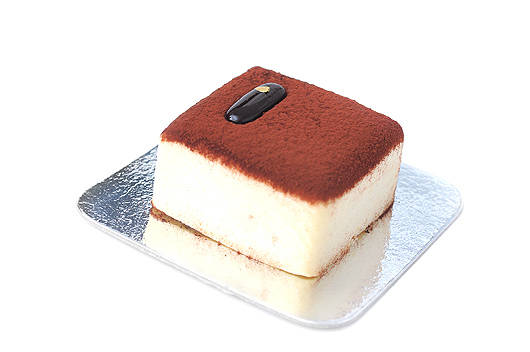 ADVERTISEMENT - CONTINUE READING BELOW
Alessandra (P170), a unique take on tiramisu; mascarpone mousse hugs a marsala-soaked ladyfinger
Eventually, her love for baking proved too strong. In 2009, she flew to France and then to the US to pursue further pastry training.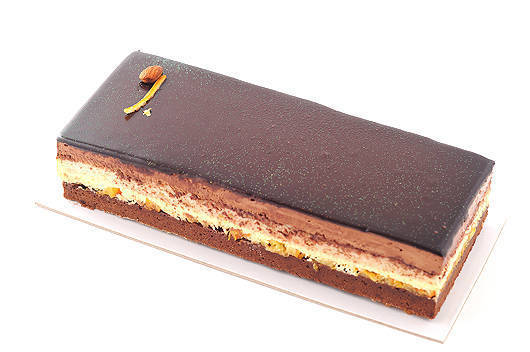 Pascale (P1,400), chocolate and orange mousse cake
2. Quality Ingredients
Angela knew that she wanted to make a business out of her passion, but she also knew that she wasn't willing to sacrifice quality for profit. "When I went to school in Europe, I asked my chef what I could substitute cocoa butter with. He replied, 'Nothing.' Then I said, 'What if I don't have it?' He said, then don't do it. I found it very arrogant. But as the course progressed, I realized the value of making something really good, something of quality. It really does make a difference, like choosing between vanilla extract and vanilla beans."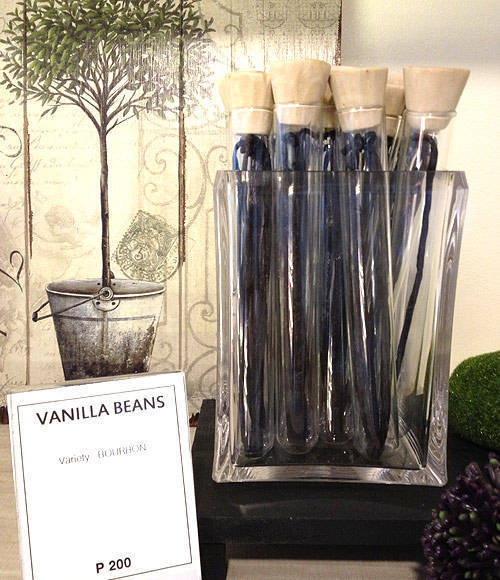 ADVERTISEMENT - CONTINUE READING BELOW
She even sells them.
Angela prioritizes premium ingredients over price, opting to use high-grade items like Valrhona chocolates, Elle & Vire cream, Callebaut paste and pralines, and her own homemade coulis to produce pastries that are at par with those enjoyed abroad.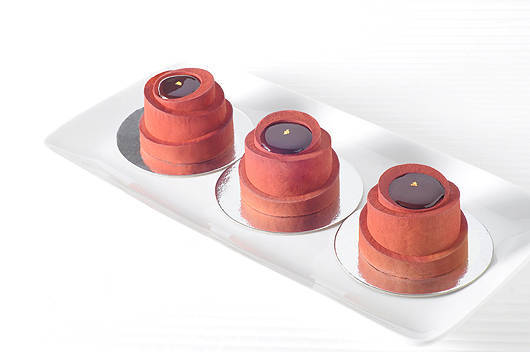 Laure (P200), an elegant raspberry and dark chocolate mousse cake
3. Balance in Flavor
CINQ, according to Angela, is the appropriate name for her business because her pastries are European-inspired in presentation and formulation. Her tarts, for example, are oval, rather than the round ones we usually see locally, because that was the shape she saw in France. Since she uses traditional French recipes for her desserts, they have just the right amount of sweetness. "We were taught how to compute for sweetness and to ensure that the overall flavors are balanced," she says.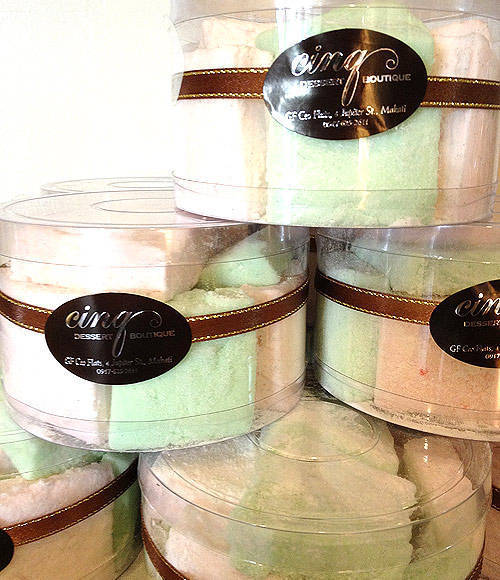 ADVERTISEMENT - CONTINUE READING BELOW
No-egg marshmallows in mint and vanilla flavors (P220/230g)
4. Proper Care, Storage, and Sanitation
I cringe at the sight of dairy-based desserts outside chillers-or even at the thought of baked goods coming out of a dirty kitchen. Fortunately, CINQ passes my strict standards when it comes to food safety. Her desserts, when need be, are always refrigerated. They even have a certificate to show that their kitchen is BFAD-approved. The same care and attention extends to the production and storage of her pastries. She doesn't use any ready-made mix and takes no shortcuts when making her desserts. "The French are very methodical. If you want to create something extraordinary, you go through the whole process."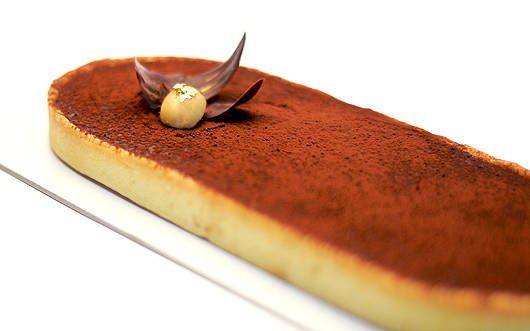 Aurore (P650), the bestselling chocolate tart with macadamia nuts and caramel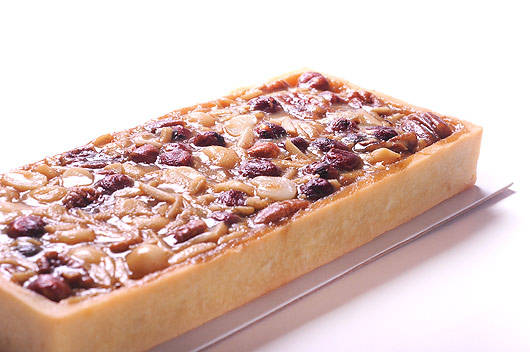 ADVERTISEMENT - CONTINUE READING BELOW
Ms. D (P1,400), mixed nut tart on a bed of dark chocolate
5. Artistry
I have yet to come across pies, tarts and cakes that are as well-rounded in terms of beauty, style, and flavor as those from CINQ. "I want to make quality pastries-like the type you see in little stores in Europe, Australia or Japan-more accessible to people. We don't see a lot of those here unless you go to hotels," she says. Of her slightly smaller portions that cost a prettier penny, she adds: "My biggest challenge is trying to make people realize that they are buying quality pastries."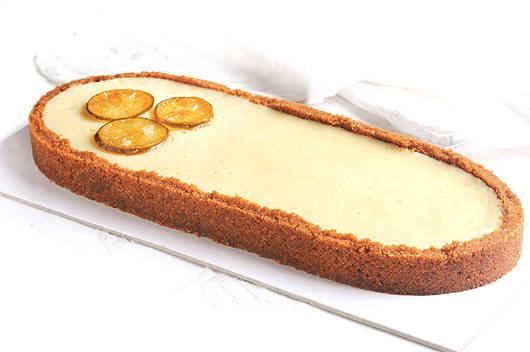 Ligaya (P500), dayap tart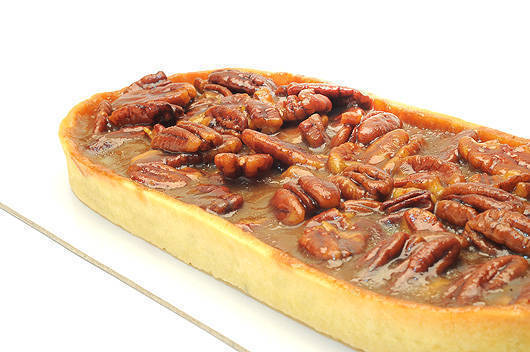 ADVERTISEMENT - CONTINUE READING BELOW
Louise (P850), classic pecan tart
With people developing more discriminating palates and being more cautious with what they purchase, I believe that wouldn't pose too big a problem since CINQ's gourmet desserts are among the few that give favorable justice to the saying, "you get what you pay for."
CINQ Gourmet Desserts is at G/F CEO Flats, 4 Jupiter Street., Makati City. Tel. No. 890-0886. Open daily from 10 a.m. to 10 p.m.
Angelo Comsti writes for Yummy magazine in addition to other publications. He studied at Le Cordon Bleu Australia. Grab a copy of his bestselling cookbook From Our Table To Yours for a collection of generations-old heirloom recipes from some of the country's best cooks and chefs.Follow Angelo on Instagram (@fooddudeph) to catch more of his food discoveries.
Share this story with your friends!
---
Help us make Spot.ph better!
Take the short survey
Load More Stories