SPOT.ph Round-Up: Where to Get Giant Pizzas in Manila
From "teeny" 20-inch pies to a whopping 5'10"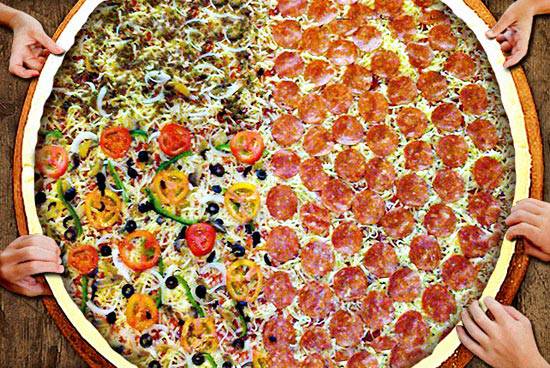 (SPOT.ph) Pizza is always the logical solution to any catering problem. It's versatile-four cheeses and you have a super fun night with friends, slice them apart with salmon and caviar and you have something classy-and reasonably affordable. It can feed a lot of people with the smallest amount of effort; you only have to dial.
As restaurateur Joe Bastianich once described, this delicious disc is Italy's greatest gift to humanity. And with its versatility, it's a gift that just keeps giving. We've given you Top 10 Cheese Pizzas, 10 Must-try Gourmet Pizza Flavors. This time, we're going oversized, with rounds that will surely make your guests go , "Whoa!" That's an icebreaker right there. Have a happy party!
*Highest price per size is indicated; list is ranked according to size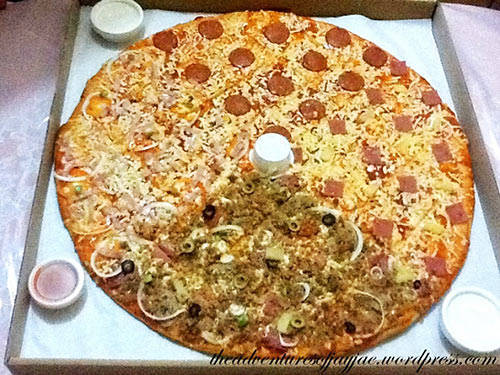 Photo from Adventures of Jayjae
10. D&D Pizza Express
Ibarra Street, Sampaloc, Manila (711-4247)
ADVERTISEMENT - CONTINUE READING BELOW
Max diameter: 20 inches
Dough needed: P550
Only a list like this would make a 20-inch pizza seem puny. Standard "Large" pizzas are measured at 16 inches in diameter-that's four inches shorter compared this Manila must-try. This pizzeria chooses value over anything else which makes it a favorite among students.
Notable flavors: Pepperoni, Ham and Cheese
*Delivery available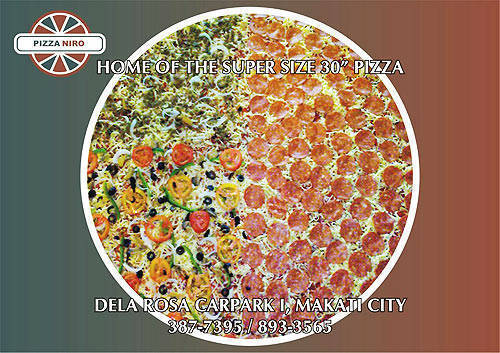 CONTINUE READING BELOW
Recommended Videos
9. Niro Cafe and Pizzeria
Valero Car Park 2, Valero Street, Makati City (893-7551); Aguirre Avenue, BF Homes, Parañaque City (825-5555)
Max diameter: 30 inches
Dough needed: P1,595 (30"), P925 (20"), P525 (14"), P295 (9")
Except for a selection of sodas, Pizza Niro used to sell only pizzas and nothing else. In 2008, they transitioned into a cafe-cum-pizzeria. The pies are standard fare, but the prices don't leave much room to complain. Sauces and toppings are generously applied, but a tip is to eat quickly-the crust tends to buckle under the weight. Now, the pizza place once known for introducing the city to giant pizzas is becoming famous for their wings. We're crossing our fingers for a monsterized version of that.
ADVERTISEMENT - CONTINUE READING BELOW
Notable flavors: Napoli, Pepperoni Speciale, Giardiniera
*Delivery available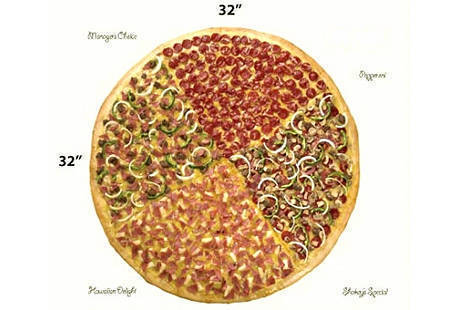 8. Shakey's
Available at selected branches only (77-777)
Max diameter: 32 inches
Dough needed: P3,950
One of the country's leading pizza chains requires customers to order their giant version three working days in advance. Known to be a favorite party place for both kids and teens, this enormous showstopper can be divided into four flavors and 121 squares so there's more of it to go around. What's more, you can get it for free if you buy P2,000 worth of tokens to use in the Shakey's arcade or if you avail of their P15,000 party package. Games are more fun with a pizza in one hand, after all.
Notable flavors: Manager's Choice, Friday's Special, Cheese and Garlic
*Delivery available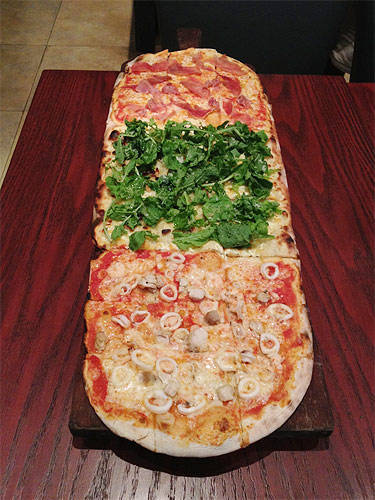 ADVERTISEMENT - CONTINUE READING BELOW
7. Aria Cucina Italia
2/F Bonifacio High Street Central, Bonifacio Global City (288-5573)
Max length: One meter (oblong)
Dough needed: P1,400
The meter-long pizza treats big groups to a sampler of three flavors. Aria's pizzas are baked in a woodfire oven, layering a delicious smoke over the smorgasbord of toppings.
Notable flavors: Funghi, Frutti di Mare, Salmone e Pesto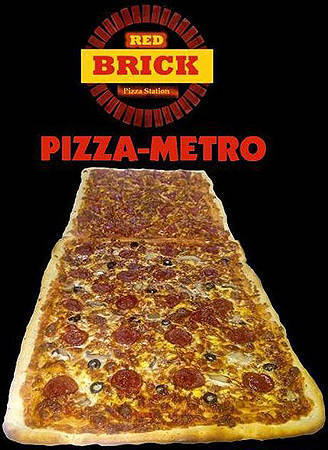 6. Red Brick Pizza Station
61 L. Esteban Street, Highway Hills, Mandaluyong City (470-7000)
Max length: 40x18 inches (rectangle)
Dough needed: P1,130 (meter-long), P770 (yard-long), P570 (18"), P390 (14"), P240 (10")
Not to be confused with another pizzeria with a similar name, Red Brick changes up the norm by serving humongous square shapes reminiscent of the old Greenwich. Every pie is woodfired fresh in a brick oven only after the order so customers need to allot at least 20 minutes of prep time. This laidback hangout is spacious yet surprisingly small...with tables that aren't even big enough for their pizzas.
ADVERTISEMENT - CONTINUE READING BELOW
Notable flavors: Big Meat Eater, Philly Style Cheesesteak
*Delivers free in Makati, Mandaluyong, Pasig, San Juan, Manila (Sta. Mesa only)

5. Jugno's Monster Pizza
Click here for a list of hotlines per location.
Max diameter: 20 inches and 36 inches
Dough needed: P998 (36"), P448 (20"), P210 (12"), P59 (7")
Jugno's takes time to deliver their pies so if you really want a slice, you better call hours ahead. For years, Jugno's defined "monster" with 20-inch pizzas which, if you think about it, are larger than average, but still significantly smaller than the other oversized options on this list. It was only late last year when they came up with a 36-inch version to match the competitors. The catch? There's a five-hour wait time and you might have to try calling several times (some branches don't answer right away). Jugno's, however, offers the cheapest in the lot.
ADVERTISEMENT - CONTINUE READING BELOW
Notable flavors: Anchovy Lovers, Mexican Amigo, Jamaican Ye Mon Monster
*Delivery is free-if you have the patience.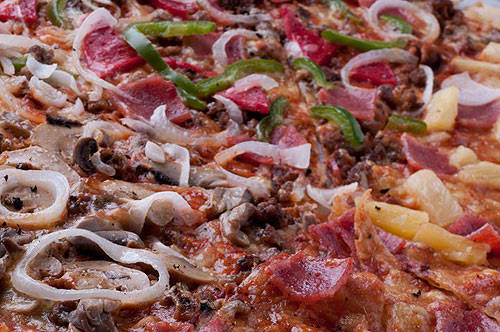 4. Calda Pizza
N. Domingo Street, Quezon City (726-6035); Makati City (359-4349, 478-5127); Katipunan, Quezon City (421-0908); P.Noval Street, Sampaloc, Manila (735-6719, 782-6035); Las Piñas City (478-3715)
Max diameter: 36 inches
Dough needed: P1,400 (36"), P1,100 (30"), P610 (20"), P425 (16"), P270 (10")
Usually you go from country to city, with the hopes of fulfilling your ambitions in the bigger urban scene. But not Calda. Calda originated in Cebu and migrated to Manila a few years ago to introduce 36-inch pizzas to the market. Calda, which mean "hot" in Italian, takes inspiration from Italy with a crisp thin crust sturdily carrying the weight of gooey mozzarella (among other toppings).
Notable flavors: Quattro Stagione, Padua, Vegetariani
*Delivery available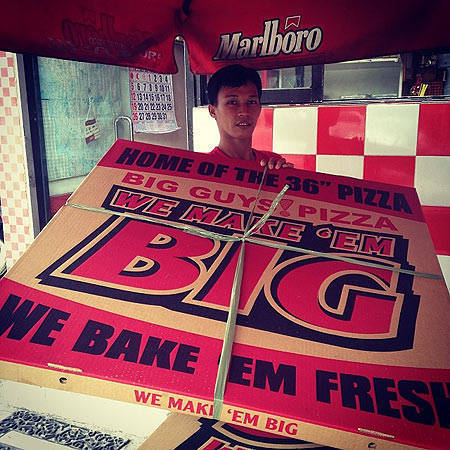 ADVERTISEMENT - CONTINUE READING BELOW
. Big Guys! Pizza
Ortigas Avenue, San Juan (570-8603); Libis, Quezon City (584-6702); Makati Avenue, Makati City (868-1715); Visayas Avenue, Quezon City (921-5791); Shaw Boulevard, Mandaluyong City (722-2823); E. Rodriguez Sr. Avenue, Quezon City (654-0092); Pioneer Street, Mandaluyong City (570-2217); Novaliches, Quezon City (983-1106); Alabang Zapote (403-3167)
Max diameter: 36 inches
Dough needed: P1,398 (36"), P618 (20"), P408 (15"), P308 (10")
Instead of buying several boxes for one party, owner Mark Lao makes it much easier (for the eaters, not the delivery men) to pig out. Alas, a hulking 36-inches of savory delicious pie good for 20 to 30 people. To prevent-or at least limit-the feeling of cloyingness, Big Guys! also has their eponymous Specialty with 12 bestselling flavors in one enormous round.
Notable flavors: Big Guys! Specialty, All Meat, Big Gal, Super Supreme
*Delivery available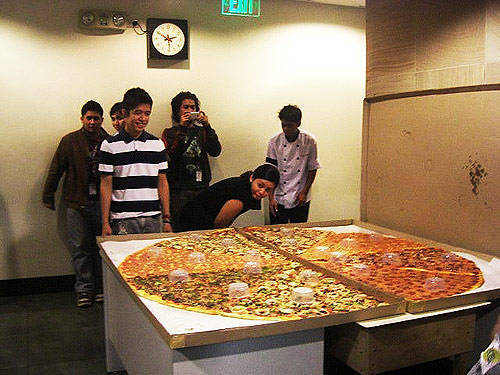 2. Pizzaville
2424 Syquia Street, Sta. Ana, Manila (386-000, 227-7665, 346-0845, 0922-885-1899)
ADVERTISEMENT - CONTINUE READING BELOW
Max diameter: 70 inches
Dough needed: P7,800 (70"), P3,885 (50"), P1,850 (30"), P880(20"), P475 (14"); P250 (10")
This student-friendly hangout doesn't pretend to be gourmet. They're home-style-and for their size and price, simplicity works. To make things even more affordable, you can also avail of their privilege card to get your pizzas for half price. Their biggest claim is a pizza that's 70-inches in circumference-that's the height of supermodel Tyra Banks.
Notable flavors: Shrimp Garlic, Margherita, All Meat Works, Pizzaville Combination (four to eight flavors)
*Delivery available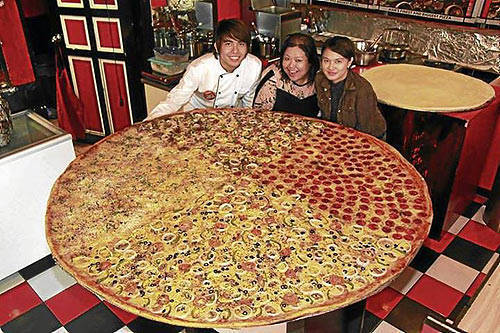 1. El Buono
Scout Rallos, Tomas Morato, Quezon City (403-1528, 403-1575, 409-4588)
Max diameter: 65 inches
Dough needed: P7,995 (65"), P1,888 (36"), P895 (22"), P295 (12"), P245 (10")
Some restaurants are smart about it: baking their pizzas in portions then putting them together to create one jaw-dropping effect. But El Buono bakes theirs whole and they currently hold the record for Asia's biggest pizza (they once held the world record) with a whopping 65 inches in diameter.This gargantuan pie can carry four flavors in 600 square slices and is good for a group of 150 to 200. In case you want more supersized eats, they also have a two-foot-tall burger and iced tea served in a flower vase.
ADVERTISEMENT - CONTINUE READING BELOW
Notable flavors: El Buono Special, La Carne Buono, Il Formagio Special, Il Pollo Barbeque
*Delivery available
Share this story with your friends!
---
Help us make Spot.ph better!
Take the short survey
Load More Stories