New on the Menu: Brotzeit German Bier Bar and Restaurant's Lunch Specials + More Dishes
New food to enjoy at this German hub.
Brotzeit German Bier Bar & Restaurant
Shangri-La Plaza, Unit 112, Street Level, Mandaluyong City
Tel. No. 631-1489, 668-4325
Open daily from 11 a.m. to 11 p.m.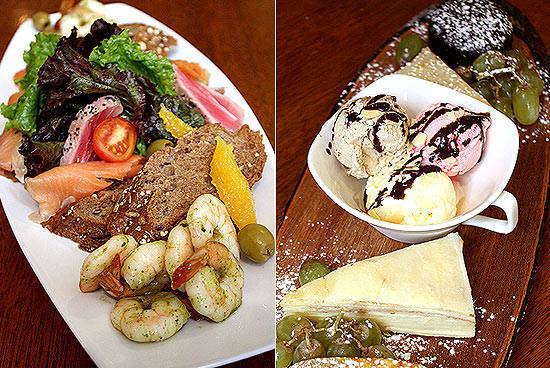 (SPOT.ph) At high noon, Brotzeit Bier Bar and Restaurant is quiet, almost empty. Only a sprinkling of customers with a taste for sausage and (light) beer during the daytime covers a small fraction of the expanse. But that may be because Chef Ivan Maminta's repertoire is huge, group-sized grub that works best with alcohol-something that doesn't always work well midday. At night, Brotzeit is one of the busiest restaurants in Shangri-La Plaza.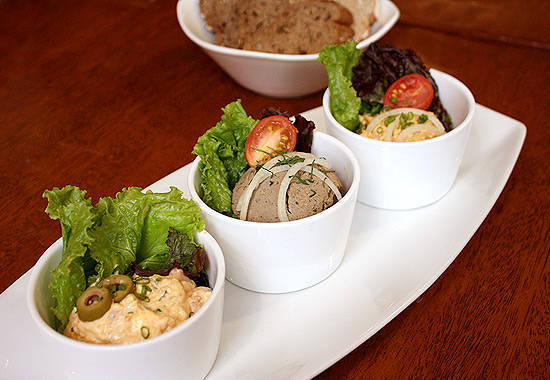 ADVERTISEMENT - CONTINUE READING BELOW
Aufstrich Teller
But to keep up with the Singaporean flagship and to rev up the lunch crowd, Maminta is introducing a new line of dishes-from light to hearty-available starting today, January 27. For immediate variety, the Aufstrich Teller (P680) gives you three big flavors on one plate: thick liver pate made with all-natural pork liver ("Definitely no extenders," says Maminta), a delectable smoked salmon tartare, and an audacious five-cheese spread with Camembert, Emmental, Gouda, Parmesan, and Feta ("From Turkey," he adds).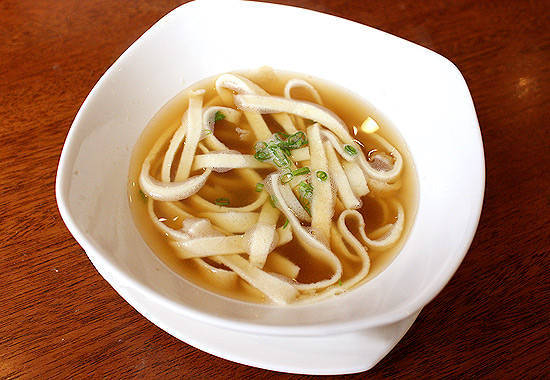 CONTINUE READING BELOW
Recommended Videos
Frittatensuppe
While the Filipino palate might need to warm up to the unabashed profiles of the trio of spreads, their taste buds will find solace in the Frittatensuppe (P180). The beef consommé is reminiscent of the flavor of bulalo except without the marrow, and with strips of savory crepe that work as a sort of noodle component.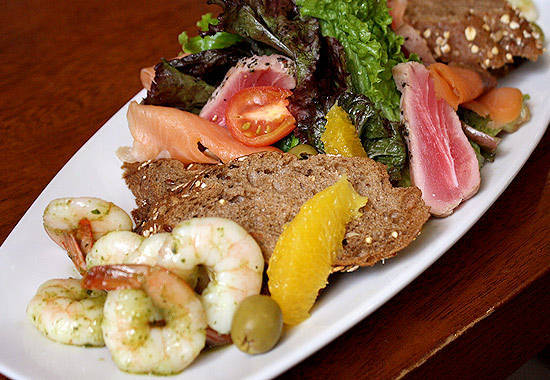 ADVERTISEMENT - CONTINUE READING BELOW
Meeresfruchte Teller (or you can just say "Seafood Platter").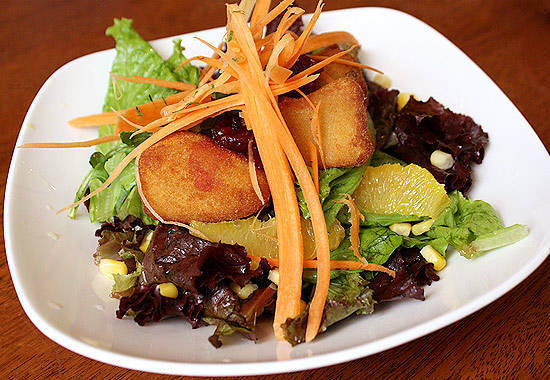 Camembert Salad
We're all about inner beauty here, but the Meeresfruchte Teller (P580) will make anyone's mouth water with one look. The long platter is delicately laden with pesto-laced shrimp (soft, buttery, perfectly cooked), smoked salmon (melts in your mouth), seared tuna (just that right amount of brine), and a mixed salad. Breaded cubes of Camembert embellish the Camembert Salad (P390, small; P620, regular). A strong, ripe flavor from the creamy cheese pervades the ensemble of greens, corn, and carrots. If you find the flavor of cheese too intense, have each bite with the oranges and cranberry. Their sweetness balances that potent flavor just fine.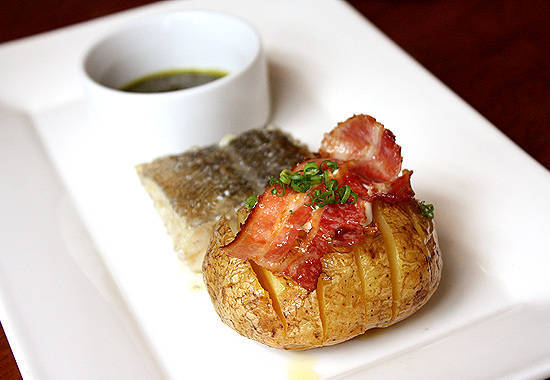 ADVERTISEMENT - CONTINUE READING BELOW
Kabeljau. That bacon is a scene stealer.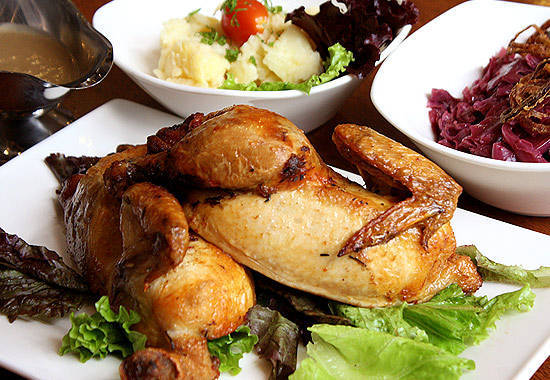 Spatchcock
The Kabeljau (P690) is the dish that will keep you coming back. Salt cod is soaked in cold water for a few days to take away the excess brine and to enable Maminta to manage the flavors better. The skin is crisp and the fish tender-the result of five minutes baking in the oven; the cup of pesto sauce helps bring out the taste better. The whole dish is served with a scene-stealing baked potato topped with crisp bacon and sour cream. Brotzeit also launched a new chicken dish that would tempt the less adventurous diner. A whole spring chicken (P590) is prepared spatchcock (the backbone is removed for roasting), with salad, potato salad, and red cabbage.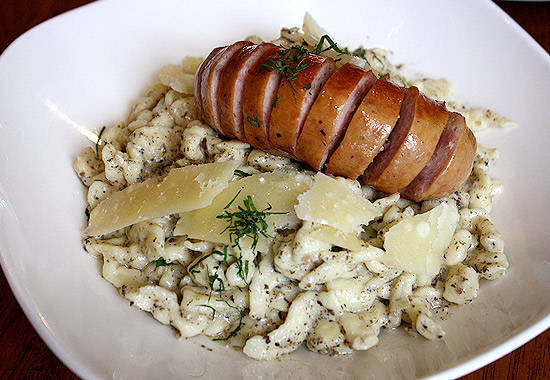 ADVERTISEMENT - CONTINUE READING BELOW
Truffle Spaetzle
You might be wondering where the sausage is at this point. The Truffle Spaetzle (P360) is a dish unique to the Philippines. Homemade spaetzle pasta is painted with white truffle oil and shaved black truffle. Slices of parmesan give it a slight graininess for a textural contrast. Garlic sausage aptly finishes the dish. Like a delicious crown to make you remember what Brotzeit is known for in the first place.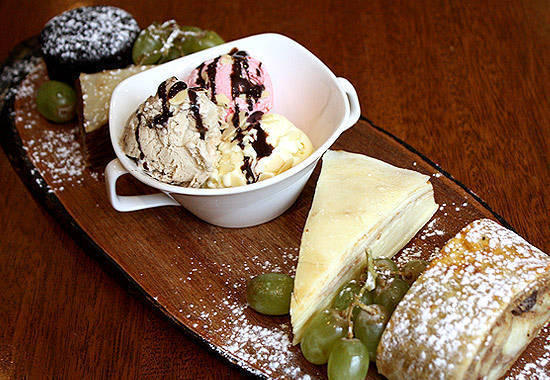 Nachspeisen Teller
Dessert is meant to be shared. The Nachspeisen Teller (P650) is an exquisite tray of chocolate cake, Nutella and vanilla crepe cakes, a bowl of assorted ice cream, and an apple strudel. The chocolate cake is rich and decadent with a Valrhona base, and a gooey-cakey texture. Dibs!
Photos by Warren Espejo
Share this story with your friends!
---
Help us make Spot.ph better!
Take the short survey
Load More Stories