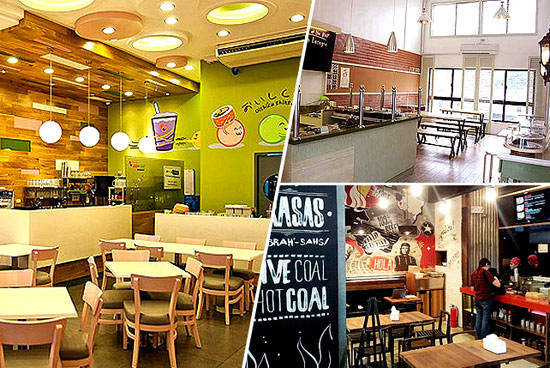 (SPOT.ph) Mood music, dim lighting, servers in uniforms, and more silverware than you need. These are all very romantic elements in a restaurants, sure. But there's a simpler key to romance: you. A sneaky caress, a furtive smile, great conversation. That's what constitutes romance. Date places don't have to be expensive to be ideal. All you need is a little ingenuity.
Recessionista romance, you say? These 10 everyday date places are so budget-friendly, you won't spend over P500-for both of you. You may have to skip dessert, but love is sweeter than cake anyway.
Fast food joints were not included.
ALSO READ:
Top 10 Private Dining Spots
Top 10 Romantic Restaurants (2011)
Top 10 Romantic Restaurants (2013)
SPOT.ph's Guide to Proposing in Manila
Top 10 Destination Restaurants in Manila
Top 10 Places For A Second Date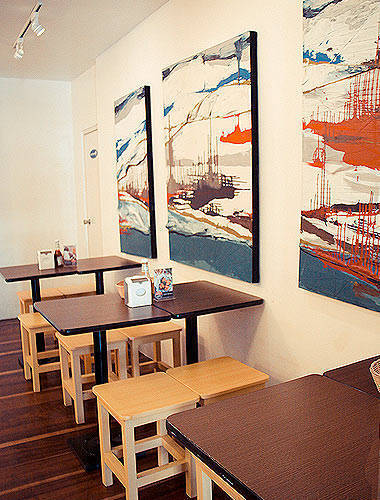 1. Mad Mark's
Mad Mark's is a simple, no-frills sorta hole-in-the-wall type of place that serves terrific food for affordable prices. The best part? You can probably afford dessert because Mark Isidro's homemade ice cream is a try-before-you-die culinary gem. It gets a little crowded during the dinner rush-and we won't even bore you about parking woes-but it's quiet and charming during the afternoons, giving you and your date a chance to talk without getting distracted by the decor.
ADVERTISEMENT - CONTINUE READING BELOW
For the lady: Chicken Meltdown Sandwich (P160) or the Mariner Sandwich (P150)
For the sir: The Lumberjack Sandwich (P300) or the 300-gram Bootstrap Steak (P260)
Mad Mark's has branches at 23 East Capitol Drive, Kapitolyo, Pasig City; Glorietta 5, Makati City.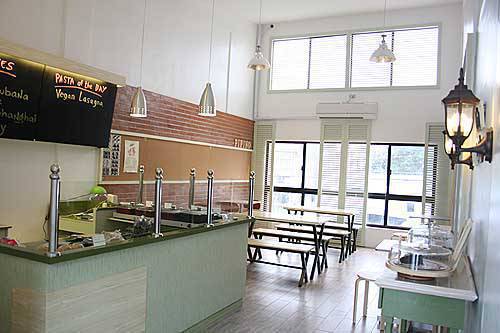 2. Pino Resto Bar and Pipino Vegetarian
Sit at Pino so you can cross-order from vegan haven Pipino. Unfortunately, you can't do it the other way around. It's a double standard that almost mirrors the battle of the sexes-which you and your date can immediately chat about. Pino has a lot of Filipino options, most of them to share, which is a sweet supersaver. Pipino, on the other hand, has delicious and light vegetarian fare that she might appreciate. Doodles on the wall, as well as the dual-restaurant's natural lighting, give it a relaxed air.
For the lady: Stuffed Demi-Dried Tomatoes (P225) or Mac n Cheeze (P165) from Pipino; Bacon and Cheese-stuffed Chicken Breast (P225) from Pino
For the sir: Watermelon Steak (P220) or Black Bean Burger (P155) from Pipino; Kare-Kareng Bagnet (P255) or Nilasing na Adobong Kambing (P255)
Pino and Pipino have branches at 38 Jupiter Street, Makati City; 39 Malingap Street, Teachers Village, Quezon City.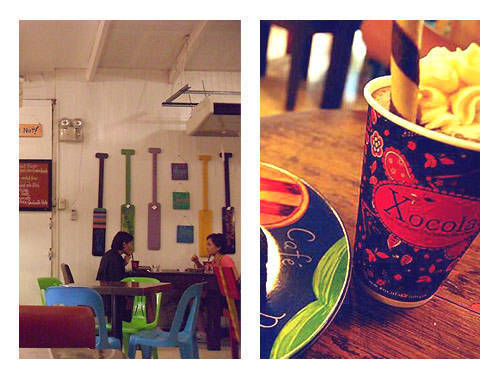 3. Xocolat
If romance could be food, it would be chocolate: sweet, casual, wanting, sexy, warm, sinful. Xocolat then is a venue full of romantic potential. It's extremely versatile, too. Xocolat is a favorite study hub and/or merienda staple. If chocolate isn't your sensibility, they even have heavier options for the day's most important meals.
For the lady: Grilled Chicken Pesto Pasta (P165) or Tuna Flakes Panini (P155)
For the sir: Meaty Lasagna (P165) or Hungarian Sausage Panini (P195)
Splurge: You have room for Xocolat Fries (P95) or share a Chunky Xocolat (P115)
Xocolat has branches at B. Gonzales Street, Loyola Heights, Quezon City; Eastwood City Walk 2, Quezon City; and Promenade Mall, Greenhills, San Juan.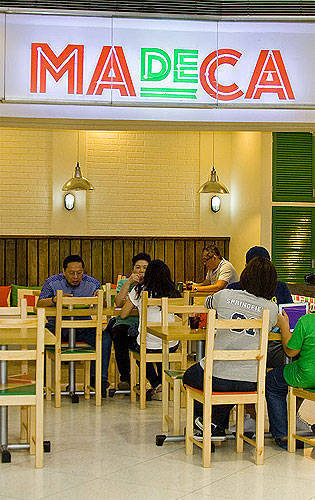 ADVERTISEMENT - CONTINUE READING BELOW
4. Madeca
It's an open venue inside a mall, but you won't feel cramped or too exposed. Madeca maintains a quaint charm that keeps things casual. The beauty with Mexican food is that it can be light or heavy. With its quick service and affordable options, Madeca is a good choice for pre- or post-movie dates. Wait, people go to Podium to watch movies? Either way, you're assured of great date-friendly grub.
For the lady: Spinach and Mushroom Quesadillas (P125) or Fish Tacos (P165)
For the sir: Sisig Burrito (P225) or Lechon Kawali Mexikanin (P265)
Splurge: Have a glass of iced tea-each (P40) because you deserve a pat on the back for being economical. They're good and you have budget to spare.
Madeca is at 5/F The Podium, Mandaluyong City.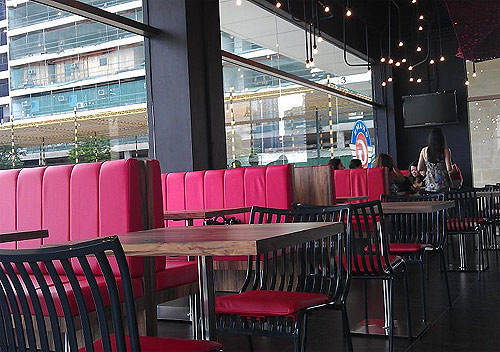 5. Grams Diner
Danny and Sandy? Archie and Veronica? Er, Archie and Betty? Some of fiction's best love stories were forged in diners so don't dismiss this place as another greasy spoon. Trust us, there's no grease here.
For the lady: Grilled Chicken Marinara (P215), Patriotic Breakfast (P175), or Mom's Grilled Porkchops (P135)
For the sir: Grams Half Pounder Burger (P175), BBQ Best Grilled Pork Belly (195), or Country Fried Chicken (P155)
Splurge: Go ahead, have a milkshake. You know you want to. Here's another perk: Grams usually treats birthday celebrants with a free meal during their birthday month. Have another milkshake.
Click here for a list of Grams Diner branches.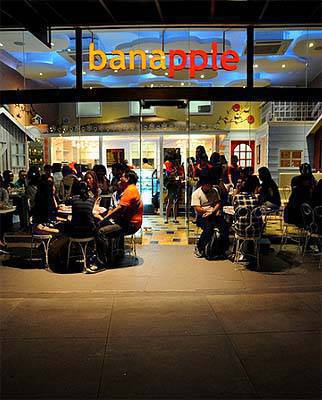 6. Banapple
Comfort is always a good jumping off point to romance. Enjoy good home-style food in a restaurant that brings a countryside vibe to the city. The rustic décor of Banapple is something ladies will surely enjoy while men will be thrilled in their very generous portions. What more, none of Banapple's dishes go over the P200 range-possibly a strategy so you and your honey can enjoy a slice of their famous banoffee pie.
ADVERTISEMENT - CONTINUE READING BELOW
For the lady: Lasagna Roll-ups (P180) or Awesome Blueberry Pancakes (P135)
For the sir: Chicken Breast Parmigiano (P185) or Hickory Smoked Barbecued Country Ribs (P185)
Splurge: A slice of banoffee pie (P95) for you two to share. It doesn't seem like much, but Banapple's mains and pastas will have you stuffed, so a short but sweet ending is just right.
Banapple has branches at Katipunan, Quezon City; Ayala Triangle Gardens, Makati City; Tomas Morato, Quezon City; Alabang Town Center, Muntinlupa City; Greenhills, San Juan; McKinley Hill, Bonifacio Global City; SM City North EDSA, Quezon City.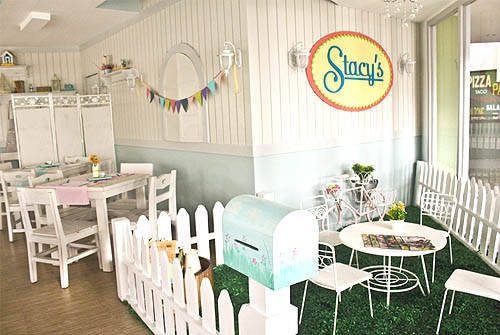 7. Stacy's
Pretty in pink might seem like a turn-off for men, but that '80s rom-com fueled many love lives. This all-day breakfast place has a whimsical ambiance that invites you to stay, chat, and just kick back. Enjoy the food, enjoy the company, enjoy the wonderful pink refrigerator and free pretzels and popcorn. Now isn't that the definition of a good date place? They even have a children's corner for married parents who want to unwind on a Friday night.
For the lady: Clara's Feast (P195) or Dear John (P205)
For the sir: Mobster's Meal (P215) or Potato Chip Fried Chicken (P180)
Stacy's has branches at Capitol Hills, Balara, Quezon City and Bonifacio Global City.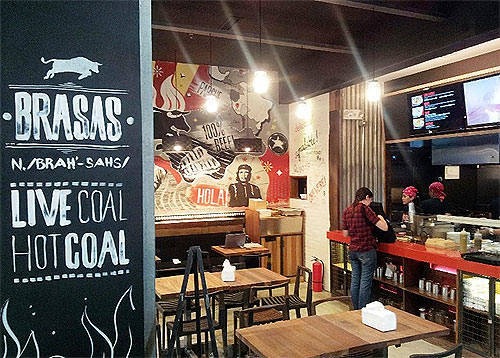 8. Brasas
Add some Latino heat to your relationship. Chef Nathaly Montoya introduces this cuisine in a majorly delicious way: delectable, smoky, easy dishes that are heavy on flavor but light on the wallet. Brasas is fast food without being fast food. Take your date on a taste bud adventure and explore Latin America with dishes from Chile, Colombia, and more.
The beauty of Brasas' menu is that most of the items are shareable. You can order a lot and just share. Risk PDA, but you can try feeding each other pica-pica.
ADVERTISEMENT - CONTINUE READING BELOW
For the lady: Carne Asada Wrap (P190)
For the sir: Puerco Asado (P240)
Splurge: Spare P70 and order the patacones (P140).
Brasas has branches at The Podium, SM Aura Premier, SM Jazz, and SM North EDSA.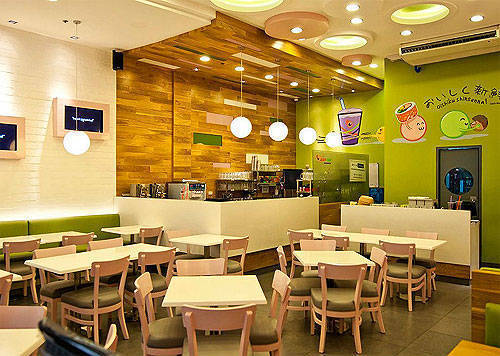 9. Tokyo Bubble Tea
Go on, strike that pose from asianposes.com. This is the place to do it because Tokyo Bubble Tea's kawaii interiors will make it feel imperative. Have a light-hearted date in the afternoon in this tea hub. Try to restrain yourselves from ordering too much. For a tea place, Tokyo Bubble Tea has a very expansive menu. Save room for their superb milk teas.
For the lady: Paella Omurice (P175), Strawberry Milk Tea (P65)
For the sir: Pork Katsudon (P135), Royal Milk Tea (P50)
Recommended branches are Katipunan, SM North EDSA; Wilson Street, Greenhills, San Juan; Tomas Morato, Quezon City.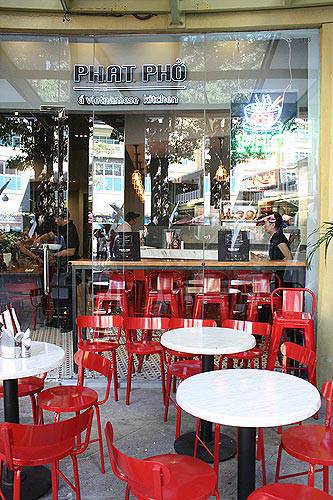 10. P.H.A.T. Pho
You're in luck because this Cebu-based pho joint (partnered with The Moment Group in Manila) just opened to the public today. You and your special someone could be one of the first to try this highly anticipated Vietnamese haven where the springs rolls are good and the noodles even better. Impress your date with your culinary foresight, too: Vietnamese is one of the emerging food trends in the country. Seating's a bit tight, but then that's the perfect excuse for some subtle snuggling.
For the lady: Noodle Bowls-Bun (P210) or Pho Ga (P185)
For the sir: Pho Special (P225) or Bun Bo Hue (P225)
P.H.A.T. Pho is at Serendra, Bonifacio Global City.
Share this story with your friends!
---
Help us make Spot.ph better!
Take the short survey
More Videos You Can Watch
Load More Stories