New on the Menu: Wendy's Pretzel Bacon Cheeseburger
The fun starts with the bun.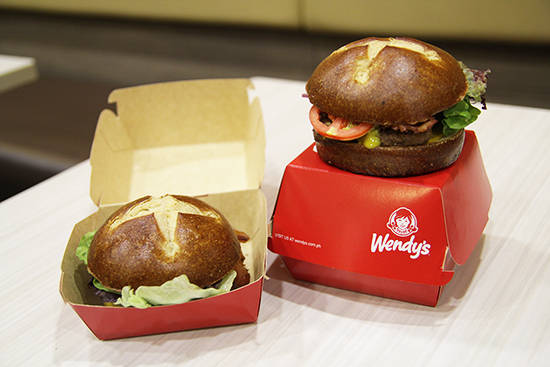 (SPOT.ph) Last summer, customers in the U.S. had their fill of Wendy's Pretzel Bacon Cheeseburger (P158),  a huge hit that spawned a handful of copycats and ultimately had its fans grieving when the burger took a final bow at the end of the season. This year, it's our turn to enjoy Wendy's new offering, and we're the first in Asia to get a taste of it.
It's a pretty straightforward burger: it contains a thicker-than-usual beef patty, bacon, greens (and not just iceberg lettuce), tomatoes, red onions, melted cheddar cheese, and smoked honey mustard. What makes it different: they're all packed between two pretzel buns. The pretzel buns are what really make the burger a filling meal. The buns are crunchy and incredibly dense; you'll be close to stuffed halfway through the burger, but by then it's too late to turn back, because the burger's so tasty you just want to eat all of it. Have napkins on hand: the mustard and the cheese can get a bit drippy.
ADVERTISEMENT - CONTINUE READING BELOW
The pretzel buns are locally made. According to Michael Kho, president of Wendy's Philippines, they use only 100% U.S. beef for the patty.
The company recently introduced actress Heart Evangelista as its brand ambassador, and Wendy's stores are all set to get a new look that features the company's new logo and a more contemporary design.
Load More Stories