Fun Supermarket Find: Beauti Drink
Drink for beauty!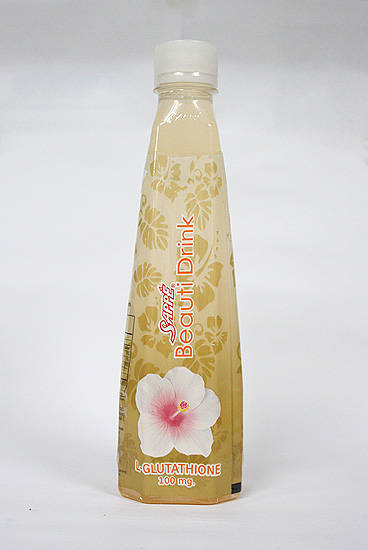 (SPOT.ph) This intriguing bottle actually doesn't promise anything, except for the name and the main ingredient: L-glutathione. It doesn't say anything about glowing skin nor does it announce a hidden slimming potential. There's nothing about looking younger, brighter, smarter. There's an illustration of a hibiscus flower on the packaging, but it's really apple-flavored. That's pretty much it.
Glutathione, according to Dr. Mark Hyman in an article in The Huffington Post, "is the most important molecule you need to stay healthy and prevent disease." He listed its benefits in preventing aging, cancer, heart disease, and dementia. He also mentioned how it's used in treating autism. He fails to specify its beautifying powers, but if whitening products are to be believed-if being white falls into your notion of beauty-it helps.
Beauti Drink, manufactured in Thailand, tastes a bit like Zest-O, with that watered-down fruity taste made delicious by  memories of recess and snack time. It's sweet with a distinct apple flavor, and despite being only 100 mg a bottle, it's pretty heavy on the belly.
Three days after the trial-we thought, after no instantaneous improvement in our appearance, the effects might be delayed-nothing happened.  No better skin (no Snow White fairness or J. Lo's golden glow), no weight loss or gain (whichever you need), no height change. So far, we don't look anything like Iza Calzado or Nikki Gil. If you were expecting a result similar to Bella Swan's vampire transformation in Breaking Dawn, then you'll just end up disappointed.
ADVERTISEMENT - CONTINUE READING BELOW
Maybe we have to drink it more often. Maybe we have to drink it with food. But with the lack of instructions, we'll drink only as we see fit.
Our verdict? Beauti Drink is a good enough beverage to quench your thirst if your favorite is unavailable. But if you want to be beautiful, you're better off drinking eight to 10 glasses of water a day-and accepting who you are and what you look like.
Beauti Drink is priced at P35 and available at Mini Stop. The items featured in this article are found and paid for by SPOT.ph and are not supported by advertisers.
CONTINUE READING BELOW
Recommended Videos
---
Help us make Spot.ph better!
Take the short survey
Load More Stories