Yay or Nay: B&B Burgers and Brewskies introduces Bacon-infused Bourbon
Is it too much of a good thing?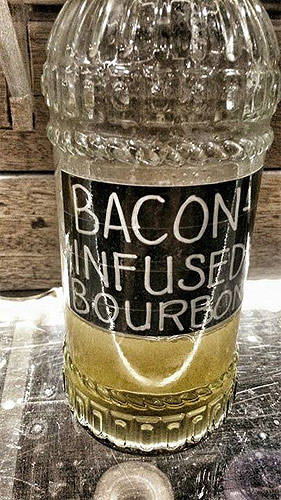 (SPOT.ph) B&B Burgers and Brewskies has been known to push the limits of cuisine simply by combining favorite comfort food to create one over-the-top meal. Some of their tongue-wagging flavors include the Call The Nurse (a gigantic burger with a slab of macaroni and cheese) and the Kandi (candied bacon, cheese sauce, and onion confit), on top of other crazy options.
ADVERTISEMENT - CONTINUE READING BELOW
Just when you think they couldn't shock you anymore, they posted on Facebook a photo of their new Bacon-infused Bourbon. According to one of B&B's owners, Francis Balbarin, he used honey bourbon infused with bacon. "Infusions taste so much better than 'flavored' spirits. I got the idea from a few places in New York City actually and decided to run with it," he says, adding that the honey flavor and the distinct profile of bourbon work well with the faint hint of smoky bacon.
The concept isn't new-bacon, after all, works well with everything, but it's still considered daring in these parts. "We (at B&B) try to veer away from the norm. As far as the Philippine market, Filipinos usually tend to go with what is safe and what they know," says Balbarin. "But there are also those who are adventurous and like to try new things. I feel like if I get those people's attention, then hopefully, others might follow."
ADVERTISEMENT - CONTINUE READING BELOW
Bacon-infused Bourbon starts at P220. Balbarin says it will be available as long as there are "yummy piggies" around. What do you think, Spotters? Will this be a deliciously smoky hit or a major miss?
Read our story of Burgers and Brewskies here.
Load More Stories