New Restaurant Alert: Madison's Bistro Moderne, EDSA Shangri-La, Mandaluyong
In case you're wondering what replaced Fully Booked
Madison's Bistro Moderne
G/F EDSA Shangri-La Hotel, Garden Way, Ortigas, Mandaluyong City
Tel. No. 631-4675
Open from 6:30 a.m. to 2 a.m. (Monday to Saturday)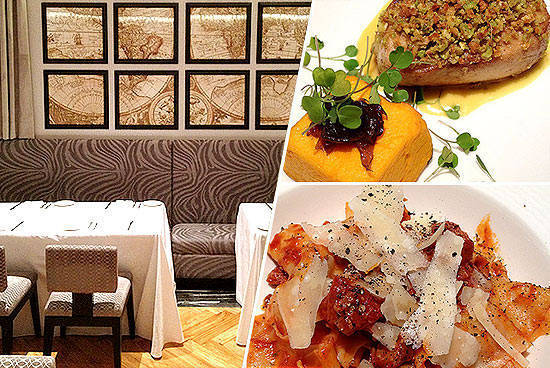 (SPOT.ph) Madison's has all the makings of a fine-dining restaurant: dim lighting, crisp white napkins, velvet curtains, servers at your beck and call. There's also the fact that it's situated on the ground floor of EDSA Shangri-La Hotel. Hues of black, white, and gray are splashed around the space. At the far end of the room is a mantel made of marble and tucked behind the bar is a special chef's table for 12 that has its own menu. Elegance is there, but the name begs to differ. The bistro is casual with a cultivated air that's not so stuffy that people in shorts wouldn't be allowed to come in.
ADVERTISEMENT - CONTINUE READING BELOW
CONTINUE READING BELOW
Recommended Videos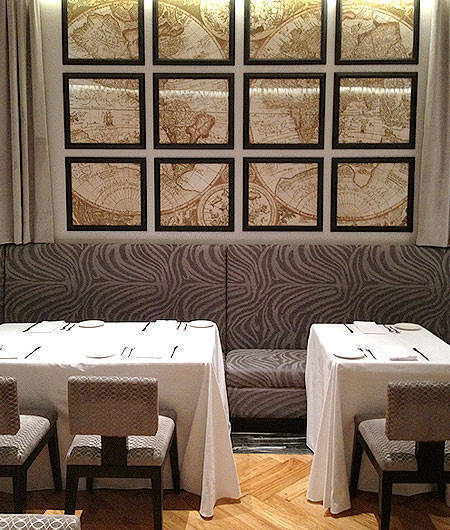 A beautiful palette of grey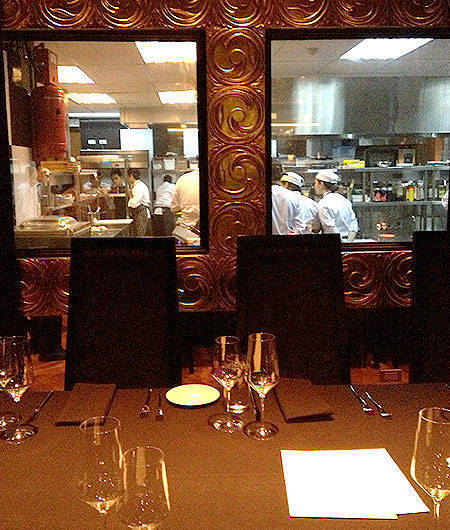 ADVERTISEMENT - CONTINUE READING BELOW
Chef's table
The two-week old bistro has been serving only the dinner crowd, drawing up the dark curtains to reveal that furtive casualness. However, they already have plans to open lunch and then breakfast when their deli begins operations. If the current dinner menu is an indication of what's next, then patrons might find themselves in Madison's from morning to night.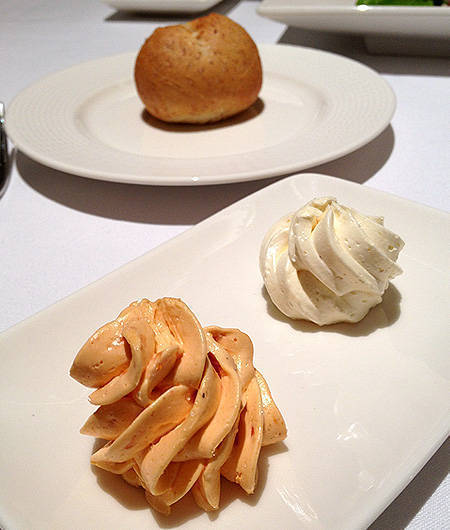 ADVERTISEMENT - CONTINUE READING BELOW
Flavored butters with the complimentary bread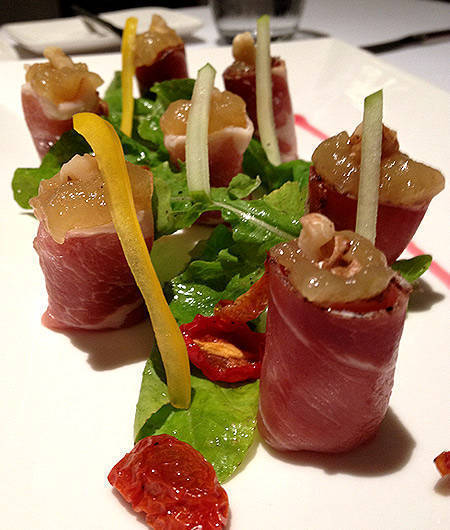 Speck and Goat Cheese Mousse
Guests start with complimentary bread baked in-house-choice between focaccia, breadsticks, sliced baguette, and bread rolls-that comes with tomato and roasted garlic whipped butters. The latter's more pronounced flavor easily stands out. The simplicity of the entree paves the way for the artistry of the Speck and Goat Cheese Mousse (P650). Speck is rolled and stuffed with truffle-scented goat's cheese then capped with an apple mustard chutney and chopped nuts-a centerpiece surrounded by roasted tomatoes, arugula, and sticks of yellow bell peppers and green apples. Each component plays a role in bringing color and texture to the plate, but they also lend a complementary flavor, every bite culminating to a wonderful medley.
ADVERTISEMENT - CONTINUE READING BELOW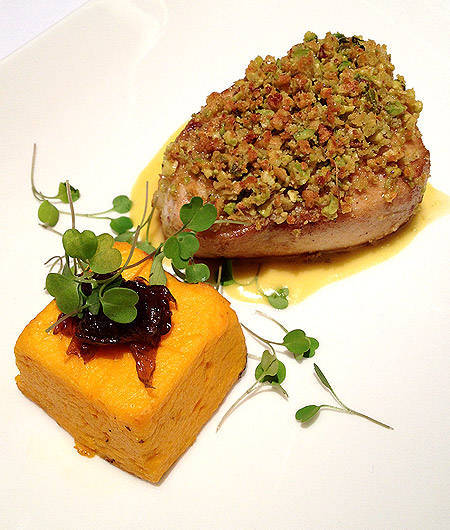 Pistachio-crusted Black Cod Fish
An easy favorite is the moist and tender Pistachio-crusted Black Cod Fish (P650). The blanket of crushed pistachios gives off a pronounced nuttiness, but it's ironically only a foil to the sides of red onion and chocolate marmalade and carrot pudding. The bright earthiness and bittersweetness from the sides transform the cod into a truly unforgettable delight. It's a signature dish in the making.
ADVERTISEMENT - CONTINUE READING BELOW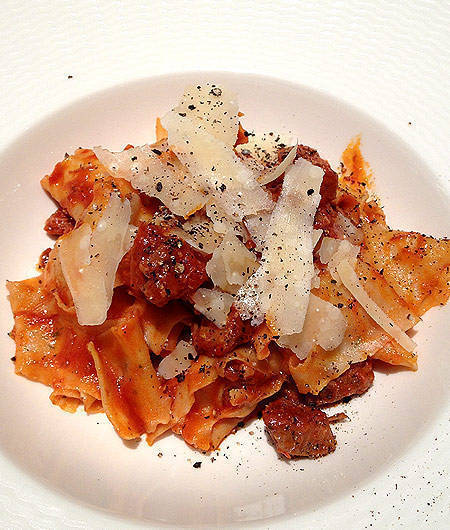 Herb Parpadelle with Lamb Stracotto
All of Madison's pastas are homemade and fresh. They have a potato gnocchi stamped with the flavor of black truffles and prosciutto as well as raviolis filled with quail egg and cream cheese. The Herb Pappardelle (P450) is soft to the bite and generously drenched in a thick tomato sauce mixed with cubes of lamb stracotto or pot roast. They also have grilled grass-fed, dry-aged Angus rib eye and beef tenderloin, which come with sides like creamy spinach, cauliflower gratin, and shoestring potatoes.
ADVERTISEMENT - CONTINUE READING BELOW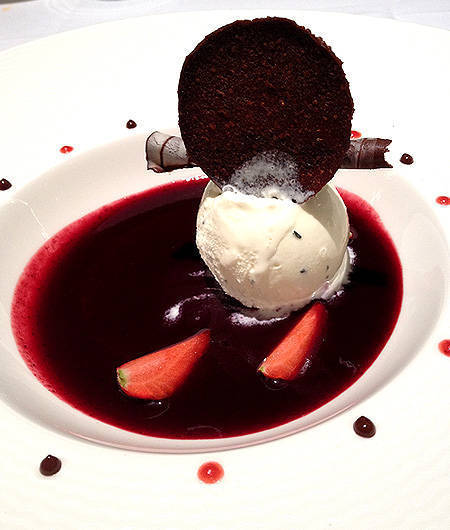 Wild Berries Soup
The desserts are noticeably nutty in nature-Pistachio Mousse Tart, Walnut Parfait and Peanut Butter and Choco Fondant. Hence, the Wild Berries Soup (P250) stands out. Its deep dark red color results from the fusion of ripe berries and red wine. The cinnamon-infused tones, meanwhile, are delectable, mellowed down with the mildly pungent minty taste of the vanilla-thyme ice cream.
ADVERTISEMENT - CONTINUE READING BELOW
Madison's is still feeling their way around, but they're off to a great start. Just don't let the high-brow interiors get to you.
Load More Stories