Top 10 Chocolate Donuts in Manila
Who needs Cronuts when you have a marriage of chocolate and donuts?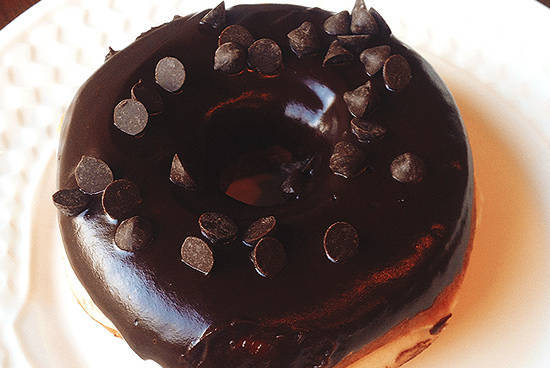 (SPOT.ph) Everyone is waxing poetic over those flaky thingamajigs they call "Cronut." But before you get ahead of yourself, remember that before a donut fell for the charms of a French pastry and made babies, they were considered one of the world's favorite snacks. No other toroidal fried confectionary can give comfort equal to a pillowy donut. It's so simple that it's often overlooked, but a perfectly fried dough-with that extra edge of chocolate-can be the most amazing thing.
Cronuts will come and go (see the demise of Wildflour's croissant donuts), but donuts and chocolate are forever. We've rounded up the 10 best chocolate donuts in Manila. The best part? No lines, no waiting.
Note: Filled donuts were not considered for this list.
ALSO READ:
Trending Now: Cronuts
Trend Alert: Meet the Crookie and Croclair (and other places you can get the Cronut in Manila)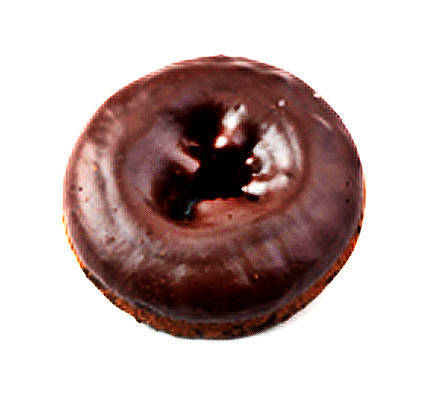 10. Happy Haus Donuts' Doble Tsokolate (P13)
ADVERTISEMENT - CONTINUE READING BELOW
The double amount of chocolate gives a hit of bittersweet, earthy flavor similar to a cup of thick tsokolate. As far as the dough goes, this one is soft, starchy, but indistinct, which summons images of pandesal or churros being dipped into heavy hot chocolate sauce on a cold, wet day. The only thing missing in the picture is a cup of joe to tame the richness and bring out the sweeter side of the chocolate.
Click here for a list of Happy Haus branches.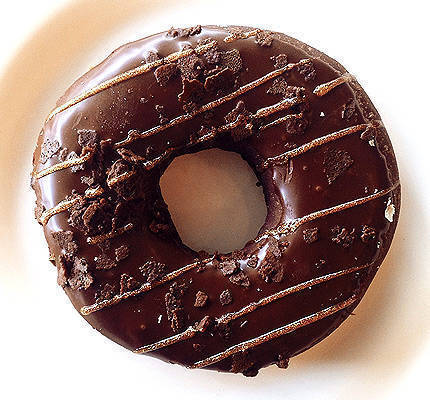 CONTINUE READING BELOW
Recommended Videos
9. Mister Donut's Choco Wafer Gold Donuts (P25)
The results of great frying are exemplified in this embellished chocolate-on-chocolate number-a surprising display of finesse from a chain pastry shop. The texture of the dough borders on a round pound cake, soft but heavy at the same time, with flavors deepened with chocolate. Showing that you can never have enough of a good thing, the entire confection is then glazed with a chocolate sauce reminiscent of sweet Goya milk chocolate. Crushed wafers on top are just for good measure. The dough flaunts darker tones of chocolate, tempering the sweetness until the last bite.
ADVERTISEMENT - CONTINUE READING BELOW
Click here for a list of Mister Donut branches.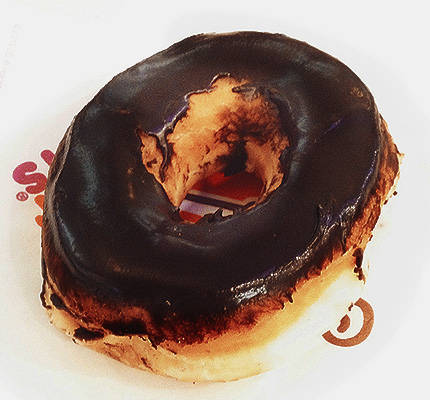 8. Dunkin Donuts' Choco Frosted Donuts (P20)
For a chain, Dunkin Donuts is more creative than most (They were one of the first to jump on the whole croissant donut trend), but their chocolate-glazed-excuse us, chocolate-frosted-ovals are as traditional as can be: a chocolate flavor reminiscent of the syrup used in ice cream sundaes and iskrambol, and its lightly crisp dough. Dunkin Donuts' strong point is the nostalgia. The glaze is more of a sauce which smears on your hands and face. But just go ahead and enjoy it. You'd have to pay a higher price for a neater donut.
Click here for a list of Dunkin Donuts branches.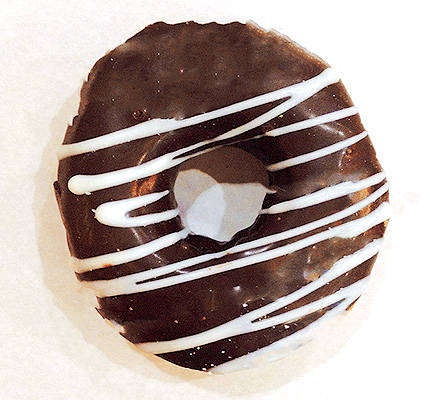 ADVERTISEMENT - CONTINUE READING BELOW
7. Go Nuts Donuts' Sugar-free Chocolate Frost (P36)
If you've never had enough motivation to gorge on a donut, this might just change your mind. Go Nuts' is sugar-free, which takes some of the guilt off the idea of consuming a deep-fried cake. On the outside,the Chocolate Frost is a picture-perfect circle with a sweet chocolate veneer coating the golden-fried dough. The waffle-like crackle reveals a creamy core that's just as satisfying as the ones spiked with sugar.
Click here for a list of Go Nuts Donuts branches.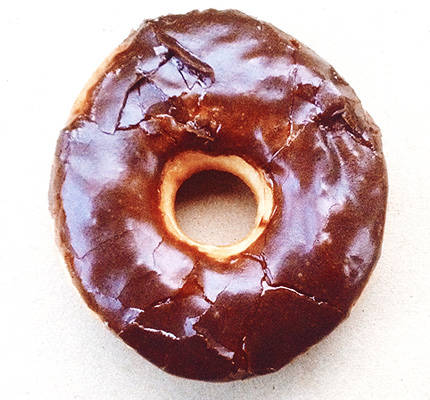 6. Chocolate Doughnuts (P36) from Cello's Doughnuts and Dips
Cello's is famous for that airy, cake-like texture with a level of sweetness that teeters precariously over the edge of tooth-threatening. The donuts are so delicately fried that the sugary surface cracks even before it reaches the box, revealing the tender dough underneath. Though slightly smaller in size, their interpretation of a chocolate donut features the divine in-between of melted Hershey's chocolate and delightful hazelnut spread. This candy-sweet little halo is definitely heaven-sent. The shiny layer of grease left on your fingers will send you back to earth, though.
ADVERTISEMENT - CONTINUE READING BELOW
Cello's has branches at Katipunan and SM North EDSA, both in Quezon City.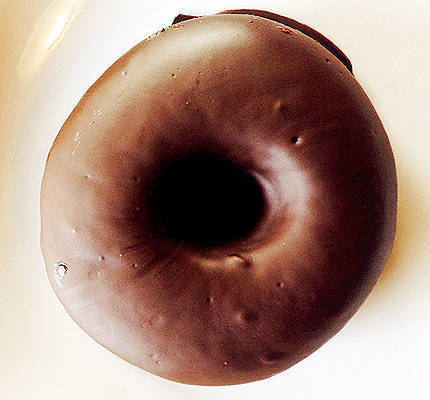 5. J. Co's Black Jack (P42)
J. Co is the leader of the Cronut resistance. This donut chain proves that you don't need flakes and mutation to attract long lines of customers outside your shop. Their version is chocolate through and through: entirely encrusted with a thick, hardened glaze, biting into it is like biting into a bar of dark chocolate. The chocolate dough underneath hints at nutty undertones-a wonderful pairing of flavors as classic as peanut butter and jelly. It's seemingly simple, but it's tricky to layer together different chocolates and make each one sing. For that, we applaud J. Co. You are worth the long wait.
Click here for a list of J. Co branches.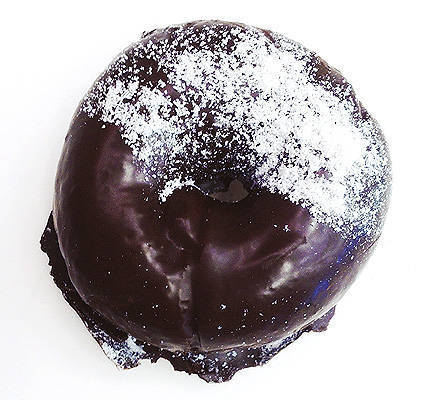 ADVERTISEMENT - CONTINUE READING BELOW
4. Bread Talk's Choc Donut (P41)
The yeasty donuts at Bread Talk appear as though misshapen dollops were just thrown into the fryer. The result is these fat, imperfect buns with a pinched hole in the middle that look like they were quickly fried before they could close in again. A salty, tempura-like flakiness in the fried dough brings out even more depth from the dark chocolate blanket. Supermarket chocolate has its own nostalgic appeal, but it's the distinct subtlety of richer kinds of cocoa that gives this sugar-dusted donut unparalleled elegance in terms of flavor.
Click here for a list of Bread Talk branches.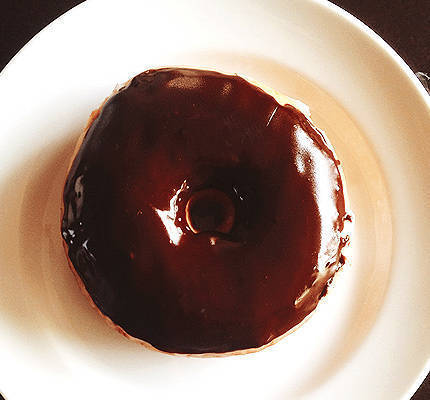 3. Starbucks' Chocolate Glazed Donut (P50)
A Frappuccino brings out the best of these saucer-sized stunners. Starbucks' chocolate-glazed donuts are fluffy with hints of vanilla. It's sweet, but not enough to overpower the light glaze on top. The chocolate flaunts the flavor of melted semi-sweet chocolate chip cookies, a good balance of the sweet and bittersweet. Remember to tell the barista that you like it warm to coax out precisely those flavors. It's nothing fancy, but, as with other kinds of comfort food, we love how Starbucks' doesn't overwhelm. This is one donut so basic, you could have it every day.
ADVERTISEMENT - CONTINUE READING BELOW
Click here for a list of Starbucks branches.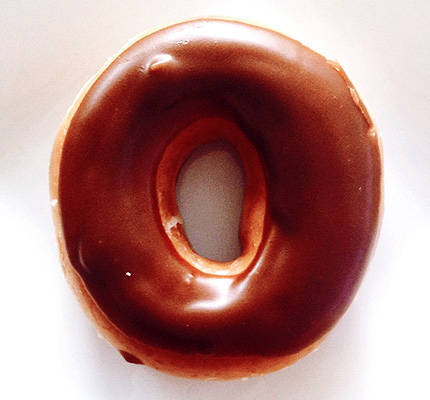 2. Krispy Kreme's Chocolate Iced Glazed Donut (P45)
For something chocolate, this donut is surprisingly underrated. We take that back. It's not surprising at all when you're in Krispy Kreme and the contest is against their now-iconic original glaze. As they say, if you can't beat them, join them. Krispy Kreme ingeniously coats their famous sweet glaze with a smooth layer of fragrant chocolate. The disguise is effective. The once-indeterminately sweet donut is transformed into something more definitive. The dough features a familiar buttery texture, but more pronounced thanks to the rich, double glaze. It's a sweet-on-sweet pairing that makes for a blissful marriage.
Click here for a list of Krispy Kreme branches.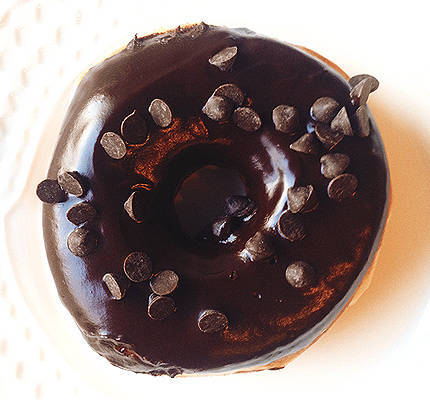 ADVERTISEMENT - CONTINUE READING BELOW
1. Scarsdale Artisanal Delights' Best Chocolate Donut in Town (P55)
Mikhail Baryshnikov once said that "fundamentals are the building blocks of fun"-this should be a lesson on creativity. The highlight of Scarsdale's menu is their croissant donuts, but that's probably because the chef does the classics exceptionally well. This chocolatey number uses a luxurious chocolate ganache instead of the traditional glaze, making a deep-fried heavyweight appear elegant. The dough is crisp but airy; a final kiss of chocolate chips creates a sensorial love affair. It tastes good chilled, but it's better warm, just like love.
Scarsdale is at 514 Shaw Boulevard, Mandaluyong City.
ALSO READ:
Trending Now: Cronuts
Trend Alert: Meet the Crookie and Croclair (and other places you can get the Cronut in Manila)

Share this story with your friends!
---
Help us make Spot.ph better!
Take the short survey
Load More Stories