(SPOT.ph) Along with K-Pop and a certain electronics brand, Korean barbecues are the latest Seoul export to take Manila by storm-and for good reason.
Korean food, as demonstrated by their colorful presentation, is all about different elements coming together to balance the salty with the sweet, the savory with the bland, the crunchy bean sprouts with the soft tofu, the fatty cuts of grilled meat wrapped in refreshing green lettuce. Sound good? It is!
In fact, Korean barbecue is so good, we looked for the 10 best in Metro Manila. Some of these places even offer unlimited Korean barbecue!
This list is not ranked.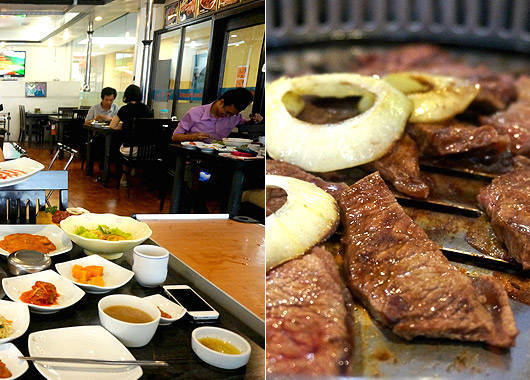 1. Jang Ga Nae
Formerly known as Minato, many consider Jang Ga Nae their favorite Korean barbecue spot, including travel show host Drew Arellano. This sit-down restaurant in Ortigas has a wide range of meats for grilling: apart from the usual samgyupsal (pork belly, P300) and chadolbaegi (thinly sliced beef, P450), you've got na yuk sal (oyster blade steak, P500), woo samgyup (beef belly, P390), so galbi (marinated beef ribs, P350), and even Wagyu dungsim (Wagyu sirloin, P1200). If you order more than two plates of meat, the server will grill it at your table; if you order just one, they'll cook it in the kitchen. They've also got galbi jim (short ribs stew) and galbitang (clear short ribs soup, similar to nilagang baka).
ADVERTISEMENT - CONTINUE READING BELOW
Service is quick and efficient, and Jang Ga Nae is especially generous with their free side dishes - tables are literally covered with banchan. They'll even throw in a kimchi jeon (kimchi pancake)! Be sure to try their free house salad, which is so popular, it's a wonder they aren't charging for it.
But hey, we aren't complaining.
Jang Ga Nae is at G/F 8137 Plaza, J. Escriva Drive, Ortigas, Brgy. San Antonio, Pasig City, Metro Manila (633-6960); open from 10 a.m. to 3 p.m. and 5 p.m. to 10:30 p.m. (Monday to Saturday) and 10 a.m. to 10:30 p.m. (Sunday).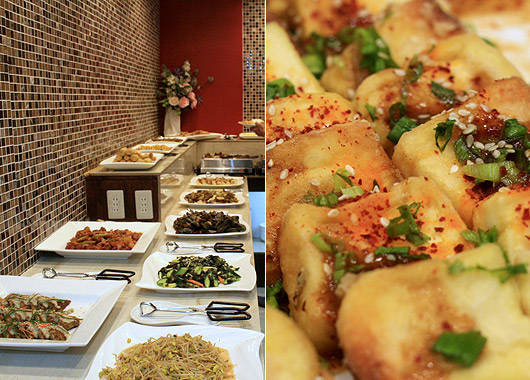 2. Don-Day Korean Restaurant
When it comes to value for money, it doesn't get any better than Don-Day's buffet. Imagine unlimited rolls of samgyupsal (P399) making their way to your table one after the other. Our advice? Level up to unlimited samgyupsal and chadolbaegi (P447).
Despite being a budget-friendly option, Don Day's tabletop grills are well maintained. The non-stick coating is visible on all their grills, which makes for a hassle-free experience. You won't even realize how much you're eating.
ADVERTISEMENT - CONTINUE READING BELOW
Recommended Videos
While waiting for your meat to cook, visit the ready-to-eat section for your side dishes and random Korean cravings: kimbap, japchae, marbled potatoes, two kinds of soup, rice cakes in syrup. The sides make good supporting players to the star of the show: the grilled meats.
Thanks to its bright, cheery interiors and friendly service crew, Don-Day is always busy. It's best to call ahead for reservations during weekends.
Don-Day is at 40 Malingap Street, Quezon City (435-0528); open daily from 11 a.m. to 2 p.m. and 5 p.m. to 10 p.m.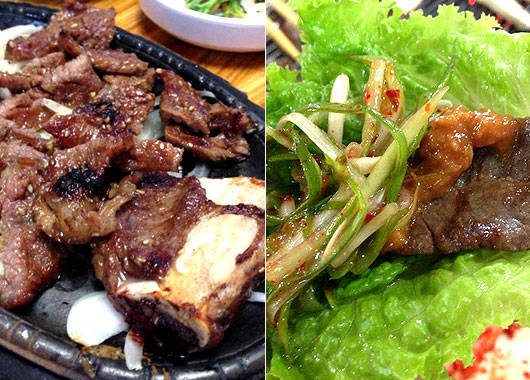 Photo by Stephie Karen King Ko
3. Ye Dang
Ye Dang offers something for every budget: Angus beef (P600), woo samgyup (P300), beef galbi (short ribs, P350). Order ribs and a plate of sweet, marinated meat will arrive at your table to be grilled by the server and cut up into bite-sized chunks. Their samgyupsal (P280) cuts are thicker and better marbled than the budget buffet options on this list. Apart from the meat, they also have all sorts of stews and noodles.
ADVERTISEMENT - CONTINUE READING BELOW
Ye Dang, sadly, no longer serves unlimited side dishes. Instead, they serve a round of side dishes, kimchi jeon, and salad-two of which you can opt to refill. The restaurant gets plus points for its homey interiors: wide, wooden tables and wallpaper with Korean characters make for an an inviting but casual setting. There's even a Korean grocery store beside the restaurant. Definitely a place for the whole family!
Ye Dang is at Meralco Avenue, Ortigas, Mandaluyong City; open from 11 a.m. to 2:30 p.m. and 5:30 p.m. to 10 p.m. (Monday to Sunday).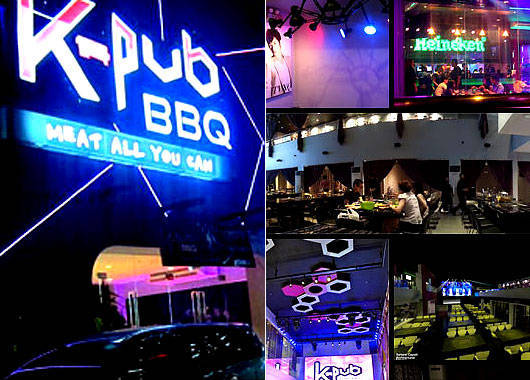 4. KPUB BBQ Restaurant
This modern grill in the heart of Bonifacio Global City has blue and purple accent lights running through the restaurant and current K-Pop hits blaring through the speakers, so it would be easy to mistake it for a club until you see the tables and grills.
For P499, diners get the "Eat and Run Challenge." That's one hour of unlimited grilling, with seven kinds of meat: samgyupsal, daepae samgyupsal (thinly sliced pork belly), chadolbaegi (thinly sliced beef), among others. For P899, you can grill for as long as you like; the meat selection includes all those under "Eat and Run," plus special cuts like KPUB beef galbi (marinated short ribs), galbi sal (rib finger), L.A. galbi (cross-cut short ribs), and red wine samgyupsal.
ADVERTISEMENT - CONTINUE READING BELOW
KPUB BBQ Restaurant is at 28th Street corner 5th Avenue, Bonifacio Global City; open from 11 a.m. to 12 a.m.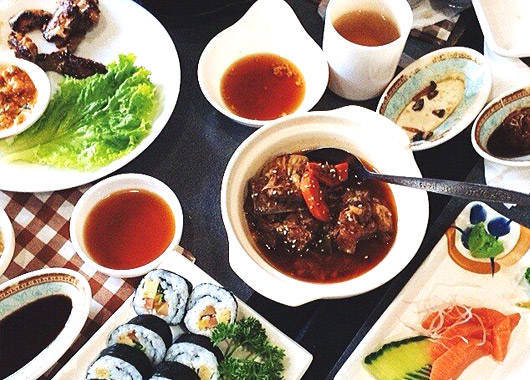 Photo by Addi Dela Cruz
5. Korean Village
For two decades, Korean Village has quietly widened its base of loyal diners. This homey restaurant, complete with plaid placemats and simple white tableware, serves both Korean and Japanese dishes.
Be sure to try their galbi jjim (P250), a savory pot of meltingly tender beef ribs. Their grill is affordable: P200 gets you roast beef, P500 gets you imported beef short ribs, and an assorted platter costs just P280. You can also try hoe, Korea's version of sashimi, for P300. All orders may be shared between three to four people, and are served with unlimited side dishes and cold tea.
With great value for money and a varied menu, it's a safe bet Korean Village will be around for decades to come.
ADVERTISEMENT - CONTINUE READING BELOW
Korean Village is at 566 J. Nakpil Street, Malate, Manila; closed on Mondays.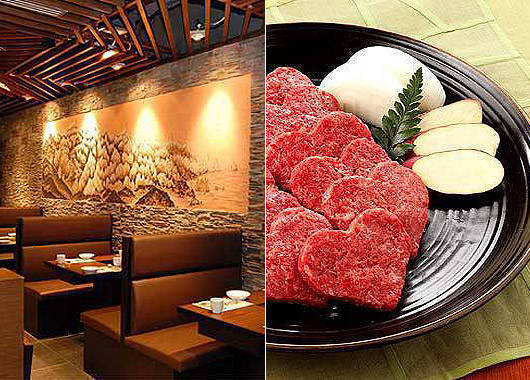 Thank the beef gods-Bulgogi Brothers is in the Philippines. The franchise from South Korea came to Metro Manila in 2011, and offers a relatively pricey but authentic journey into Korea's grilling cuisine.
Bulgogi Brothers' Unyang-Style Bulgogi (P595/six pieces, P995/12 pieces) is royal-style grilled meat, while their Seoul-style Bulgogi (P595 to P895) comes with vegetables and is cooked in a fruit-and-soy broth. Their bestseller, Bulgogi Brothers Special (P1,495), is an assorted plate of both.
On a budget? Mix up your order with cheaper options like their Sogogi Japchae (P350) or Bulgogi Bibimbap (P395). Bulgogi Brothers also offers a wide range of Korean liquor such as makgeolli (sweet rice wine, P425), chungha (refined rice wine, P425), and maechosun (plum-based, P425). Their liquor menu comes with a list of pairings for that perfect grilling experience.
Bulgogi Brothers has branches at 3/F Greenbelt 5, Makati City (621-5289, 621-6216) and 2/F SM Mall of Asia, Entertainment Mall, Pasay City (511-0639).
ADVERTISEMENT - CONTINUE READING BELOW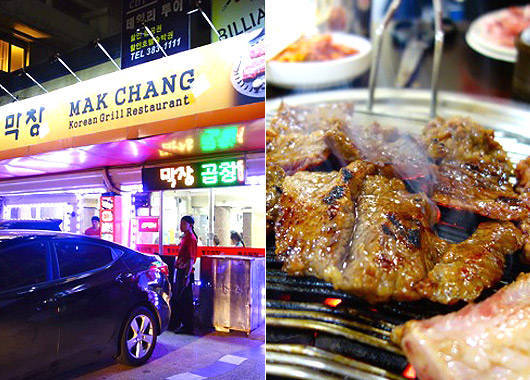 7. Makchang Korean Restaurant
Makchang gets its name from a famous Korean delicacy: makchang (P650), which is a chewy dish of grilled pork intestines. But it isn't the only special at this reasonably priced hole-in-the-wall. They've got woo samgyup (beef belly, P330), beef galbi (short ribs, P450), and samgyupsal (P250) for grilling, among others.
Waiters here are fast and loud. Makchang is open until 4 a.m. and has free WiFi, making the small eatery a good hangout on weekends.
Makchang Korean Restaurant is at 1547 Macario Adriatico Street, Manila.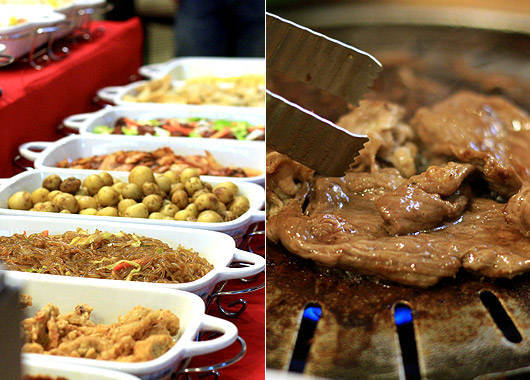 ADVERTISEMENT - CONTINUE READING BELOW
8. Hwaroro Korean Grill Restaurant
This is a no-frills restaurant. The lights are dim and even the grills can be frustrating: you might spend some time trying to scrape leftover charred meat off the pan.
Hwaroro offers something similar to Don-Day-unlimited grilling, plus a buffet of ready-to-eat dishes-but at P349, you can try more cuts of meat. This includes thinly sliced beef, beef chunks, samgyupsal, pork chops, and cream dory fillet. Some dishes on their buffet, such as kimbap and japchae, are standouts in their own right.
Hwaroro also has a refrigerator full of soju, Korea's cheap-but-strong alcohol, and is open until 4 a.m. most days of the week. It's great for the occasional barkada drinking session where the objective is to get filled up on the smallest budget possible. Just make sure you pick a table with a good grill.
Hwaroro is at 76 Scout Tobias Street, South Triangle, Quezon City; open from 10 a.m. to 4 a.m. (Monday to Saturday) and 11 a.m. to 12 a.m. (Sunday).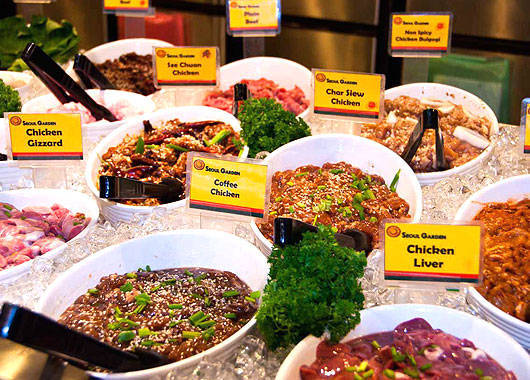 ADVERTISEMENT - CONTINUE READING BELOW
9. Seoul Garden
Korean Village may serve up Korean and Japanese food, but Seoul Garden goes for Korean and Chinese.
Seoul Garden's tabletop grill can also a metal pot where you can make your own soup, similar to hot pot. At the start of the meal, diners choose between samgyetang (a Korean broth made with chicken and ginger) or spicy broth. Once there, you can load up your pot with vegetables, shrimps, lotus root, and processed squid and shrimp balls.
As for the grilling options, you've got strips of pork and chicken in about 10 kinds of marinades. Their a la carte meals are closer to authentic Korean cuisine: bibimbap (mixed rice) or naengmyeon (cold noodles) go for under P180 each. For adults, the buffet costs P548 on weekdays and P648 on weekends; for kids under four feet, it's fixed at P328. Students get a discounted price of P388-just bring your ID.
Seoul Garden is at 2/F The Annex, SM North EDSA, Quezon City.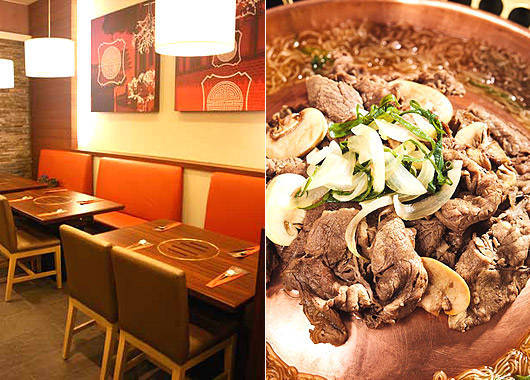 ADVERTISEMENT - CONTINUE READING BELOW
For a high-end Korean grilling experience, Sariwon is one of the best choices in Metro Manila. Start off with appetizers like doenjang jigae (soybean stew, P250) and haemul pajeon (P380) before moving on to the grill. The meat is cooked on a dome-shaped grill with a sunken perimeter in which the noodles and broth happily simmer.
The house specialty is Sariwon Bulgogi (P545) which comes with both meat and a helping of sweet potato noodles. Once cooked, you'll have a filling meal similar to Japanese sukiyaki. Seng Galbi, or US prime beef short ribs, go for P780. Each order is good for two to three people.
Sariwon has branches at Bonifacio High Street Central, Bonifacio Global City, and New Promenade, San Juan.
Share this story with your friends!
---
Help us make Spot.ph better!
Take the short survey
Load More Stories