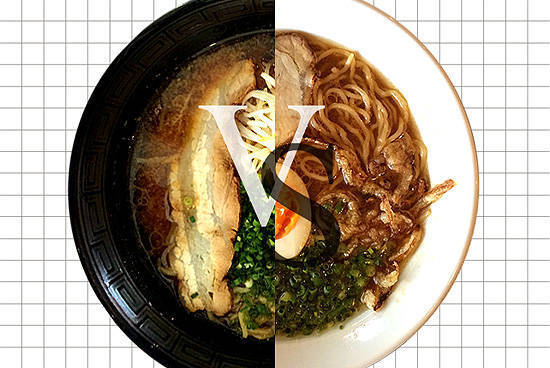 Ukokkei Ramen Ron (left) and Ramen Daisho (right)
(SPOT.ph) It is perhaps the biggest noodle battle since Liu Mao Xing won the prestigious Super Chef title at age 13-the youngest ever-by making noodles out of catfish in the celebrated manga, Cooking Master Boy (Chuka Ichiban!). This time, the culinary smackdown is between the long-established Ukokkei Ramen Ron versus the noodle rookie Ramen Daisho.
Ukokkei Ramen Ron, source of, for us, as of June 2013, has been around since 2008. With popularity and powerful flavors that attract long lines on a daily basis, bowls are hard to come by, which just makes customers want them more. The Makati government mysteriously shut down their original Makati branch in August 2012. They reopened a month later, igniting the current ramen craze. Their no-nonsense approach to cooking and dining (Ukokkei Ramen Ron has a strict no-sharing, no-loitering-after-eating policy) has earned them the moniker "Ramen Nazi." SPOT.ph, however, observed that the normally rigid rules have relaxed a bit. According to their menu, Ukokkei now offers takeout.
ADVERTISEMENT - CONTINUE READING BELOW
Ramen Daisho quietly opened 2013. The servers are friendly and they offer tomodachi (friend) loyalty cards-a free bowl of ramen on your 10th visit. They make an obvious effort into inject a little fun in the unassuming space. Customers are treated with an origami Mt. Fuji they can fold to a little stand for their chopsticks.  The challenge of finding a seat, however, does not elude this new spot. Ramen Daisho is only open for lunch and dinner.
Many ramen joints have opened in between-some of them absolutely great in their own right-but there's a special significance between these two. They may have different service styles, but Ukokkei Ramen Ron and Ramen Daisho boast the same ukokkei (a kind of chicken with silky meat and dark purple bones) broth recipe from Japanese Master Funatsu Yasuhiko.
So which is better? The final answer, of course, is a matter of preference. This is merely a helpful visual guide for the curious. For purposes of comparison, we ordered the same item from their menus: the Miso Ramen.
PRICE: They are both P300. Even their add-ons are on a relatively equal footing: as cheap as P30 (corn and bean sprouts) and P120 (chasu/grilled pork loin).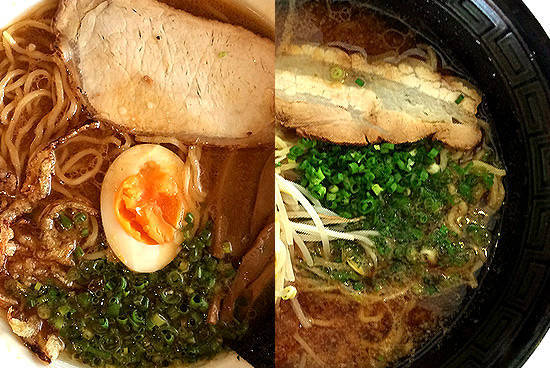 Ramen Daisho and Ukokkei Ramen Ron
COMPONENTS: The visible ingredients on Ramen Daisho's Miso Ramen are half of an ajitamago (egg), crispy fried onions, scallions, bamboo shoots, and a sheet of nori. There's only one piece of chasu, about the size of a shampoo sachet and very lean with a thin perimeter of fat. Ukokkei's, meanwhile, relies on a simple but satisfying combination of chives, lots of bean sprouts, and a very long strip of marbled chasu.
ADVERTISEMENT - CONTINUE READING BELOW
BROTH: Like all good ramen, there's a visible layer of oil on both interpretations. Ramen Daisho, however, features a slightly more orange tone. There's a tickling spice behind the strong façade of garlic and onion that develops as you make your way through the bowl. The broth is thick, rich, and sticky. Ukokkei's is slightly milder, with the wonderful bitterness of garlic serving as the primary profile. Freshness from the bean sprouts makes up the necessary break in flavor.
In both of them, miso, like always, is happily in the background, providing that delicious salty, malinamnam aftertaste. There's a tacky texture to the broth that assures you that it took both establishments hours to prepare the stock.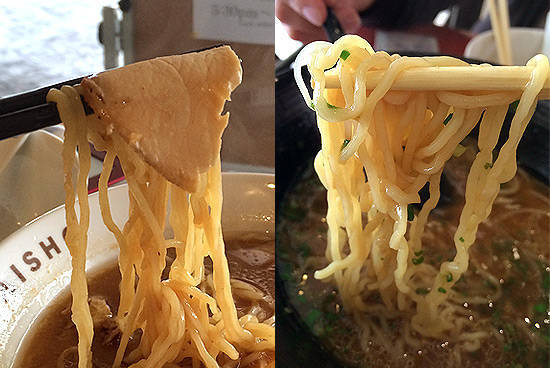 ADVERTISEMENT - CONTINUE READING BELOW
Ramen Daisho and Ukokkei Ramen Ron
NOODLES: Both use the same standard, wavy kind of ramen noodles, cooked to a delightfully springy al dente. Ukokkei Ramen Ron has been famous for the consistent texture. Ramen Daisho still has a few years to prove itself, but it's been doing a good job so far.
ACCESSIBILITY: Ukkokei Ramen Ron has three branches at McKinley Hill, Bonifacio Global City; 822 Arnaiz Avenue, Makati City; and 2126 Mabini Street, Malate, Manila. Ramen Daisho is at Sunshine Square, Liberty Center, 312 Shaw Boulevard, Mandaluyong City.
OTHER MUST-TRIES: Ukkokei Ramen Ron has an elusive Tantanmen (peanut sauce noodles) only available from 6 p.m. onwards. The specific time, we venture, is to keep you dreaming about it all night long. Ramen Daisho bought Chef Funatsu Yasuhiko's gyoza recipe as well. The little pillows of pork flaunt a soft texture filled with a delicious gingery flavor.
SERVICE: In a city where restaurants here and there are opening and closing shop, one can no longer separate food from ambiance. Apart from ramen, Ukokkei Ramen Ron has earned a reputation for their less-than-warm service. Servers have a habit of turning away customers (which is within reason since their broth is made after 48 hours of simmering), making them leave when they're sharing and/or staying after they've finished eating, or totally ignoring your raised arm all together. One (of many) aggrieved food blogger even went as far as describing the chef as "a prick."
ADVERTISEMENT - CONTINUE READING BELOW
Ramen Daisho has a friendlier approach. Waiters have a smile glued to their faces and they end a meal offering condition-free loyalty cards. Glasses are filled and refilled automatically and though sharing is discouraged, they won't give you any grief.
The difference between Ramen Daisho and Ukokkei is in the details. Tell us: which do YOU think is better?
ALSO READ:
Share this story with your friends!
---
Help us make Spot.ph better!
Take the short survey
More Videos You Can Watch
Load More Stories