Moonshine Bar
Unit 1C Valdecon Building, Jupiter Street, Makati City
Tel. No. 478-7340; e-mail moonshineph@yahoo.com
Open from 6 p.m. to 3 a.m. (Monday to Thursday)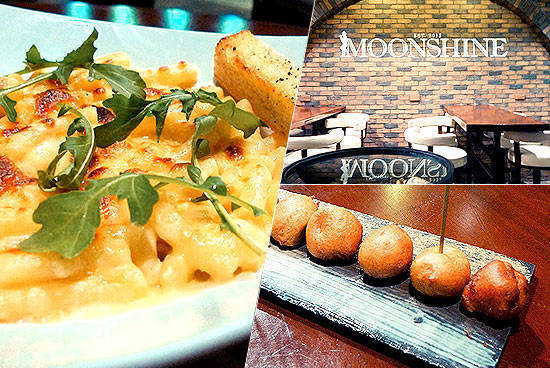 (SPOT.ph) The speakeasy is the latest place to see and be seen in in Metro Manila. Modeled after Prohibition-era alcohol dens, they are designed to be hard to find, without front signage, and sometimes even employing a password.
ADVERTISEMENT - CONTINUE READING BELOW
Moonshine is not that kind of speakeasy.
According to the owners, the only two ways it is similar to the secretive bars that have sprung up all over the metro lately is its name, which is the name given to illegal homemade high-proof alcohol, and its interior. "It's just the bar's theme," says Jared Sto. Tomas, who is in charge of the drinks. "A speakeasy is where you gathered to talk about things. We wanted a place where you could go to after work, grab a signature cocktail, and talk about your day. Nothing fancy. Even our food is nothing complicated. It's very straightforward, (based on) childhood memories."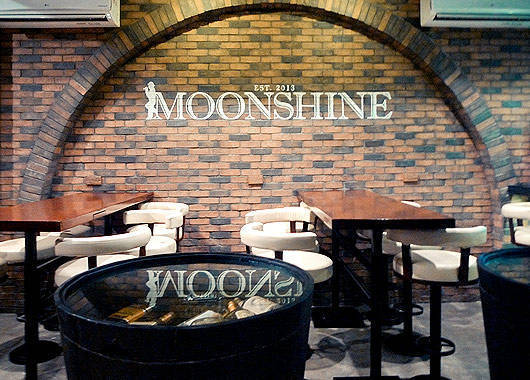 This speakeasy is no secret.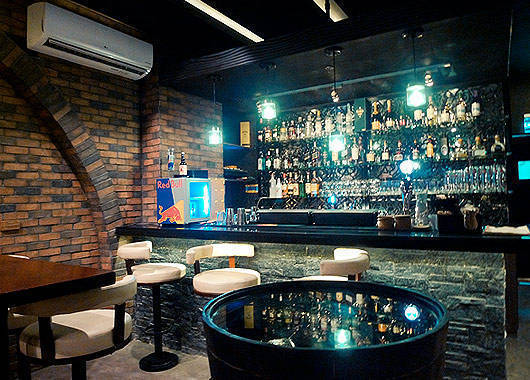 The Prohibition theme only goes as far as the decor. Here, it's all about creativity.
The interiors are dim, with lots of dark wood and glass, a modern version of the Prohibition-era hooch house that has inflamed everyone's imagination.
Moonshine's menu showcases a selection of signature cocktails cooked up by Jared and approved by all of the establishment's partners. Jared's a chef and he likes using only  fresh ingredients-a preference that's been extended behind the bar. Their drinks are crafted for the country's year-round humidity, so they're all very refreshing. He may not be a mixologist, but the team wanted something more creative to fit their personalities. "Inspiration-wise, back in the Prohibition Era, they made their own alcohol. That's something crafty. We said, 'let's make our own.'"
ADVERTISEMENT - CONTINUE READING BELOW
"I just took my culinary background, put it into the bar, and we came up with this stuff," he adds. "I'm more about flavors. What's available, what's good on the palate."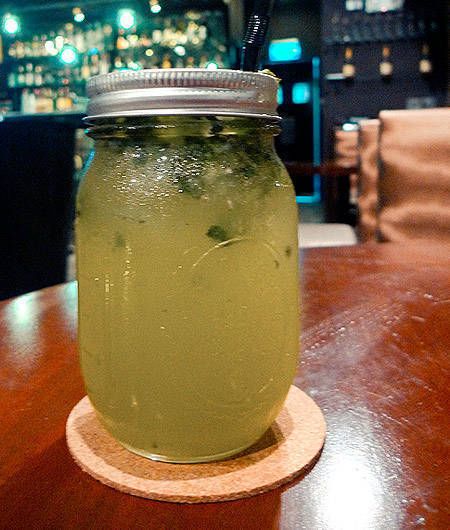 Green Sting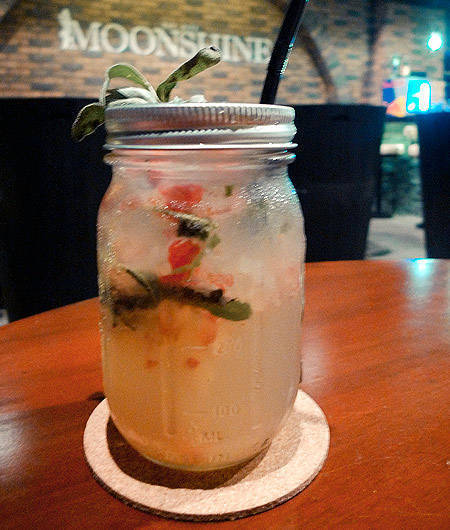 ADVERTISEMENT - CONTINUE READING BELOW
Grape Hooch
The Green Sting (P220), for example, uses calamansi, basil, and cucumber, "Calamansi is very local. The ingredients are local and available all year round," he explains. There is also the Grape Hooch (P220), which features grapes and sage. "Very perfect match. The sage has a distinct aroma and when you mix it with the grapes, you don't smell the grapes but you smell the sage and taste the grapes. It plays with your head."
Moonshine's menu deserves a look through. The selection is interesting, a cross between childhood favorites and-and this is a good thing-drunk food, or food you'll want to reach for when inebriated. "We wanted to serve food that triggers a childhood memory," says Executive Chef Jehrad Dolino. Food that's comfortably familiar but upgraded to match more mature palates.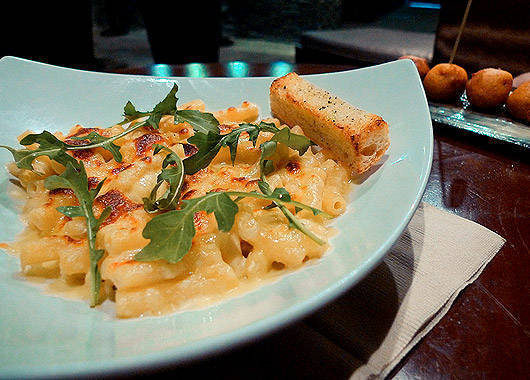 ADVERTISEMENT - CONTINUE READING BELOW
Truffle Mac and Cheese
The Truffle Mac and Cheese (P280) is a crowd-pleaser. The pasta is loaded with Emmental, mozzarella, and cheddar cheese sauce, the truffle oil complementing the tasty toasted cheese crust. It is topped with fresh arugula that cuts down on the dish's richness.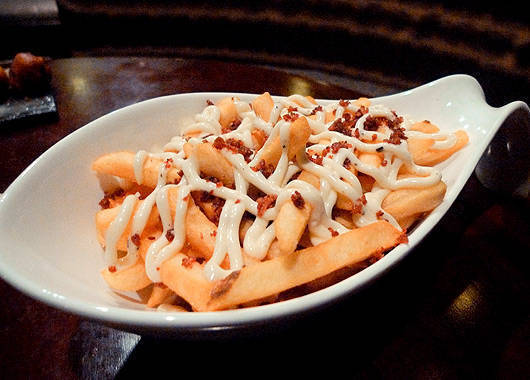 Bacon-Dusted Fries
Another favorite is the Bacon-Dusted Fries (P190), which are fries topped with bacon fat mayo then sprinkled with bits of bacon. "Everybody loves fries, and we all love bacon. We wanted to combine the two," Jehrad says. "We were also thinking of the cocktails. All of our dishes go well with our signature cocktails."
ADVERTISEMENT - CONTINUE READING BELOW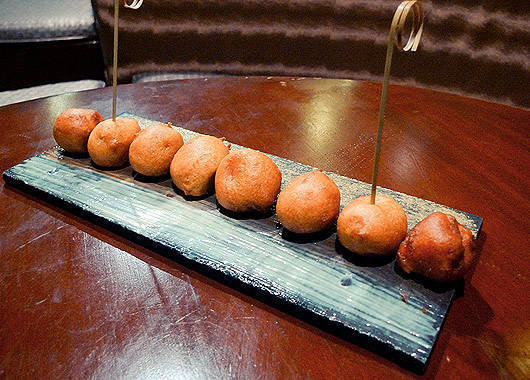 Mini Chorizo Corn Dogs
The Mini Chorizo Corn Dogs (P230) are exactly what their name says--chorizo coated in corn dog batter and deep fried. "I used to love corn dogs when I was a kid," Jehrad explains. "We made it into something different."
In the end, Moonshine is all about being able to relax at the end of the day. "Once guests step in, we want them to feel comfortable. We want them to have fun and enjoy themselves," Jehrad says. "They've been at work for nine hours and Moonshine is a place for them to unwind."
ADVERTISEMENT - CONTINUE READING BELOW
Share this story with your friends!
---
Help us make Spot.ph better!
Take the short survey
More Videos You Can Watch
Load More Stories