(SPOT.ph) The last restaurant standing will always be the one full of people eating happily. Good food, great ambiance, reasonable prices-that's the winningest formula. But a lot has to be said for innovation: gimmicks and concepts that serve a purpose other than trying to be different. These 10 we picked out, well, they're actually pretty cool and appropriate for the theme.
Standing out is clearly not a problem for these unique restaurants in the Philippines.
ALSO READ: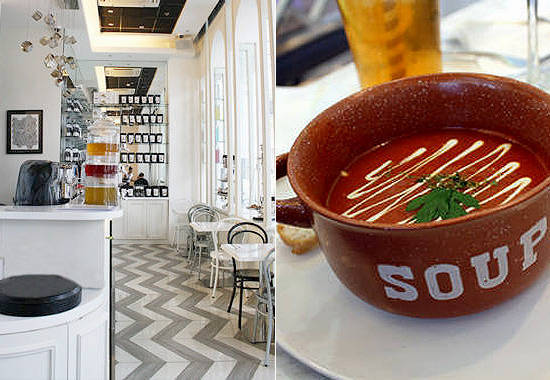 ADVERTISEMENT - CONTINUE READING BELOW
The uniqueness of this tea lounge isn't in their refusal to use uppercase letters in their name. Certified Tea Master Renee Sebastian wanted to give Manila the magic of authentic, quality tea by opening up this artisan "corner shop" first at Bonifacio Global City then in the heart of Makati. Everything in this New-York-inspired cafe is infused with tea, from the different beverage concoctions (some with milk, some with coffee, some with alcohol) to the teeny-weeny macarons. This, on top of her couture, full-leaf, hand-blended organic tea selection. You're not going to have any problem keeping awake at this restaurant.
Must-tries: Pink Chai Iced Tea (P200), Skala Tomato Soup (P160), Coffee Almond Macchiato (P140). The latter is an inspired creation that mimics the taste and scent of coffee by using tea.
da.u.de Tea Lounge is at 4th Avenue and 26th Street, Bonifacio Global City. Cafe + Bar is at Santiago corner Singian Street, Makati City.
ADVERTISEMENT - CONTINUE READING BELOW
Recommended Videos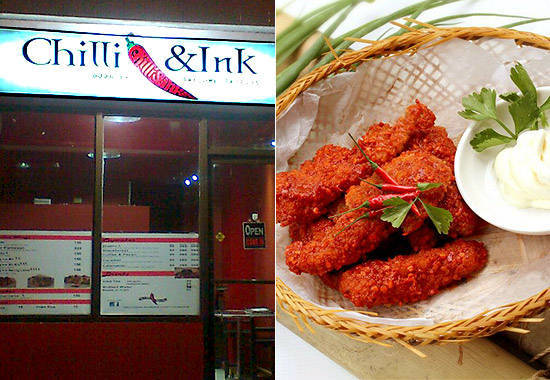 Photos from their Facebook page
2. Chilli and Ink
Spicy food and tattoos? It's not a very popular combination, but that's why this peculiar little joint is so special. Chilli and Ink was made by people with a passion for fiery flavors and skin art. It has a very laid-back ambiance that belies their food's unabashed profiles and, well, the emotions elicited from getting tattoos.
ADVERTISEMENT - CONTINUE READING BELOW
Must-tries: Chili Con Carne (P125), Hot ng Ina Mo (P150)
Chilli and Ink is at 58 Magiting Street, Quezon City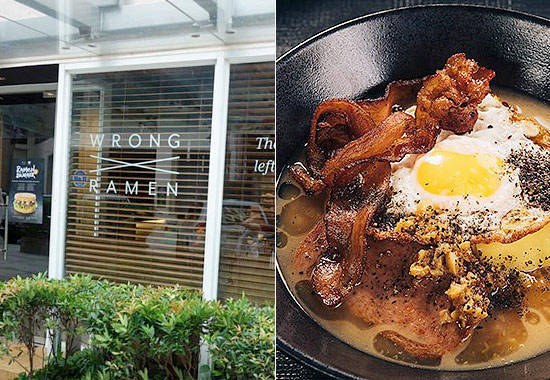 Photos from their Facebook page
3. Wrong Ramen
Coming from a cuisine that prides itself on technique and tradition, Wrong Ramen does everything, well, wrong. In this ramen-crazed city, this kitschy nook stands out by peppering their noodles with "outrageous" ingredients like Spam and bacon and giving everyone else the big F.U. Their signature Sea Men might just give Japanese chefs a heart attack. But there's just something so right about being wrong. Didn't someone important say we should embrace being different, even the mistakes?  Their philosophy is "Right ramen is made by Japanese cooks. Wrong ramen is made by idiots who think they're better than Japanese cooks." This is the black sheep of ramen houses and they're proud of it. That's what life is about! That and the cutest battery-inspired salt and pepper shakers.
ADVERTISEMENT - CONTINUE READING BELOW
Must-tries: F.U. Ramen (P425), Sea Men (P345), The Communist (P395)
Wrong Ramen is at Burgos Circle, Bonifacio Global City.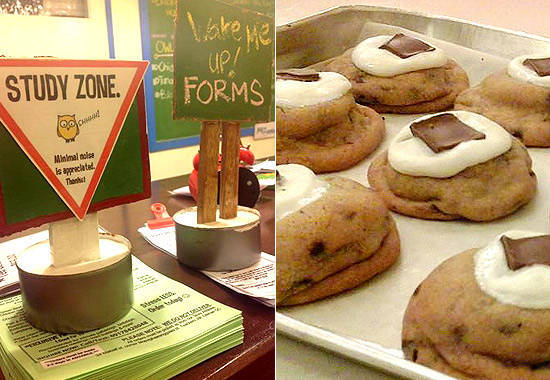 Photos from their Facebook page
4. Midnight Owl
This is the sanctuary for students, workaholics, and the in-between. Midnight Owl is open from late afternoon until the wee hours of the morning to cater to late deadlines, last-minute studying, and just plain overtime. Boards are available for group discussions and study meetings. The interiors are cozy, with mellow music humming in the background, but with an extra peppy color palette to motivate your mind to be awake and active. The whole cafe is tailored for conducive studying, so much so that they have wake-me-up slips (complete with cool trivia) in case you want to take forty winks and need to be woken up in a few minutes (there are three kinds of naps available). After all, sometimes all you need is a little rest to jumpstart the brain.
ADVERTISEMENT - CONTINUE READING BELOW
Must-tries: M.O. Lasagna (P99), Inception S'mores
Midnight Owl is at Mapagkawanggawa corner Mabait Street, Teachers Village, Quezon City.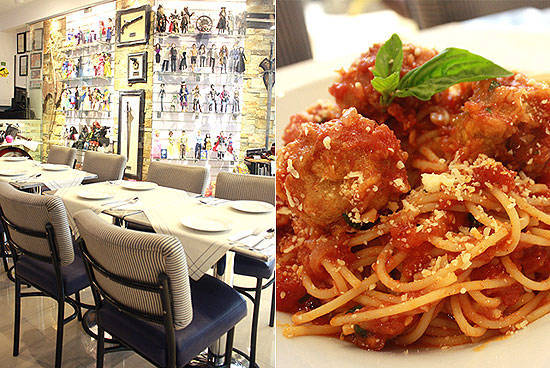 This place will bring out the geek in you. Sci Fi Cafe began as a vast toy collection. Eventually, the hobby led to fun profitability. None of the toys are for sale, but diners can run around with lightsabers and Storm Trooper helmets or fulfill a lifelong dream of becoming an Avenger while waiting for food, whose names all bear some sort of pop culture reference. They also have a growing collection of figurines, including a very enchanting glass slipper. We're not sure if you can try that on, but we're quite happy with Mjolnir, anyway.
ADVERTISEMENT - CONTINUE READING BELOW
Must-tries: Planet of the Shrimps (P420), The Godfather pomodoro spaghetti (P280)
Sci Fi Cafe is at 4/F East Wing, Robinsons Galleria, Quezon City.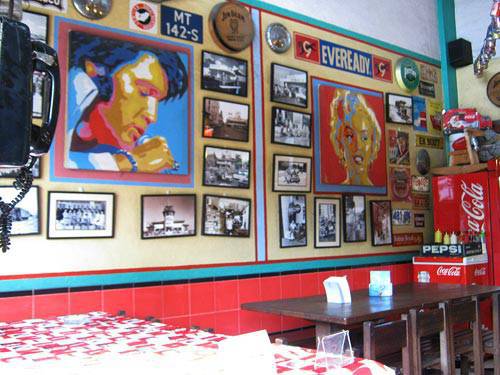 6. Mama Chit's Coffee House
This Marikina hideaway is a charming clutter of vintage odds and ends, with a roadhouse-diner vibe that doesn't ask too much for customers to relax. Coca-Cola is the main theme-there are Coke tablecloths, boxes, decor, collectibles, even photos-which makes them special, but Mama Chit features other drinks and retro finds too. Thomas Kemper cases double as flower vases and coin banks, while crates of empty Canada Dry bottles, an old-fashioned cash register, and a very eerie skull candle holder adorn the small space. This coffee house is every Coca-Cola lover's dream-though they're best known for their amazing burgers.
ADVERTISEMENT - CONTINUE READING BELOW
Must-tries: Cheeseburger (P85)
Mama Chit's Coffee House is at 278 J.P. Rizal Street, San Roque, Marikina City.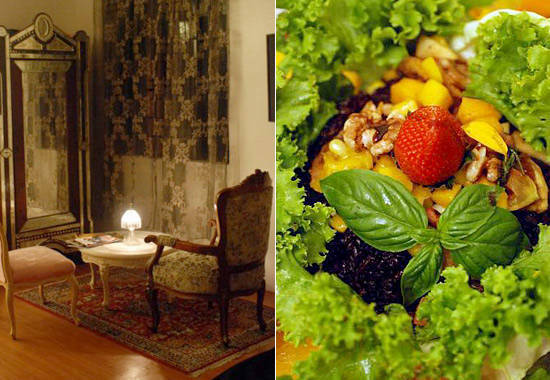 Photos from their Facebook page
7. Van Gogh is Bipolar
Van Gogh is Bipolar is owner Jetro Rafael's shout-out to all the manic-depressives out there. The theme, if you didn't already get it, revolves around the idea of bipolar disorder. The restaurant is his house: his old darkroom, the washroom, and his bedroom marked "asylum." There's a homey feel to the service. Shoes have to be left at the door. Orders have to be written down and submitted to the kitchen (prep takes about half an hour). Likewise, empty plates must be delivered back to the kitchen. Jetro's dishes are designed to alter your mood, with ingredients known to give you a natural high: grass-fed animals for energy, cabbage for serotonin, and more.
ADVERTISEMENT - CONTINUE READING BELOW
Must-tries: Larry Flynt's Cabbage Experience (P415), Picasso Lovers Set Meal (P1,499)
Van Gogh is Bipolar is at 154 Maginhawa Street, Quezon City.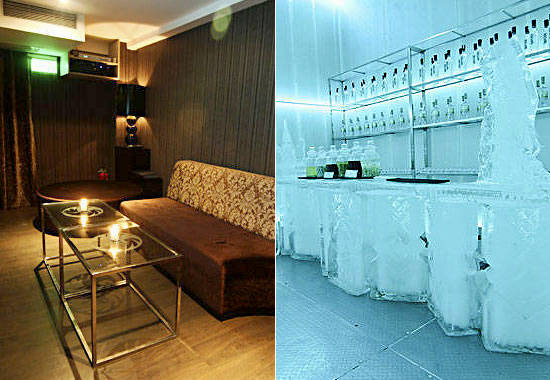 Elsa has obviously passed through this icy hub. Or, maybe not since she hates parties. The entire space is made of ice, from the tables to the glasses. Yes, you will definitely feel cool when you step inside this bar. Leave the skin-hugging dress and killer stilettos at home and dust off your (faux) furs. Temperatures at Imperial Ice Bar can go as low as -7 degrees and customers have to continually drink and dance-or occasionally hug-to keep warm. Everyone, including the bartenders, are only allowed to be in the bar 20 minutes at a time and there's a small VIP area for guests to thaw before they can brave the cold again.
ADVERTISEMENT - CONTINUE READING BELOW
Must-tries: Red Squared (P250), Imperial Black Russian (P250)
Imperial Ice Bar is at the Fort Strip, Bonifacio Global City.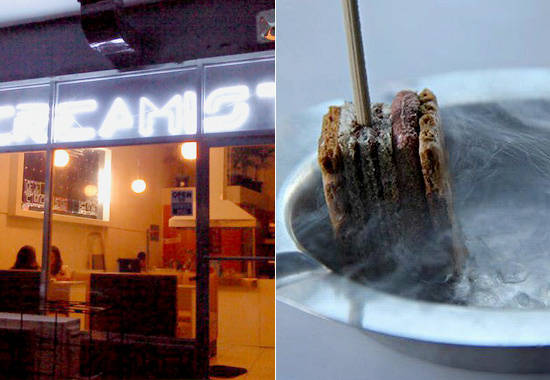 Photos from their Facebook page
9. The Iscreamist
This ice cream parlor describes itself as the "Philippines' Liquid Nitrogen Ice Cream Boutique." Having ice cream at The Iscreamist is like playing and working on a science experiment at the same time. Their desserts are flash-frozen in liquid nitrogen. Very, very cool. They even have ice cream bars that are served still smoking, so you can pretend you're a dragon-or a chimney. There's a touch of danger involved, too. Liquid nitrogen is extremely dangerous when incorrectly handled. But that's part of the fun.
ADVERTISEMENT - CONTINUE READING BELOW
Must-tries: Dragon Breath (P48), Orange Creamsicle (P70)
The Iscreamist is at Magiting Street, Quezon City.
This restaurant will take you for a spin. With its tall glass windows and revolving floors, 100 Revolving Restaurant gives diners a 360-degree view of Manila-the city's crowded character in the morning and the exquisite lights at night. We can already imagine the number of wedding proposals lined up here. Acclaimed Chef Jessie Sincioco (Le Souffle, Top of the Citi) is at the helm, so you know the food is good even before you try it. The dishes are signature Chef Jessie-playfully presented classics-but she does pull out some surprises, one of which is the aptly labeled Balut Surprise. The street food favorite is encased in a parsley-speckled puff pastry, kind of like clam chowder in a bread bowl but with a Pinoy twist.
ADVERTISEMENT - CONTINUE READING BELOW
Must-tries: Balut Surprise (P300), Revolving Tortas (P250)
100 Revolving Restaurant is at 33/F MDC 100 Building, C5 corner Eastwood Drive, Quezon City.
ALSO READ:
Your guide to thriving in
this
strange new world.
Share this story with your friends!
---
Help us make Spot.ph better!
Take the short survey
Load More Stories