10 Best Places For Thai Food in Manila
There's nothing you won't love about explosive Thai food.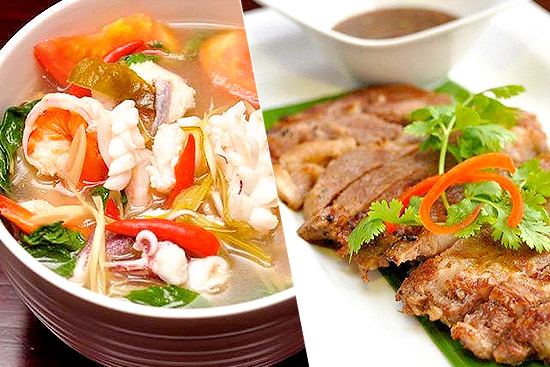 (SPOT.ph) The current No. 1 restaurant in Asia, according to Acqua Panna and San Pellegrino, is Nahm, a Thai food sanctuary in Bangkok (with another branch in London) purveyed by Australian-born chef David Thompson. From no one knowing what pad thai was outside Asia to recently becoming one of the trendier cuisines in New York, Thai fare soldiered on in the global food scene for decades before its explosive flavors finally broke through.
As is the case with most Southeast Asian cuisines, Thai food is difficult to "commercialize" because the sense of hominess is part of its charm. Just like how the best sinigang will always be the one we have at home. Still, a middleground was reached and Thai food has become the favorite of many. It's a cuisine that assaults the tastes in its complexities, unabashed elements, and explosive balance. What's not to love?
We list the 10 best Thai restaurants in the Philippines that will captivate you with those flavors.
 This list is not ranked. Hotel restaurants were not considered.
ALSO READ:
10 Best Filipino Restaurants in Manila
10 Best Italian Restaurants in Manila
Top 10 Pad Thai in Manila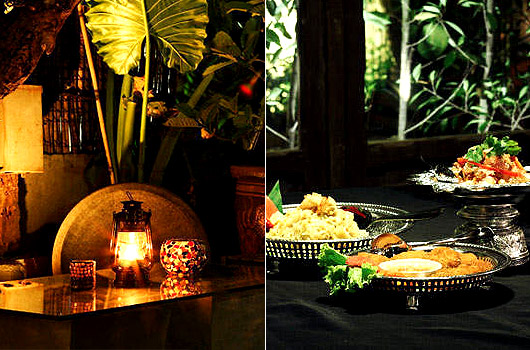 ADVERTISEMENT - CONTINUE READING BELOW
Katipunan Avenue corner White Plains, Quezon City
Tel. No. 911-4158
Open daily from 12 p.m. to 10 p.m.
This beautiful destination restaurant on the tip of White Plains Avenue takes a more upscale approach to Thai food. The façade looks like a timeworn Zen-like house while the inside flaunts an indoor garden, with greenery and waterfalls taking you a step closer to nature-a fitting atmosphere for the fresh flavors in Thai cuisine.
Basil is named after Thai basil (bai horapa), which is one of their most common seasonings. That alone should tell you about the kind of profiles you'll get here. Everything is made from scratch, with spices ground manually to get those precise flavors.
CONTINUE READING BELOW
Recommended Videos
Must-tries: Yum Som Oh (pomelo and shrimp salad, P295), Pad Gra-Prow Nua (Wagyu beef with basil, P325), Kaeng Phed (red curry with your choice of protein, P325)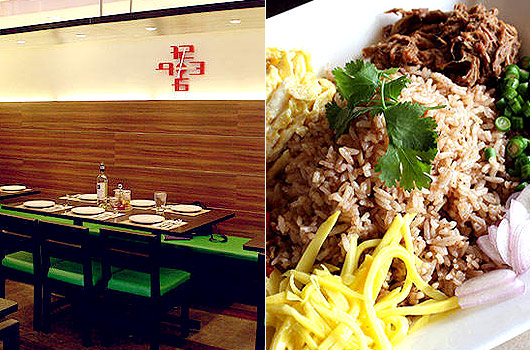 16C United Street, Kapitolyo, Pasig City
Tel. No. 655-8395
Open from 11 a.m. to 11 p.m. (Monday to Thursday), 11 a.m. to 12 a.m. (Friday and Saturday), 11 a.m. to 11 p.m. (Sunday)
ADVERTISEMENT - CONTINUE READING BELOW
Nav is decidedly not as authentic as purists would want it to be. Chef Francis Lim pushes for a hipper take on traditional fare. The interiors are more minimalist than ornate, with the wood-decked space featuring only bits of Asian detail. Spice is the qualifier in their very curated menu, punching up those already intense flavors with more heat. Even the salads aren't spared. Don't worry, you're allowed to tone it down.
Must-tries: Crispy Catfish Salad (P245), Bagoong Rice (P225), Yellow Crab Curry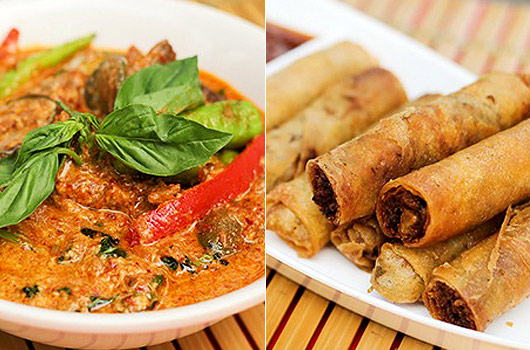 Photo from Beeconomic
3. SOMS Noodle House
5921 A. Alger Street, Poblacion, Makati City
Tel. No. 757-8079, 0917-922-7648
Open daily from 10 a.m. to 10 p.m.
If no-frills Thai is what you're looking for, you'll only need to go as far as SOMS Noodle House. The hole-in-the-wall charges incredibly low for their formidable flavors that complaining about the occasional mosquito or fly buzzing around seems like bad manners after all that hospitality. It has a "street-food" appeal that mixes well with Thai cuisine. Flavors are Filipino-friendly, milder but still stunning. SOMS is often crowded with Rockwell residents and students, so getting a seat isn't always easy.
ADVERTISEMENT - CONTINUE READING BELOW
Must-tries: Moo Ping Bai Cha Plu (pork skewers, P260), Tom Yum Talay (P145), Phanaeng Neur Yang (beef tenderloin curry, P360)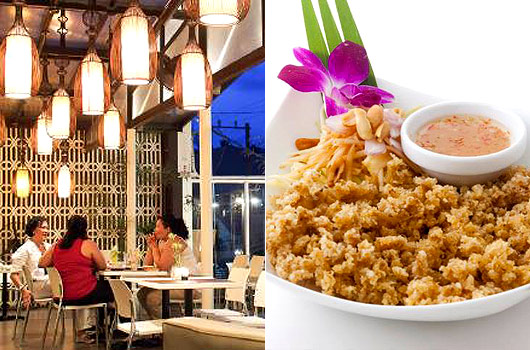 Photos from Thaipan's Facebook page
4. Thaipan
120 Scout Lazcano Street, Tomas Morato, Quezon City
Tel. No. 352-4926, 0917-808-0718
Open daily from 11 a.m. to 3 p.m. and 6 p.m. to 11 p.m. 
If it's true that Thai food is best eaten at home, then you'll find the best pad thai and tom yum in this converted residence. Thaipan labels itself as a fine-dining restaurant, and the decor suits this description. The restaurant has a modern garden ambiance, lots of white, with greenery here and there. Accents come in sophisticated black, including wall panels with intricate vine patterns-perhaps the only oriental hint in the entire space. Serving size, as seemingly customary in upscale dining destinations, is a tad small, but packed with flavors strong even for Thai standards. 
Seating caters more to groups, but with the exquisite setup, it's not too hard to imagine it as a date destination.
ADVERTISEMENT - CONTINUE READING BELOW
Must-tries: Pad Thai (P310), Tom Yum Kung (P130/personal serving), Tod Man Kung (crab cakes), Poo Nim Pud Pong Karee (stir-fried crablets), Tah Koh Sakhoo (pandan and coconut, P160)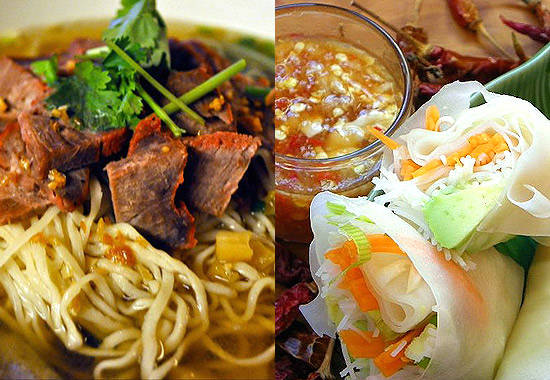 Photos from Songkran's Facebook page
Aguirre Avenue, BF Homes, Paranaque City
Tel. No. 829-2963
Open daily from 11 a.m. to 2 p.m. and 6 p.m. to 10 p.m.
G/F Valero Car Park, 149 Valero Street, Salcedo Village, Makati City
Tel. No. 893-7551
Open daily from 10 a.m. to 2 p.m. and 5 p.m. to 10 p.m.
The person behind Songkran's authentic eats is a Thai chef affectionately nicknamed "Mommy Tum." With her motherly charm and generously, Mommy Tum loves spoiling her customers with flavors from her homeland through authentic dishes that are friendly on the budget. In fact, she already has two branches, both featuring a bright and loud façade that reflects the colorful flavors of Thai cuisine.
Must-tries: Crispy Catfish Mango Salad (P215), Mint and Lemongrass Tea (P95), Crab Meat Fried Rice (P225), Yellow Fish Curry (P165)
ADVERTISEMENT - CONTINUE READING BELOW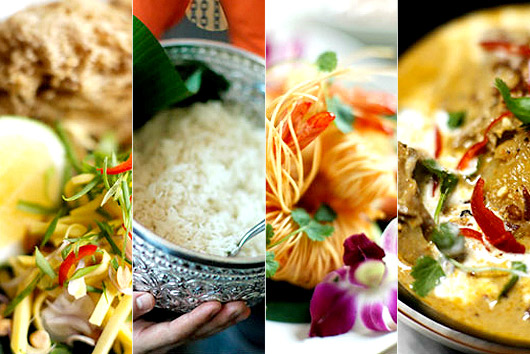 Photos from People's Palace's website
6. People's Palace
G/F Garden side, Greenbelt 3, Makati City
Tel. No. 729-2888
Open from 11 a.m. to 2:30 p.m. and 6 p.m. to 11 p.m. (Monday to Thursday), 11 a.m. to 12 a.m. (Friday and Saturday), 11 a.m. to 11 p.m. (Sunday)
When it comes to Thai food, People's Palace is one of the default choices. Chef Colin McKay (also of Sala, Sala Bistro, and the soon-to-open Blackbird) creates an updated menu from traditional Bangkok food. It is vast, with a good variety of catfish, savory cakes, spicy soups, satay, as well as more uncommon options like duck and other Southeast Asian fare. People's Palace also has a separate Vegetarian selection that wins the taste buds of carnivores and herbivores alike.
The interiors are modern, very cosmopolitan, and not at all like traditional home-style Thai. Prices are more expensive compared to other Thai restaurants, but still relatively affordable. People's Palace is always a winner when you want to celebrate spicy flavors.
ADVERTISEMENT - CONTINUE READING BELOW
Must-tries: Road Duck Breast (P540), Grilled Squid and Pomelo Salad (P380), Chicken Curry with Crispy Noodles (P390), Grand Salad (P340)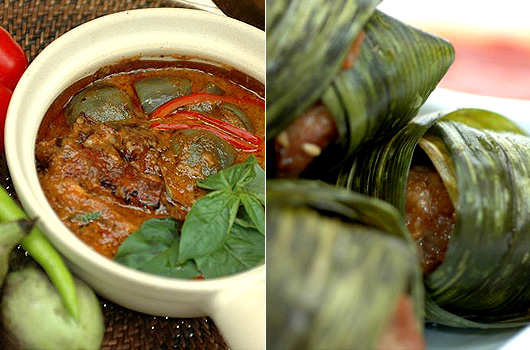 Photos from Jatujak's Facebook page
7. Jatujak Thai Resto

Click here for a list of Jatujak branches.
Jatujak is named after Thailand's biggest outdoor market, Chatuchak, just a short distance away from Bangkok. It's styled more like a slightly upscale fast food joint rather than an ornate Asian dining destination. Despite the speedy service, the place is always full and busy-kind of like Chatuchak during weekends. Jatujak is part-owned by a Filipino restaurateur so it immediately offers something appealing to Pinoys: prices are cheap for the generous servings. Flavors are tamed, but still characteristic of Thai food.
Jatujak president Al Purugganan and Chef Tum also opened a more upscale version, Tamarind, in SM Aura Premier.
Must-tries: Shrimp Pad Thai (P185), Tofu Salad (P140), Tom Yum All-Shrimp (P195), Thai Iced Coffee (P70)
ADVERTISEMENT - CONTINUE READING BELOW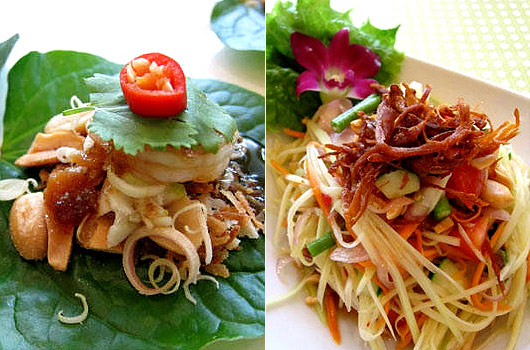 G/F Greenbelt 5, Ayala Center, Makati City
Tel. No. 729-0860
Open daily from 11 a.m. to 3 p.m. and 5:30 p.m. to 2 a.m. 
You can't really go wrong with a place that prides itself on simplicity-though there's really nothing simple about Thai cuisine, is there? Contemporary Thai food is Chef Cecille Chang Ysmael's specialty and, despite a few tweaks here and there, she knows better than to fool around with those time-honored flavors. She ping-pongs between Bangkok and Manila to source only the best ingredients that speak volumes about the profiles of her dishes. Dishes are exquisitely spicy-unabashedly so-and Chef Cecille applies that kind of precision to the interiors as well: bird cage lights float from the ceiling, intricate floral wallpaper adds charm, dim lighting creates intimacy.
Say what you will about Simply Thai, but Chef Cecille is known for her consistency. She has other Thai haunts-the now-defunct Thai at Silk in Serendra and the recently opened Silk Road at the Net Quad Corporate Center, Bonifacio Global City.
ADVERTISEMENT - CONTINUE READING BELOW
Must-tries: Mieng Kham (shrimp and coconut on betel leaves, P220), Lamb Shank (P565), Pork Confit with Chili Caramel Sauce (P310)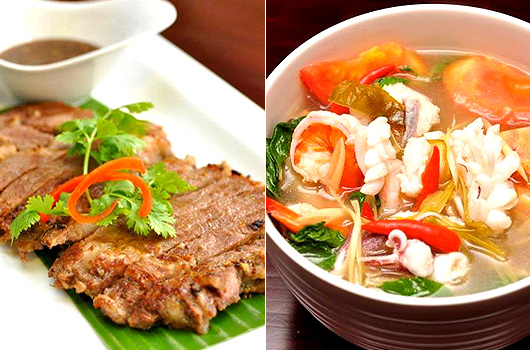 Photos from Azuthai's Facebook page
9. Azuthai
Milkyway Building, 900 Arnaiz Avenue corner Paseo de Roxas, Makati City
Tel. No 817-6252
Open daily from 11:30 a.m. to 2:30 p.m. and 5:30 p.m. to 10 p.m. 
Chefs Malichat and Watee are the culinary brains behind this restaurant's critical acclaim. Both have over a decade of experience in five-star kitchens. Take their talents and Chef Jay Gamboa's extensive restaurant skills and you undoubtedly have something good. Recipes are heirloom and dishes are home-style-just as Thai food should be. The owners juxtapose traditional meals with a current setting that's spacious, ornate, very sophisticated, and relaxing. It's almost spa-like, in fact. The entrance features invigorating wood walls with indentations and green accents. It gets more intricate further in: steel lattices installed over the ceiling, kitschy Thai ornaments, cage chandeliers.
ADVERTISEMENT - CONTINUE READING BELOW
Their marriage of classic and contemporary is so seamless, we don't doubt how Azuthai snagged a place in the 2013 Miele Guide.
 Must-tries: Appetizer Sampler (P375), Tom Kong Pa Krop (tamarind soup with seabass, P345), Massaman Gaeh (lamb curry, P395), Scallop Pad Bai Horapa (stir-fried scallops with sweet basil, P595)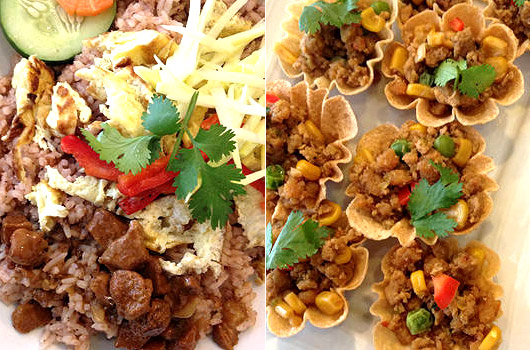 10. Bangkok Cafe
G/F 8101 Pearl Plaza, Pearl Drive, Ortigas Center, Pasig City
Tel. No. 638-7036
Open from 10 a.m. to 10 p.m. (Monday to Saturday) and 10 a.m. to 9 p.m. (Sunday)
If budget is your basis, then this is the Thai restaurant for you. Bangkok Cafe offers the wild flavors of Thailand for a budget of around P200 per person. The place is understated-though maybe a few notches above SOMS-with arful presentations that make you feel you're somewhere much more high-end. Eating in one of the five tables can be a tight squeeze in this Ortigas haunt, but that just adds to the charmingly cozy appeal. The chef is Anton Alcazar whose on-point combinations and faultless balance have impressed even the likes of Kris Aquino. The menu is a neverending story, built from Chef Anton's 25-year experience. 
ADVERTISEMENT - CONTINUE READING BELOW
Must-tries: Tod Grathiam Prig Thai Nua (Thai-style beef dressed in garlic and pepper, P248), Goong Phan Oy (shrimp cake, P278), Krathongthong (ground chicken and shrimp in pastry shells, P218)
ALSO READ:
10 Best Filipino Restaurants in Manila
10 Best Italian Restaurants in Manila
Top 10 Pad Thai in Manila
---
Help us make Spot.ph better!
Take the short survey
Load More Stories