A Sneak Peek at the New CYMA Greek Taverna
Only SPOT.ph blogger Angelo Comsti has the details on this Greek restaurant's transformation.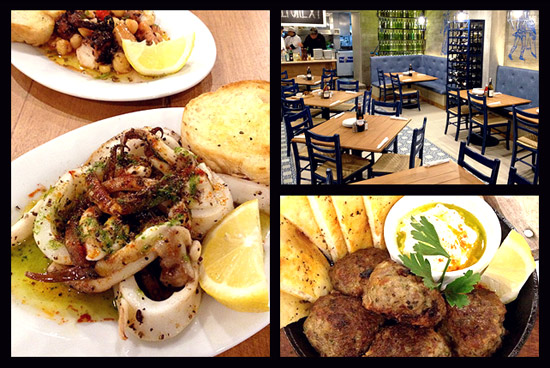 (SPOT.ph) Chef Robby Goco's CYMA has established itself as a go-to dining destination for anything Greek. Its reliable and consistent service through the years has made it a benchmark for other establishments. And, like a true tastemaker, Chef Robby is once again setting the pace-creating a new one, in fact-with new techniques, a new menu, and new interiors.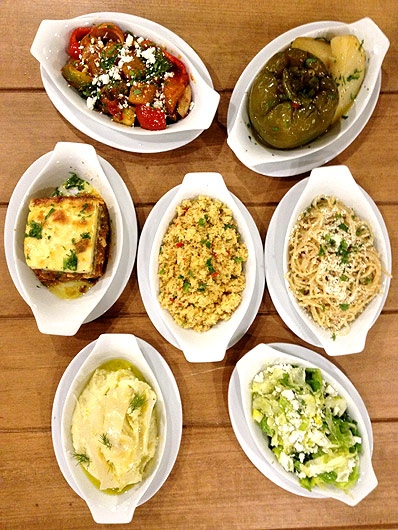 A little preview
From being one of the first Greek tavernas in the city, Chef Robby is updating his repertoire to set CYMA apart from the standards he himself set. "I asked my Greek friends, went back to the country, and tried to understand how their cuisine could go well with our culture." Through his reassessment, Chef Robby realized that Greece has significantly evolved from his last visit.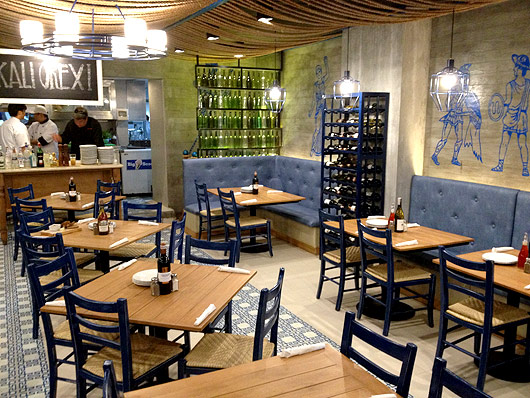 ADVERTISEMENT - CONTINUE READING BELOW
The new interiors still give off that laidback vibe.
"When I went before, the tzatziki didn't have carrots or beets. Now, they do. They're using more scientific methods in food preparation. They're growing stuff in Greece that they never did before. They're learning whereas before they were purists to their cuisine." Chef Robby took this realization back home by updating ingredients and integrating fresh trends in cuisine and decor. After what's been a month, CYMA in Shangri-La is now ready for that new style of service-the first of the brand's eight branches.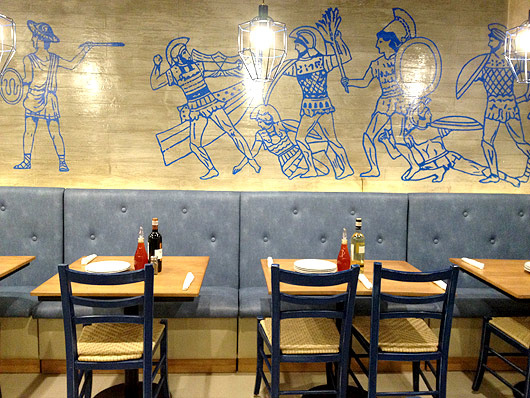 CONTINUE READING BELOW
Recommended Videos
A more understated shade of blue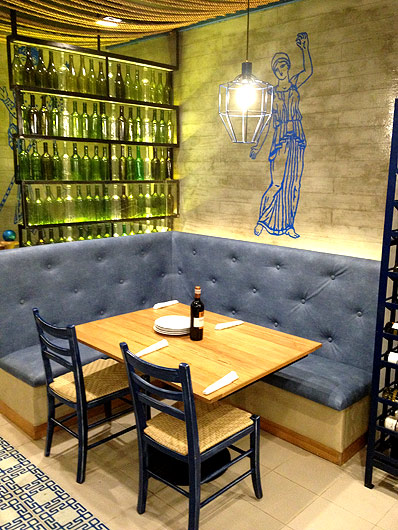 ADVERTISEMENT - CONTINUE READING BELOW
Cozier booths
The interiors are still predominantly blue-from the seat cushions and floor tiles to the lamp base and graphic gladiators printed on the bare walls-but noticeably simpler. However, the 20 new dishes sharing space with CYMA's all-time favorites proves to be the biggest change. Service has been revamped, with the drinks being finished tableside and the trained servers circling the area with a tray full of mezzes and a mental textbook about what each one is.
Chef Robby is also going the healthy route. He replaces butter with the best extra virgin olive oil. More than 60% of his ingredients, including feta cheese, olives, honey, fresh oregano and filo pastry, are flown in from Greece, guaranteeing only the most authentic-something that he's sure no other Greek restaurant can claim.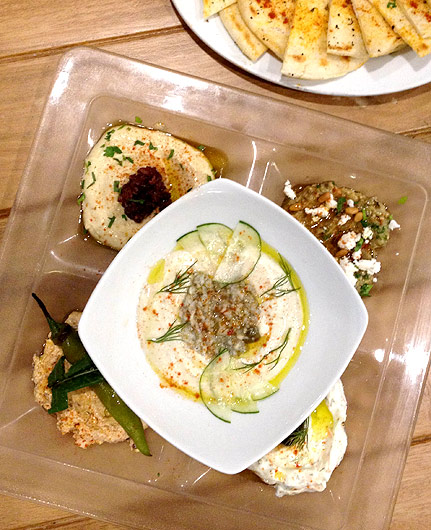 Dips sampler
In keeping with the times, CYMA's new dishes fall into a more progressive interpretation of the cuisine: hummus has a dollop of kalamata olive tapenade, tzatziki has shredded carrots, melitzanonosalata or roasted eggplants has pine nuts, and taramosalata has dulong confit.
ADVERTISEMENT - CONTINUE READING BELOW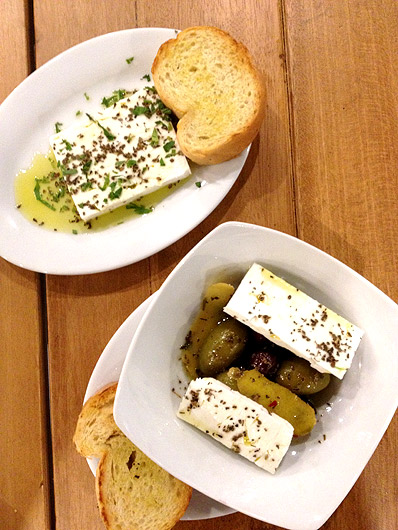 Barrel-aged feta and marinated olives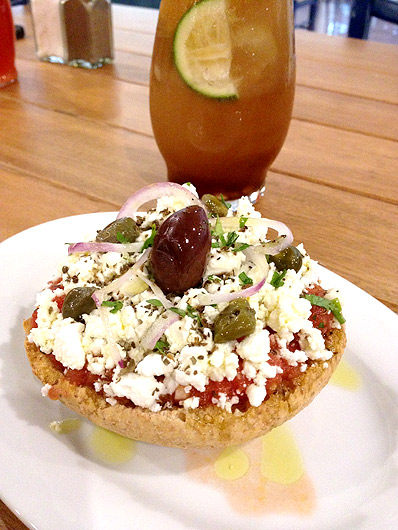 Dakos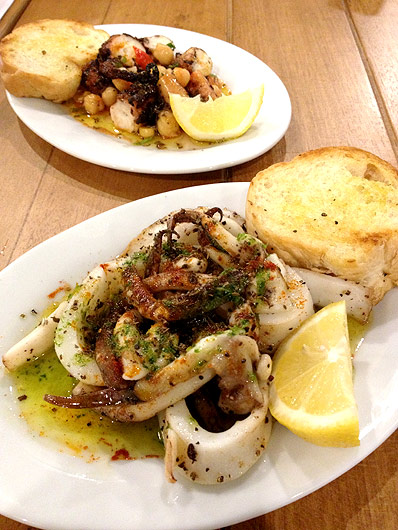 ADVERTISEMENT - CONTINUE READING BELOW
Octopus with Chickpea Salsa (foreground), Cuttlefish Sepia (background)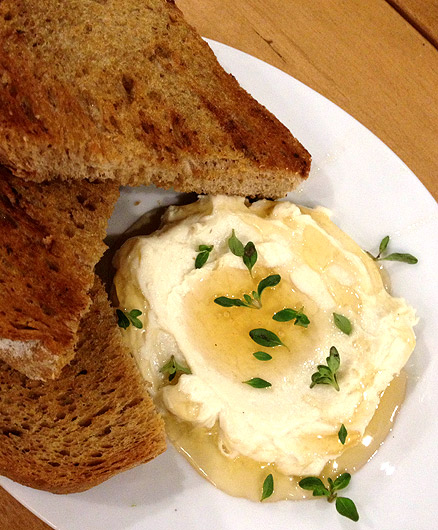 Anthotiro Cheese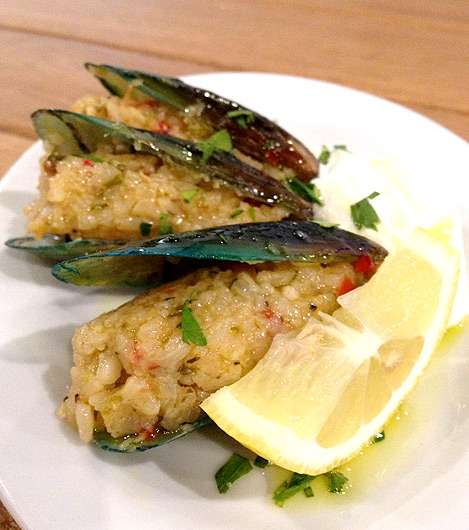 Midia Gemista
Mezedes are small-plate dishes intended to kickstart your palates, but the wide variety in the new menu might just fill you up. There's the thick and spreadable homemade anthotiro cheese (P220) with Greek honey emphasizing the subtle saltiness of cheese; the Dakos (P120), a very satisfying dish where crumbled feta, capers, and oregano amp up crusty bruschetta soaked in tomato pulp; the tender Cuttlefish Sepia (P190) and Octopus with Chickpea Salsa (P160), with tame flavors brightened by a squeeze of lemon; the Lamb Keftedes (P300) or meatballs served with toasted pita wedges; the Midia Gemista (P130), sushi rice-stuffed mussels that surprise you with a pop of natural sweetness from the sultanas; and the rich Ahino Salata (P130), which pairs refreshing cucumber slices with delicate sea urchin. Chef Robby rallies along with the small plate revolution that allows customers to have a varied and consequently more enjoyable meal rather than finding comfort in one big, hefty dish.
ADVERTISEMENT - CONTINUE READING BELOW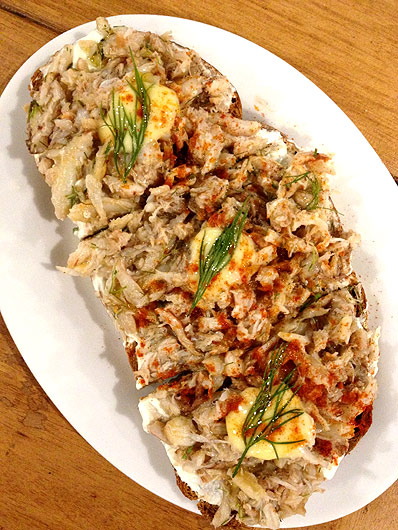 Crab toast with lemon aioli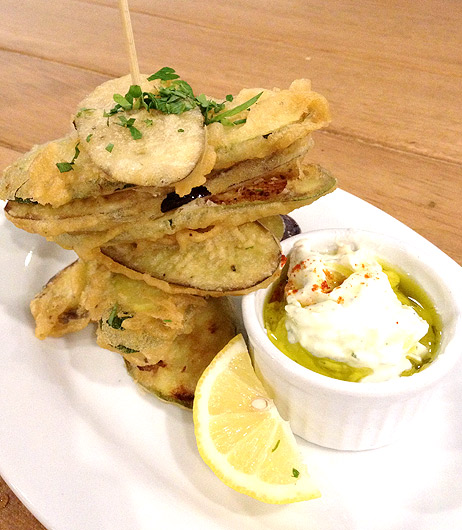 Kolokithakia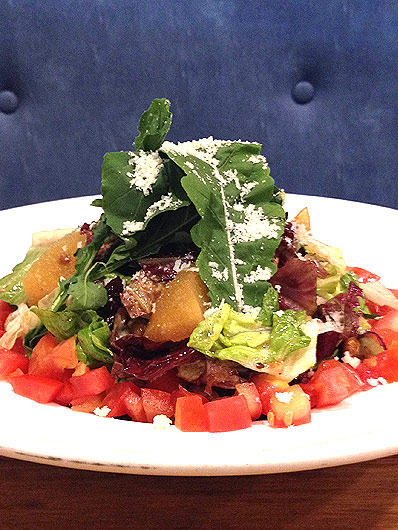 ADVERTISEMENT - CONTINUE READING BELOW
Caramelized Pear Chopped Salad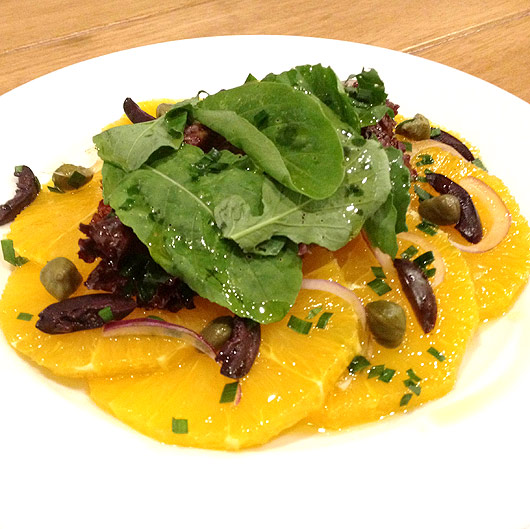 Portokali Salata

Two new salads make for welcome alternatives to the bestselling Roka Salata-the Caramelized Pear Chopped Salad (P380/solo), an earthy delight made with blue cheese, walnuts, beets, and a white balsamic vinaigrette; and the refreshing Portokali Salata (P200/solo), which marries the citrusy sweet taste of oranges with the saltiness of olives and capers.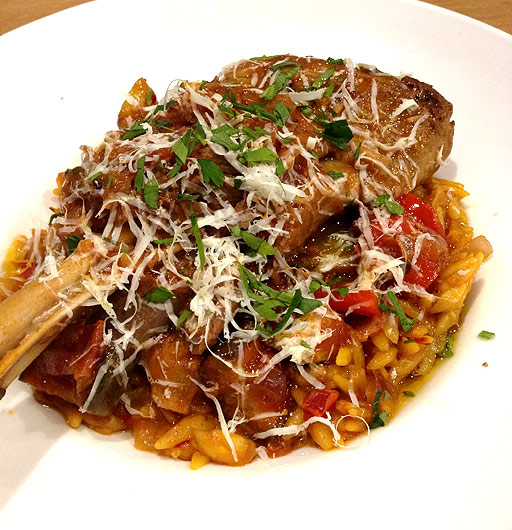 ADVERTISEMENT - CONTINUE READING BELOW
Braised Lamb Shank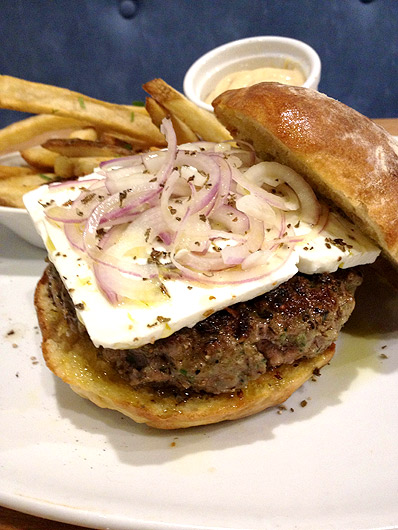 Lamb Burger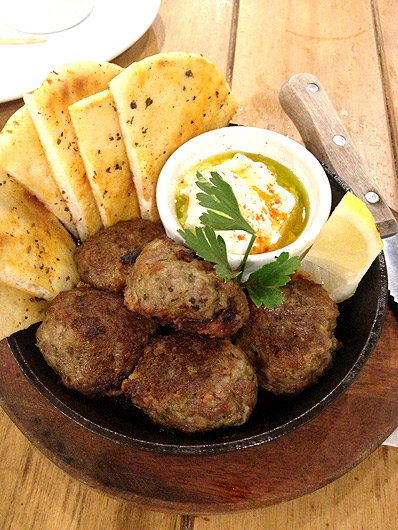 Lamb Meatballs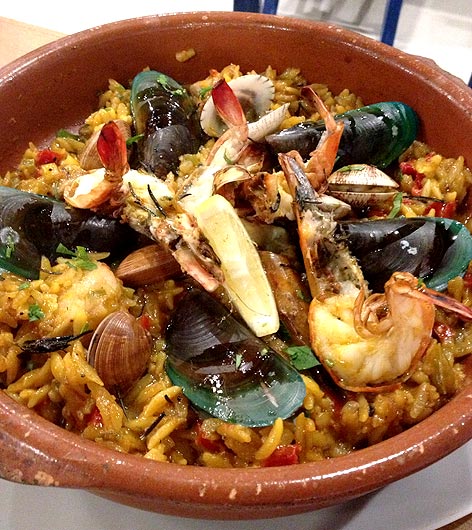 ADVERTISEMENT - CONTINUE READING BELOW
Yiouvetsi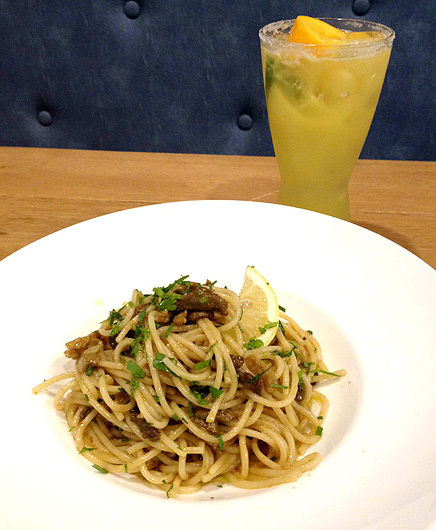 Uni pasta with margarita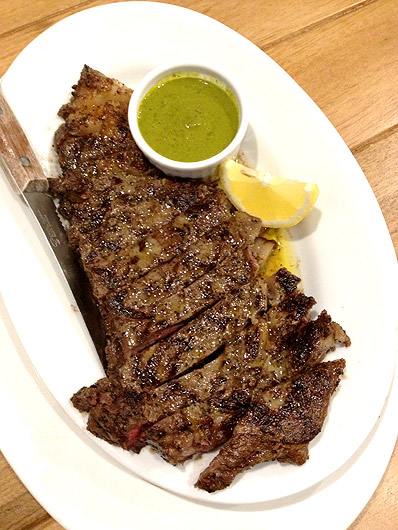 USDA Ribeye
Among the standout heavy hitters are the indulgent but light Greek Sea Urchin Spaghetti (P350/solo), al dente pasta tossed in Peleponesse olive oil, infused with garlic, then topped with uni from Ilocos. The Lamb Shank (P750) is braised to a fall-off-the-bone tenderness sitting in a stew of peppery tomato sauce. There's also a juicy Lamb Burger (P520) that comes with a wedge of delicious feta and cumin mayo. The Yiouvetsi (P600) is a crowd-pleasing version of paella made with orzo, lamb sausage, and a bevy of seafood. The Moschari Brizola (P1,600/ 500g ribeye) is a predicted bestseller with a grilled slab of steak complemented by two sides (your choice) and lovely chimichurri accented with herbs and the savory flavor of anchovies.
ADVERTISEMENT - CONTINUE READING BELOW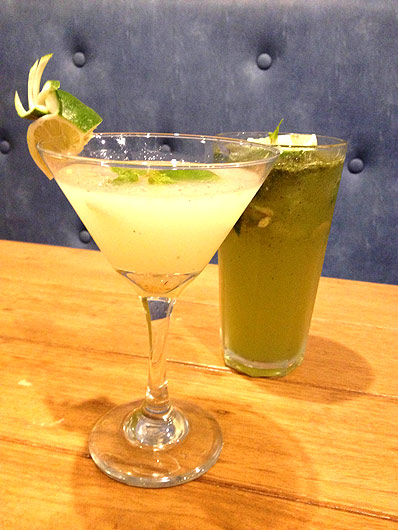 Mojitouzo and Limechee Ouzo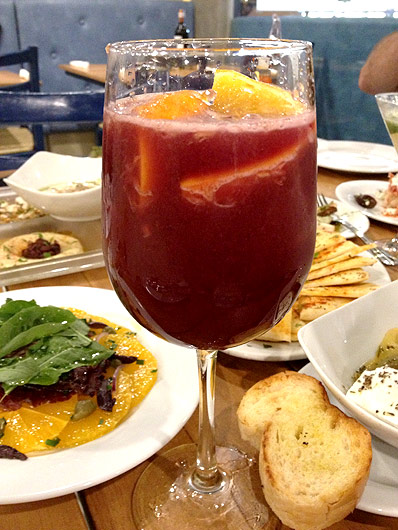 Sangria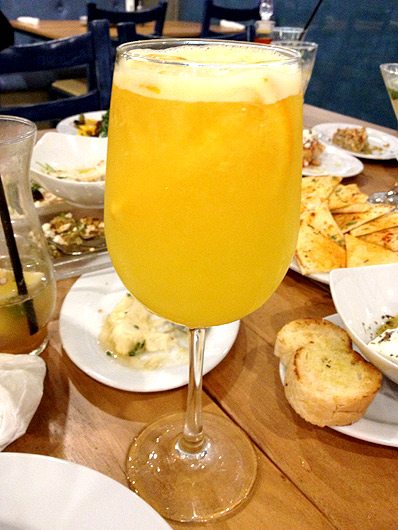 ADVERTISEMENT - CONTINUE READING BELOW
Cymamosa
Mixologist Kalel Demetrio has also created original cocktails made with premium ingredients to CYMA's roster. Every drink comes with ouzo, like the Cymamosa, which combines the anise-flavored aperitif with white wine and orange juice; the Dirty Greek Martini, with vodka and olives; and the Mojitouzo, which mixes the ouzo with white rum, calamansi liquer, and mint syrup. The drinks are deliciously potent-neither diluted nor cloyingly sweet.
CYMA's rejuvenated and sprightly new look and updated dishes not only makes it stand out from the growing pack of tavernas, but also proves it to be leagues above the rest. It won't be a surprise if other Greek restaurants soon follow suit.

The new and improved CYMA will start in Shangri-la Plaza Mall, Mandaluyong City (637-3090). CYMA also has branches at Eastwood Mall, Robinsons Place Manila, Greenbelt 2, Trinoma Mall, Robinsons Magnolia, Ayala Mall Cebu, D'Mall Boracay.
Angelo Comsti writes for Yummy magazine in addition to other publications. He studied at Le Cordon Bleu Australia. Grab a copy of his bestselling cookbook From Our Table To Yours for a collection of generations-old heirloom recipes from some of the country's best cooks and chefs.Follow Angelo on Instagram (@fooddudeph) to catch more of his food discoveries.
---
Help us make Spot.ph better!
Take the short survey
Load More Stories