Introducing: Fruitsicles and Ala Mode Bars by Sebastian's
SPOT.ph blogger Angelo Comsti breaks in the summer flavors at Sebastian's.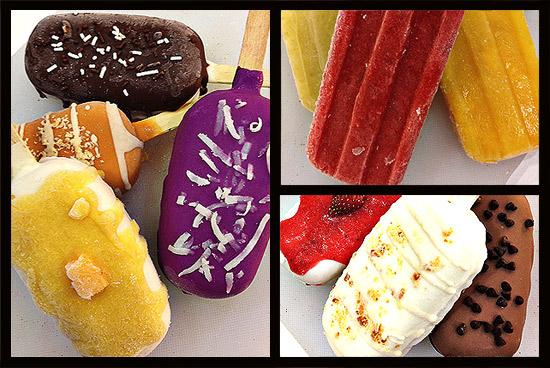 (SPOT.ph) Ice cream craftsman Ian Carandang can always be counted on to shake up the ice cream scene with crazy and memorable flavors. A few years ago, his Pinoy Fiesta line, which includes the Sapin-sapin, Champorado, and Mangga't Suman, became fast favorites for many, and the Green Mango Sorbet with Bagoong? It had a "love-it-or-hate-it" effect, but it showed how far he can push the envelope, with people talking about his mad ingenuity. After pioneering Manila's artisan ice cream landscape (and paving the way for his own competitors), Ian has, time and again, proven that he's a rock star when it comes to reinventing frozen treats, including ice cream sandwiches, ice cream pizzas (that leche flan ice cream pie is the stuff dreams are made of), dive bars, and shakes.
ADVERTISEMENT - CONTINUE READING BELOW
CONTINUE READING BELOW
Recommended Videos
This time, the sorbetero is at it again. Months before summer kicked in, he locked himself up in his lab and went back to the drawing board. Today, April 21, he's launching two new lines-one is virtuous and healthy while the other is indulgent and sinful.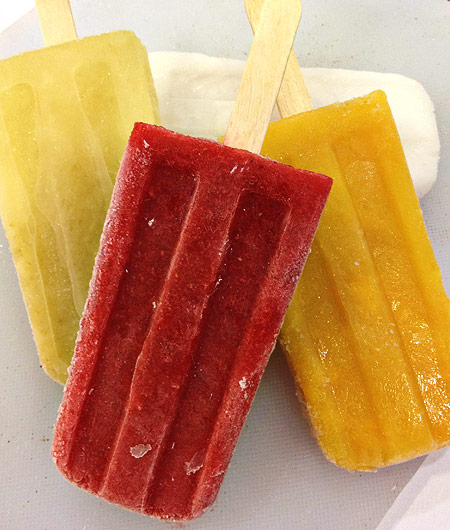 The Fruitsicles (P65 to P85) are the guilt-free option and take inspiration from Mexican ice pops called paletas. "They have shops dedicated to it and (they) have raised the paleta to an art form," says Ian. Compared to sorbet where sugars and alcohol create the right texture and flavor, paletas are more about taste. "At the core of it is fresh fruit, sugar syrup, and water. That's how simple it is. It's like frozen fruit, and that's exactly what I'm going for-not something that's watered down."
ADVERTISEMENT - CONTINUE READING BELOW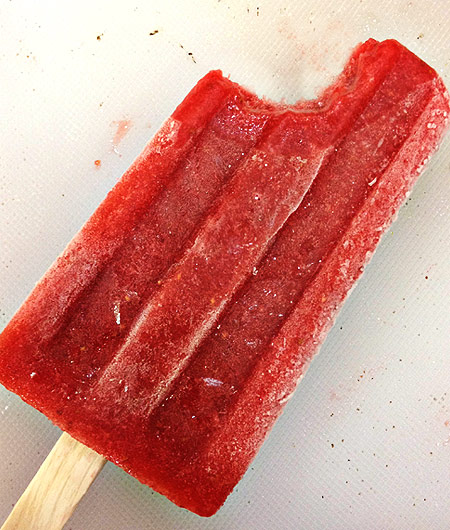 Strawberry
The Mango is chunky with the fruit embedded throughout the bar; the Buko is chunky and creamy with strips of coconut and coconut cream adding bite and richness; the Strawberry is subtly tangy and deep red; the Watermelon is embellished with the flavor of mint; the Kamias has the distinct zest reminiscent of tamarind. The Avocado reminds me of times when I'd mash the fruit then mix it with condensed milk, and the Pineapple Toasted Coconut call to mind the tropics. The Mixed Berry Hibiscus boasts the collective tartness of blueberry, strawberry, blackberry, raspberry, and hibiscus flower. Each flavor varies in texture: some are delectably icy while the ones with berries and the avocado give off a jelly-like feel. Either way though, the profiles are robust and pronounced, the sugar levels striking a balance with the natural sweetness of the fruits.
ADVERTISEMENT - CONTINUE READING BELOW
This long list is just the start of many more to come, confesses Ian, who seems to have plans of turning every fruit, even santol and chico, into a frozen treat on a stick. He even mentions herbs and spices to add to the recipes. He plans on introducing one flavor every week in the next two months.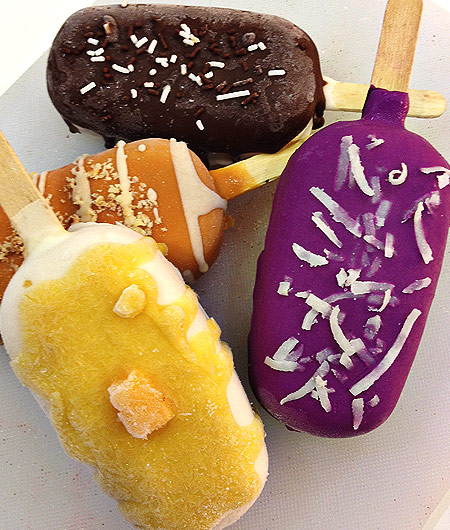 ADVERTISEMENT - CONTINUE READING BELOW
Ala Mode Bars
While he keeps it simple with the Fruitsicles, he gets more imaginative with the Ala Mode Bars (P120). Ian describes them as "A cake pop hooked up with a dive bar and this is their illegitimate baby." He began experimenting with the line last year, he admits. It took time to consider the moistness of the cake, the thickness of the chocolate coating, the ratio of the cake to the ice cream, not to mention the flavors and textures. "I've always been envious with the design on cakes and cupcakes. With ice cream, there's hardly anything to it," he says. "I took the presentation up a notch for this one, and managed to produce the prettiest things I've ever done."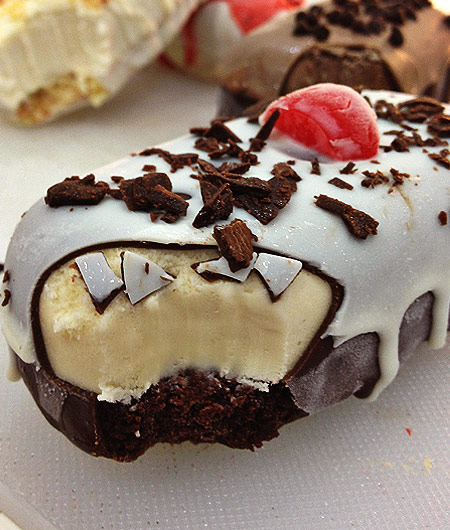 ADVERTISEMENT - CONTINUE READING BELOW
Black Forest: chocolate cake soaked with cherry brandy, topped with vanilla ice cream and cherries, then dipped in dark chocolate before being doused with vanilla white chocolate, sprinkled with chocolate shavings, and flourished with a cherry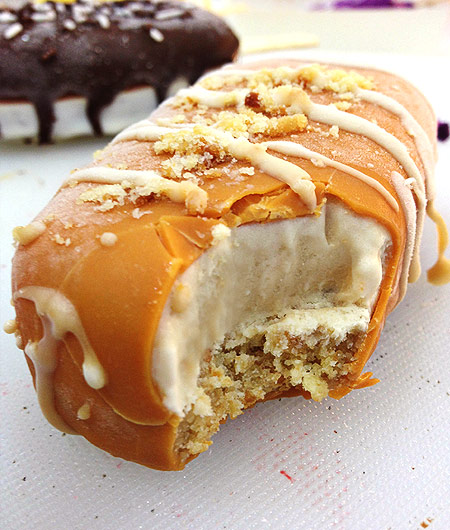 Caramel Cake: pound cake soaked in salted butter caramel, topped with salted butter caramel ice cream, dipped in caramel, sprinkled with cake crumbs, and drizzled with salted butter caramel cream
ADVERTISEMENT - CONTINUE READING BELOW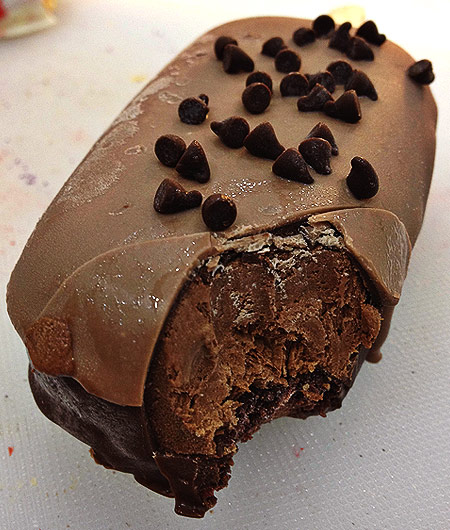 Fudge Cake: chocolate cake soaked in chocolate fudge, topped with dark chocolate ice cream, dipped in dark chocolate then milk chocolate, and sprinkled with chocolate chips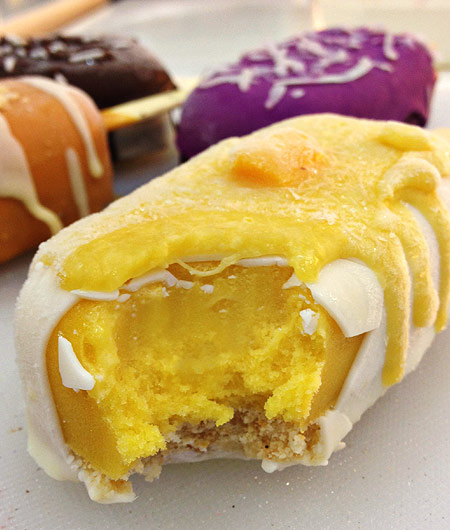 ADVERTISEMENT - CONTINUE READING BELOW
Mango Torte: mango pound cake topped with mango sorbet, dipped in white chocolate with orange zest, drizzled with mango gelee, and garnished with a chunk of fresh mango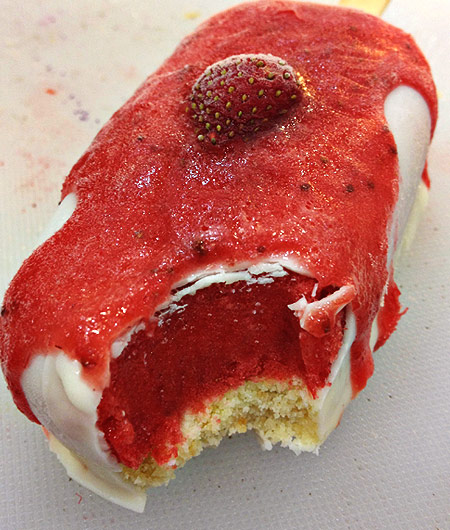 Strawberry Shortcake: pound cake topped with strawberry sorbet, dipped in white chocolate with orange zest, drizzled with strawberry gelee, and garnished with a slice of strawberry
ADVERTISEMENT - CONTINUE READING BELOW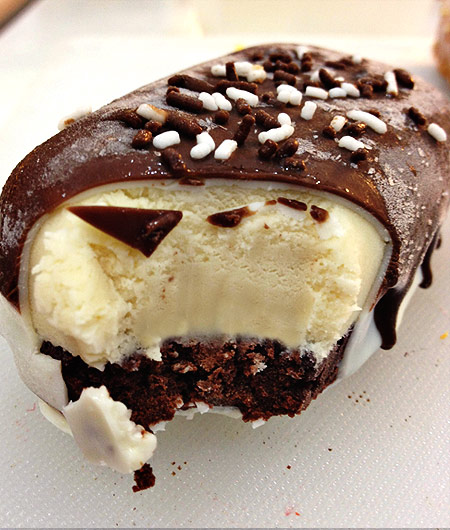 Vanilla Brownie: chocolate cake topped with vanilla ice cream, dipped in vanilla white chocolate, doused in dark chocolate, and embellished with cake sprinkles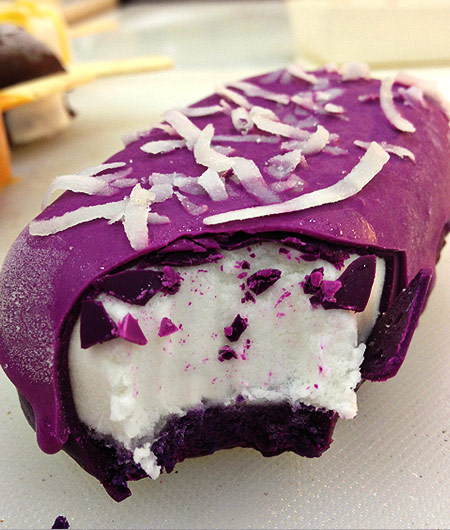 ADVERTISEMENT - CONTINUE READING BELOW
Ube Macapuno: ube cake layered with macapuno strips and coconut ice cream, dipped in ube-flavored, purple-colored white chocolate and ube vanilla, and sprinkled with coconut strips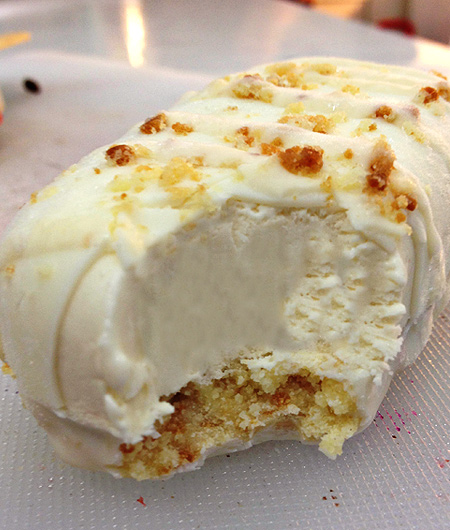 Tres Leches: pound cake soaked in tres leches topped with tres leches ice cream, dipped in vanilla white chocolate, then sprinkled with cake crumbs and tres leches drizzle
ADVERTISEMENT - CONTINUE READING BELOW
The results are a dessert lover's dream. The combinations fuse together so seamlessly that you'll have trouble deciphering where the ice cream ends and the cake begins. Whenever someone asks you which you prefer, cake or ice cream, you might as well hand them an Ala Mode Bar so they can experience it for themselves.
The Fruitsicle and Ala Mode Bars will be released weekly:
Week of April 21:
Mango Fruitsicle, Vanilla Brownie Bar
Week of April 28:
Buko, Fudge Cake
Week of May 5:
Strawberry, Caramel Cake
Week of May 12:
Avocado, Black Forest
Week of May 19:
Watermelon Mint, Strawberry Shortcake
Week of May 26:
Kamias Ube Macapuno
Week of June 2:
Pineapple Toasted Coconut, Mango Torte
Week of June 9:
Mixed Berry Hibiscus, Tres Leches
Contact Sebastian's at 0927-290-1633, 0927-453-7426 or 0915-489-5753. Sebatian's has branches at Regis Center, Katipunan, Avenue Quezon City; 4/F The Podium, Mandaluyong City; and 2/F SM Mall of Asia, Pasay City.
ADVERTISEMENT - CONTINUE READING BELOW
Angelo Comsti writes for Yummy magazine in addition to other publications. He studied at Le Cordon Bleu Australia. Grab a copy of his bestselling cookbook From Our Table To Yours for a collection of generations-old heirloom recipes from some of the country's best cooks and chefs.Follow Angelo on Instagram (@fooddudeph) to catch more of his food discoveries.
Load More Stories