New Restaurant Alert: Whole Pet Kitchen Pet Deli and Bark-ery at P. Guevarra Street, San Juan
Pet parents, rejoice! The country's first-ever doggie cafe has opened in San Juan and is serving yummy dishes for both you and your BFF (that's best furry friend).
Whole Pet Kitchen Pet Deli and Bark-ery
349-D CM Recto Street near P. Gueverra Street, San Juan City
E-mail: bark@wholepetkitchen
http://www.wholepetkitchen.com
Open 10 a.m. to 6 p.m. (Tuesdays to Sundays)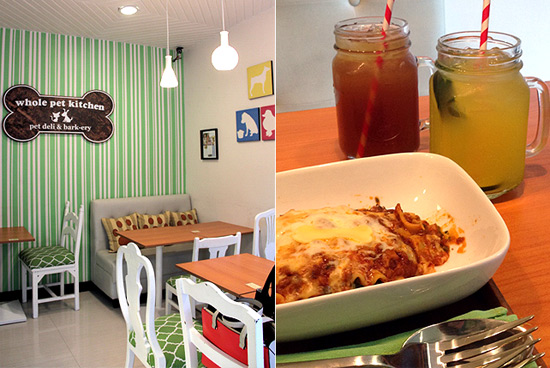 (SPOT.ph) Fancy sharing a meal with your dog? We're not talking about sneaking scraps under the table. True, there are now tons of dog-friendly establishments and restaurants in Manila, but usually you'd have to bring your pet's own snack or share what's on your plate with him. In Whole Pet Kitchen Deli and Bark-ery, your furry friend feasts on delicious all-natural gourmet dishes prepared just for him and served on fancy plate settings, too!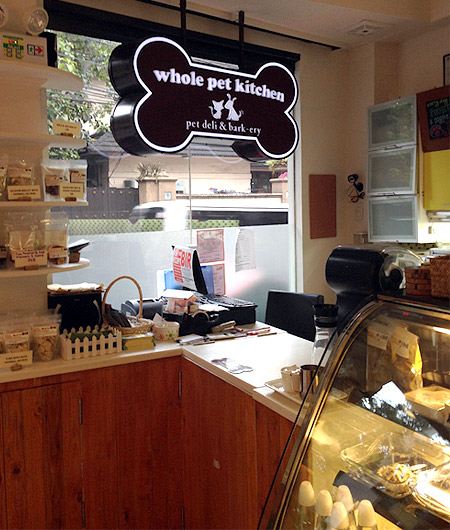 ADVERTISEMENT - CONTINUE READING BELOW
Whole Pet Kitchen is small but cozy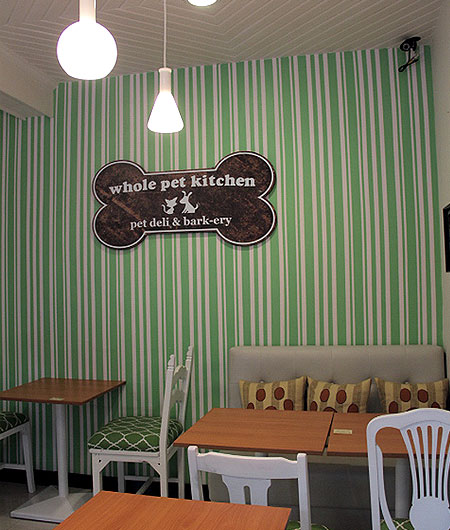 Pets of all sizes are welcome
"I wanted to put up a place that would allow pets and owners to hang out together in a comfy environment. The idea of serving both pets and owners sounded like it would be fun," chef and owner Giannina Gonzalez shares.


This sweet and cozy dog cafe in San Juan opened fairly recently but is already quite popular among pet parents. The space is pretty small, but dogs of all sizes are welcome. If you drop by during peak hours and the place is packed, expect to share a table with other guests. According to Chef Giannina, it's actually been a great way for pet parents to meet and for their dogs to socialize.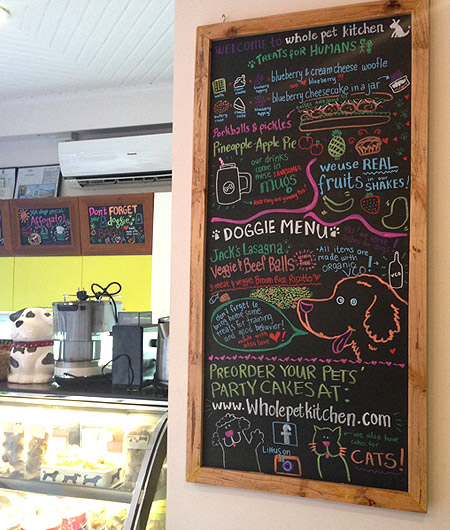 ADVERTISEMENT - CONTINUE READING BELOW
Human menu + doggie menu!

Speaking of socialization, chances are your pup will also get to hang out with Giannina's sweet, friendly, and extremely chill golden retriever (and Whole Pet Kitchen's unofficial mascot) Jack. "I wanted a job where I could bring my dog to work every day!" she says.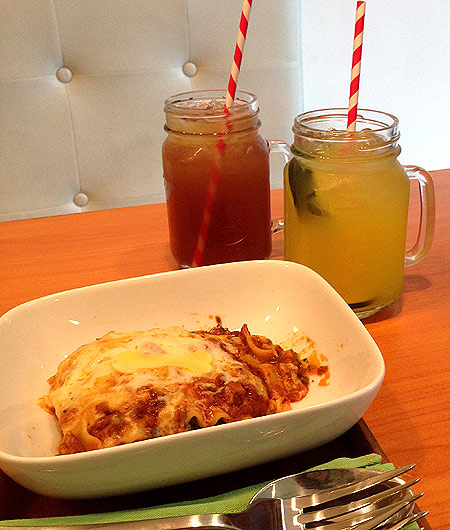 Lalalasagna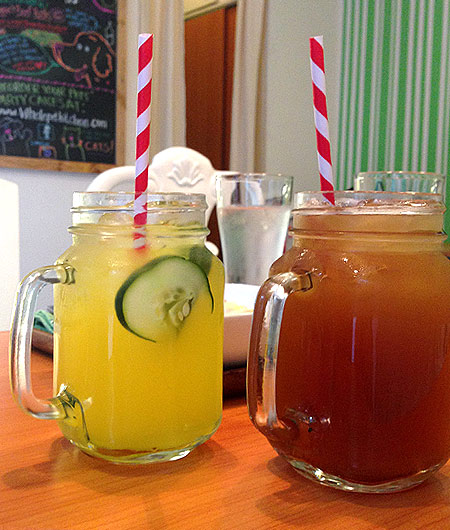 ADVERTISEMENT - CONTINUE READING BELOW
Citrus Cooler and Barkery Iced Tea

Whole Pet Kitchen Deli and Bark-ery's menu consists of both human food and dog dishes. The Lalalasagna (P258), which is both rich and meaty, from the Pet Lover's Menu is comfort food at its best. The delicious Porkballs and Pickles Sammie (P248) is the cafe's take on the Vietnamese banh mi. Their special baguette has a thin, crunchy crust and the meatballs, made of pork meat, coriander, and Asian spices, are tasty and tender. The sandwich is also made with paté and perfectly tangy homemade pickles that give it that bright and fresh flavor characteristic of banh mi. Pair your meal with refreshments like the Barkery Iced Tea (P78) and the Citrus Cooler (P78). The latter is a refreshing citrus drink with cucumber slices that are perfect for summer.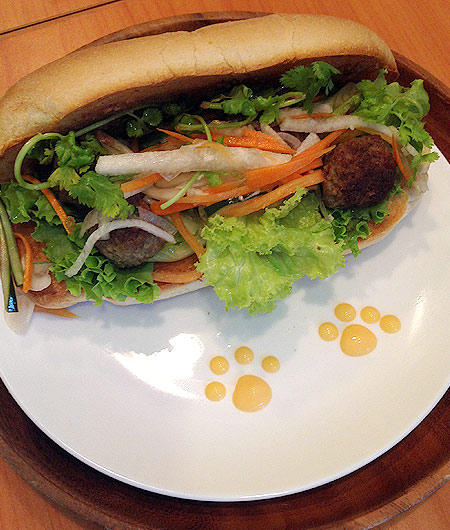 Porkballs and Pickles Sammie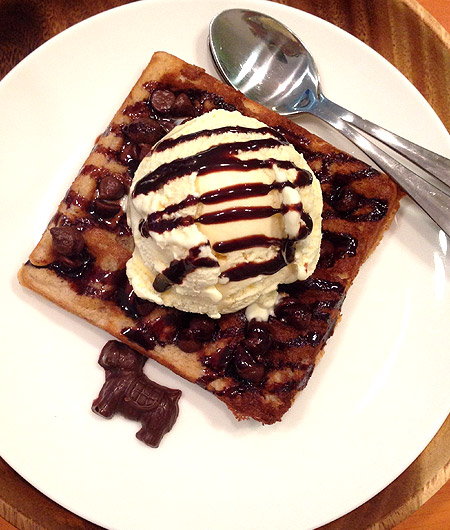 ADVERTISEMENT - CONTINUE READING BELOW
Double Choclit A la Moode Woofles


For dessert, try the waffles (a.k.a. Woofles). The Double Choclit a la Moode Woofles (P208) are made of a crisp, warm waffle drizzled with chocolate syrup, sprinkled with chocolate chips, and topped with a scoop of vanilla ice cream. Chef Giannina also recommends their Bone-y eclair (P108).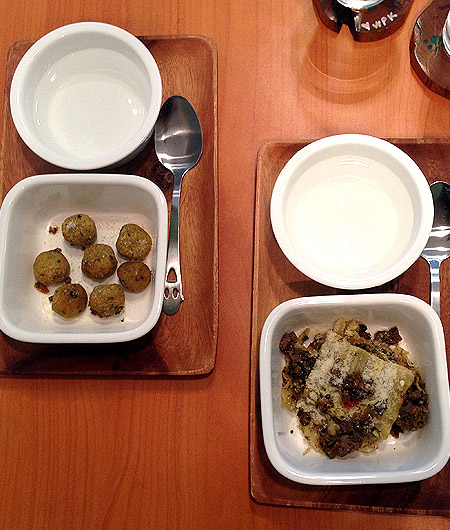 Grain-free Veggie N Beef Balls and Jack's Lasagna



For your pooch's meal, order their bestseller, Jack's Lasagna (P78), from the Doggie Menu. It's made from semolina lasagna sheets, organic virgin coconut oil, pork, liver, beef, carrots, homemade yogurt, swamp cabbage, basil, and cheese.


Another canine customer favorite is the Grain-free Veggie N Beef Balls (P78), which is made from sweet potato, beef, carrots, green beans, moringa olifera, organic virgin coconut oil, and turmeric. They're great for dogs that are sensitive to gluten.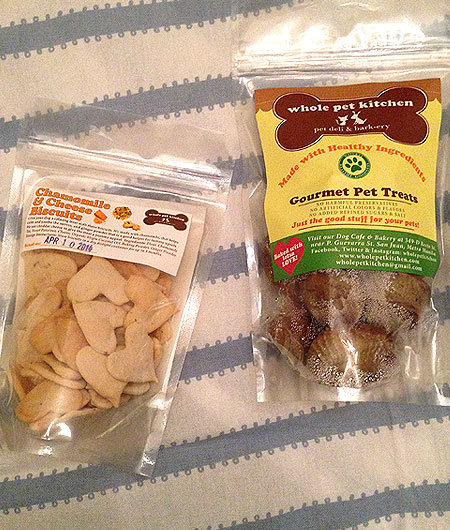 ADVERTISEMENT - CONTINUE READING BELOW
Dog treats are also available

All dog dishes are made from all-natural ingredients. "We use ingredients that are fresh, from raw materials. We don't use anything canned; there are no harmful preservatives, artificial coloring, and additives," chef Giannina shares. "We cook our food just like we do for people," she adds.


Pet parents will also be happy to learn that all the recipes were created with the help of vet consultants. "Development of our treats always requires the go signal of our vet consultants. We also consult veterinary manuals and dog nutrition books," Giannina says.


Before you leave, don't forget to bring home a few of their delicious dog treats. The liver muffins come highly recommended.



Load More Stories