The Best Things We Ate in April
Noteworthy dishes in this food-filled month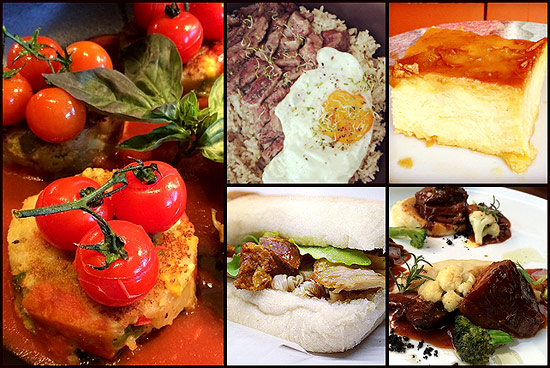 (SPOT.ph) If you don't already know, here at SPOT.ph, we love food. You need it to live, but we find that there are some dishes that go well past the virtue of necessity. While others content themselves with a deep fryer and the usual salt and pepper, there are some who make-or at least try to make-an art out of it, with delicious displays and even yummier flavors. We believe those that go above and beyond their duty deserve necessary recognition. Our top picks among the dishes we ate throughout April:
ADVERTISEMENT - CONTINUE READING BELOW
CONTINUE READING BELOW
Recommended Videos
This list is not ranked.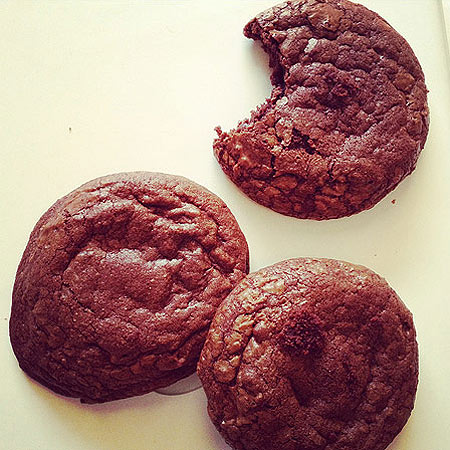 Truffle Cookies from Shine Bakery and Cafe
This restaurant has its fair share of hits and misses, but when it comes to desserts, Chef Sunshine Pengson will always hit the target-your stomach and your emotions. The exterior is a crisp shell that protects a surprise fudgy core. If our moms made cookies like these at home, we'd probably be grounded for trying to steal from the cookie jar. Still, no home-baked cookie costs P60.
ADVERTISEMENT - CONTINUE READING BELOW
Shine Bakery and Cafe is at 3/F SM Aura Premier, Bonifacio Global City.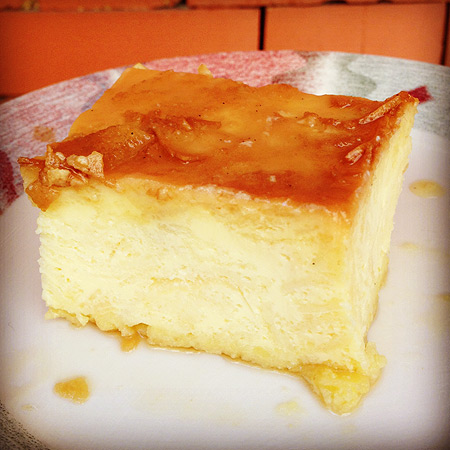 Caramel Crepe Pudding from Dessert du Jour
Imagine using crepe instead of actual bread in your bread pudding. This would be the result. Layers of crepe are stacked so perfectly together that they've become one delicious flan-like ensemble. Each bite is as smooth as custard with the slight chewiness of crepe. The cake costs P750 and if Mara dela Rama-Poblete isn't careful, this might very well knock her Gateau de Crepe off its place on the bestselling stage.
ADVERTISEMENT - CONTINUE READING BELOW
For orders, contact 405-2580 (Ecology Village, Makati City). Orders must be placed one day in advance.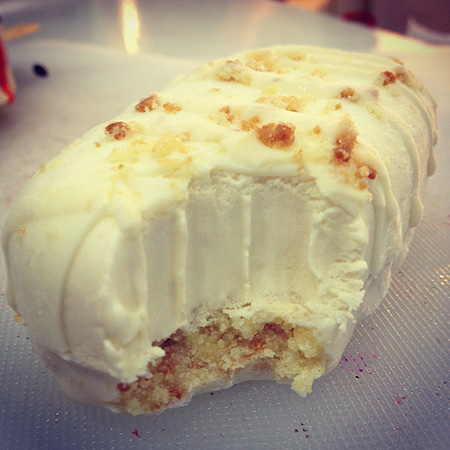 Tres Leches Ala Mode Bar from Sebastian's
These cake-ice-cream hybrid is the latest from Ian Carandang. He describes them as the illegitimate baby of a cake pop and his bestselling dive bar, and the Tres Leches flavor stands out immediately. Cake crumbs and a milk drizzle hint at the utterly scrumptious masterpiece underneath: the milky-white bar conceals a thin base of pound cake soaked in tres leches, and then topped with its ice cream version. Sweetness comes from the coat of vanilla white chocolate. The Tres Leches will be available in the week of June 9. Sorry, guys!
ADVERTISEMENT - CONTINUE READING BELOW
Read more about Sebastian's latest Fruitsicles and Ala Mode Bars. Sebastian's has branches in Regis Center, Katipunan Avenue, Quezon City; The Podium, Mandaluyong City; and SM Mall of Asia, Pasay City.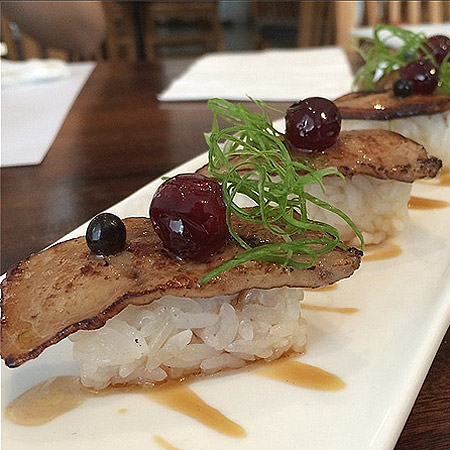 Foie Gras Nigiri from Peppermill Restaurant and Mixology Bar
Like anything in this world that is too good, this dish can kill you-with a very heavy but extremely happy heart. Chef Vince Rodriguez plays around with the concept of sushi, giving the normally light Japanese staple a very luxurious facelift. As the thin slices of pan-fried foie gras over the pillows of rice teeter precariously towards being overly indulgent, the cranberry crown saves it with a perfect amount of sweetness. By the way, for P755, you get four on your plate.
ADVERTISEMENT - CONTINUE READING BELOW
Peppermill is at 205 Place One Building, Katipunan Avenue, Quezon City.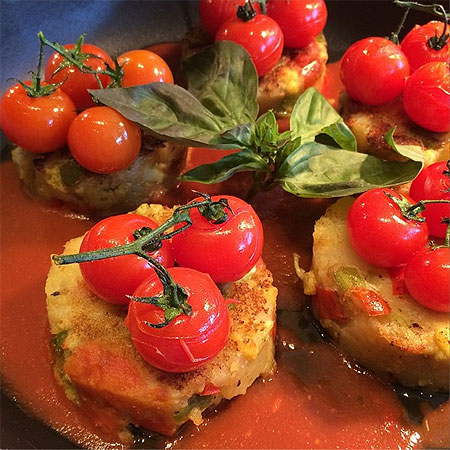 Bubble and Squeak at Cucina
We deem it our duty to advise you to not form attachments with any of Cucina's dishes. The chef likes to mix up what's inside those lovely cast-iron skillets and pans so no two visits to Marco Polo's signature buffet will ever be the same. When you see the plump cherry tomatoes over veg-and-potato discs, celebrate! Each bite is creamy mashed potato, with carrots and greens adding a necessary crunch and the bright red fruit painting a bright break in the profile. The concept of Bubble and Squeak was created from leftovers, but Cucina makes it look like a true original.
ADVERTISEMENT - CONTINUE READING BELOW
Cucina is at Marco Polo Ortigas Manila, Sapphire Street corner Meralco Avenue, Pasig City.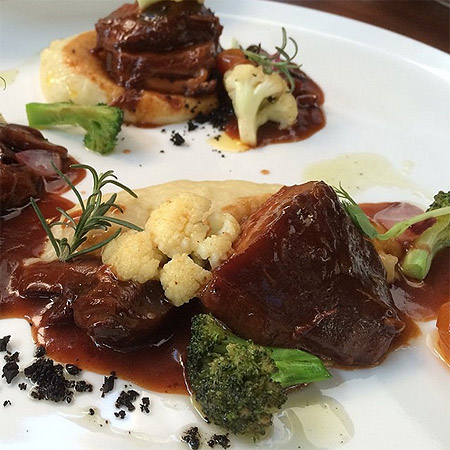 Sous Vide Pork Belly at Coffee Empire
The pork is cooked sous vide for 42 hours and by the time it arrives at your table, served over little beds of mashed potatoes, the meat has given up all forms of resistance. It pulls apart without the help of a knife and the thin strings of fat in between make it even more irresistibly juicy. The potatoes are spiked with wasabi, the heat adding emphasis to the pork's sweetkakuni-style braise. The Pork Belly is priced at P350.
ADVERTISEMENT - CONTINUE READING BELOW
Coffee Empire is at 74 West Avenue, Quezon City.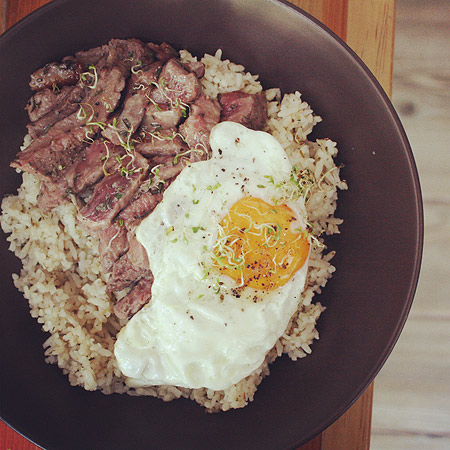 Steak on Rice at Main Street
The rosemary rub gives the steak a delectable herbacious flavor that complements the meatiness of a good medium rare nicely. Adam Tan, who heads Main Street's kitchen, uses only Kitayama flank for its more affordable approach to producing that pronounced beef flavor. The strips of steak are served over a good-sized portion of herbed rice, kind of like a healthy and hearty dish in one.
ADVERTISEMENT - CONTINUE READING BELOW
Main Street is at Tuscany, McKinley Hill, Bonifacio Global City.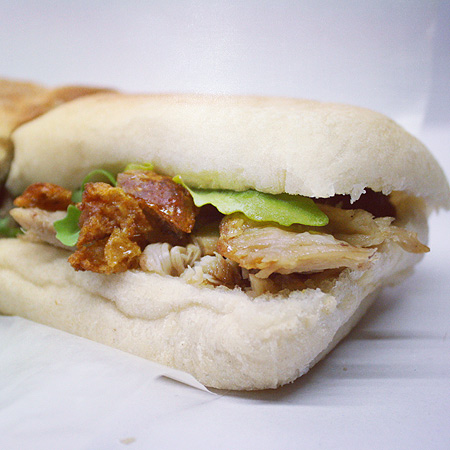 The Pantry's Porky
Think of it as lechon kawali on bread. And just by that definition, you know it's going to be good. The pork is roasted with herbs, allowing those fresh flavors to seep into its heartier profile. This sandwich is a lesson on balance: arugula brings out a zesty tone and herb aioli cuts away unnecessary richness. Best of all, they toss in bits of crackling because they just really really want to make you happy.
ADVERTISEMENT - CONTINUE READING BELOW
For orders, contact 0927-965-2519 or visit their website. Orders must be placed before 10 a.m.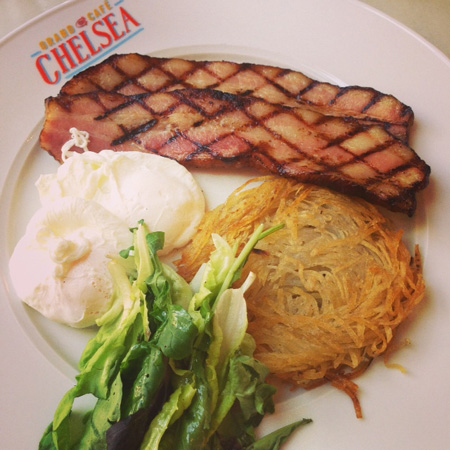 2 Eggs "Freestyle" at Chelsea Grand Market and Cafe
We like a little bit of personalization, and Chelsea's 2 Eggs "Freestyle" (P295) gives you the option of having your eggs cooked just the way you like them. In this case, they were perfectly poached, pairing well with the crunch from the hash brown and the smoke from the bacon. Lightly dressed arugula gives it all a refreshing peppery kick.
ADVERTISEMENT - CONTINUE READING BELOW
Chelsea Grand Market and Cafe is at Serendra in Bonifacio Global City.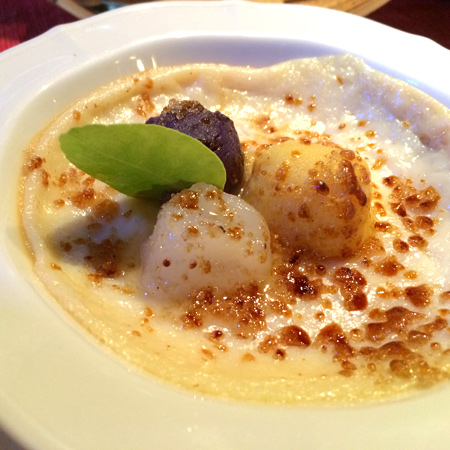 Paradiso at Bale Dutung
It's easy to go with one of Chef Claude Tayag's numerous incarnations of lechon, but it was this dish that made the late, great (and first Filipino foodie) Doreen Fernandez exclaim, "Paradise!"-hence the name. Balled up ube, macapuno, and yema sit on a creamy stage of brulee pastillas. Carabao's milk makes everything much more sinful. We especially love the zesty profile in the yema.

Bale Dutung is at Paul Avenue, Angeles City, Pampanga.
ADVERTISEMENT - CONTINUE READING BELOW
Load More Stories