CHECK IT OUT: Recess by Chef Chris at Jupiter Street, Makati
You and your favorite school subject are all grown up now! Trade that PB&J for ratatouille and your juicebox for a beer.
Recess by Chef Chris
50 Jupiter Street, Bel-Air, Makati City
Tel. No. 899-1818
Open from 7 a.m. to 10 p.m. (Monday to Friday); 11 a.m. to 10 p.m. (Saturday to Sunday)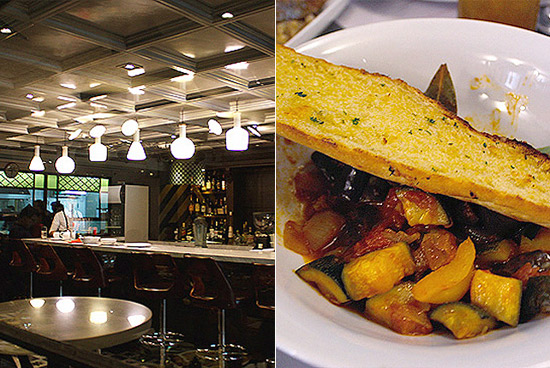 (SPOT.ph) Everyone's favorite school subject is now a restaurant. The grown-up version isn't limited to 30 minutes of peanut-butter sandwiches and juiceboxes, though. Chef Chris Locher of My Kitchen has designed a menu that many school cafeterias could only dream of. Though a tad more complicated than the school variety, his recess involves dishes that are simple but satisfying, serving up all kinds of easy comforts, from burgers to pasta and lengua.
You can't mention Chef Chris without thinking of the panizza-an ultra-thin, rectangular pizza cut into strips and rolled with arugula and alfalfa sprouts. Different versions now abound and the dish is currently known as "The Original" at Recess. You can find several variations of The Original here, with new dough made of oat wheat and a new set toppings, which include Pinoy Originals (P400/P790) as whole-day breakfast specials.
ADVERTISEMENT - CONTINUE READING BELOW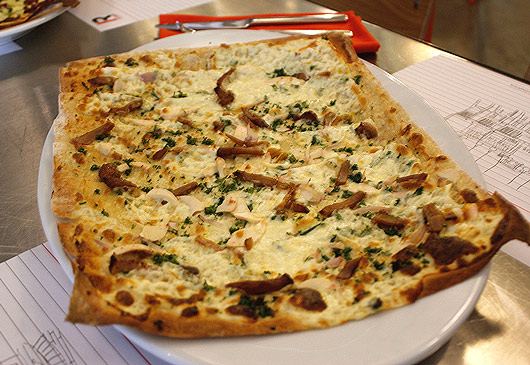 The PoTo-pork tocino, red onions, and salted egg
CONTINUE READING BELOW
Recommended Videos
There's the CoBe with sauteed corned beef, egg, caramelized onions, and potatoes, for anyone looking for a classic Pinoy breakfast. Meanwhile, the BaBa, topped with sliced sausages, bacon, egg, and tomatoes, gives the Continental breakfast a fun, new twist. The BeTa is an indulgent must-try. Topped with beef tapa, onion, pickled sayote, and atchara , each strip of this panizza is an exercise in self-control.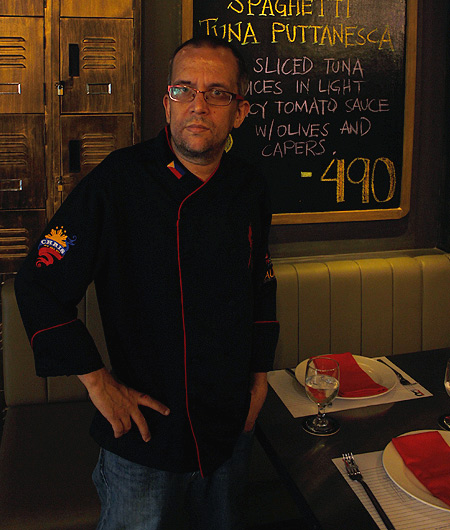 Recess is in session with Chef Chris Locher
ADVERTISEMENT - CONTINUE READING BELOW
The rest of the menu is an eclectic mix of German dishes, Southern soul food, and Tex-Mex. The 70:30 Burger (P480) is 70% succulent Angus beef and 30% maple bacon-both cooked to perfection. Forget about the portions since this burger is loaded with a staircase of aged cheddar cheese, sliced mushrooms, grilled tomato, crisp romaine lettuce, and golden onion rings, dressed with a tangy sour cream ranch, in between special sour dough buns, and served with fries. The ranch dressing is gently toned down by the assemblage of vegetables and generous helping of fries. Dangling cheddar cheese hums together with the robust taste of the beef and the subtle but quick hit of the bacon.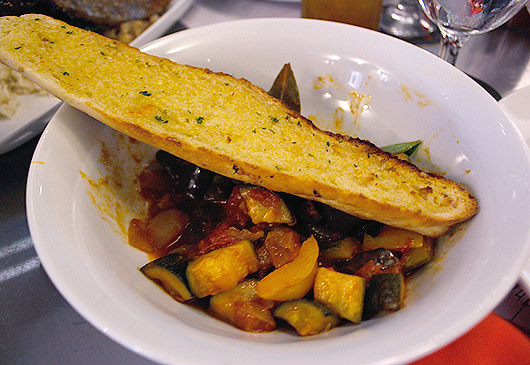 Ratatouille (P350)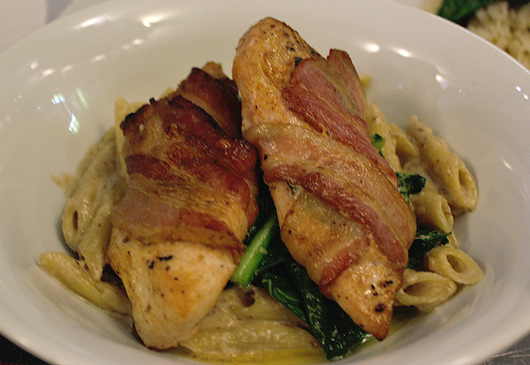 ADVERTISEMENT - CONTINUE READING BELOW
The Pan Roasted Bacon Wrapped Chicken Breast with Sage
The white meat in chicken breasts often cement the incessant stereotype of having bland and dry centers, but the Pan Roasted Bacon Wrapped Chicken Breast with Sage (P690) breaks the mold. The juicy chicken breast rests on a bed of al dente penne, wrapped beautifully in pan-roasted bacon. The milder-tasting breast is charged up by the distinct flavor combination of bacon and sage, nestled together on that soft and slightly chewy pasta at the bottom. A feast for both the eyes and the tastebuds.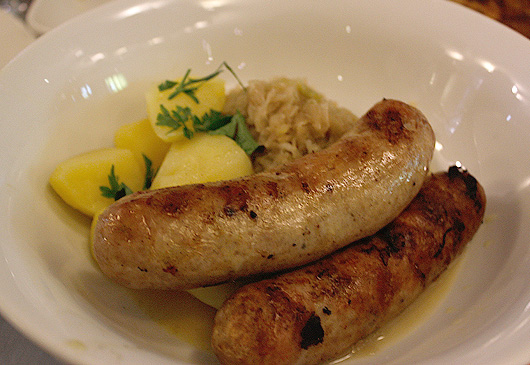 Grilled Pork Bratwurst with Spicy Sausage Rolls (P590)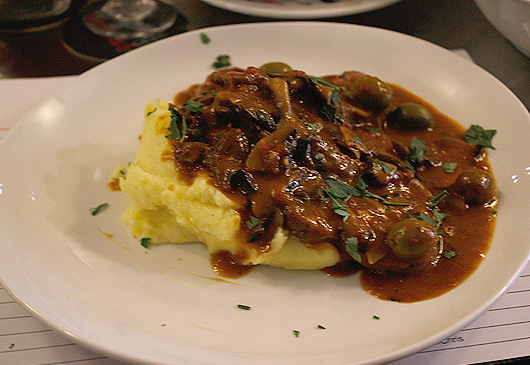 ADVERTISEMENT - CONTINUE READING BELOW
Lengua Estufado
The Lengua Estufado (P650)-that tender ox tongue in classic thick gravy with fresh tomatoes, mushrooms, and green olives provided over butter whipped potatoes. As you pick a slice from the serving, your utensils will go through the delicate meat like knife to butter. The gravy marvelously coats every morsel for a well-rounded flavor finish. It is the kind of dish that won't overwork your palate, which is a good thing since you're going to munch on this for as long as you can.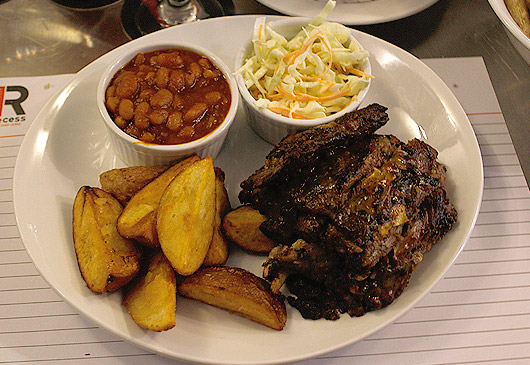 Carolina Style Barbecued Mustard Lamb (P990)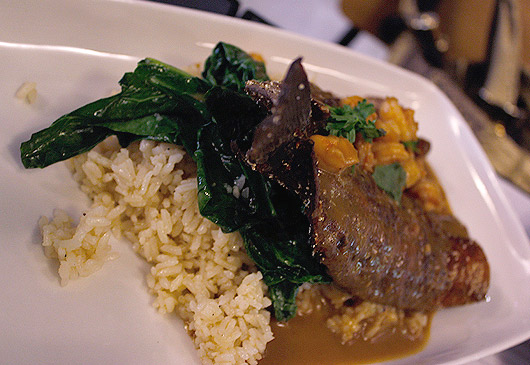 ADVERTISEMENT - CONTINUE READING BELOW
Creole Style Catfish (P690)
"[Recess] was a time for [my friends and I] to hang out, get together, tell stories about what happened last night, about girls, about prom. We loved that time, so now we 're all grown up [...] we still look forward to those times that we get to hang out together," says  Scott Tan, one of the three owners, about the restaurant's concept.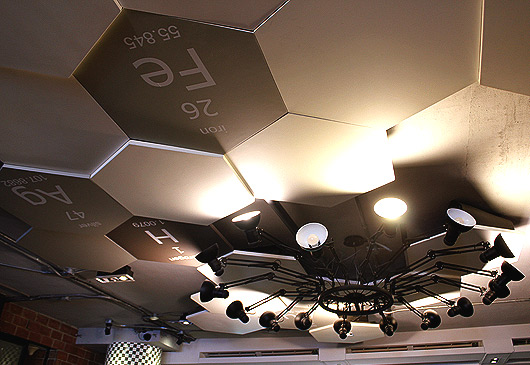 Study lamps and the periodic table of elements get upbeat makeovers.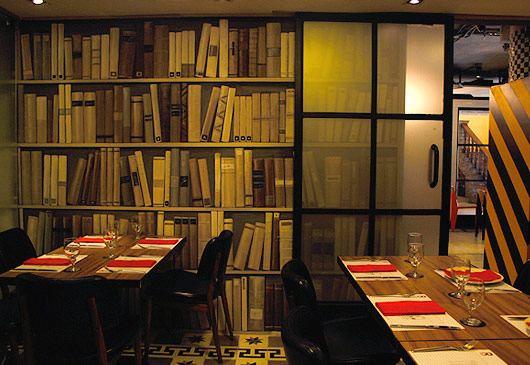 ADVERTISEMENT - CONTINUE READING BELOW
The bookshelf wallpaper of the function rooms echoes school libraries, but silence is certainly not a golden rule here.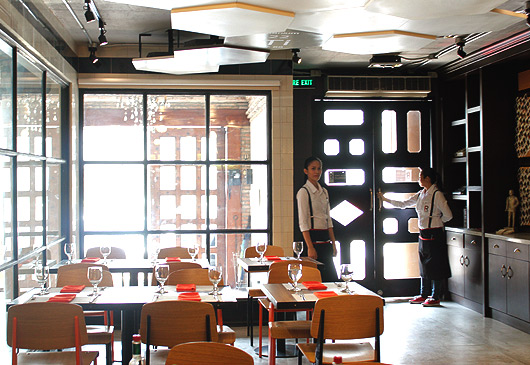 Natural light floods the place through large glass windows and playful glass cutouts on the front doors.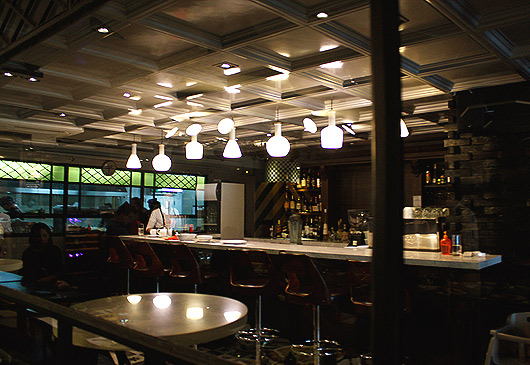 Adult recess means adding alcohol to the equation.
True enough, just one glance at the interiors brings you back to school days of the past-but more polished with some industrial touches. Black and white tiles cover the bar floor and act as an accent in the main restaurant area, and there's a wall that's unsurprisingly covered with chalkboards and lockers. Your placemat mimics a page torn out of a notepad, but the only notes you have to take here are the ones about great food and the great company.
ADVERTISEMENT - CONTINUE READING BELOW
Share this story with your friends!
---
Help us make Spot.ph better!
Take the short survey
Load More Stories