New Restaurant Alert: Simple Lang at Ayala Triangle Gardens, Makati
There's a new Filipino restaurant in town.
Simple Lang
Ayala Triangle Gardens, Makati City
Tel. No. 621-6162
Open daily from 10 a.m. to 10 p.m.
(SPOT.ph) A restaurant that proclaims modesty is bound to draw curiosity. What is simple food nowadays anyway? The answer couldn't be from Simple Lang because its dishes are anything but. From the traditional Filipino fare of its fellow Raintree restaurant, Kabila, Simple Lang takes a bigger, more creative leap.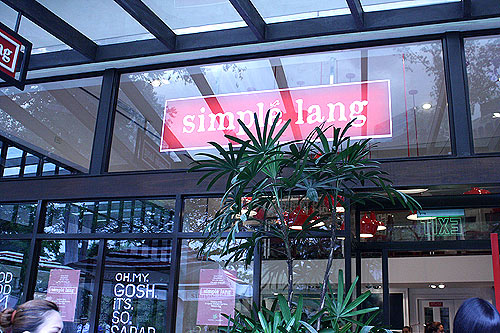 ADVERTISEMENT - CONTINUE READING BELOW
It took only two weeks to convert Momo into Simple Lang.
"The time is right for Filipino cuisine," says Raintree Corporate Chef Kalel Chan. Not that there was ever a wrong time for Filipino food in the Philippines. But now, with the world looking, it's time for local fare to show a potential far greater than home-cooked fancies.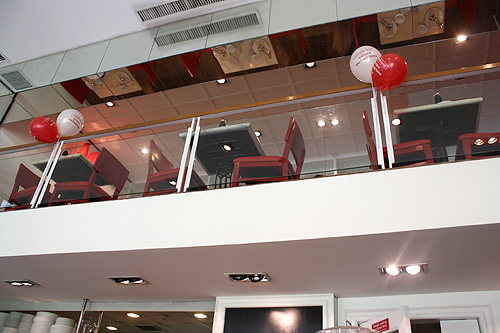 CONTINUE READING BELOW
Recommended Videos
The mezzanine expands the space. Only Simple Lang has this feature in the ATG strip.
At Simple Lang, dishes take inspirations that are recognizably local, but end up looking more "Asian" than what we're accustomed to. Think of them as a cousin who underwent a makeover.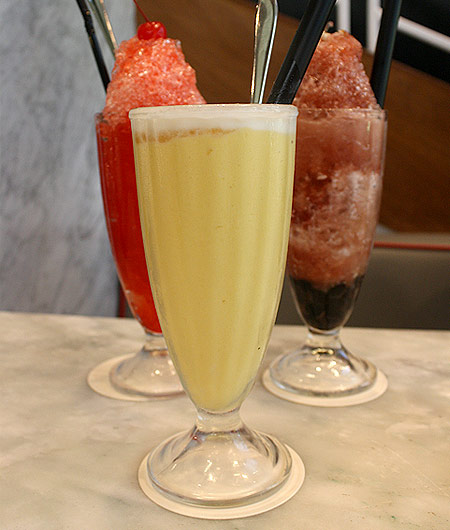 ADVERTISEMENT - CONTINUE READING BELOW
Strawberry Guinumis (P125), Mango Sago (P150), Pineapple Cherry Surprise (P110)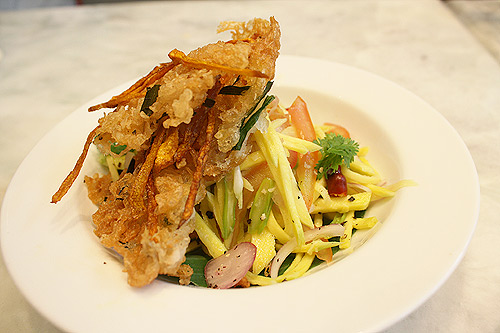 Crispy Ukoy and Green Mango Salad
The Crispy Ukoy and Green Mango Salad (P125), for example, is a recreation of something more often seen in Thai cuisine. Beans, cilantro, and calamansi make up a fresh base, green mangoes usher in brightness, and, on top, crispy ukoy replaces catfish. The ukoy is crisp, with fine shrimps creating a smoother but distinct flavor that's undoubtedly "shrimpy." It's an addictive little cracker on its own. (Have it with Sukang Iloko for P75.)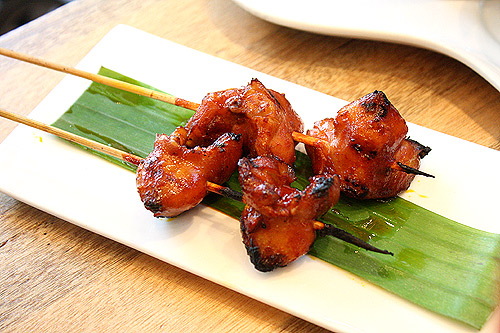 ADVERTISEMENT - CONTINUE READING BELOW
Isol or Chicken Ass (P150)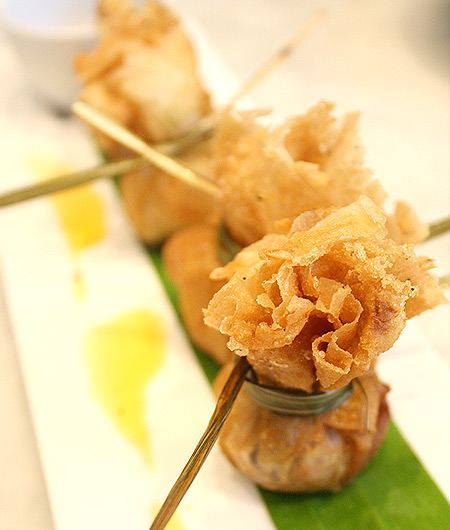 Pinsec Sipa
The four pieces of Pinsec Sipa (P195), Simple Lang's version of a pinsec frito, are mouthwatering things. Like golden moneybags that hold not gold but something just as precious: meaty pork and shrimp that remind one of deep-fried wontons with an extra thin, phyllo-like wrapper.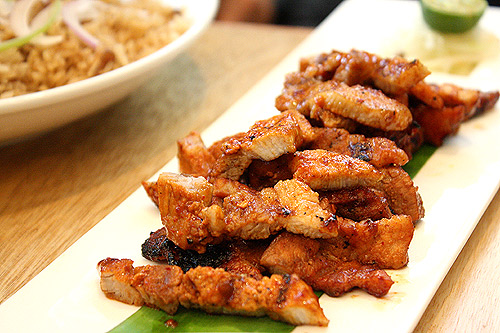 ADVERTISEMENT - CONTINUE READING BELOW
Liempo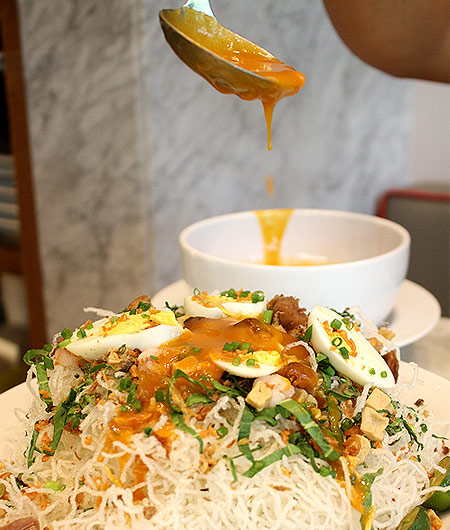 Crispy Palabok
The menu, which simply lists the pertinent ingredients, is an unreliable forecast for the show that is the Crispy Palabok (P265). Thin, dried rice noodles create a nest for standard palabok toppings (with bagnet instead of chicharon). Pour in the shrimp sauce slowly and watch the white strands turn that delicious shade of orange. You'll notice a crackle or two from the noodles adjusting to their new weight. Hearing it is like a preview of its crunchiness.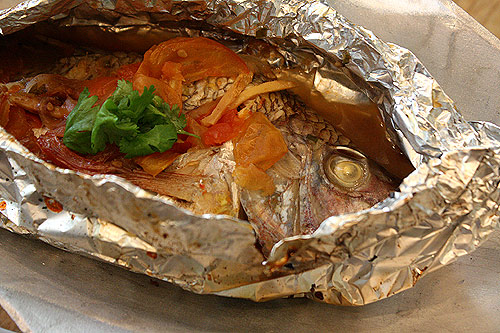 ADVERTISEMENT - CONTINUE READING BELOW
Foil-grilled Pla-pla (P250)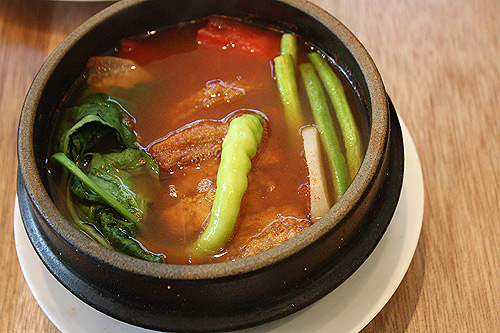 Sinigang na Crispy Bagnet sa Watermelon (P395)
Then, there's the Sinigang na Crispy Bagnet sa Watermelon (P395). Simple Lang finds the wonderful line between sweet and sour. The refreshing profile of watermelon makes a subtle but stunning foil to the leading tanginess. The bagnet? Well, it just makes everything better.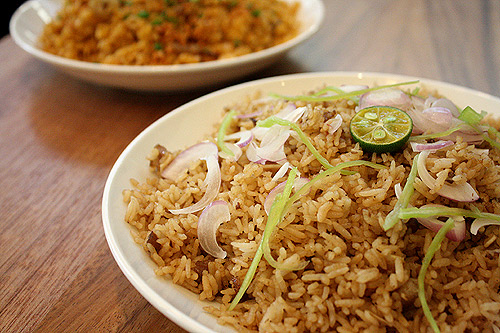 ADVERTISEMENT - CONTINUE READING BELOW
Sisig Rice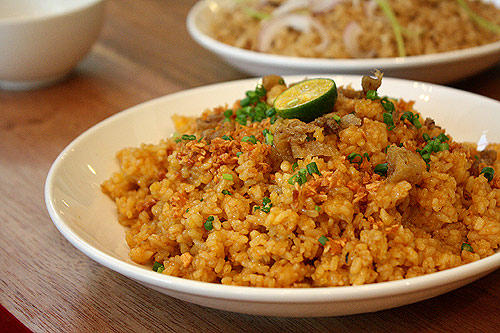 Inasal Rice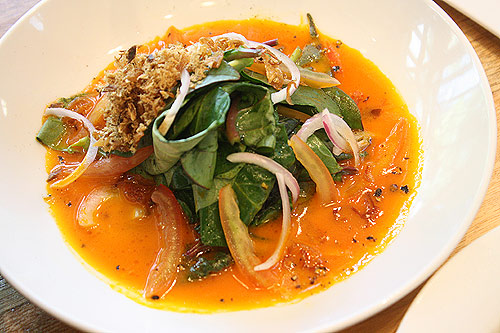 Tinapa't Tops
Simple Lang goes for flavors that go after your heart-and we haven't even talked about the Sisig Rice (P175) and Inasal Rice (P160)-but there are lighter options.  The Tinapa't Tops (P175) is a leafy ensemble that packs in more than it looks: alugbati, kamote tops, kangkong, tomatoes, red onions, and tinapa bits float on a pool of salted egg dressing.
ADVERTISEMENT - CONTINUE READING BELOW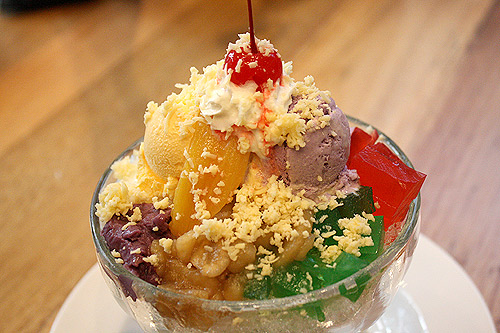 Simple Lang Halo-halo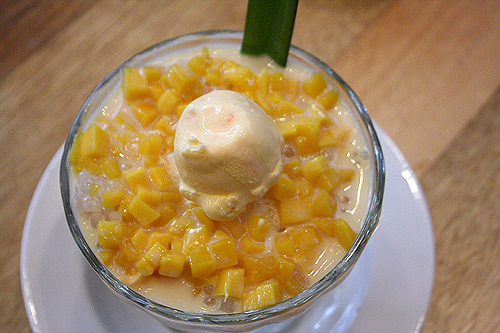 Mango Madness Crunch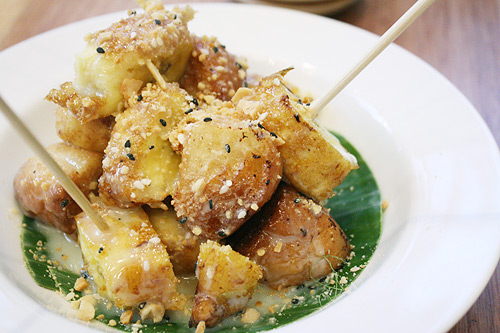 ADVERTISEMENT - CONTINUE READING BELOW
Turon Bites (P95): fried saba and donuts, tusok-tusok style
Desserts are still in the process of innovation. Chef Kalel reveals as much as a donut-shaped like ensaymada. Currently, there's the Simple Lang Halo-halo (P175) which embellishes the usual smorgasbord with grated cheese and melon, and theMango Madness Crunch (P175), which packs together mango puree with sago, mango ice cream, mango custard, and fresh mangoes in one icy bowl.
Simple Lang opened only three days ago, on April 29, 2014, but already it's milling with customers. Perhaps the cubicle-dwellers who surround the area know that the answer to a quick, affordable, and good Filipino meal is really quite simple. It's the Crispy Palabok.
Share this story with your friends!
---
Help us make Spot.ph better!
Take the short survey
Load More Stories