10 More Unlimited Eats for People on a Budget
For bottomless appetites!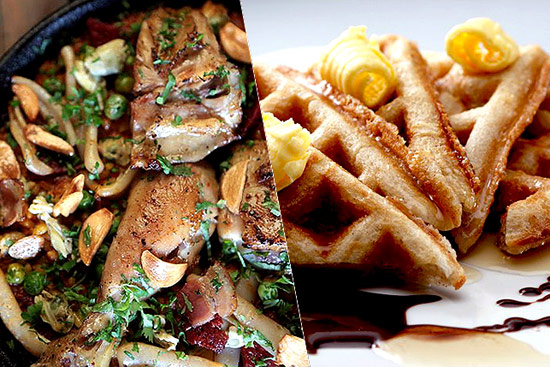 (SPOT.ph) Some cravings are hard to satisfy, especially when your hunger and wallet don't exactly get along. In 2013, we listed 10 places that offer unlimited eats for those with bottomless appetites. The good news? There's more generosity going around Manila in the form of all-you-can-eat. Fix your pocket holes and go crazy because here are 10 other unlimited eats for people on a budget.
This list is not ranked.
ALSO READ:
Pit Stop: 10 Unlimited Meals for People on a Budget
The SPOT.ph Directory of Buffet Prices: A Guide to Eating All You Can in Manila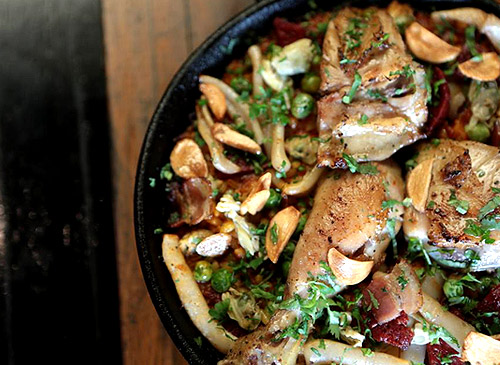 ADVERTISEMENT - CONTINUE READING BELOW
Paella All-you-want at Beso Cucina Vinoteka
Fans of Spanish cuisine will go giddy with delight at Beso Cucina Vinoteka, which offers unlimited paella for P350+ per head. The paellas, festive combinations of rice, chicken, seafood, herbs, and the works, are heirloom recipes from the chef as well as a crowd favorite-and for that price, a major steal. It's best eaten with sangria, which the restaurant offers for P700 to P800 per carafe.
Beso Cucina Vinoteka is at Bonifacio High Street Central, Bonifacio Global City.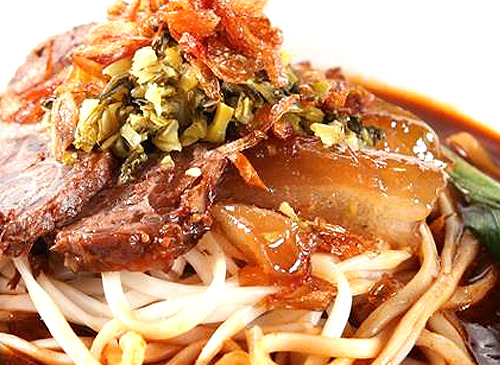 Eat-all-you-can Noodles at Red Onion Café
Red Onion Café is a Taiwanese restaurant "developed in Taipei and Beijing and perfected in Manila." The specialty is thick, firm hand-shaved noodles (shaved by a robot chef in the open kitchen) in a rich broth flavored with 39 spices. Chunks of beef complete the dish, but only the noodles and broth are replenishable. You can get the 39 Spices Beef Noodles for P228 (all-meat) and P258 (half-meat, half-tendon), or kick up the heat with the Spicy Sichuan Mala for P258 (all-meat) and P288 (half-meat, half-tendon). Red Onion also offers unlimited coffee in the afternoon.
ADVERTISEMENT - CONTINUE READING BELOW
Red Onion Café is at G/F Ayala UP Town Center, Katipunan Avenue, Quezon City.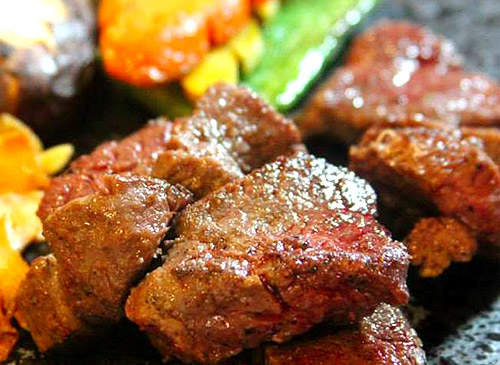 Unlimited Teppanyaki at Banzai: The Great Teppanyaki Theater
Banzai claims to be "the world's biggest teppanyaki restaurant," offering unlimited teppan dishes every day. Their buffet features more than iron-grilled meats. They also have sushi and sashimi, steaks, ramen, tempura, okonomiyaki, and takoyaki. A meal at Banzai costs P699 for lunch and P899 for dinner from Monday to Friday. Eating at Banzai on weekdays might be more ideal, since the deal gets more expensive (P1,088) on weekends and holidays. Whatever the day, the restaurant promises an authentic Japanese dining experience.
Banzai: The Great Teppanyaki Theater is at Building J, By the Bay Leisure Park, Seaside Boulevard, Mall of Asia Complex, Pasay City.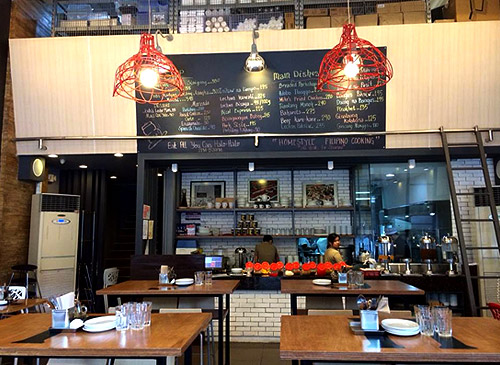 ADVERTISEMENT - CONTINUE READING BELOW
Unlimited Halo-halo at Kanteen
Kanteen, which is owned by the same people behind Kuppa Roastery and Cafe, specializes in Ilonggo food with classic Filipino desserts on its menu like the leche flan. They also serve unlimited halo-halo for only P180.  A perfect way to beat the summer heat.
Kanteen is at Unit 32 Commercenter Building, 31st corner 4th Street, Bonifacio Global City.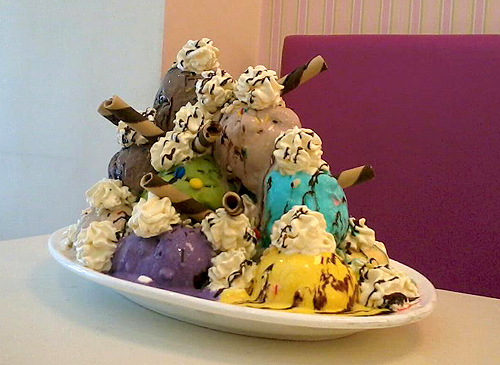 Eat-all-you-can Ice Cream at Blissful Delights
Speaking of treats for the hot weather, we scream for Blissful Delights' unlimited ice cream for P200. With flavors like mint choco chip, pistachio, banana nut, cheesecake, and strawberry fields, you can dress your desserts with sprinkles and toppings. Blissful Delights seeks to "bring smiles and joy to every Filipino family," changing the world one (unlimited) ice cream scoop at a time.
Blissful Delights is at 1410 Broadview Towers, Mayhaligue Street, Sta. Cruz, Manila.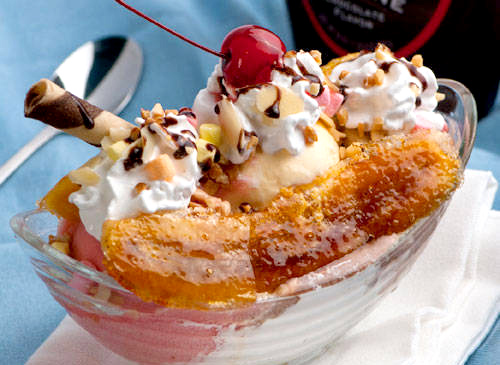 ADVERTISEMENT - CONTINUE READING BELOW
(Just imagine the gelato in the middle)
Unlimited Gelato at Picket Fence
If indulging in ice cream makes you feel guilty, Picket Fence features a buffet of Italian ice cream imported from Australia. Gelato has fewer calories than normal ice cream, which makes overeating much more acceptable on the waistline. All of Picket Fence's flavors are available unlimited for only P299. Add P199 and you can also enjoy a buffet of their hot dishes.
Picket Fence has branches at Katipunan Quezon City; Lucky Chinatown Mall, Manila; ASEANA ONE, Asean City, Parañaque.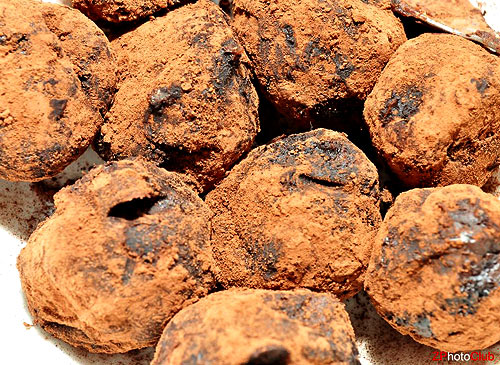 Unlimited Truffles and Silvanas at Love Desserts
Two words: dessert nirvana. Love Desserts's divine dessert buffet includes not only truffles and silvanas, but also a variety of cakes, candies, ice cream, coffee, cupcakes, and other pastries-up for grabs for only P199. They're even equipped with a chocolate fountain and huge bottles of syrup. With a sweet deal like this, you wouldn't mind happily running around on a sugar high.
ADVERTISEMENT - CONTINUE READING BELOW
Love Desserts is at 915 Banawe Street corner Del Monte, Quezon City.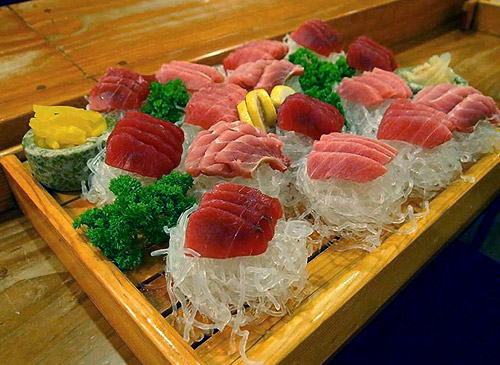 Unlimited Sushi, Rolls, and Sashimi at Genji M
This Japanese-Korean restaurant dishes out all kinds of sushi (from salmon and corn salad to little cuttlefish, Spam, and urchin egg). They have three glorious offerings: (1) unlimited sushi and rolls for P499; (2) unlimited sashimi-which encompasses the unlimited sushi and rolls-for P799; and (3) unlimited premium sashimi-which includes unlimited sushi, rolls, and tuna seafood shabu-shabu-for P1,499. They also offer bottomless beer with those packages.
Genji M is at Kalayaan Avenue corner Makati Avenue, Makati City.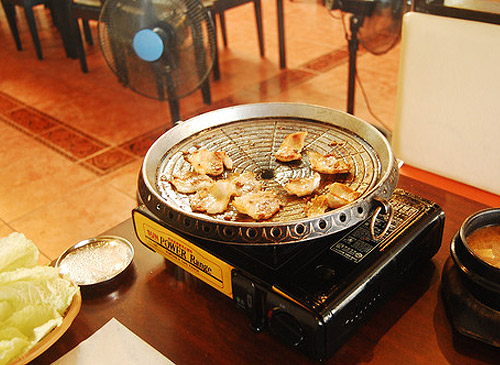 ADVERTISEMENT - CONTINUE READING BELOW
Photo by Denise Bentulan
Unlimited Samgyeopsal at Woori-gohyang (formerly Woorijib)
Woorijib has special rooms on the second floor for people who prefer to dine Korean-style-low tables, legs crossed. But the best thing about this place is their unlimited samgyeopsal at P299 per head. Samgyeopsal is a Korean dish that literally translates to "three-layered flesh." They're slices of pork belly that resemble bacon and have a deliciously rich and meaty taste. They're dipped in either oil or soy paste, then wrapped in lettuce with other banchans like kimchi, mushrooms, and bean sprouts.
Woorjib Korean Restaurant is at 2/F 22 Matalino Street, Diliman, Quezon City.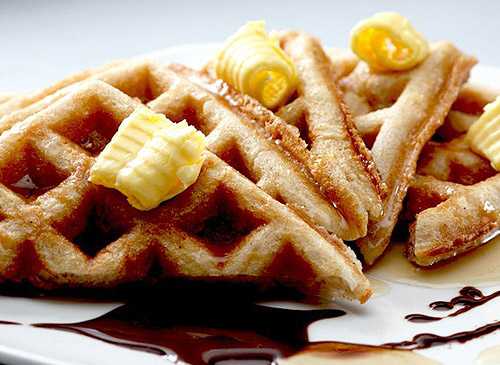 Unlimited Pancakes and Waffles at Somethin' Fishy
Somethin' Fishy is famous for the assortment of seafood on their menu, but what every morning person needs to know is that they offer unlimited servings of pancakes and waffles from midnight to morning for P189 (adults) and P129 (children). Other breakfast items available are French toast, omelette, noodles, tapa, tocino, and other morning meal combos. It's available every day, even on weekends and holidays, from 12 a.m. to 10 a.m.
ADVERTISEMENT - CONTINUE READING BELOW
Somethin' Fishy is at Unit B2 & B3, Eastwood Citywalk, Bagumbayan, Quezon City.
BONUS: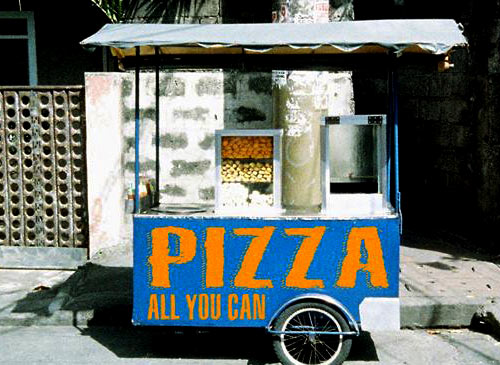 Pizza-all-you-can at Leona Art Restaurant
Leona recently ended their P199 pizza-all-you promo for April, but this pizza proposition happens in seasons throughout the year. Watch for the next one on their Facebook page. Flavor choices include Three Cheese, Pepperoni, Onion & Pesto, and Hawaii.
Leona Art Restaurant is at 45 Matimtiman Street, Teachers Village, Quezon City.
ALSO READ:
Pit Stop: 10 Unlimited Meals for People on a Budget
The SPOT.ph Directory of Buffet Prices: A Guide to Eating All You Can in Manila
Load More Stories