10 Must-try Pasta Dishes in Manila
Update your pasta vocabulary.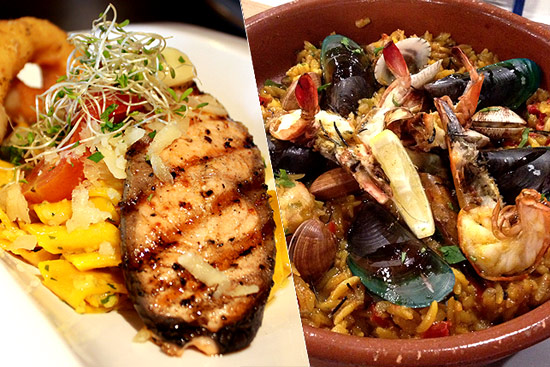 (SPOT.ph) Perhaps nothing can ever take the place of spaghetti and meatballs and marinara sauce in our hearts. The same way a classic carbonara will always summon memories of home, the pasta we grew up eating will be the ones that we will come back to. But take a break and go on a pasta adventure. Who knows, you might discover a new favorite.
Update your pasta repertoire with these unique versions.
This list is not ranked.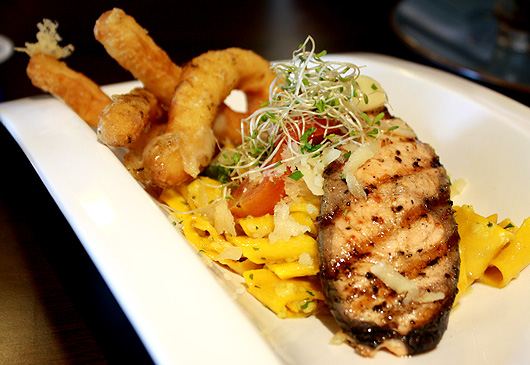 House-made Pappardelle (P225) from Terraz Meetings and Bistro
First, something colorful: vivid hues to tease your eyes and appetites. Talks that colored pastas were the next big thing remained largely, well, words, but Terraz turns it into reality. Chef Arnold Gozon paints pretty pops of color in his pappardelle, but there's more to his handmade dough than pageantry (though they are very Instagram-friendly). Aromatic saffron makes it yellow, sweet beets make it purple. By using natural ingredients, he's able to infuse an extra layer of mild flavor that complements the other components.
ADVERTISEMENT - CONTINUE READING BELOW
Terraz Meetings and Bistro is at3/F Zuelling Building, Paseo de Roxas, Makati City.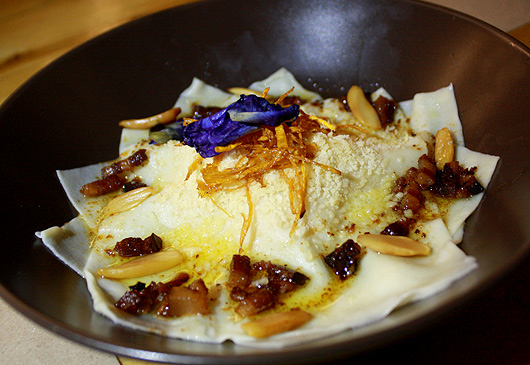 Pumpkin and Goat Cheese Paccheri (P310) from Earth Kitchen
Paccheri is traditionally large tube pasta filled to the tips with savory ingredients. Earth Kitchen, however, comes up with their own version, taking square sheets and putting them one on top of the other, using sweetish pumpkin cream to hold the layers in place. It's kind of like a lasagna-ravioli cross and what you get is an artwork-of-sorts: the pasta is arranged like a gorgeous symmetrical monument with a sprinkling of pili, speckles of bacon, and just the prettiest touch of edible purple flowers. Each bite is just as balanced in flavor, rich yet bright, with the bits of smoky nuttiness bridging the gap.
Earth Kitchen is at White Plains Avenue, Quezon City.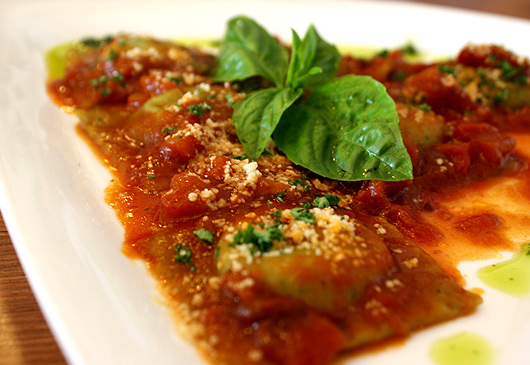 CONTINUE READING BELOW
Recommended Videos
Ravioli con Spinaci (P350) from Benassi Ristorante
The five olive-green pillows are filled with rustic flavors that will hit home-as well as all the right aspects of your palate. Each ravioli bursts with richness, tanginess, savoriness, and then there's that sprinkling of garlic which caps the entire experience in deliciously bitter tones. And to think Benassi already tempers the zest of their fresh tomato sauce to make it more appealing to the Filipino palate. It's thoughtfulness we appreciate.
Benassi Ristorante is at G/F The Exchange Regency, Meralco Avenue corner Exchange Road, Ortigas Center, Pasig City.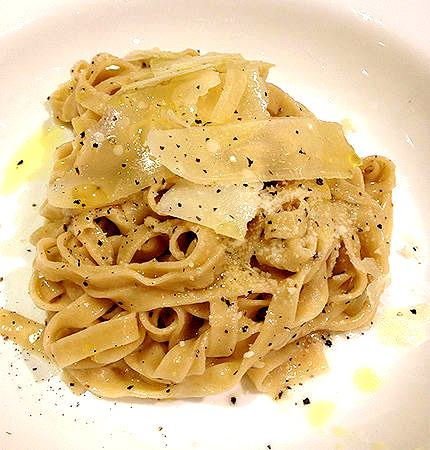 Cacio Y Pepe (P355) from Green Pastures
Notice how Victoria Beckham carries herself? Her crisp and understated style that lands covers and puts her on practically every best-dressed list known to fashion. The Cacio Y Pepe is kind of like that: a mesh of pale yellow that, at first glance, looks disappointingly plain. Extra virgin olive oil glosses over the monotone pasta, Parmesan and Pecorino, but the only flashes of color come from the dots of black pepper. Twirl the linguine and take a bite, because the combination of peppery heat and salty cheese confirms that less is much more delicious. It's amazing what attitude-and a sprinkle of good pepper-can do.
ADVERTISEMENT - CONTINUE READING BELOW
Green Pastures is at 4/F Shangri-La Plaza East Wing, Mandaluyong City.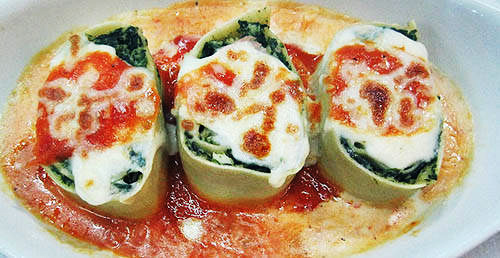 Va Bene's Spinach Cannelloni (P300)
How does one even begin to choose a pasta dish from Va Bene? There's that egg ravioli where the creamy yolk gushes out like a mouthwatering waterfall as soon as you cut into it. There's the wonderfully messy black-ink tagliolini with an indulgent shrimp sauce and pieces of squid. There's the lamb, the gnocchi, the pumpkin ricotta ravioli, the fettuccini. Then, there's the crown jewel: the spinach cannelloni, which is rolled pasta sliced into three coronets of deliciousness. Royal green tufts of spinach peek out from under the velvet layer of mozzarella. Gems of smoked ham hide underneath and in between like a waiting surprise.
Va Bene is at 2/F Petron Gas Station, EDSA corner Pasay Road, Dasmariñas Village, Makati City.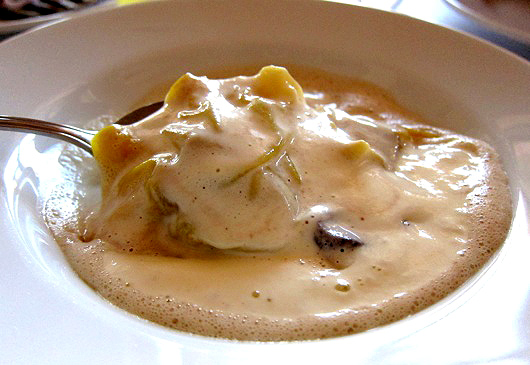 ADVERTISEMENT - CONTINUE READING BELOW
Foie Gras Ravioli (P650) from Brasserie Cicou
Divine. It could perhaps be the only word fitting enough to describe Chef Cyrille Soenen's heavenly creation. An amalgamation of all the best things life has to offer, it's a foie-gras-stuffed ravioli enjoying a truffle-infused bubble bath. The mushroom soup underneath ironically takes it back to the flavors of earth, but that's what makes it even better than it already is. It just reinforces the fact that something this good is real.
Brasserie Cicou is at 57 Annapolis Street, Greenhills Commercial Complex, San Juan.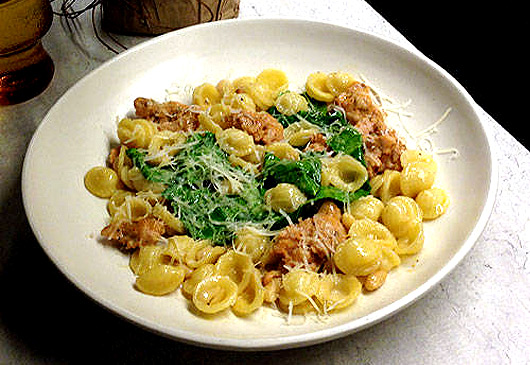 Grace Park's Orecchiette (P350)
Compared to other pastas and based on looks alone, Grace Park seems to have held back on the sauce. Olive oil gives the ear-shaped pasta a mouthwatering sheen, and despite the seemingly haphazard presentation, Margarita Fores manages to create something harmonious from the globetrotting dish. The orecchiette, which originates in Puglia, Southern Italy, is embellished with Luganega sausages, Ilonggo chistorra, and a healthy shake of Parmesan. Beans and leafy greens brighten both the plate and palate.
ADVERTISEMENT - CONTINUE READING BELOW
Grace Park is at G/F One Rockwell Building, Rockwell Drive, Makati City.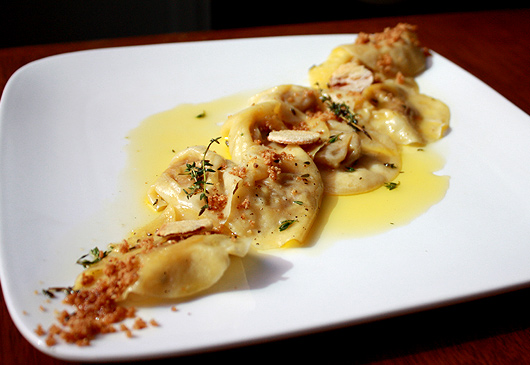 Sweet Potato Tortellini (P350) from Stockton Place
There's sweet, there's savory, and there are those that toe the line in between. That's where Chef Celine Delos Angeles-Escaler's Sweet Potato Tortellini is, beautifully keeping its balance as the brown butter mingles with the prosciutto crumbs and the sweet potato dances with the crushed hazelnuts. The touch of thyme in the sauce-and the overall assembly of elements-gives the dish the zing that makes it easy to complete the usually taxing task of finishing a filled-pasta dish. In fact, it might make you ask for a little bit more.
Stockton Place is at 227 Salcedo corner Gamboa Street, Salcedo Village, Makati City.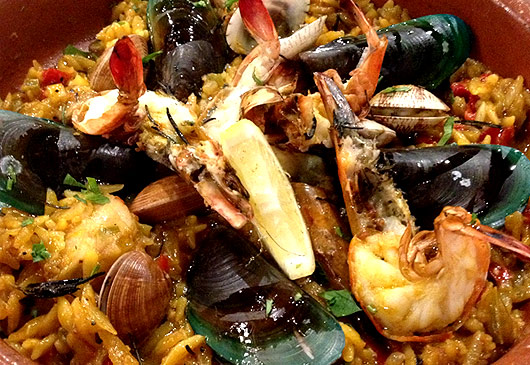 ADVERTISEMENT - CONTINUE READING BELOW
CYMA's Yiouvetsi (P600)
The Greeks came up with geometry, cartography, and the Olympic Games, but it's the Italians who take claim for one of the most relevant dishes ever-pasta. Still, Greece has found new ways to reinvent this classic meal. For CYMA, Chef Robby Goco uses orzo, a small short-cut pasta shaped like rice, to create a paella. The firm "grains" have a more mellow effect, rearranging the emphasis of the rice dish to the seafood components. The earthenware pot has a shock of shrimps, mussels, and clams, with the chunks of lamb sausage adding more excitement to the already appetizing dish.
CYMA's new menu is currently only available at The Ledge, Shangri-La Plaza, Mandaluyong City.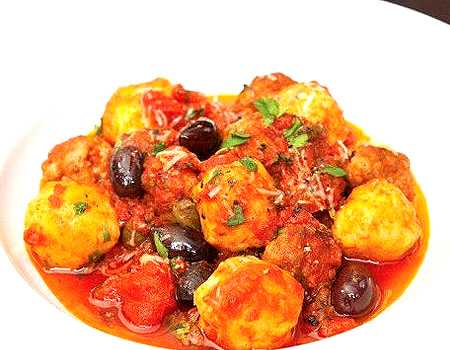 Golden Ricotta and Parmesan Gnocchi (P650) from My Kitchen
These nuggets of pasta may look simple, but creating a perfect gnocchi dish that doesn't overwhelm or exhaust the palate requires pinpoint precision. Chef Chris Locher, the man who invented the panizza, gives it justice. He generously-and quite unapologetically-lathers his pasta with rich on rich flavors, from the salty Parmesan to the creamy ricotta, making each bite delicious explosive. Homemade Italian sausage introduces the break in flavor, by adding an equally powerful layer of smoky saltiness.
ADVERTISEMENT - CONTINUE READING BELOW
My Kitchen by Chef Chris is at Oasis Park Hotel, Belen Street, Paco, Manila.
Photos by Jin Perez of Jin Loves to Eat (Brasserie Cicou), Jason Mariposa (Earth Kitchen), Sasha Lim Uy (Terraz, Benassi, Stockton Place), Angelo Comsti (Green Pastures, CYMA), Idge Mendiola (Grace Park).
Share this story with your friends!
---
Help us make Spot.ph better!
Take the short survey
Load More Stories