10 Amazing Dishes Egg Lovers Will Go Crazy Over
These must-try dishes are great for any time of the day.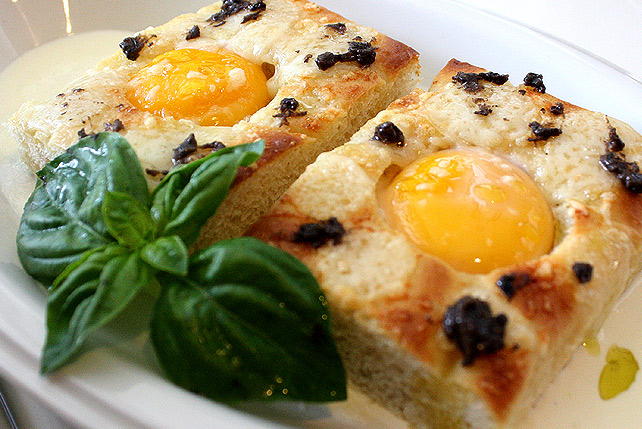 (SPOT.ph) As people with egg obsessions, we'll try to hold back on the puns. Eggs are dynamic little things. Whether they're tiny quail eggs or enormous ostrich eggs, each is laden with potential. You can have them poached, deviled, fried (sunny side-up or overeasy?), boiled (hard or soft?), baked, in an omelet, over rice, in a sandwich, as a decorative statement. Their versatility, however, has relegated them to the support section, lifting up other proteins and highlighting other components while they quietly but deliciously sit in the background.
It's time to take a stand. Eggs have been scrambled to indistinction for far too long. We've picked out 10 egg-citing-sorry!-dishes that put this underrated ingredient in the spotlight.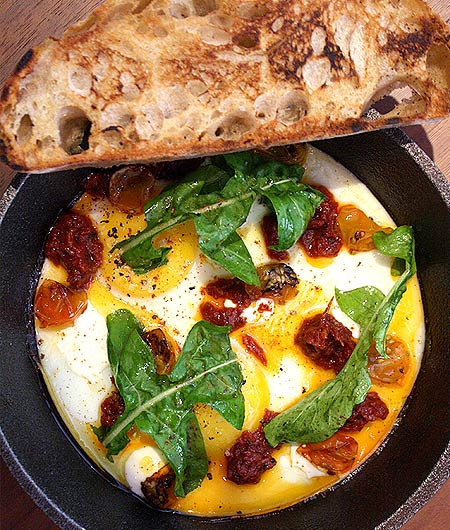 Traviata (P315) at Toby's Estate
There's something effortlessly rustic about a dish in a cast-iron skillet looking as though it came fresh from the oven. Two eggs are baked in the pan for five minutes, creating a map of egg whites around the deliciously soft yolks. A dish like this rightly allows the main components to shine: fresh tomato compote and crushed cherry tomatoes brighten the rich flavors while arugula gives it a vibrant dose of bitterness. Finally, a light shake of pepper-just for good measure. Scoop everything up with the garlic bread and hear the choir of egg angels sing to your palate.
ADVERTISEMENT - CONTINUE READING BELOW
Toby's Estate is at 125 L.P. Leviste Street, Salcedo Village, Makati City.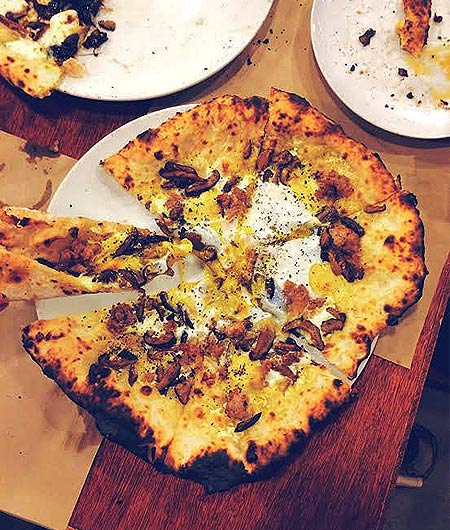 CONTINUE READING BELOW
Recommended Videos
SMEGG Pizza (P370) from Gino's Brick Oven Pizza
Egg lovers rejoice because the SMEGG Pizza at Gino's Brick Oven Pizza has arrived to fulfill all your egg-centric fantasies. SMEGG stands for sausage, mushroom, and eggs, and, for an additional show of love, this spectacular pizza pie is smothered in Gouda and cream too. A glorious egg crowns the center of the pizza and the soft yolk seemingly glistens as it runs through your fingers when you grab a slice. It's one very, very sexy pizza.
Gino's Brick Oven Pizza has branches at 2/L, K2 Building, 341 Katipunan Avenue, Quezon City (381-3963); G/F Finman Center, 117 Tordesillas Street, Salcedo Village, Makati City.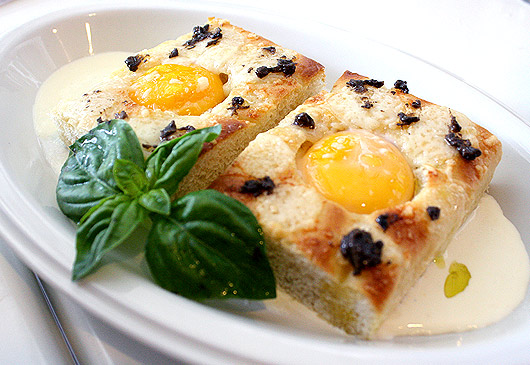 ADVERTISEMENT - CONTINUE READING BELOW
Il Sorriso (P200) at CIBO
This is what mornings should look like: two cushions of foccacia hollowed out to make way for a soft yolk center. Slice through the middle and let the yellow goo drip to the bottom of the plate like a rich, sticky sauce. Gruyere gives the bread the peppiness everyone needs at the start of the day while truffle provides the egg much more definition. You'll want all your breakfasts to be Italian-style after this.
Click here for a list of CIBO branches.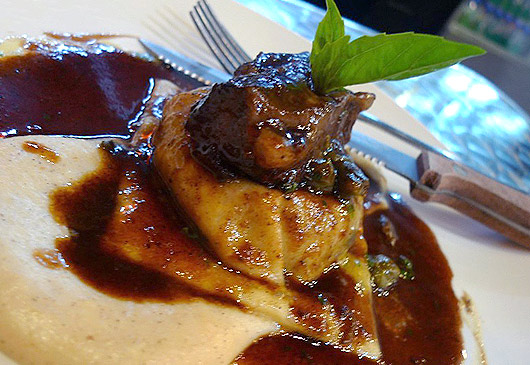 Chicken Egg Yolk Raviolo (P750) from Va Bene
Only Manila's pasta king is capable of cooking such an intricate and technically demanding dish. Instead of the usual filling, Chef Massimo Veronesi takes a whole raw egg yolk, tucks it with chicken between the larger-than-usual ravioli pasta sheets, and cooks it blind to a practiced and perfectly creamy consistency. Cutting through the tight package is part of the excitement. Is it successful? With Chef Massimo, it usually is. Braised veal cheeks around the pasta add savoriness and texture.
ADVERTISEMENT - CONTINUE READING BELOW
Va Bene Pasta Deli is at 2/F, Petron Services Corporation, EDSA corner Pasay Road, Dasmariñas Village, Makati City (556-9442).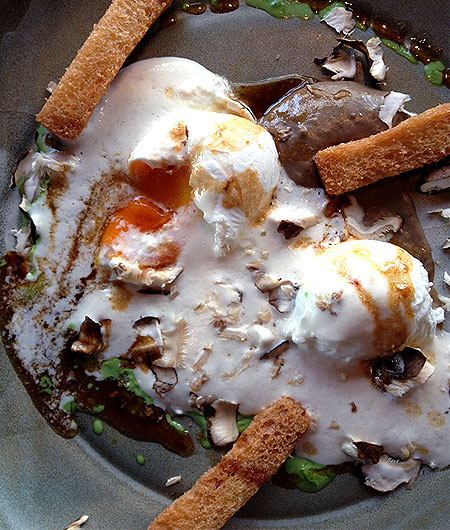 Poached Egg and Mushroom Puree with Parmesan Crunchy Soldiers (P350) from The Black Pig
The Black Pig is a restaurant that focuses solely on excellent ingredients, and their Poached Egg and Mushroom Puree with Parmesan Crunchy Soldiers is sheer proof that quality is king. Amid their more intricate dishes, this dish relies only on fresh ingredients to work their magic. Consisting of two organic eggs, fresh mushrooms, and velvety cheese, it's a beautiful mess that you'll eagerly want to gobble up-and yes, those yummy Parmesan soldiers will help you do the damage.
The Black Pig is at 2/F, The Commercenter Alabang, Commerce Avenue corner East Asia Drive, Filinvest, Muntinlupa City (808-1406).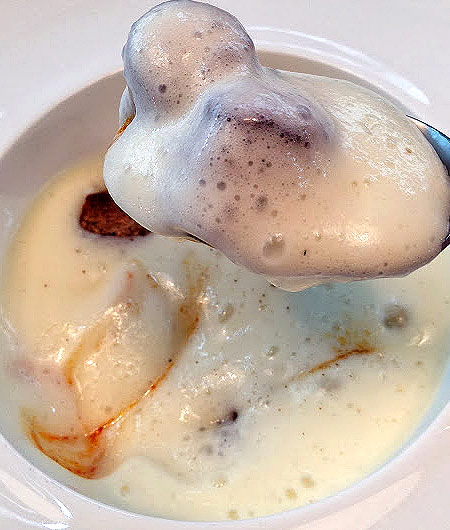 ADVERTISEMENT - CONTINUE READING BELOW
Organic Eggs 65°C with Potato and Chistorra (P195) from Rambla
Rambla has a section on their menu dedicated solely to eggs and the Organic Eggs 65°C with Potato and Chistorra is an easy favorite. Simple yet wonderfully complex; take a spoonful of the velvet egg foam and delight at how gloriously it merges with the creamy texture of potatoes and the savory, garlicky flavor of the chistorra, which is a traditional Basque sausage. This dish is a study on how something so straightforward could still be so darn opulent.
Rambla is at G/F, Joya Building, Joya Drive, Rockwell, Makati City (823-6468).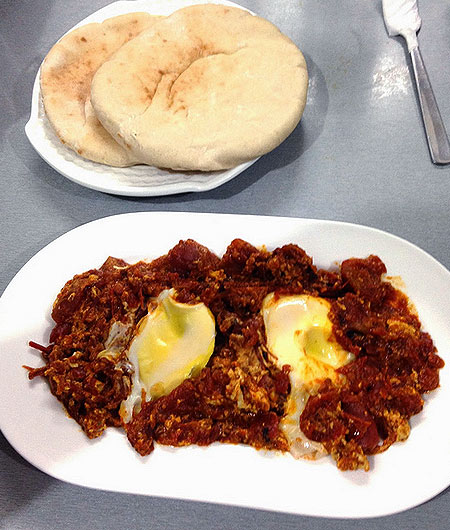 Shakshuka from Beni's Falafel (P260)
This Israeli breakfast staple of eggs poached in tomato sauce, chili peppers, and onions is usually overlooked because of its modesty, but the Shakshuka at Beni's Falafel proves that less really can be so much more. Its piquant flavor is perfect when mopped up with piping hot pita bread. Mixed with yolk, it's the perfect wakeup call for any time of the day. Who needs coffee?
ADVERTISEMENT - CONTINUE READING BELOW
Beni's Falafel is at 4632 Valdez Street, Poblacion, Makati City (0906-349-1300).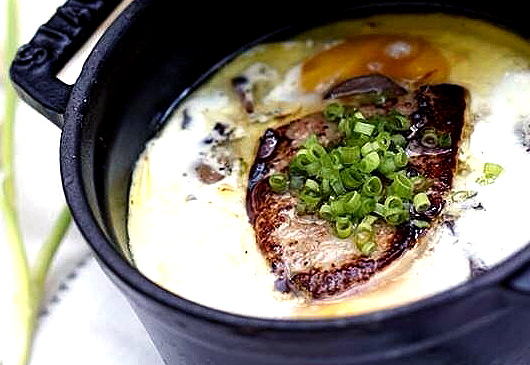 En Cocotte with Foie Gras and Portobello (P375) from Lusso
Once eggs are removed from their nests, it seems only natural that they make small pots their second homes. Well, they look extra irresistible in them, anyway. Not that this dish needs anything to make it more mouthwatering. One bite of the En Cocotte is a whole soap opera in your mouth, with humble mushrooms mingling with rich foie gras. This dish will have your eyes rolling into the back of your heads as you realize that Cinderella and all those other love stories are real. Simplicity and luxury do mix-and well. It's one of the most delicious contradictions you'll ever taste.
Lusso is at G/F, Greenbelt 5, Legaspi Street, Makati City (756-5893).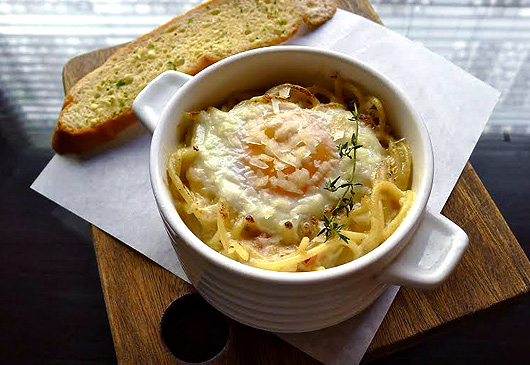 ADVERTISEMENT - CONTINUE READING BELOW
Good Morning Carbonara (P395) from 2nds
The Good Morning Carbonara at 2nds will make you want to greet the day with reckless abandon. The egg at the center aptly steals the show in this typical carbonara display with cream sauce, onions, garlic, and bacon. The pasta dish is baked in the oven with an egg on top, and you can't help but go a little crazy when mixing it all together. It's one delicious disarray you'll want to devour-STAT!
2nds is located at 2/F, Quadrant 3, Bonifacio High Street, Bonifacio Global City (846-5293).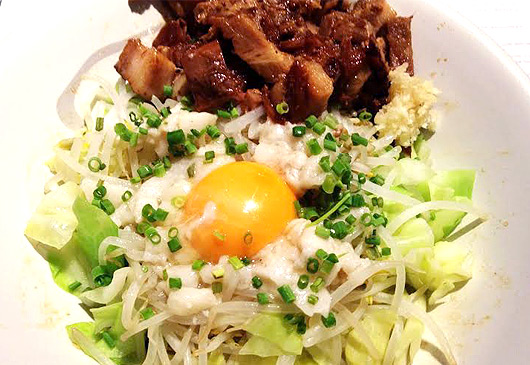 Shoyu Maze Soba (P365) from Ramen Yushoken
Can you keep a secret? Ramen Yushoken is known for their consistently excellent ramen, but there's another must-try not many people know about: this off-the-menu Shoyu Maze Soba-hot, dry ramen topped with bean sprouts, chopped cabbage, green onions, chashu, and chashu fat trimmings. A shiny egg yolk is nestled at the center. Break up that bright orange yolk and your mouth will water as you watch the golden liquid run through the noodles and vegetables. You'll get an exciting burst of umami flavor as the different textures of each ingredient introduce themselves to your palate. While the ingredients come together with every bite, there's no denying that the luscious egg yolk is the reason why the combinations work so well.
ADVERTISEMENT - CONTINUE READING BELOW
Ramen Yushoken is at Molito Lifestyle Mall, Madrigal Avenue corner Commerce Street, Alabang, Muntinlupa City (808-7424).
Photos by Angelo Comsti (The Black Pig), Sasha Lim Uy (CIBO, Toby's Estate), Reg Rafael (Yushoken, 2nds, Gino's); courtesy of The Plump Pinay (Rambla), Mr. Delicious (Va Bene) and The Beauty Junkee (Beni's Falafel); and from Lusso's Facebook page.

Share this story with your friends!
---
Help us make Spot.ph better!
Take the short survey
Load More Stories